Summer Crafts that Give Back
July 21, 2022
Looking for some fun crafts to do with the kiddos over summer break? Tired of the same old craft projects? Whether you're a seasoned DIY-er or a new crafter, we've got some fun craft projects that you can send off to veterans and service members instead of cluttering up your shelves and collecting dust. Some of these may seem unseasonable, but they help us get ready for upcoming collection drives ahead of the VERY busy holiday season.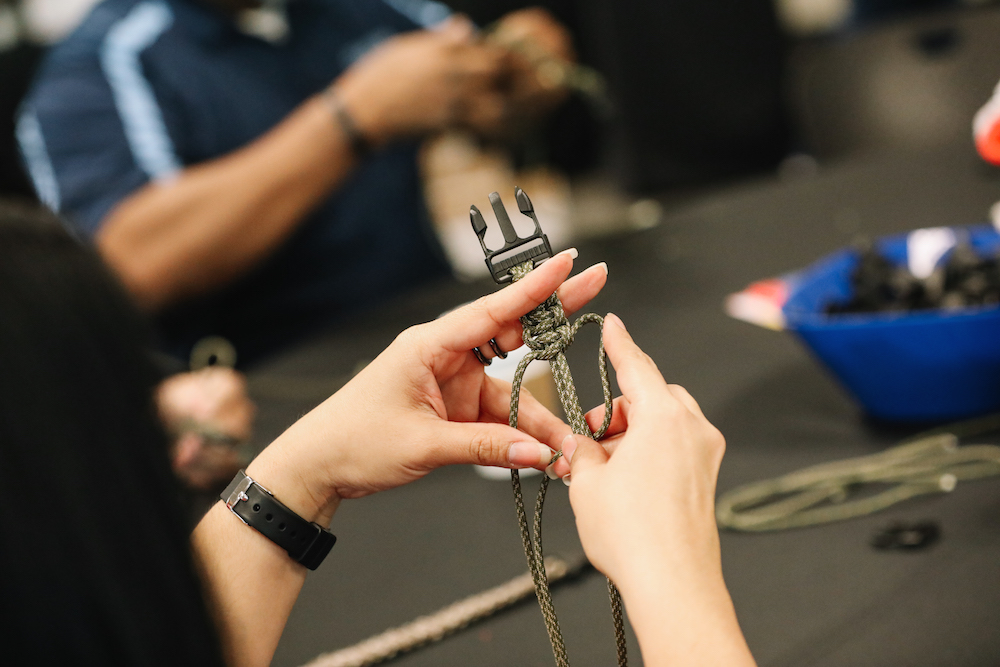 Make No Sew Blankets
We're currently collecting blankets for our Annual Blanket Drive and our goal this year is a big one: 2,022 blankets! The Blanket Drive supports veteran patients, deployed service members, and wounded service members at the Landstuhl Hospital in Germany. While we collect blankets of all kinds, No Sew Blankets are very popular and also very easy to make! Here's a video with instructions.
Create Holiday ornaments
The holiday season is a hectic one for us as we have stockings to collect for our annual stocking drive, families to get adopted through Adopt-A-Family AND candy to sort and send off from Treats for Troops. Here's one summer craft idea to help us get ready: handmade ornaments. We've put together a how-to video using an ornament-making kit you can pick up from Michaels or Amazon. Here's the link to it on Amazon. Feel free to do some internet searching and find other ornament ideas. Any ornament will do!
Make Paracord bracelets
Paracord bracelets are popular with our service members because they're useful survival items. This particular summer craft is a little trickier than the others, but they do have a tremendous impact. Not only are paracord bracelets great to boost morale amongst service members, but if the need arises, they can be used to tie gear together, make a shelter, and have even been used to stem the flow of blood from an open wound or gunshot. The video below shows how to make one, but if you're better at reading step-by-step instructions, check this blog post out.
Write Cards of support
During the height of the pandemic, we launched a campaign asking for "Cards of Support" to send to veterans feeling isolated and service members activated to support the pandemic. The response to the campaign has been so incredible, that we decided to continue the mission of writing cards year-round to help service members and veterans feel the support no matter what is happening. All you have to do to participate is purchase or make cards, write a note of support to a deployed service member or veteran, and mail the card(s) to our headquarters with $1 per card to help us cover shipping. Learn more here.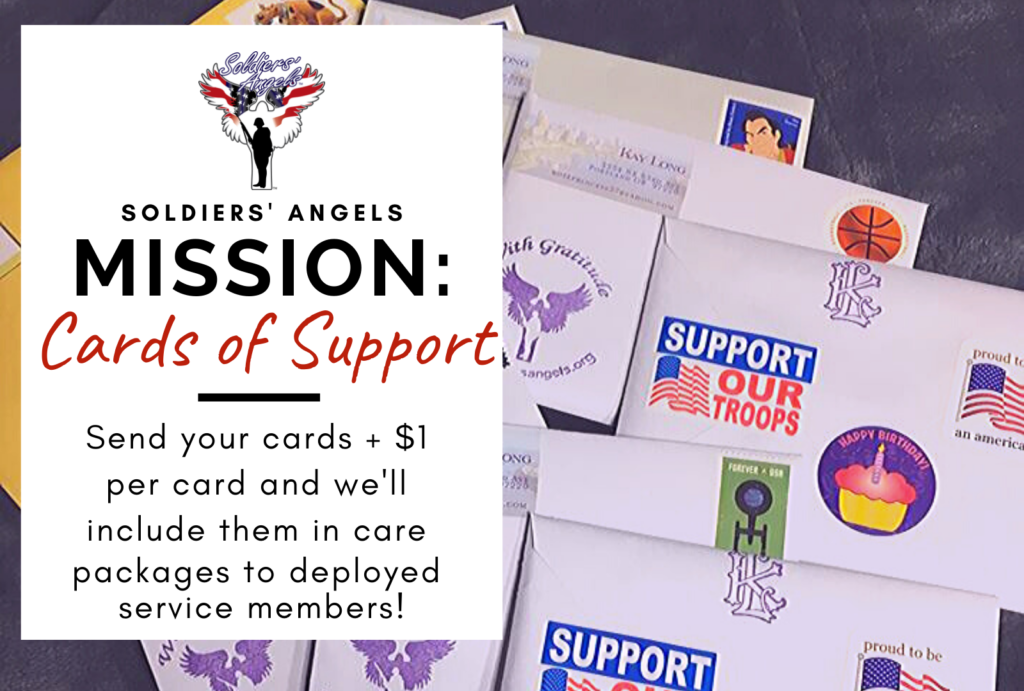 Create candy bags for Treats for Troops
We send candy to deployed service members and veteran patients throughout the year, but the bulk of that candy gets sent starting in October for Halloween (for Treats for Troops) through to December for the holiday season. Tens of thousands of pounds of candy donations come through our headquarters every year. Because most of the candy donated is loose, we utilize volunteers to put it into baggies and make shareable portions. That's where you come in! If you're looking for a fun and easy project, help us create candy bags!
Get some fun-size candy (this is also a great use for excess candy after holidays like Halloween, Easter, etc).
Using a treat bag or clear plastic baggie, place an assortment of candy in the baggie and secure it with a twist tie or decorative ribbon
If you would like, you can also attach a small card to the bag of candy that has a simple message like "Thank you for your service!"
Ship your completed baggies of candy to our headquarters in San Antonio, Texas.
Soldiers' Angels Candy
2895 NE Loop 410, Suite 107
San Antonio, Texas 78218
There you have it! Five great craft projects to try this summer. Who's ready to get crafty!?
---