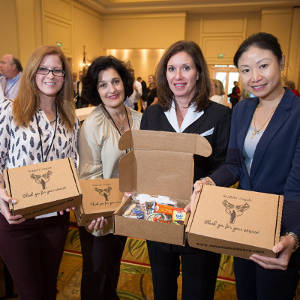 Who We Are and What We Do
Many sponsorship opportunities are available at any VA Hospital supported by Soldiers' Angels. In some cases, additional VA Hospitals can be added based on donor funding in that market. Sponsorships can be customized to include geographic locations and program areas that meet your company's needs and objectives.
Below is a list of the sponsorship opportunities we currently promote. Please contact us to discuss any of the options below or any custom sponsorship you may have in mind.
SPONSORSHIP OPPORTUNITIES:
Hygiene Kits
Dinner or Luncheon
Box Lunches
Stand Downs
Mobile Food Distribution
EMPLOYEE/ORGANIZATION ENGAGEMENT OPPORTUNITIES:
Collect & Package of Hygiene Kits
Collect & Package Box Lunches
Create No-Sew Blankets
Volunteer at Soldiers' Angels Events
How You Can Help
You can become an Angel and volunteer with Soldiers' Angels at a facility near you! Please use the contact form on this page for more information on getting involved in this unique opportunity. Volunteers will be required to complete a formal application and complete a background check. A screening process is in place for your safety and the safety of our veterans.
If you aren't close to a facility and still want to help, consider a cash contribution or inkind donations of items such as blankets, snacks, hygiene items, socks, t-shirts and sweat pants. To ship items to support our veterans, please contact us so we may direct your contribution to the best possible site.
If you need more information, please use the contact form on this page.
Contact Us About This Team