Nothing says "I appreciate you!" like a warm, cozy, handmade No-Sew Blanket.
Soldiers' Angels has a long history of providing handmade blankets to deployed, veterans, and even wounded service members being treated at Landstuhl Regional Medical Center in Germany. We have received thank you notes from recipients years after they received the blanket stating that it became a cherished treasure because of the comfort it provided during a time of great uncertainty.
Help us continue this tradition and create more cherished treasures for the military and veteran community by volunteering to make No-Sew Blankets. Not only are they an easy way to make a big impact, they are also a fun activity for people of all ages and groups of all sizes.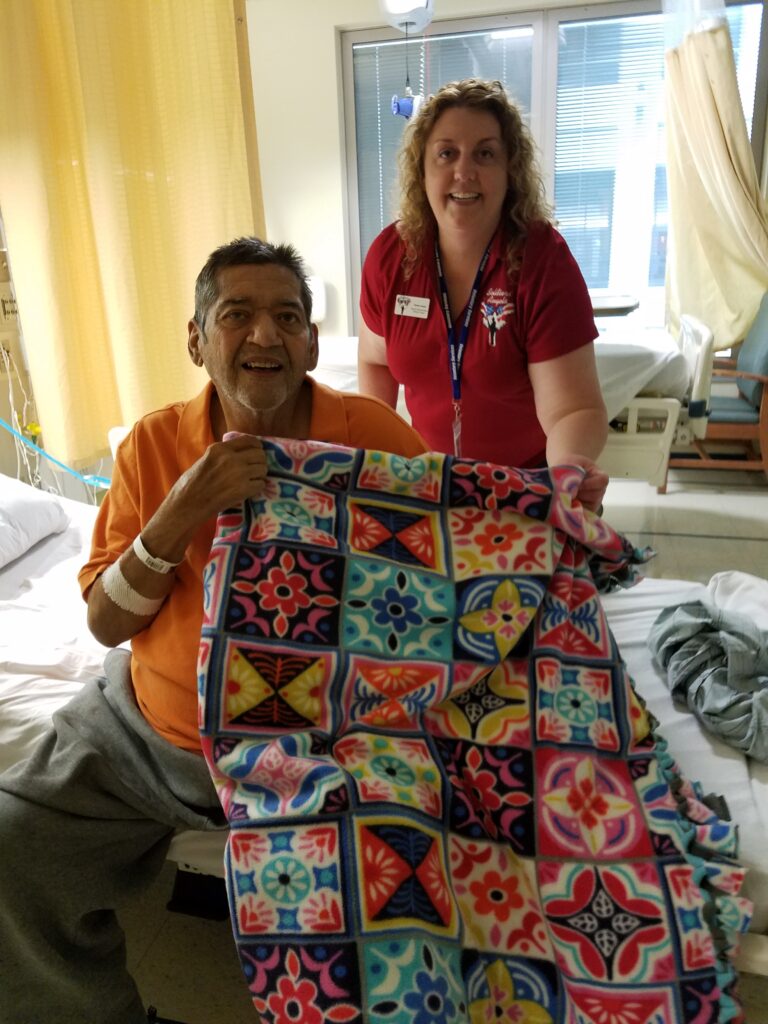 How to Participate:
This volunteer opportunity is open to everyone and you do not need to be or become an Angel volunteer to participate.
Purchase 4 yards of fleece fabric of any color or design or a Fleece Throw Kit. We typically make blankets with 2 yards of a print fleece on one side and 2 yards of a complementing solid color on the other side— but you are welcome to make your blanket however you like!
You'll also need: 6″ x 6″ cardboard square template, scissors, masking tape or painters tape, decorative ribbon, and a hole punch
Watch our video below for a quick tutorial on how to make a No-Sew Blanket
Ship your completed blanket(s) to our headquarters in San Antonio
Mail your blankets to:
Soldiers' Angels No-Sew Blankets
2895 NE Loop 410, Suite 107
San Antonio, Texas 78218
Where Do the Blankets Go?
Mostly, the blankets will be hand-delivered to veteran patients in VA Hospitals across the country. They may also be presented to an expectant military/veteran family to help welcome their bundle of joy. They will even be shared with our team of volunteers in Germany to hand-deliver to service members hospitalized at Landstuhl Regional Medical Center.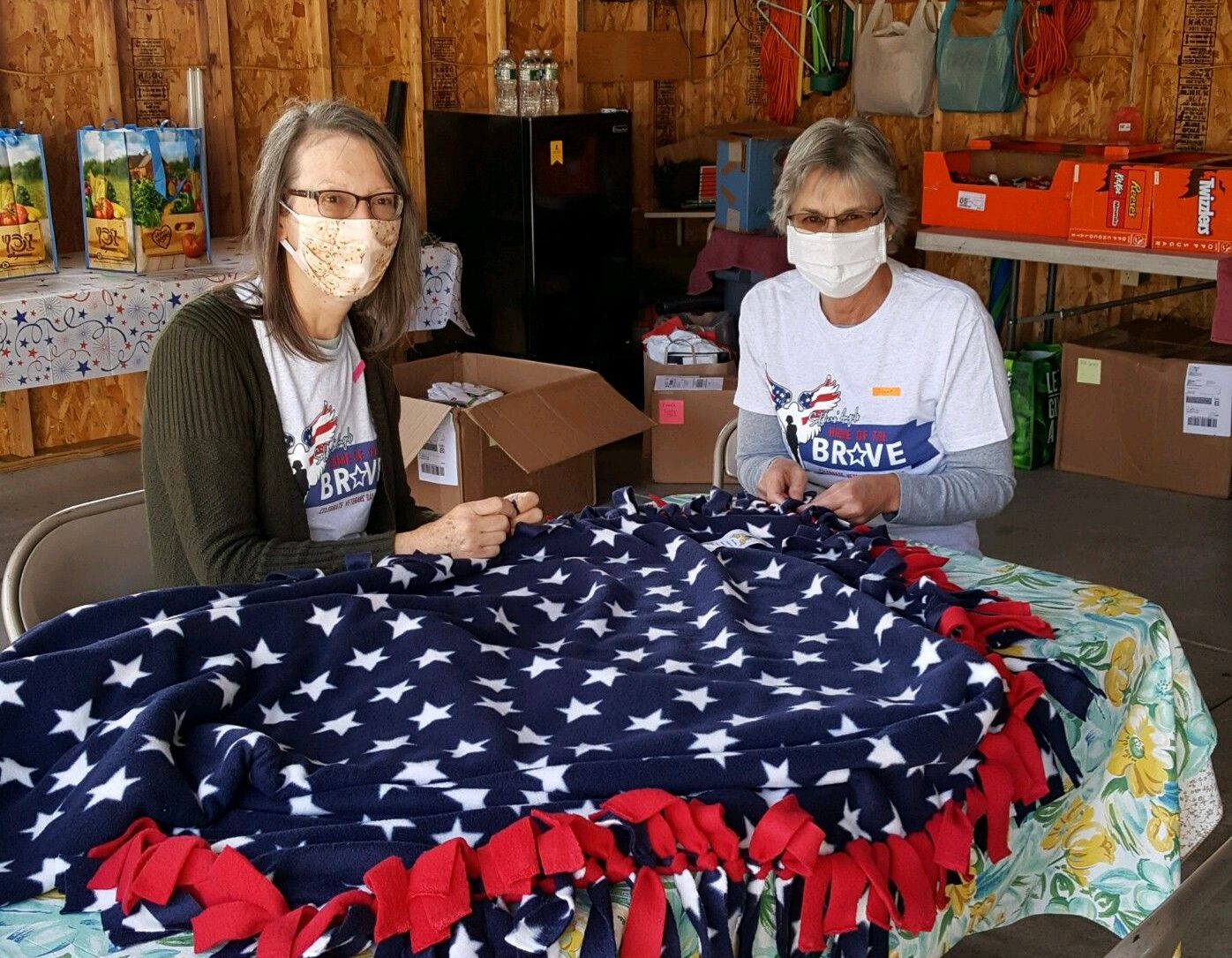 Need Some Supplies?
Check out our Amazon Idea List to get you started on your blanket-making journey.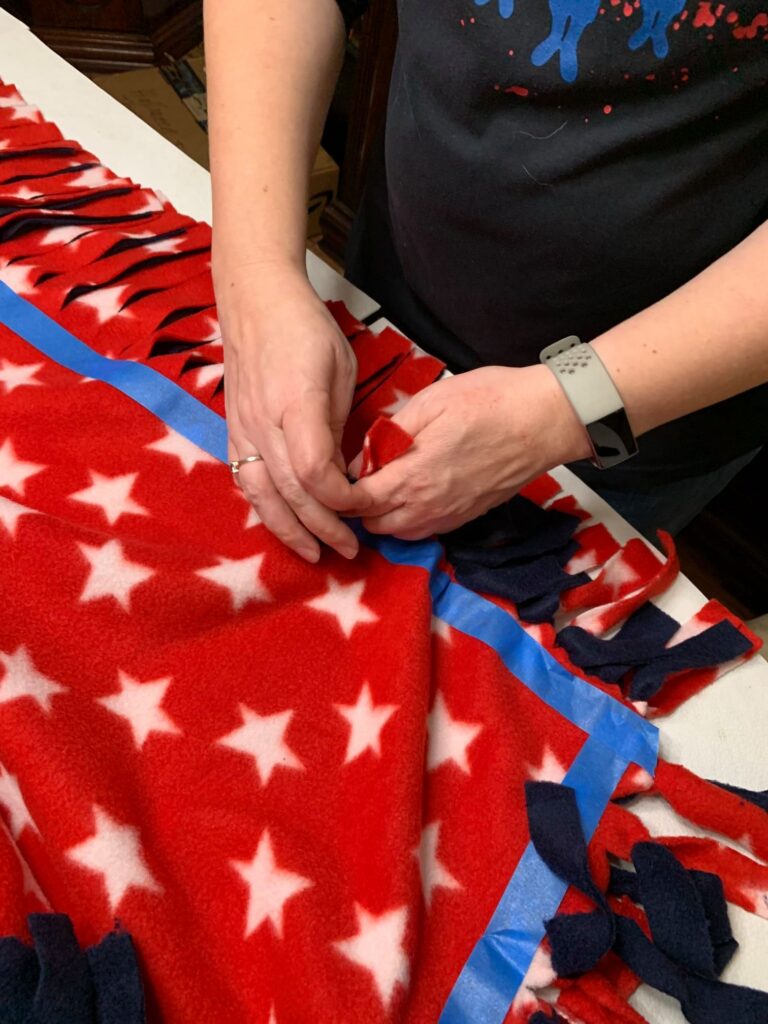 Tips and Tricks for Making No-Sew Blankets:
Tip 1: You'll need a pretty big area to spread out your blanket while you are making it. A large table is best. If you don't have a large table and need to spread out on the floor, that works too! Just be sure to keep pets away from your project to ensure those with allergies can receive your blanket.
Tip 2: To keep your No-Sew Blanket from curling around the edges, tie every other fringe, and then flip the blanket over and tie the fringes you skipped. This evens out the tension and keeps the blanket from curling.
Tip 3: Color is fun! When selecting your fabrics, don't shy away from color. Most of the blankets we deliver are handed out in hospitals which typically lack color and means that a colorful blanket would have even more impact!
Tip 4: Don't overthink it. The fleece fabric hides imperfections. So don't worry if your fringe strips aren't exactly the same size or your edges curl. The most important thing is the love and care you put into the project!
---
Looking for Something More Personal?
Making No-Sew Blankets is an easy and fun way to create a treasure that service members and veterans will talk about for years. But if you're skilled in other crafting techniques— such as sewing, knitting, crocheting, quilting, etc.— check out our Sewing and Crafting Team! If you become an Angel on the Sewing and Crafting Team, your crafting talent will help to make a major impact through a variety of different projects.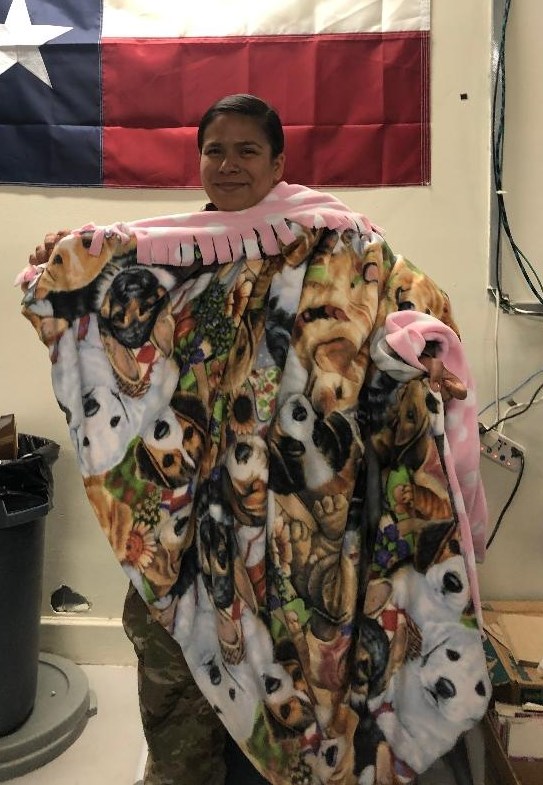 We're Here to Help!
Have more questions about No-Sew Blankets? Or perhaps you're interested in organizing a large group project to participate in this volunteer opportunity? We're here to help. Fill out the form below and we'll get back to you as soon as possible.
Crafting not your thing? Check out our other volunteer opportunities by clicking Volunteer below. If you are a service member or veteran looking to register for one of our services, click Get Support now.