Soldiers' Angels offers a wide variety of services that benefit all those in the Military-connected community.
Scroll down to see an overview of the many ways we help and be sure to click Learn More under each section.
Food assistance.
Soldiers' Angels offers food distributions for Active Duty, Guard/Reserves, and Veterans.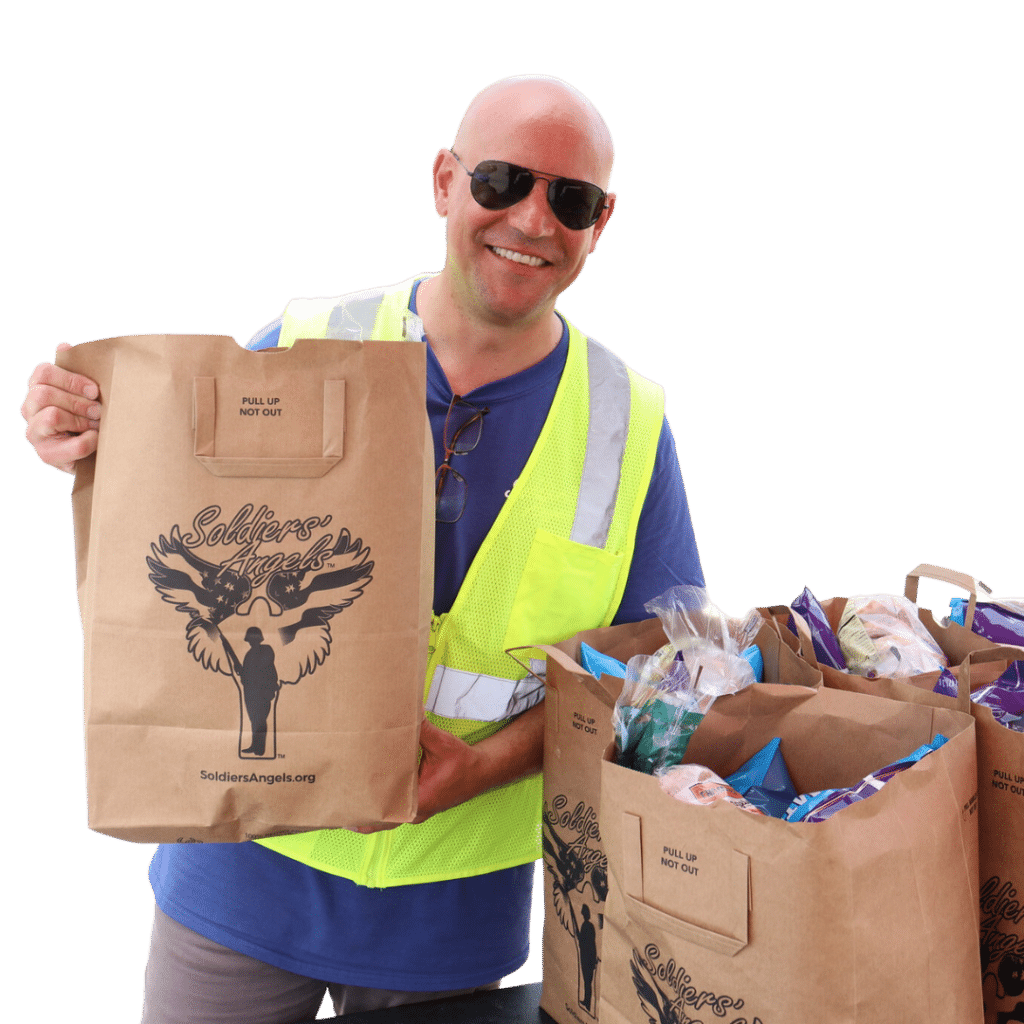 Learn More
340,880 Service Members & Veterans provided with food assistance since 2015.
Soldiers' Angels provides more food exclusively to Veterans than any other organization in the United States. Through monthly drive-through food distributions in seven cities, Soldiers' Angels is able to get fresh groceries into the hands of the Service Members and Veterans who need it most.
In addition, Soldiers' Angels works directly with VA Hospitals to provide box lunches and gift cards to the VA cafeteria, or Canteen, to low-income and homeless Veterans that may not otherwise know where their next meal is coming from.
Food Assistance is one of three of our Critical Assistance services provided to Veterans of all generations. The other two Critical Assistance services include transportation services and supplies to homeless Veterans.
Comfort for Veteran patients.
Direct support to Veteran patients in VA Hospitals across the country.
Learn More
877,224 Service Members, Veterans, and family members supported in 2022.
Soldiers' Angels volunteers work within VA Hospitals across the country to help provide comfort, resources, and activities to Veteran patients. Services offered inside VA include:
Patient Visits
Hygiene Kits
Box Lunches
Coffee Carts
BBQ's
Luncheons/Dinners
Bingo Nights
Baby Showers
Holiday Events
Morale-boosting support for deployed.
Care packages & letters ensure deployed are uplifted.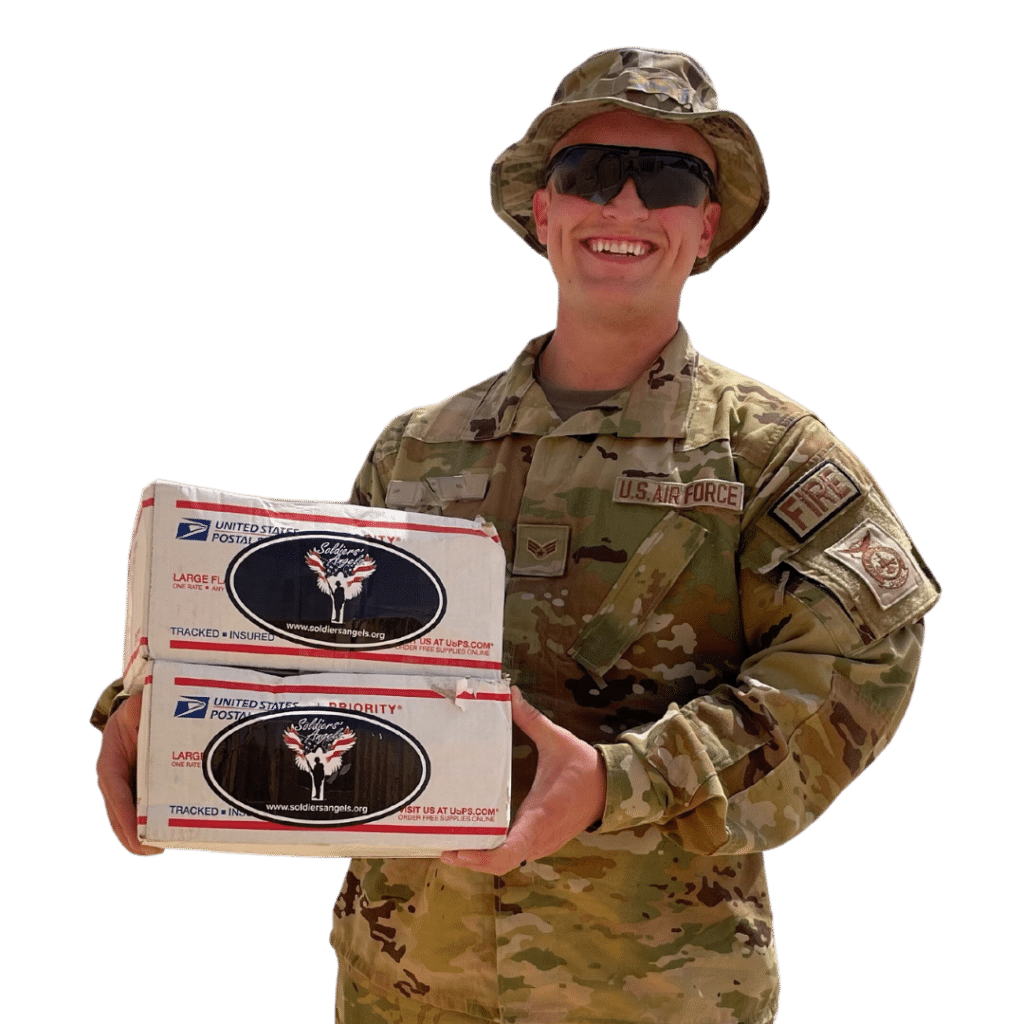 Learn More
1,004,563 care packages sent to combat deployed over the last 19 years.
Soldiers' Angels was founded in 2003 by the family of General George Patton with a mission of supporting those deployed to the war in Iraq. Troops on the ground needed all the support they could get from home and hundreds of thousands of Americans answered the call to step up and send care packages filled with supplies.
Now, over two decades later, Angel volunteers continue to show that support and dedication to our heroes overseas. Working virtually, even before COVID made virtual volunteerism the latest trend, our Angels from all 50 states and over 31 countries abroad, support deployed in a variety of ways, including:
Adopting a Service Member
Care Packages
K-9 Support
Letters/Cards
Support for Medics
Special Operations Forces Support
Homemade Baked Goods
Fly Away Bags
Chaplain Support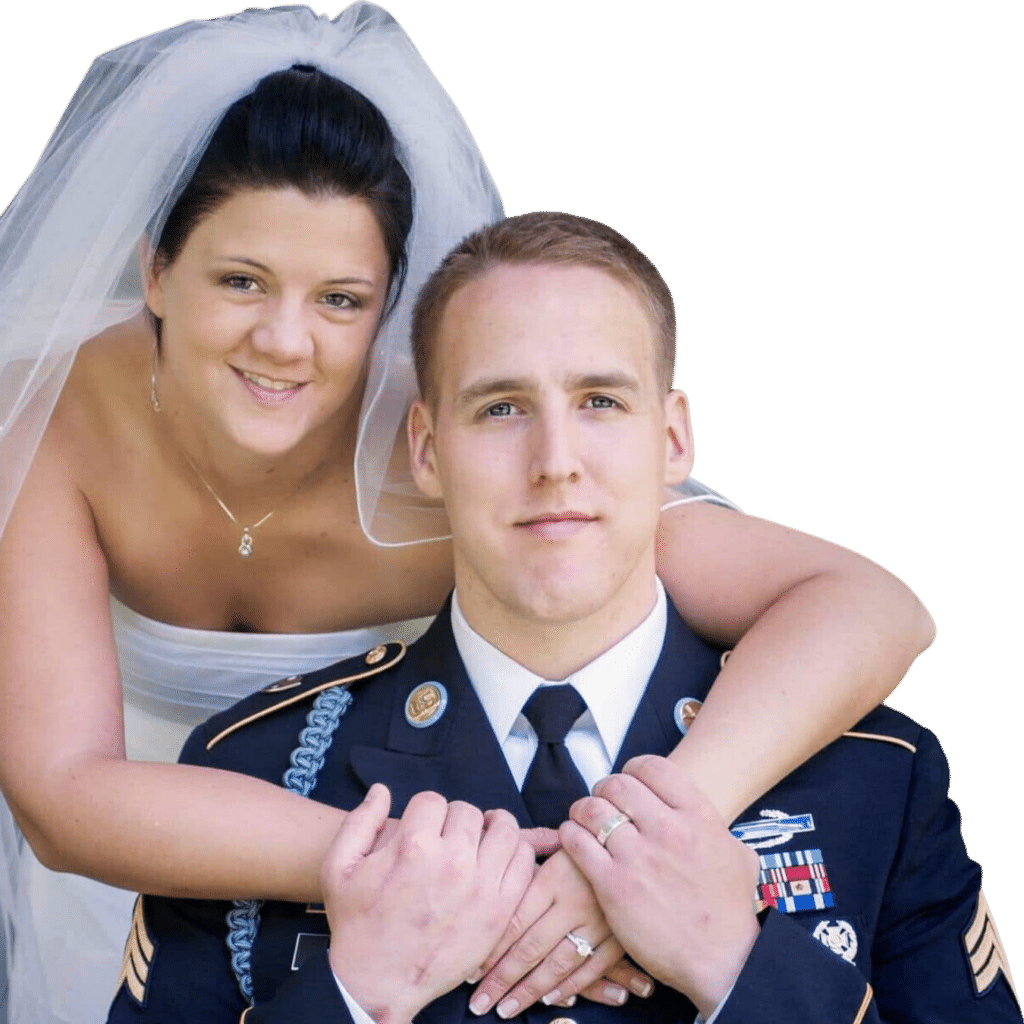 Caregiver support.
The unique approach of the Soldiers' Angels Caregiver program connects female caregivers with female volunteers for a shoulder to lean on.
Learn More
258 female Military Caregivers supported in 2022.
Soldiers' Angels Women of Valor Team is made up of female volunteers from all walks of life. Their mission is simple—encourage, support, and uplift female caregivers as they endure the many challenges that may arise caring for their wounded hero.
In addition, caregivers supported by Women of Valor are provided no-cost telehealth services, including medical and behavioral health services.
Support for the community.
Soldiers' Angels is out in the community working to show our gratitude for all military-connected individuals.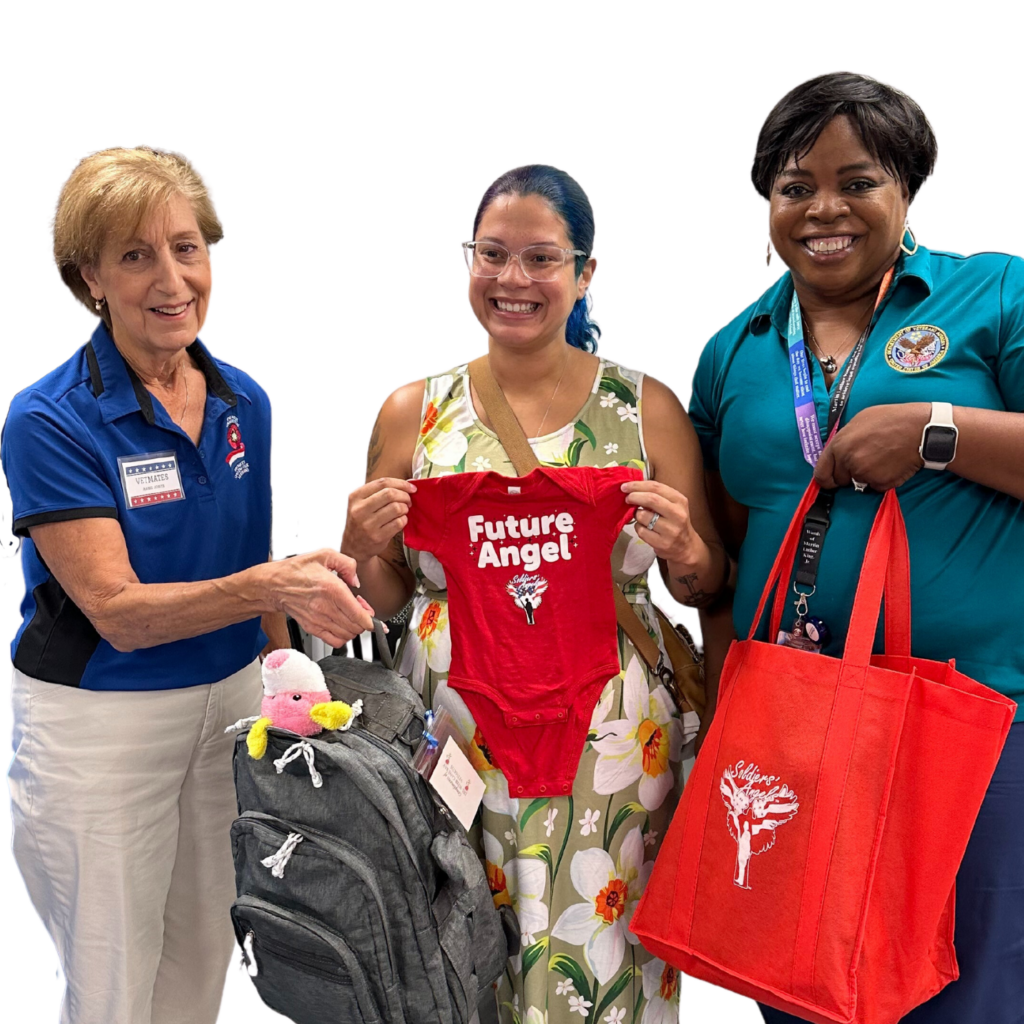 Learn More
Soldiers' Angels Community Support program takes support directly to Active Duty Service Members, Guardsmen, Reservists, Veterans, and Military Families.
Through a wide variety of events, Soldiers' Angels has become a household name within the Military Community.
Pre-Deployment Event Support
Holiday Adopt-A-Family
Luncheons/Dinners/BBQ's
Stand Downs
Cards of Support
Seasonal Campaigns
Baby Showers
Handmade Items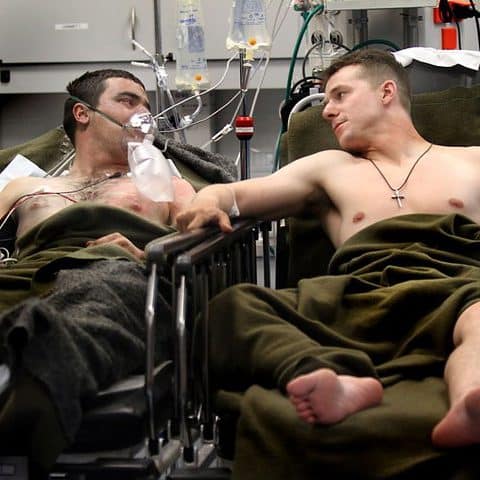 Wartime readiness.
Soldiers' Angels stands ready to support our Service Members should another war impact our country.
Learn More
6,300 + voice controlled/adaptive laptops provided for wounded Veterans since 2003.
Soldiers' Angels was formed in order to provide direct support to our Military during wartime. For 18 years, Soldiers' Angels supported Service Members, Chaplains, Medics, K-9s, and more downrange with much-needed supplies and support. In addition, we formed a team on the ground at Landstuhl Regional Medical Center in Landstuhl, Germany to directly support the wounded as they were medevaced from the battlefield.
We know what it means to support during wartime. And while we hope that our wartime support program will not need to be activated—we stand ready to support in whatever way we can.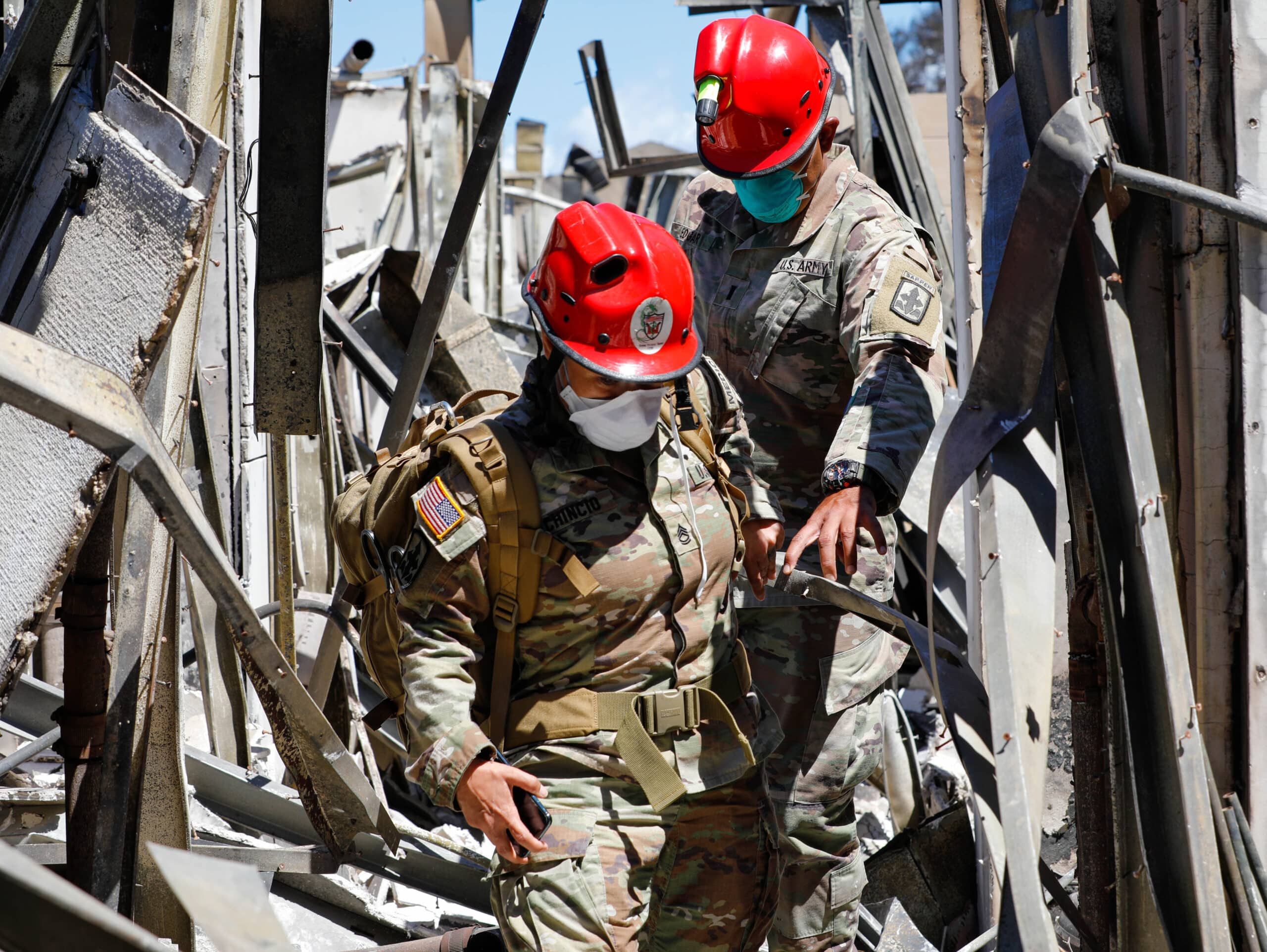 Disaster relief.
When the unexpected happens, Soldiers' Angels and our army of volunteers are ready to support.
Learn More
Natural disasters happen. And more often than not, our Service Members, specifically Guardsmen, are the first on the ground to provide aid, resources, and relief to those affected. Soldiers' Angels is on-call to support those activated to respond and help provide them with the support that they need to complete their mission.
The need after each disaster is unique. However, with the largest network of volunteers of any nonprofit of its kind in the country, Soldiers' Angels has a direct line to thousands of like-minded people around the world who are ready to provide donations, both financial and in-kind, to supply even the toughest missions.
• Provided in-kind and cash donations to the Veterans and National Guard families impacted by the Maui Wildfires in 2023.
• Supported deployed Service Members who were impacted by the earthquake in Turkey in 2023.
• Provided over $40K of clothing, food, toys, and other necessities as well as over $84K in cash donations for urgent items to military installations that served as "Lily Pad" bases for Afghan refugees fleeing the country at the end of the war in Afghanistan in 2021. In addition, assisted hundreds of Afghan refugees with resettling in the San Antonio area.
• Provided continuous support to the Military and activated Guard units that responded to the COVID pandemic from 2020 – 2022.
• Shipped critical supplies, including food, water, and clothing to units supporting Houston after Hurricane Harvey and Puerto Rico after Hurricane Irma in 2017. Supported impacted Military and Veteran families with clothing and supplies as they began the path to recovery.
Ready to get involved?
Soldiers' Angels is always in need of more volunteers and supporters to continue carrying out our impactful motto:
May No Soldier Go Unloved, May No Soldier Walk Alone, May No Soldier Be Forgotten, Until They All Come Home.™
Click through now to learn more about how you can support by donating your time, talents, or money.