Military Working Dogs play an important role in protecting Service Members, military installations, and our country.
Help us honor these four-legged heroes this National Pet Week by donating much-needed dog items!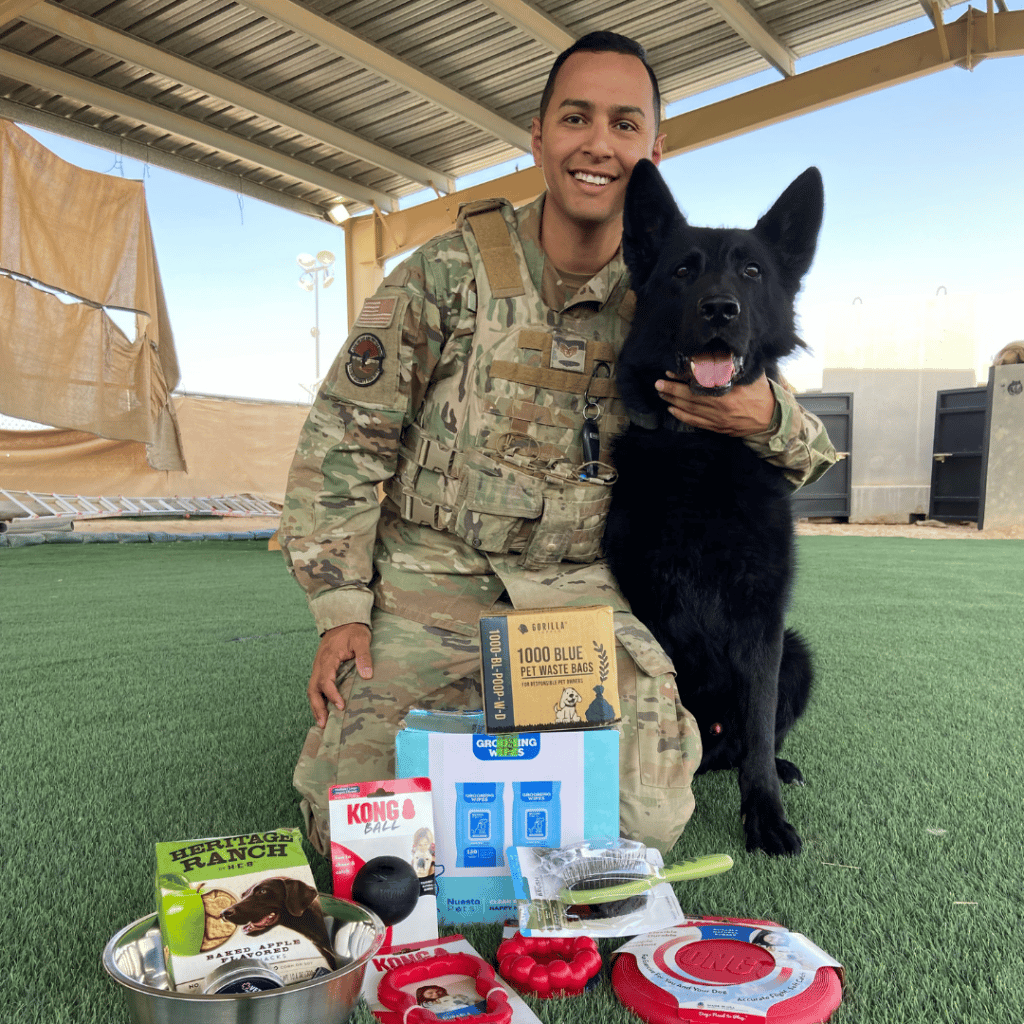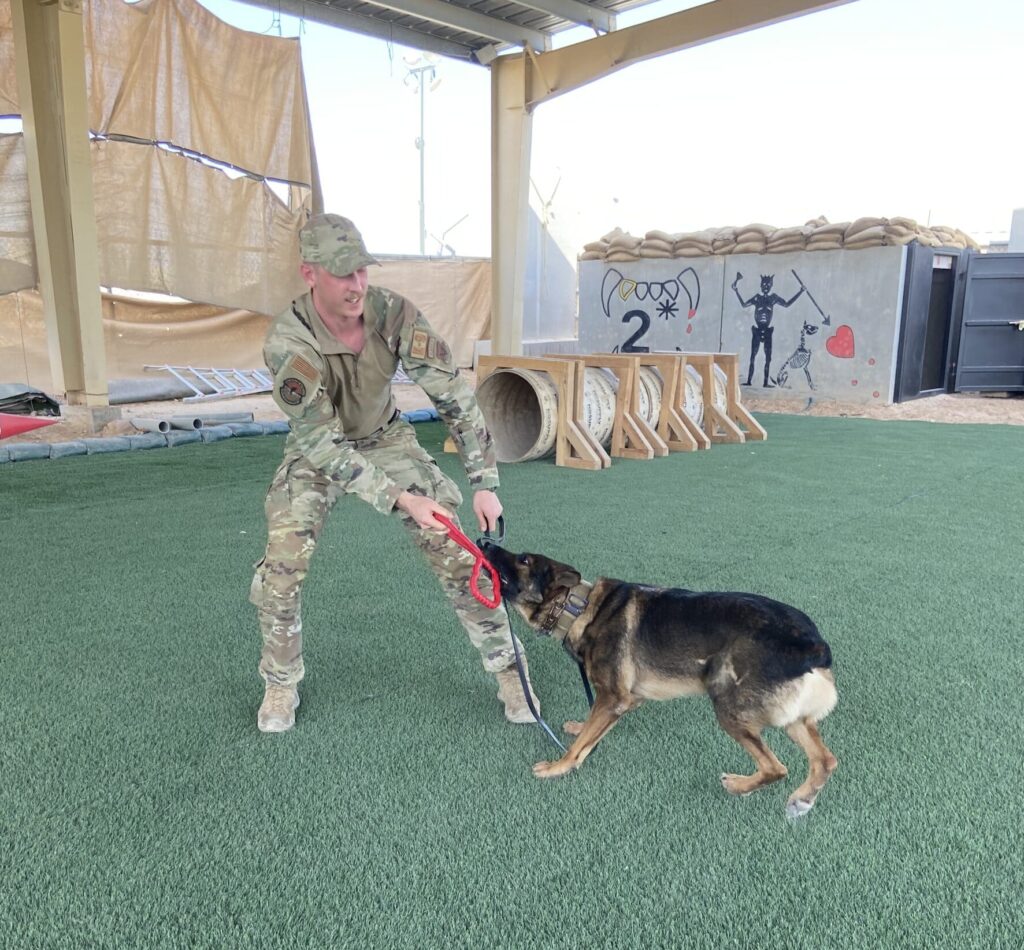 With a variety of roles ranging from explosive detection, tracking, search and rescue, and more, Military Working Dogs or MWDs work hard every day for our military. Will you help us give back to them this National Pet Week?
National Pet Week is May 7-13 and May also happens to be Military Appreciation Month! While we realize that Military Working Dogs are not technically pets, we figured this week would be the perfect time to ensure that no military member goes unloved during Military Appreciation Month— even those with four legs and a tail!
Honor Military Working Dogs collection will run from May 7-13, 2023.
How You Can Help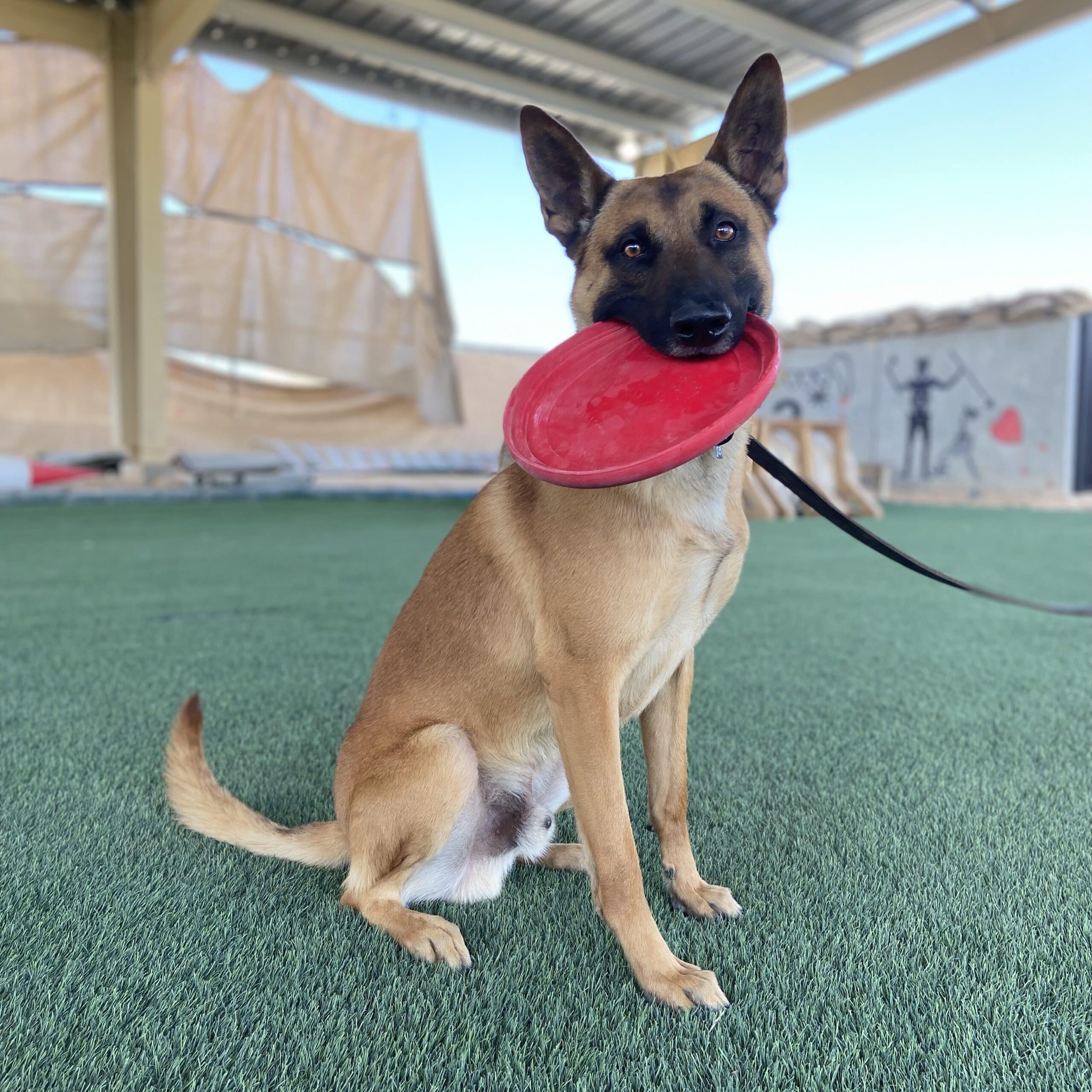 Shop Our Amazon Wish List
We reached out directly to the dog handlers we're supporting and they gave us a very specific list of the items they need the most as well as the items they cannot accept.
We added those items to an Amazon Registry to make it as easy as possible to support our furry fighters!
Shop for Items Near You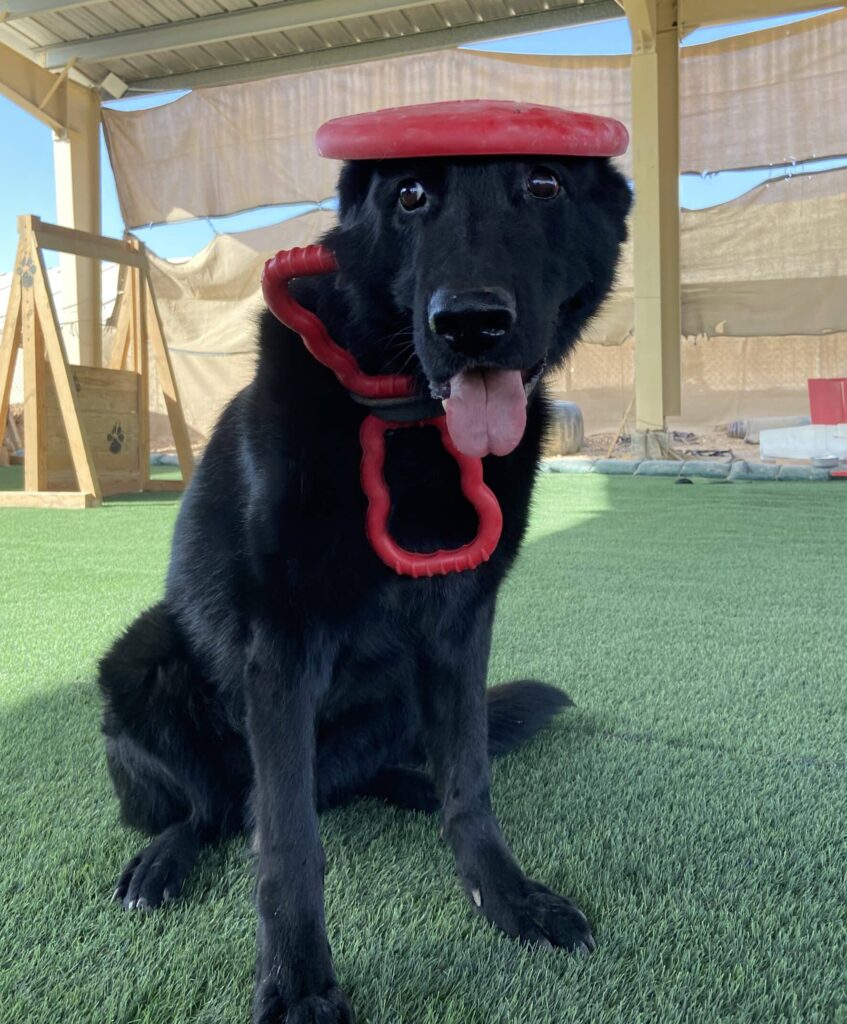 Shop for care packages near you and ship them to our headquarters.
Shop for needed care packges items at your favorite local stores.
Be sure NOT to purchase items that our handlers cannot accept or cannot use! Please refer to the list of accepted and not accepted collection items below.
Ship your purchased items to our headquarters in San Antonio.*
*You are responsible for all shipping costs to get your collected items to San Antonio. If the cost of shipping is a concern for you, we recommend focusing on the smaller, lighter weight items to keep your shipping costs low.
Make a Donation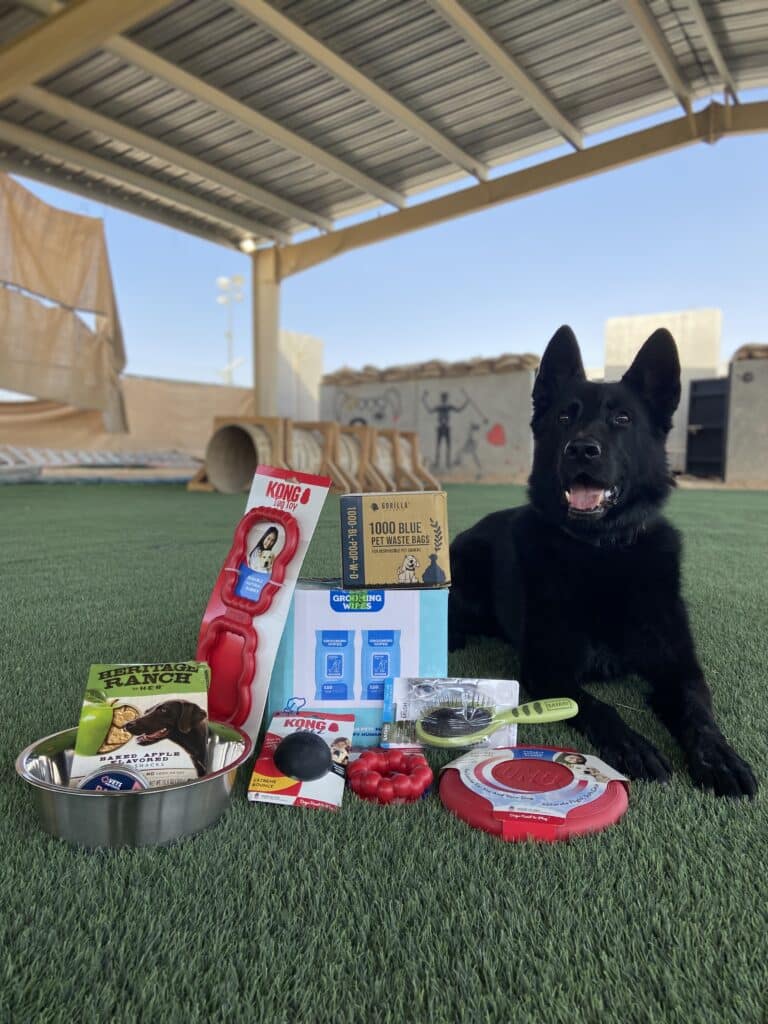 Help us ship these K9-focused care packages overseas by making a donation! It costs about $25 to send one care package— so every donation helps!
Donate via PayPal
Mail a check or money order addressed to Soldiers' Angels using the shipping address below. Please note on your check that you would like the donation to go to "Go Camo Care Packages."
Call our headquarters office in San Antonio Monday-Friday, 9 am-5 pm central, and make a donation over the phone. (210) 629-0020
Collection Items
Straight from our dog handlers, these are the most-needed Items:
Large bowls for food/water
Strong toys for power chewers
Grooming tools
Lots and lots of poop bags!
These items CANNOT be accepted and we request you DO NOT send these:
Dog treats or dog food of any kind. All MWDs are on specialized diets and cannot utilize treats or food outside of their diet.
Shipping Address
If you're collecting items or purchasing items locally, you can ship all of your items to our headquarters in San Antonio.*
Soldiers' Angels – Honor Military Working Dogs
2895 NE Loop 410, Suite 107
San Antonio, Texas 78218
*You are responsible for all shipping costs. We will not accept COD deliveries. If you have any questions regarding shipping, please email us.
Marketing Materials
Rally your friends and family to support our Honor Military Working Dogs campaign! Save the below graphics to your computer and then share via email or on your social channel of choice.
Instagram: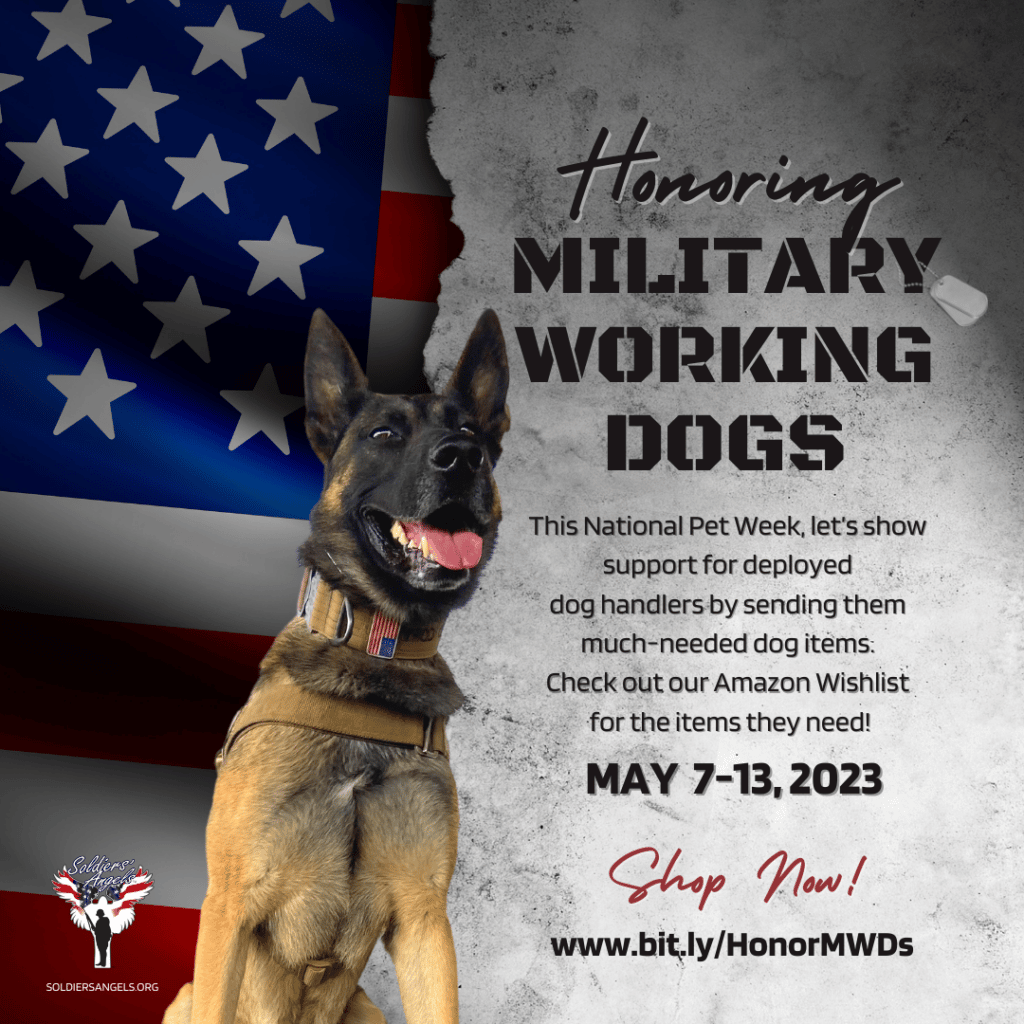 Twitter: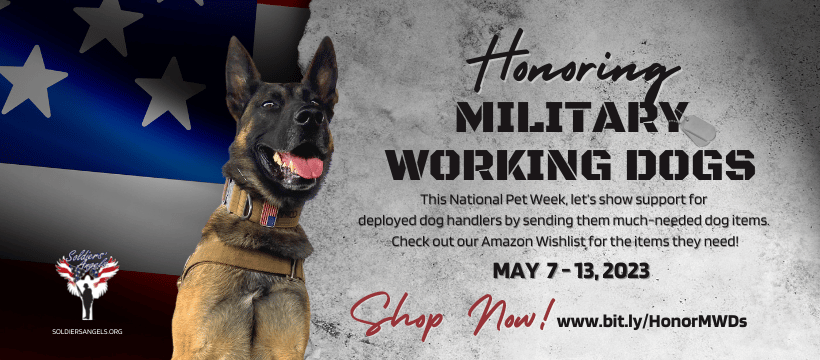 Facebook/Linked In: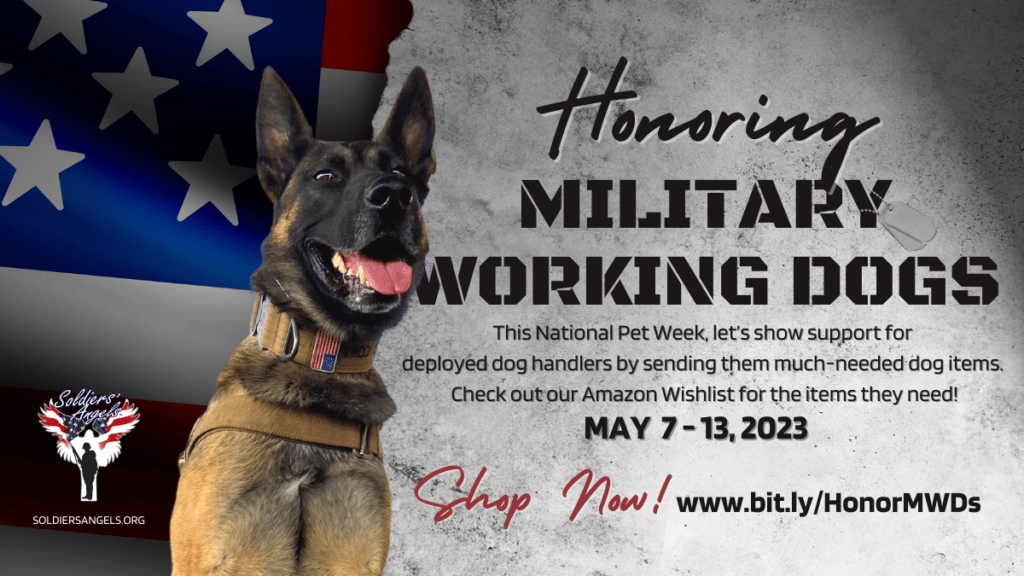 FAQ's
We've outlined some other questions and answers we typically receive about our collection campaigns. But if you have a question not answered below, feel free to reach out via email.
Click on each question to reveal the answer!