School's Out for Summer! 10 Activities for Kids That Teach Giving Back
June 8, 2018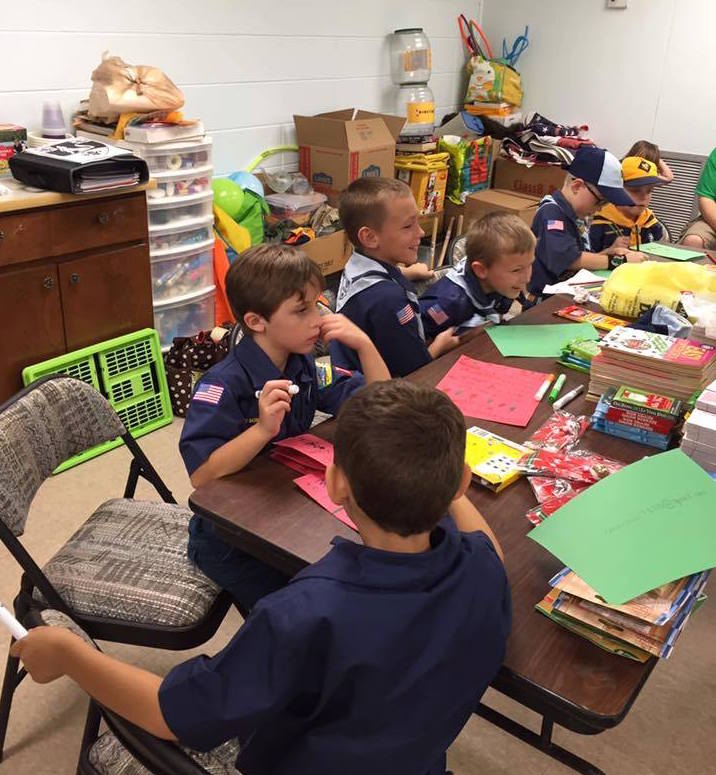 It's Summertime, which means school is out! If you're scratching your head wondering what to do with your children this summer, we've got you covered! From things to do at home to things that get you out of the house, there are lots of ways to have fun with your kids while teaching them about giving back and honoring our military heroes.
Here are 10 activities for kids that teach giving back.
Activities you can do to get out of the house
Itching to get those kids of yours out of the house and away from their electronic devices? Here are a few volunteer activities that will teach them the importance of volunteering.
Packing Box Lunches or Assembling Care Packages
We love partnering with clubs like 4H or youth organizations of Middle or High School aged kids. Our box lunches, hygiene kits and care packages are great assembly line projects that can keep a group involved and teach the importance of giving back to our service members and veterans. If you have a large group of children (like a Girl Scout or Boy Scout group, club, or church group), we'd love to get you involved!
Check out our Community Partners online form.
Volunteer at Mobile Food Distributions
Every month we host mobile food distributions in Atlanta, Detroit, Denver, San Antonio, and Charleston. Starting in June 2018, we will also be hosting monthly distributions in Orlando. We love it when kids get involved! Activities include: packing bags of food and handing out the bags to the many veterans who come through. Age restrictions to participate vary by location.
Click for more information on Mobile Food Distributions
Host a Fundraiser
Fundraisers are a great way to teach kids important skills like customer service, goal setting, math/money management, and the power of doing for others. Whether it's a bake sale, lemonade stand, or something one-of-a-kind, it's a fun summer activity that promotes giving back.
Click for info on hosting a fundraiser
Host a Collection Drive
Soldiers' Angels is always in need of supplies for care packages, box lunches, hygiene kits, or other programs we run. One fun way to get kids engaged and teach them about charity is to help them do a collection drive for supplies.
Click here for info on hosting a collection drive
Activities you can do from home
With Soldiers' Angels, you don't have to leave your house to support our troops and veterans! Many of our teams are completely virtual and we have thousands of virtual Angels who donate time and talents to our deployed heroes.
Make No-Sew Blankets
A blanket may seem like a simple gift, but think how much warmth and comfort your favorite blanket provides for you when you're cold or lonely. Each year we host a blanket drive to bring our veterans a little warmth and cheer. Kids can participate by making No-Sew Blankets and/or writing a special message to go with them. No-Sew Blankets are super easy to make and are a very kid-friendly activity!
Send Letters
Our deployed troops love getting mail! We have lots of teachers and parents on our Letter Writing Team who get their children involved in letter writing. Some children write their own letters and some send drawings to go along with the letters their parents send. Our troops LOVE getting letters and drawings from kids!
Letter writing is a lost art and a valuable skill to teach in the digital age. Angels on this team are required to write as few as one letter a month but some write as many as 14 letters per week! So, sign up, join the team, and start writing letters together. Who knows, you may end up with a family pen pal!
Click to find out more about the Letter Writing Team
Send Care Packages
Our Deployed Adoptions Team is a great way to teach children the spirit of giving and to let their creativity soar! Signing up for the team means making a commitment to send your service member at least four letters and one care package a month until they return home.
Adopting a service member means you get to know their likes and dislikes so that you can send them treats and reminders of home. It's not just what's inside the box either – sometimes the best part is decorating the inside of the box to match a theme. Some decorate in their service member's favorite sports team. Some choose holiday themes – it's all about creativity and adding a personal touch to each box.
More about the Deployed Adoptions Team here
Make Cards
Paper crafts are always fun to do with kids – especially younger children. Cards are easy to make and can also improve your child's motor and creativity skills. Our Cards Plus Team supports service members, their families, and even other Angels by sending encouraging or celebratory cards and notes.
Learn more about the Cards Plus Team here
Bake for our Troops
Some of the best memories spent with our parents are usually in the kitchen making yummy treats. Pass that tradition down with a fun twist – make them for our troops! Our Angel Bakers bake home-baked goods for our deployed military heroes. Cookies, brownies, cupcakes, rice crispy treats… they do it all!
Find out more about the Angel Bakers Team here
Involving your children in charitable efforts can give them a different perspective, one where they see how impactful helping others can be. So why not spend some time this summer volunteering or giving back in some way?
---