Heartwarming Stories from 2020
December 28, 2020
No matter who you are, 2020 has been a challenging year. We had to quarantine and stay socially distant, we learned how to accessorize our masks, we worked from home and had to refrain from seeing family and friends. Concerts, gatherings, and festivals were cancelled. We couldn't even go out to eat for a while, making takeout our only option. We've seen our favorite local restaurants and bars suffer because of it. Healthcare workers have been putting their lives on the line every day while essential workers risk exposure every time they clock in. Despite all of that, we had some incredible moments that generated a wide range of heartwarming stories from 2020.
In the military world, we saw thousands of National Guard and Reserves called up to support the COVID-19 pandemic response. Deployed service members faced longer deployments, quarantines, and uncertainty for their families back home. Homebound veterans faced the realities of severe isolation while veteran patients had to go without seeing family and friends due to safety precautions at the VA Hospital. It was a tough year.
As an organization, we dug deep and made some changes to ensure we supported the immediate needs of veterans, service members, and military families.
Despite the hardship 2020 brought, there were some moments of joy that reminded us of the human spirit and the kindness that exists in the world today. Here are some of our favorite, heartwarming stories from 2020.
Top Nonprofit
This July, we achieved the #2 status on Great Nonprofits out of ALL of the non-profits in every sector. You can see where we fall currently here, and help us stay on top by adding your review on greatnonprofits.org.
Inn Support of our Troops this 4th of July
Over the 4th of July, a group of Innkeepers came together to send baked goods overseas. Angel Karen Wilson launched a campaign called "Inn Support of our Troops" and reached out to Innkeepers across the country to encourage them to register for the Soldiers' Angels Angel Baker Team and send care packages for the 4th of July. Karen was able to recruit more than 30 inns to participate who each registered independently to participate as Angel Bakers.
A Very Special Virtual Wedding
COVID restrictions put a lot of stress on the wedding industry as many couples had to postpone, cancel, or reimagine their 2020 wedding. While health and safety is rightfully taking precedence over celebration, we were so excited to hear of one special wedding that did take place between two of our angel volunteers. The bride, Cheryl is an Army veteran. The groom, Walter is an Air Force veteran and both serve as volunteers at our San Antonio Mobile Food Distributions. They held a virtual wedding ceremony on Saturday, June 20 with 20, socially distanced guests. Their officiant, Rev. Gray, is also a Soldiers' Angels volunteer who they met while volunteering at the Soldiers' Angels Veteran Mobile Food Distributions!
101 Cards – A Card for Every Year
On August 28th, Soldiers' Angels received a unique request from an assisted living facility in Arizona:
"Hello, I have a WWII Marine veteran turning 101 on September 9th. I would love for him to receive 101 cards. Is this something you guys would do?"
Yes! Absolutely!! The team at Soldiers' Angels got to work immediately and called Angel volunteers on the Soldiers' Angels Cards Plus Team to help fulfill the request to send 100 of the 101 birthday cards to this very special military hero in time for his birthday. The 101st card was sent from the Soldiers' Angels staff and included a special lapel pin, dog tags, and coin. Fast forward to September 9th – this Marine was over the moon to receive so many cards on his birthday!! He was especially excited for his Soldiers' Angels coin and lapel pin. Everyone at Soldiers' Angels is so grateful that we were able to be a part Al's special celebration.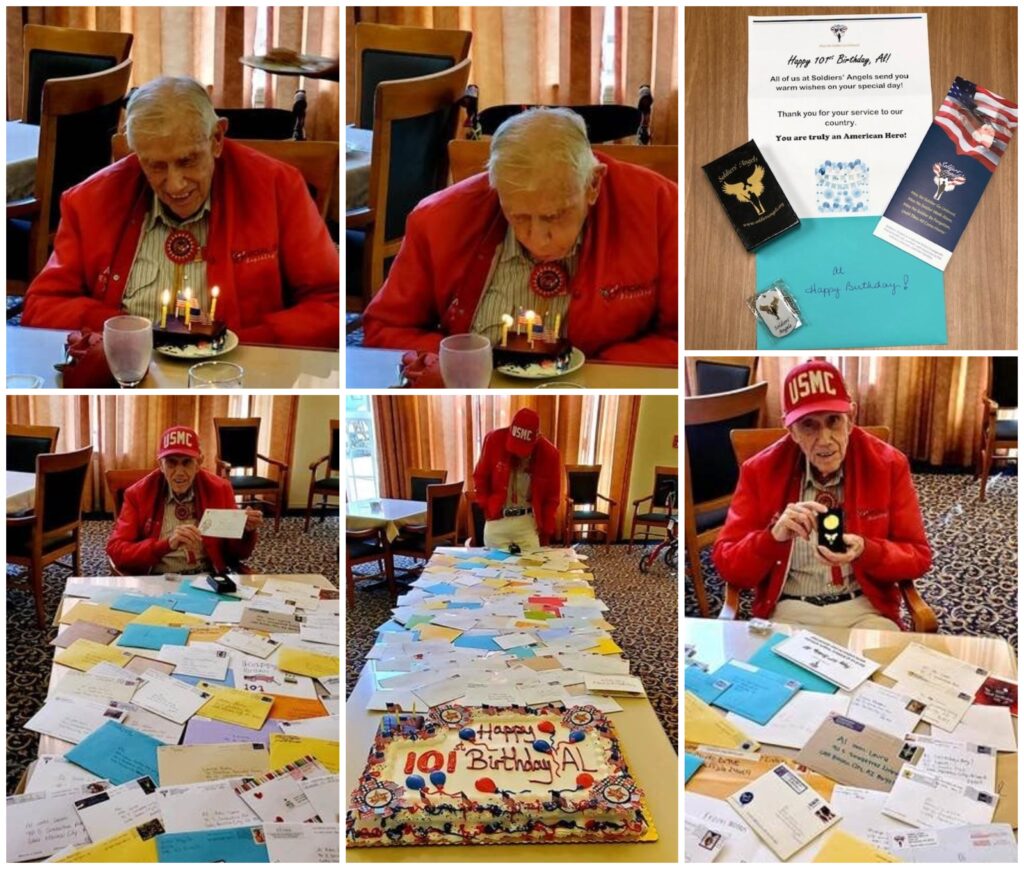 If you know a veteran with an upcoming birthday or who could just use some cards of encouragement/gratitude, you can register them to receive cards, just like Al, through the Soldiers' Angels Cards Plus Team here.
A Halloween Party Overseas
We got a very special request from a deployed unit we support asking for Halloween candy and Halloween decorations. The Chaplain there was hoping to lift some spirits by throwing a Halloween party. Our Chaplain Support Team Leader, Kaleena Gharky, put out the call to Angels on the Soldiers' Angels Chaplain Support Team to send decorations and candy. As usual, our angels came through in a big way!
Celebrating Veterans Virtually
Veterans Day was extra special this year as this was the first year we officially took over the Home of the Brave Campaign. Despite COVID restrictions, teams across the country were able to come together in some way to show appreciation for veterans in their community.
More Stockings Than Ever
Maintaining our regularly scheduled collection campaigns during such uncertain times left us feeling uncertain as to if the campaigns would be a success or not. One such campaign was our Soldiers' Angels Holiday Stockings for Heroes campaign. During normal years, large corporate partners eagerly participate in the stuffed holiday stocking collection and are able to contribute thousands of stockings at a time. With so many companies working remotely, we knew that the chances of receiving large pledges would be slim to none and feared we wouldn't make our goal of 20,000 stuffed holiday stockings solely from individual pledges… BUT we received more stocking pledges than ever before!! Pledges came in smaller batches, but the amount of people who participated increased dramatically! Individuals and small businesses contributed 22,360 stockings with an additional 7,000 that were donated from USAA, for a grand total of 29,360 stuffed holiday stockings for deployed service members, veterans at VA Hospitals, and activated National Guard and Army Reserve Units.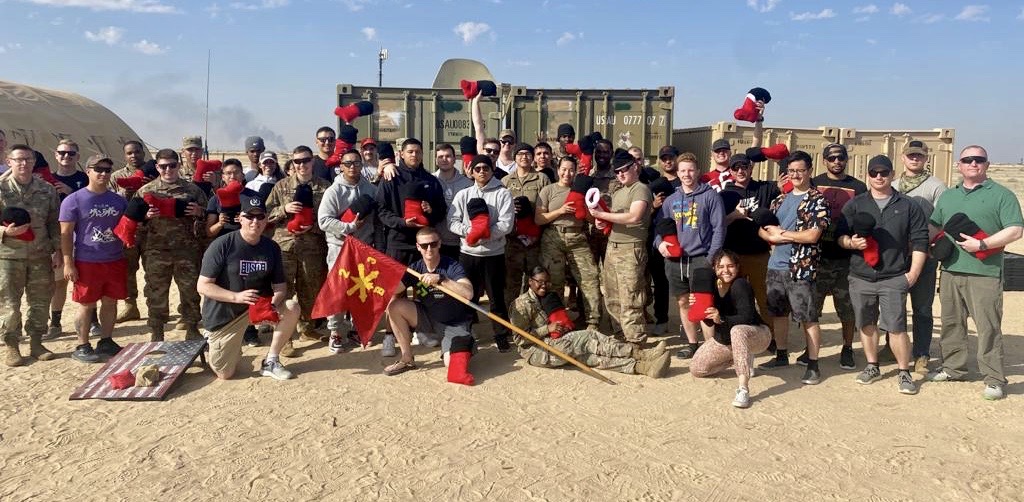 Outpouring of Support for Military Families
Similarly, when it came time for our annual Soldiers' Angels Adopt-A-Family program, we were not able to list approved families fast enough! A long line of eager individuals, organizations, and businesses were ready and waiting to "adopt" a family and help them have a wonderful holiday celebration by providing gifts for their children and a grocery gift card for the family to put towards their holiday meal. At the height of "adoption" season, families were getting adopted within 1-2 minutes from the time our Soldiers' Angels Adopt-A-Family Team listed them in our database!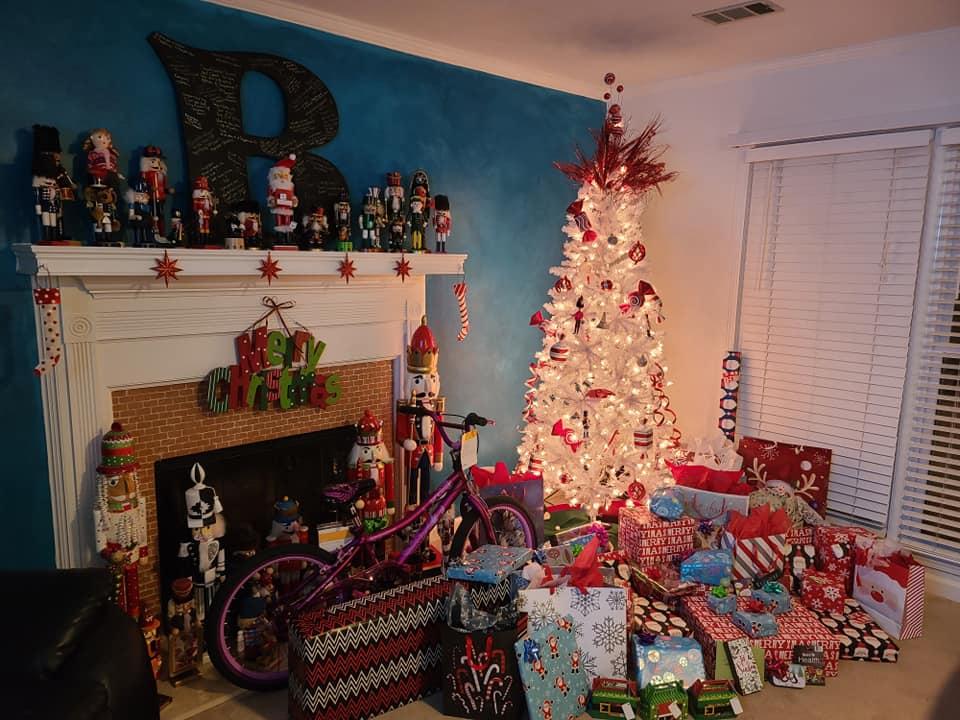 Tiny Small Office Cat Birthday
Last but not least, and prooving that during a pandemic it's the little things that can boost spirits, celebrating Roo's Birthday. In October of 2019, a very special angel came into the lives of our staff and local volunteers here in San Antonio. A teeny tiny orphaned kitten just a few weeks old was discovered by the side of the road by our Marketing & Communications Director Michelle. MJ whisked her away and brought her to our headquarters because she wasn't sure what else to do. After about five minutes of swooning, it was decided… Roo would become the official Soldiers' Angels office cat. She has brought us countless hours of joy – especially throughout 2020. This year, we celebrated Roo's 1st Birthday with a silly, fun, socially distant, cat-tastic Birthday party.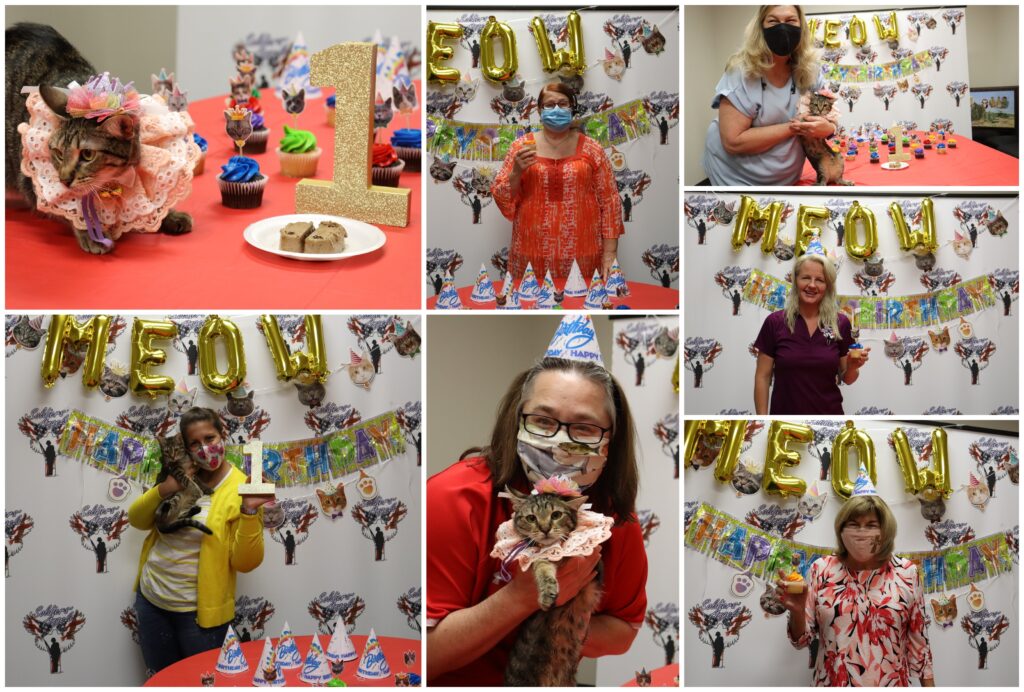 We hope that despite the challenges and heartache that has been brought on in 2020, there were small moments of joy for you, as well. While it doesn't look like much will change heading into 2021, we look forward to the new year.
---