Celebrating Veterans Despite The Pandemic
November 19, 2020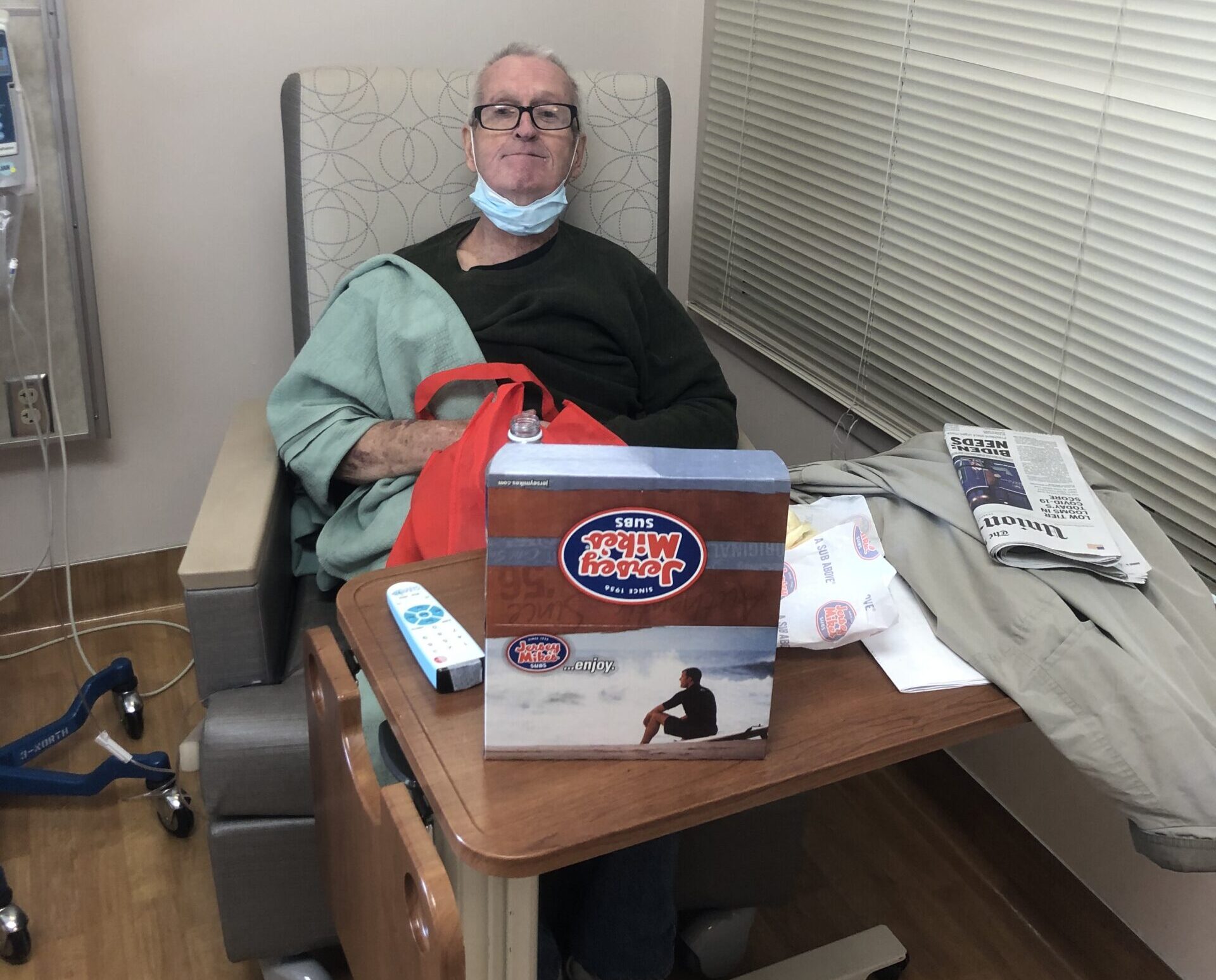 This year, Soldiers' Angels was excited to announce that we acquired the Home of the Brave Campaign. Established in 2012, Home of the Brave Campaign partners with Veteran Affairs Voluntary Service (VAVS) and corporate partner employees to honor and celebrate Veterans at VA medical facilities. Employees participate by volunteering for events, visiting patients, and donating much-needed items in honor of Veterans Day.
In 2019, Home of the Brave recruited the support of a total of 650 company volunteers who contributed over 4,000 hours of their time to honor and support 22,761 veteran patients across the country. They did luncheons, patient visits, parades, and lots of in-person events where they got to spend time with veterans patients to show their support and appreciation.
The mission of Home of the Brave is simple: thank those that we owe for freedom. This year, many of the regularly scheduled events had to be altered in accordance with CDC guidelines so that everyone – especially veteran patients – could stay safe and protected. That meant social distancing, staying out of the VA Hospitals all together, masks, and other protections.
Despite these restrictions, Home of the Brave teams across the country were able to pivot, get creative, and celebrate veterans in their communities. Here are a few highlights from Home of the Brave Teams across the country.
A Veterans Day Parade and Car Show in Little Rock
The team in Little Rock, Arkansas had a Veterans day Car Parade / Car Show with 65 Cars and drivers participating! They also handed out hats and shirts.
"Just wanted to share our thanks for support of the 19th annual Veterans day Car Parade / Home of the Brave! The Car show created by Debby and her husband 19 years ago had to be modified this year to a car Parade. We had 65 Cars and drivers participate! Thanks to Soldiers' Angels, Gregg, and the sponsors for supporting donations to honor Veterans. Normally we have 150 plus cars, hamburgers, and hot dogs are provided, and numerous VA outreach vendors from VBA, Vet Center, and CAVHS are present to provide information and enroll Veterans in VA Healthcare.
We did have a member of Recreational Therapy record the Pontiac Car Club and Corvette Club Parade / Home of the Brave celebration that will be broadcast over internal Channel 74 At CAVHS. Was great to see 94 Veterans at the 8 State Home Cottages just next door on their porches with Home of the Brave T-shirts and Hats to enjoy the car parade!" – Michael R. Dobbs, Chief, Voluntary Services, Central Arkansas Veterans Healthcare System
Goodie Bags and Giveaways
We had several teams across the country gather together (safely) to create No Sew Blankets and put together goodie bags to be distributed in a safe way to veterans in their communities.
The San Diego team filled over 200 bags with blankets, socks, t-shirts, and hygiene kits to be distributed throughout the Oncology Infusion Outpatient Clinic.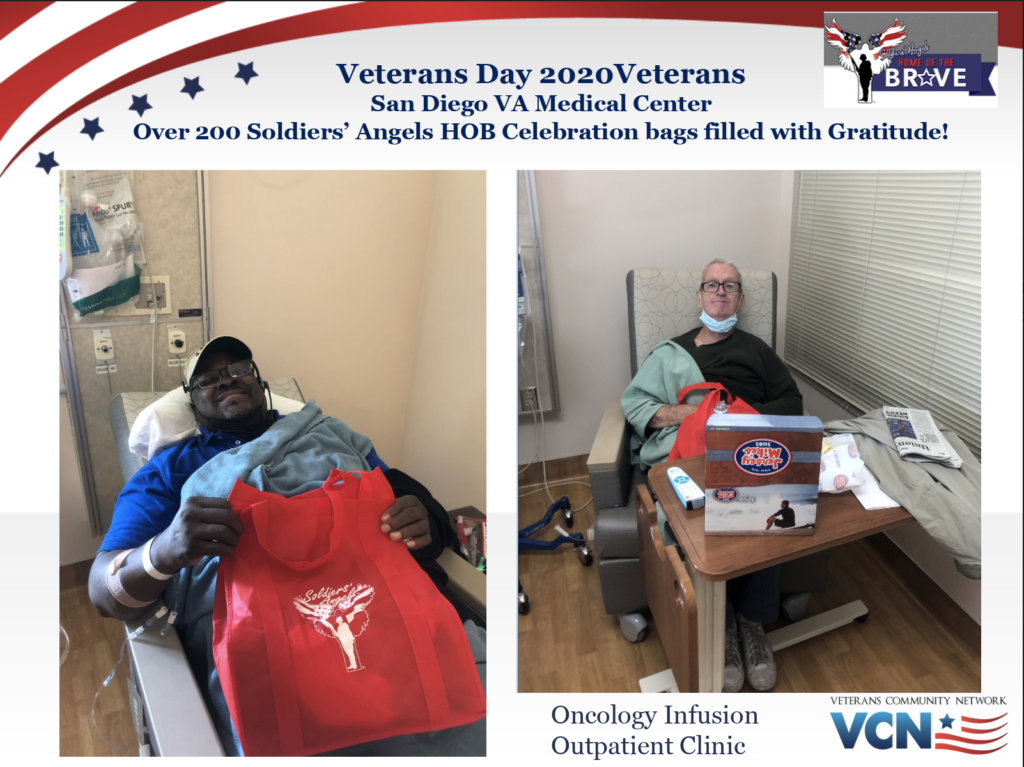 In Anchorage, Alaska they bundled shirts and hats with notes of thanks.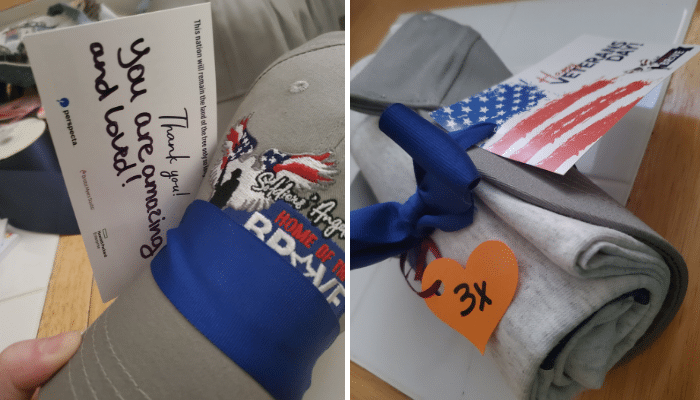 In Columbia, South Carolina, they made No Sew Blankets and handed out Hygiene kits, shirts, hats, masks, and bags.
In Denver, Colorado, they distributed gift bags full of swag and coffee.
In Buffalo, they made No Sew Blankets and gave out goodie bags.
A Special Video
In Colorado, the Cheyenne County Hewlett Packard Enterprise team put together a special Thank You video to send to the Cheyenne and Denver VA hospitals since they can not make in person visits for Veteran's Day. The video shows the gratitude from the team and touches on the history of Home of the Brave.
Celebrations
Some teams were lucky enough to put small celebrations together! Here are some photos from Castle Point and Indy.
Veterans Day was a huge success thanks to our incredible Title Sponsor, Perspecta, our Gold Level Sponsor, Bristol Myers Squibb, and their dedicated employees.
Soldiers' Angels Home of the Brave is looking for partnerships with companies who:
Have employees located throughout the United States;
Who support the military by hiring veterans, guard/reservists and military spouses;
And whose employees believe in giving back and honoring veterans for their service to our country.
If you know a company that is interested in supporting Soldiers' Angels Home of the Brave, contact us today to see how you can get involved in the Veterans Day 2021 celebrations.
---