A Soldiers' Angels Wedding
A Soldiers' Angels Angel volunteer officiates the wedding of two veterans who are also volunteers with Soldiers' Angels.
September 8, 2020

We're currently in the middle of wedding season… but the majority of weddings have either been canceled or postponed to next year. However, we're happy to report that with some minor adjustments, a Soldiers' Angels wedding was still able to happen despite the pandemic.
It's unfortunate that many couples have had to cancel the opportunity to celebrate their big day. And it's anyone's guess when large weddings packed with family and friends will be safe again. But health and safety is rightfully taking precedence over celebration.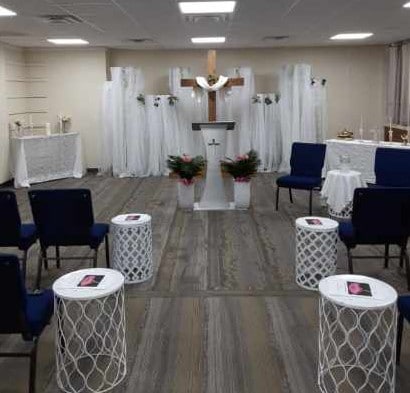 Despite the circumstances, there are some couples who decided to continue with their big day. They are altering their event into a smaller, more intimate celebration with only a select few people in attendance. And, of course, masks and social distancing are built into the celebration.
Recently, two of our Angel volunteers, Cheryl who is a veteran and Walter who is a retiree, opted for the intimate approach for their nuptials.
The couple originally planned to have their wedding in Georgia on June 20 of this year. Due to travel restrictions, the couple was not able to continue with the scheduled ceremony. Reverend Gray, who was set to officiate the wedding, was also concerned about the original plan. Thankfully, the couple came up with a great compromise.
"Originally I was going to Atlanta, but for health reasons, I didn't know about traveling," says Rev. Gray. "But Cheryl and Walter called and said 'You know, we've always planned on you being the one to officiate when our relationship got serious, so, what if we came to Irving [Texas] and you marry us there?'"
Serving Our Country
The bride, Cheryl, is a U.S. Army veteran. She served twice in Iraq (first deployed from 2008-2009, then from 2010-2011 as contractor) and once in Afghanistan as contractor in 2012. While deployed, Cheryl registered to receive support from the Soldiers' Angels Deployed Support Teams. She received dozens of cards, letters, and care packages from Angel volunteers throughout her deployment. She was so touched by the support she received, she kept all of the cards and letters. Then, once she got home, she created a scrapbook!
Back in 2018, we interviewed Cheryl about the support she received from Soldiers' Angels. We wanted to know what that support meant to her. This is what she had to say:
"As soon as I got those boxes and those packages and I would open them up, you just never knew what was in them. So it was always just a big surprise. And it was just always nice to see what everyone was saying. All the wonderful words of support and encouragement. It was just… it just made my day, it always made my day. And so, because of that, I kept all those letters and those cards and I made my scrapbook. And so from time to time I would go and refer to it as a reminder. A reminder of how America supports our military."
From Veteran to Angel Volunteer
Living in San Antonio, Cheryl just happened to be at a stoplight near the Soldiers' Angels office a few years ago. By chance, she looked up and noticed the Soldiers' Angels sign. Seeing the Soldiers' Angels logo brought back the incredible memories she had from receiving the support of strangers during her deployment.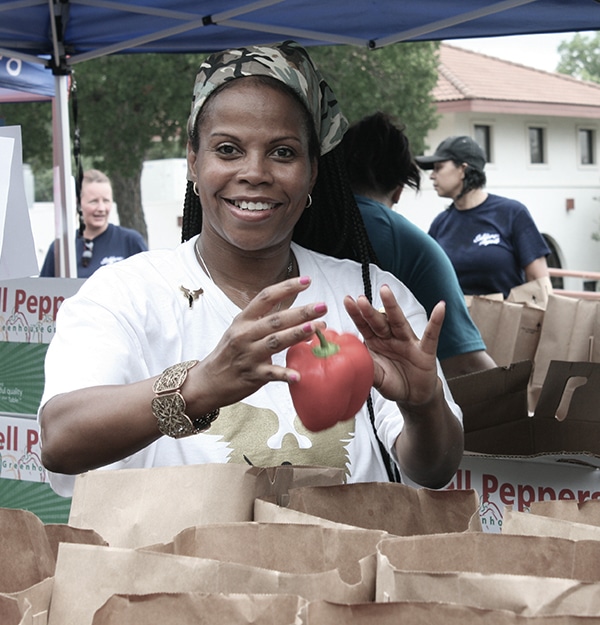 Without hesitation, Cheryl pulled into the parking lot of the Soldiers' Angels office and stopped by to see what she could do to volunteer. Immediately, she was off the ground running as an Angel volunteer with the organization. She began volunteering at the San Antonio Veteran Mobile Food Distribution providing support to her fellow brothers and sisters in arms and helping in any other way she could to give back.
Walter, the groom, served 22 years in the U.S. Air Force before retiring. The couple met at church but, as fate would have it, Walter is also an Angel volunteer who assisted at Soldiers' Angels Veteran Mobile Food Distributions. At a previous Soldiers' Angels volunteer event around 2017, Cheryl met Rev. Gray, who also has served as an Angel volunteer since 2014.
Creating a Special (and Safe) Wedding Day
The day before the wedding, Rev. Gray and one of her friends, Karen, decorated the whole sanctuary with crystal-strained silk roses, carnations, and baby's breath flowers. They also used bridal veil netting to help bring the beautifully intimate wedding to life.
The couple showed up the night before for a rehearsal. Then, the next day on Saturday, June 20, the original date they planned to wed, Cheryl and Walter tied the knot. There were twenty (socially distanced) guests. A total of four individuals at this Soldiers' Angels wedding are Angel volunteers— the Bride, the Groom, the Reverand, and the Reverand's son, Rory.
While things didn't necessarily go according to plan for the couple who originally had a different vision for their wedding, this intimate, quarantine-approved Soldiers' Angels wedding proved things oftentimes do come back full circle, even if we can't quite see the road ahead.
"We became sister Angels together who believed 'No Soldier Should Go Unloved'," says Rev. Gray. "And the humor of it was, I now looked forward to celebrating the love between our bride and groom, who in addition to serving our country, are also Angels."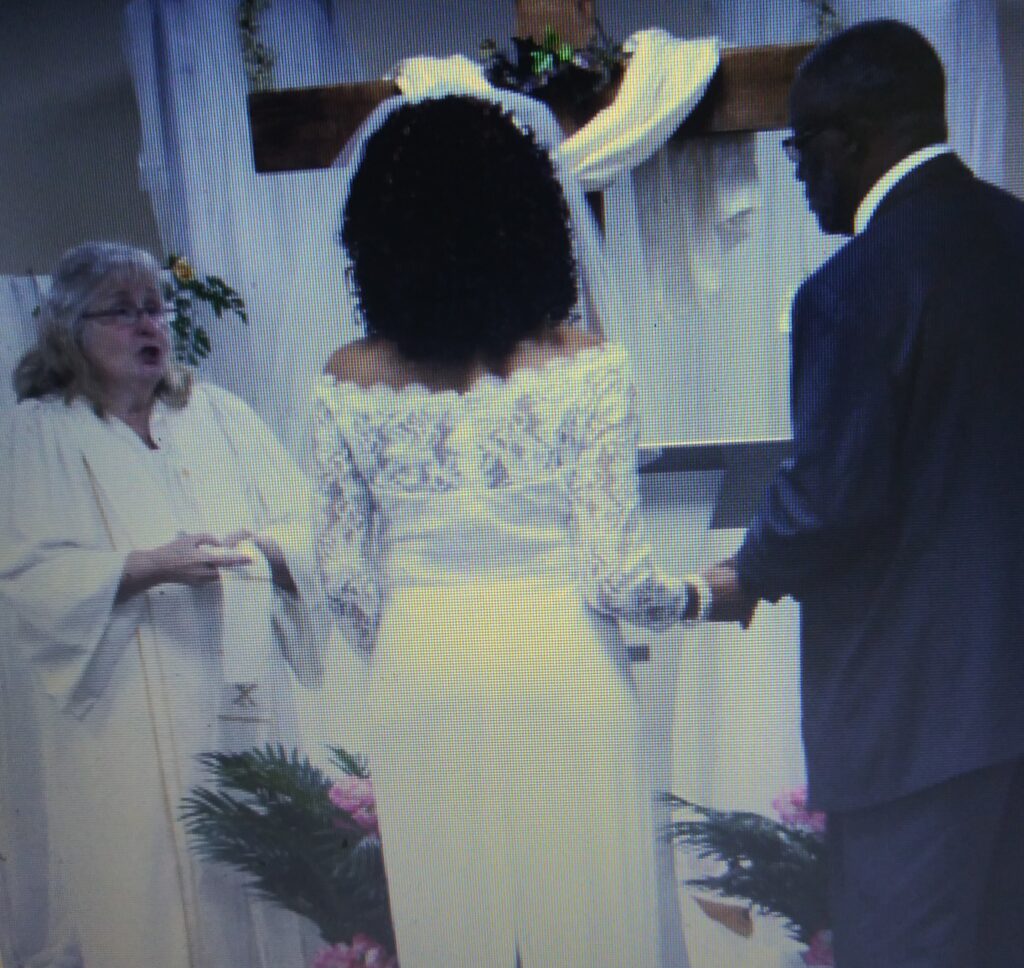 ---