Writing to troops and Veterans
April 15, 2022
April is National Card and Letter Writing Month so we're spotlighting the powerful impact our Angel Volunteers have on the military community they serve. For those who aren't familiar, we have two teams who are dedicated to sending written forms of encouragement through the mail.
Our Cards Plus Team sends cards to service members and veterans who need a boost or are celebrating a milestone.
Our Letter Writing Team sends letters on a monthly basis to deployed service members who have signed up to be "adopted" by an angel.
But those teams are not the only teams in our Angel army who send cards and letters. The Deployed Adoptions Team, Ladies of Liberty Team, Women of Valor Team, and Special Operations Forces Team also send letters with their care packages. It's because words of encouragement are powerful.

Getting mail is a big deal when you're deployed and can mean the world when you're a veteran. Especially our older veterans who grew up during a time when letter writing was commonplace. We wanted to share some stories and tips from our Angel Volunteers in honor of National Card and Letter Writing Month – and maybe encourage more folks to join in on the efforts!
"I don't know how to seriously say thanks for your support, it's ridiculous the lengths the community goes for us. At times I've seen soldiers open boxes and be completely speechless. […] For example, that one 17-year-old in basic training I met during my first years, you see everyone getting letters, packages being far away from home, then you see him get the one letter. That one person only used his phones to watch memes and never connect with anyone. But then he receives that ONE letter. And all of the sudden … you see the light in his eyes again. Something as archaic as snail mail changed this man's whole life. This is my way of saying thank you for keeping us close to heart we truly needed it."

– Brian
A thank you letter back
Angel Claudia has been sending letters and care packages to a service member who shares with his unit. One day, she was surprised to find this lovely thank you note in response to one of her letters. What a lovely surprise!!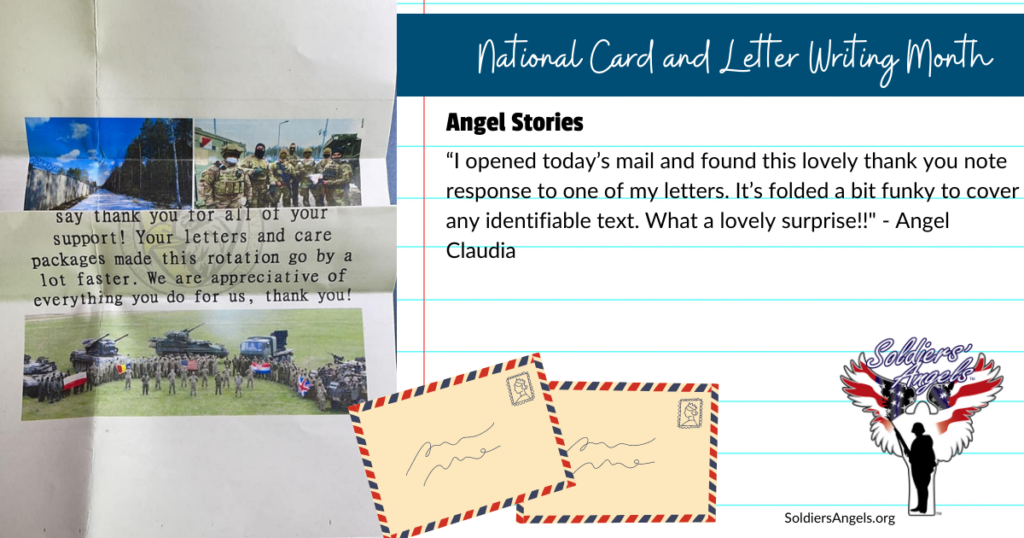 Angel Writing Tip:
"Be positive, encouraging, definitely send hope. Let them know people will be here supporting them when they get home. Ask if there are any special wishes they would like granted while they are there."

– Angel Pamela
"I start off by offering my thanks for their service. I then explain to them how long I've been adopting and what it means to me. Then I write a short paragraph about myself. I then write a few generic questions for conversation-starting. I close with an encouraging quotation. That's my standard first letter."

– Angel Elise
A Birthday surprise
After discovering that her adopted service member had a Birthday coming up, Angel Brianna put a call out to the Cards Plus Team to send her postcards hoping to get at least one from every state. They delivered in an amazing way. She received 163 cards from Angels all over the United States! She purchased postcard books that held the cards in a neat format and sent them with his care package. You can read the full story here.
"I really appreciate everyone taking time out of their day and busy schedules to write to me and for all the support. With this being my first deployment too that was actually the biggest surprise to me was the mass amount of generosity from organizations everywhere. Complete strangers sending me cards, letters, photographs, postcards, and care packages. It is highly appreciated and it really reminds me of why I'm doing what I'm doing and who I'm fighting for."

– Charles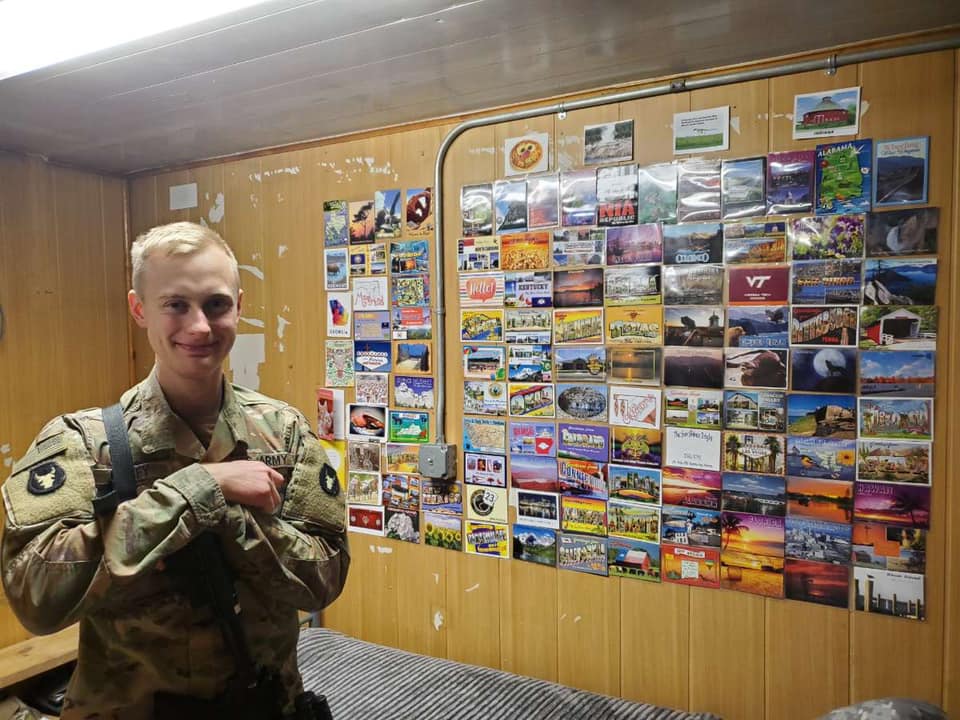 Angel Writing Tip:
"I like to include pictures to bring some "home" to deployed service members. It could be anything — a gorgeous sunset, my favorite orangutan at the zoo, the latest alligator story out of Florida, or something I saw on a road trip. It helps me to make a letter come to life."

– Angel Shelley
82nd Birthday for an 82nd Airborn veteran
Our Cards Plus Team recently flooded the mailbox of this veteran for his 82nd Birthday.
"I just want to thank you and the volunteers who sent cards to my dad for his 82nd birthday. You can't imagine his surprise when he went to open the cards and realized he didn't know who sent them. Once he started reading them, he became emotional because of the love you all demonstrated for our country and your gratitude to him for serving. Here are a couple of pictures. Once again, thank you for truly making his 82nd birthday so special."

– Gena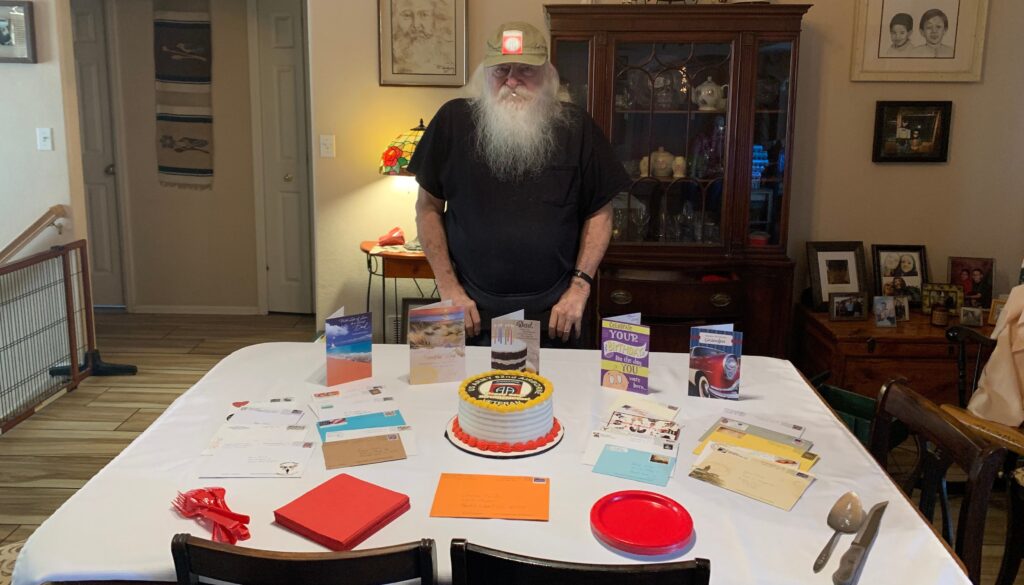 Angel Writing Tip:
"Number one tip I always see given over the years is before you start writing, relax and then be yourself. Write just like you're writing to a friend."

– Angel Denise
Get well soon surprise
Our Cards Plus Team doesn't ONLY send cards to veterans and deployed service members, they send them to each other, to military/veteran family members – and to our staff too. Our Marketing Coordinator, Gaea, who also happens to be the caregiver to her veteran spouse, was recently out from surgery and the team flooded her with get well soon wishes!
"Throughout my recovery, I've been receiving cards and well wishes from Soldiers' Angels virtual volunteers. I can't express enough my gratitude and appreciation for my family and friends throughout this process – and from volunteers across the nation who I don't personally know!"

– Gaea Armour, Soldiers' Angels Marketing Coordinator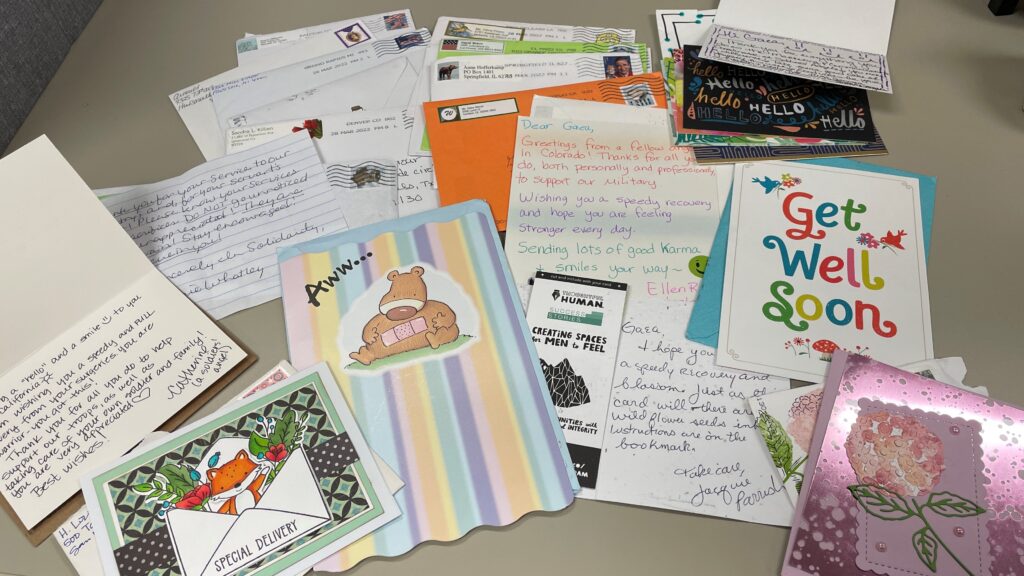 If you would like to request a card (birthday, encouragement, get well, anniversary, new baby, welcome home) to be sent to an active duty service member, veteran, or a service member/veteran family member, sign up here.
Want to join in on the Letter Writing / Card Sending fun? Learn more about our Letter Writing, Cards Plus, and other Angel Teams here.
---