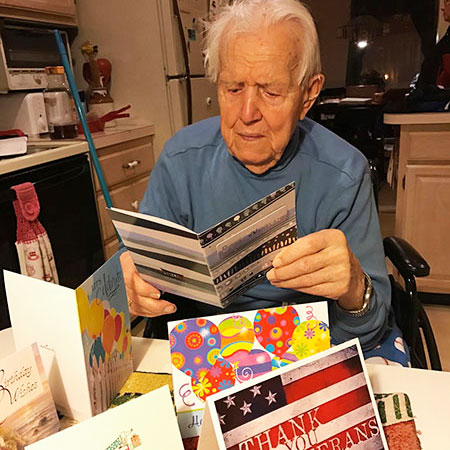 "To all my wonderful Soldiers' Angels I simply want to say "thank you" for making my dad's birthday so special this year with the many cards and kind notes you sent him. He served in WWII in the Seabees and always loved our country. He watched for the mailman every day so he could read your cards and letters and loved every one of them. Thank you, angels, for sending him your angel love." – Deb
Who We Are and What We Do
The Cards Plus Team is dedicated to supporting deployed service members, veterans, and their families with encouraging or celebratory cards and notes. The Cards Plus Team also joins forces with many other Soldiers' Angels Teams to provide cards for service members, Post 9/11 wounded veterans, and military families supported by these programs. Cards of support sent by the Team include, but are not limited to:
Birthday
Encouragement
Thinking of you/Get well
Anniversary
New baby
Welcome home
Request a Card for a Veteran
Soldiers' Angels is here to support the growing Veteran population. If you know of a Veteran that is celebrating a birthday, has never been told "Thank You" or given any type of acknowledgement for their service, or might need get well wishes or just some encouragement, our Cards Plus Team of wonderful Angel volunteers are willing to send cards to them – just to let them know that we care about them. If you would like to request a card to be sent to a Veteran, please click on this link or the button below and complete the form. For birthdays, we request a minimum of 3 weeks notice so that our Angel volunteers can send cards to reach your Veteran in time. Please submit separate forms for multiple card requests.
"Thank YOU so much for all the cards and poems I've received so far!!! You have no idea how much they mean to me. Tell you're ANGELS that they make a huge impact on the lives of service members past and present!!! If any ever had doubts about weather they are making a difference in our lives. Tell them to look into the Marine Corp motto. SEMPER FIDELIS!!! To all angels!!!"

– Ed
How You Can Help
To join Soldiers' Angels and participate in the Cards Plus Team click here to get started! If you are already an Angel and would like to request a card for somebody, log in to your Angel account and join the team, and then click the appropriate link to submit a card request. Any Team Angel can make a request for cards, and your request need not be limited to the list above; however, certain restrictions may apply.
If you need more information, please use the contact form on this page.
Impact
Thank you for your support for the past year…Letters and packages from you and your organization have helped to make my time here more bearable, knowing someone at home appreciates what people like me sacrifice by leaving our families to fight for what we believe. Please continue to support the Soldiers, Sailors, Airmen and Marines that are deployed around the world. You are part of the reason we wear our uniforms with pride for our great country. May God Bless You All! – Vern
I was overwhelmed when I started receiving cards from Soldiers Angels' moms. I was so surprised. Thank you so much. – Angel Katherine, who received condolence cards after the death of her son and father
I would like to thank everyone for the nice cards and prayers for my husband and myself. I recently had to resign as an Angel due to my husband's cancer, and I have received so many beautiful cards from other Angels it has meant so much to me…My husband is a Gulf War vet and was so happy when I decided to become an Angel…Thank you so much for your support and thoughtfulness. When I get a card it makes me so happy to know that there are people out there that do care about others!! – Soldiers' Angels Jean
I would like to take this opportunity to thank you for all the cards you have sent me while I was deployed to Iraq….. Over the months I have endured much and after news got back to me that I would stay in Iraq for another three months, it was a tough pill to swallow. However, I would like you to know that your efforts in aiding not only me but others as well who found themselves in a similar position as I have brought a great benefit and relief to know that even though we found ourselves in a dangerous and unfamiliar land, there were people back home who were thinking of us. While they may not have been known family or friends, I personally am grateful for the expression of thanks and concern brought forth by your efforts and others who back in the United States."- Kristopher K
I just want to THANK your organization for the overwhelming support that I have received from people that I don't even know. All the holiday cards, Birthday Cards are tremendously overwhelming–I have received them from all over the Great USA and I'm not sure how to thank them all…I SAY THANKS for all they are doing to support not only me, but other soldiers here as well, and it's an honor to serve. – SSG T.K.