What Will You Do With Your Day "ON" For MLK Day?
January 9, 2023
Many will be observing MLK Day as a work holiday on Monday, January 16 in honor of Dr. Martin Luther King Jr.'s birthday. However, in order to truly honor the spirit of Dr. King and his incredible life of service, many will be recognizing this day as a day on, not off, and dedicating their time to an act of service benefiting their community, a cause that is near to their heart, or a march/speech/cultural tribute to Dr. King's legacy.
"Everybody can be great because everybody can serve. You don't have to have a college degree to serve. You don't have to make your subject and your verb agree to serve. You only need a heart full of grace, a soul generated by love."

Dr. Martin Luther King Jr.
In fact, the holiday is actually designated by Congress as a "Day of Service." MLK Day was initially signed into existence as a federal holiday in 1983 by President Ronald Regan and first celebrated in 1986. Then, in 1994, Congress designated the holiday as a day of service and coined the phrase a "day on, not a day off."
Every year during this time, Soldiers' Angels gets hundreds of questions from individuals, businesses, and organizations asking how they can be of service on MLK Day— and this year we are honored to finally have a designated service project that we think is a perfect way to give back:
Pledge to pack care packages for deployed and serve those who are currently serving for us.
As you probably already know, in order to send care packages to deployed through Soldiers' Angels, you have to register as an Angel and join one of our many wonderful virtual volunteer teams that directly support deployed Service Members. Except for the month of January! To honor #MLKDay, we've created a way for those who are currently not active Angels to experience the joy of creating care packages for deployed without joining as an Angel! All you have to do is pledge the number of care packages you are committing to pack and ship to our headquarters!
Similar to our recent Holiday Stockings for Heroes campaign, you'll pledge the number of care packages, pack them up, and send them our way. And, if you don't have the time to pack the care package(s) (or maybe don't have MLK Day off from your job), you can still show your dedication to the act of service by purchasing items from our Amazon Gift Registry that will be used in care packages. The collected care packages will be shipped immediately to provide urgent support to the hundreds of deployed waiting to be adopted due to our volunteer shortage!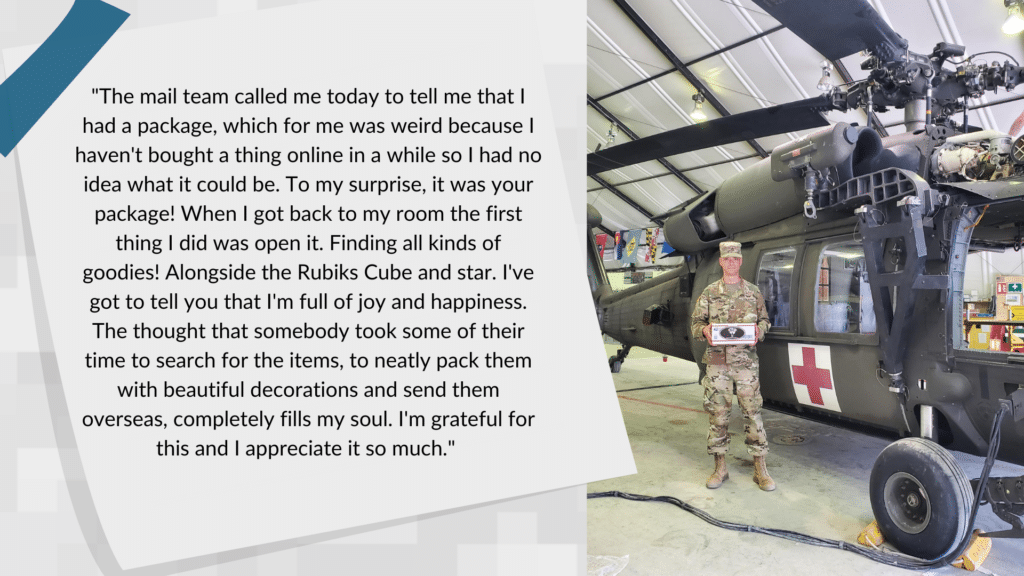 We had a flood of deployed sign up to be adopted during the holiday months and are still seeking volunteers to commit to "adopting" them through their deployment. But while they wait for their Angel, this care package will help get them some much-needed supplies to let them know we are here for them!
Click Pledge Care Packages to read the full details about the campaign and pledge now. Or click Purchase Supplies to go straight to our Amazon Gift Registry.
---