Pledge to Serve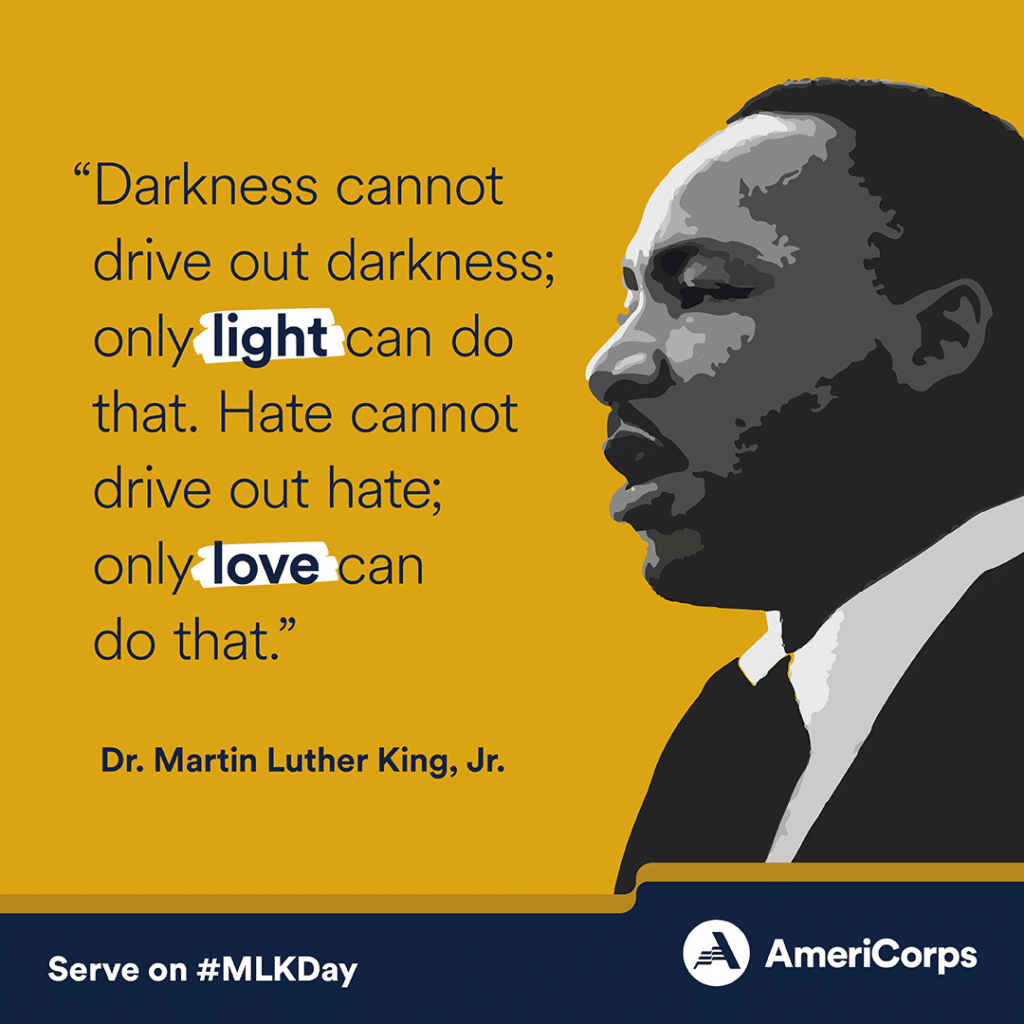 How will you honor Dr. Martin Luther King, Jr.'s legacy on MLK Day this year? Why not join Soldiers' Angels and spend one hour, one day, one week, or maybe even the whole year serving those who serve every day?
Soldiers' Angels provides a wide variety of volunteer opportunities that will get you and your family involved in giving back to our nation's Service Members, Veterans, and military families.
But this year, we're also bringing back a special campaign in honor of MLK Day of Service. Keep reading to learn how you can get involved today!
*Please be sure to read all of the campaign details below before you pledge.
Serve those Currently Serving
Volunteerism renews and strengthens communities, families, and ourselves while increasing understanding that things that divide us are smaller than what unites us. And on this special day of volunteerism, we can't think of a better way to increase understanding for the difficulties deployed Service Members of the armed forces face than to provide an opportunity for everyone to create and send care packages.
Normally, to send a care package to a Service Member, individuals are required to join Soldiers' Angels as a registered volunteer.
However, from January 1 – 31, in honor of Dr. King's deep passion for creating change through light and love, we welcome you to experience the fulfilling act of creating and sending care packages with no obligation or commitment to continue volunteering after you pledge and send care packages!
Pledge Now!
Ready to pledge your care packages? Please be sure to read all of the information on this page (below the form) and then fill out the form when you're ready to pledge!
Why Care Packages Matter
Deployments can be very difficult for our men and women in uniform, many of whom don't receive any support from home while they are deployed— which severely impacts morale. But something as simple as a care package and a kind letter from a stranger can work miracles to ensure that those who serve know that Americans understand the difficulties they face for our freedom on a daily basis.
In addition, thousands of Service Members are deployed to remote locations around the world and may not have easy access to supplies.
Your support helps to get much-needed supplies in the hands of even our most remote Service Members.
How It Works
Pledge & Pack Care Packages
Pledge however many care packages you can handle before 1/31 and then start a collection drive or purchase items from our list and pack them into a box! Ship to our office and we'll ship them to deployed. Scroll down for full details and to make your pledge!
Send Us Care Package Supplies
If you don't have time to pack care packages, that's okay! We've got local volunteers who love to pack! Just shop our Amazon Gift Registry and have supplies shipped directly to us. We'll make sure those items are packed and shipped to a eployed Service Member!
MLK Day of Service: Pledge and Pack Care Packages
Ready to get started? Fantastic! Please read the important information below before you pledge care packages!
Get to packing your care packages in just 4 easy steps:
Visit a USPS location near you and pick up one Priority Mail Flat Rate Large Box 1 (size 12.25″ x 12″ x 6″) for every care package you pledged to send. These boxes are FREE from the USPS and the large box provides the most bang for the buck when it comes to shipping overseas. (Hint #1: If you're planning to pack 10 or more care packages, you can save some time by ordering your FREE USPS Flat Rate Boxes in packs of 10 or 25 online here. Hint #2: You do not have to use these boxes. But, it's a great way to ship a lot of items and not have to worry about how heavy your box is getting!)
Buy or collect items to stuff in your care package(s). You can easily buy care package items from your local grocery store, Target, WalMart, and even find great deals at dollar stores. After Step 4, you'll find a detailed list of suggested items as well as items to avoid. You can also take a look at our Amazon Idea List for great items that can be delivered to your doorstep. If you're planning to pack a lot of care packages or get your office, school, or organization involved, setting up a collection drive is a great way to pool together your resources! Scroll down to the FAQ section to view our suggestions on setting up a collection drive.
Pack your care packages! Packing can be as easy or as complicated as you have time for. The easiest way is to just place your items in the care package, tape it up, and send it off. But… if you feel the itch of creativity, you can decorate the inside of your box before you tape it up! This is not required and by no means necessary for a Service Member to enjoy receiving the care package— it's just a fun extra step that some of our volunteers love to do.
Ship your completed care packages to Soldiers' Angels! Once we receive your package, we'll ship them to a deployed Service Member! Ship to: Soldiers' Angels MLK Day of Service, 2895 NE Loop 410, Suite 107, San Antonio, Texas, 78218
Hygiene and Personal Care:*
Sunblock
Aloe Vera Gel
Cooling Towels
Chap Stick
Lotion
Deodorant
Toothpaste
Toothbrush
Shampoo/Conditioner
Body Wash
Wet Wipes
Female Hygiene Products
Hand Warmers
Manicure Set
Back Scratchers
Socks (no tube socks)
Hand Sanitizer
Cleaning Cloths/Spray (for glasses/goggles)
*Travel-sized items preferred
Snack Items: **
Freezer Pops
Powdered Drink Mixes (Single Serve)
Protein Bars
Jerky or" Meat Sticks
Sunflower Seeds
Freeze-Dried Fruit (Single Serve)
Hot Sauce Packets
Single-Serve Peanut Butter or Nutella
Single-Serve Cereals (Boxes or Cups, no bags)
Pop-Tarts
Nuts/Trail Mix (Single Serve)
Tuna Salad Kit with Crackers
Chicken Salad Kit with Crackers
Gum and Candy
**Must be store-bought. If you are interested in baking, please check out the Soldiers' Angels Angel Baker Team
Down-Time Items:***
Beachballs
Small or Foldable Frisbees
Small Balls or Footballs
Fun/Party Sunglasses
Hand Fans or Personal Portable Fans
Patriotic-themed decor
Leis/Summer-themed decor
Back Scratcher
Puzzle Books
Travel-Sized Games
Coloring Books
Pens/Pencils
Colored Pencils
Pencil Sharpeners
***Please focus on small items that could easily fit into a stocking and/or a medium flat rate box.
Sharp Objects (Knives, Tools, Safety Pins, etc.)
Pornography or other culturally sensitive material
Bagged Potato Chips (they are too easily crushed)
Unwrapped Candies
Nail Polish
Perfume or Cologne
That's it. It's that easy to make an impact!
We're ready when you are! Just click the Pledge button to make start your MLK Day of Service project now!
Want to keep your impact going beyond MLK Day? Become an Angel Volunteer NOW!
Soldiers' Angels is currently experiencing a critical problem… we have more Service Members registered for support than Angels that can support them!
So if you enjoyed the act of packing care packages for deployed and can see yourself giving back in that same way again and again… we urgently need you!!
Angel volunteers not only sends care packages— they can also adopt one (or more) Service Members for the length of their deployment and send them at least one care package and two letters or cards every 30 days. This unique opportunity allows you to get to know the Service Member you're supporting and tailor the care packages to include what they need or want. Many of our Angel volunteers form lifelong friendships with the Service Members they support! Take a look at just a few of those stories here.
Please, help us ensure that No Soldier Goes Unloved and click the button below to learn more and join Soldiers' Angels as a volunteer NOW!
Soldiers' Angels MLK Day of Service FAQ's and Notes:
Click on a frequently asked question below for the answer.
Important Notes
Soldiers' Angels does not provide the shipping address of any Service Member to anyone aside from our registered Team Angel volunteers. This campaign is collecting care packages and care package supplies for Soldiers' Angels to ship to deployed Service Members. We will not be providing you with an address to ship care packages overseas.

If you are interested in becoming a registered Angel and supporting a Service Member directly, please refer to our volunteer page here for more information.

If you are just sending items for care packages not actually packing the care packages yourself, you do not need to pack your items into a "care package." Simply box all products together and we will sort once they are received at our warehouse. Our volunteers in San Antonio will stuff your donated items into care packages as needed.
Once again, if you are pledging/sending care packages OR collecting/purchasing care package items directly and will be shipping to our headquarters, you are responsible for all shipping costs. Please keep this in mind as you pledge OR collect/purchase so that you do not incur shipping charges greater than what you anticipate.
Angel Note
If you are currently registered as an Angel any contributions you make to the MLK Day of Service Campaign will be considered an in-kind donation only and should not be accounted for when reporting your support for your specific team. We will not have specific support opportunities listed for MLK Day of Service, however, you are encouraged to participate by providing your normal monthly support and carrying on the incredible heart of volunteerism that you already display throughout the year!
Soliciting Donations
Soldiers' Angels has created collection campaigns throughout the year as an opportunity for individuals, businesses, and organizations to come together and give back to our troops and veterans. These collection campaigns are meant to be held in a way that general members of the public (ie, your friends, family, classmates, co-workers, etc.) can donate to the campaign. If you are hosting a collection, please do not solicit cash or in-kind donations from retailers, manufacturers, large corporations, or any other business entity. Due to the nature of those requests and the paperwork involved, solicitation of donations must come directly from Soldiers' Angels. In most cases, we already have a relationship established with many of the major businesses. If you happen to have a connection at a retailer, manufacturer, large corporation, or other business entity that you think would be willing to donate cash or in-kind items to Soldiers' Angels, please reach out to us and we would be happy to contact them. Email: [email protected]
Media Opportunities
Any and all opportunities to share your involvement with Soldiers' Angels or your participation in this campaign with the media, including print media, news media, broadcast media (including podcasts), or major internet media (such as major blogs and YouTube channels), must first be cleared and approved by Soldiers' Angels. We would love for you to help us spread the word about Soldiers' Angels and this campaign, however, we need to ensure that the information you are sharing is accurate and that all guidelines are being followed. If you are contacted by the media, please forward the inquiry to us by emailing: [email protected]. We will do our best to work with you and the media source to ensure your story is shared accurately and in a timely manner.
You do not need to clear anything with Soldiers' Angels if you would like to share information about your participation in this campaign through your personal social media channels or social media channels for your business or organization. We encourage you to help us spread the word through use of these channels! This includes Facebook, Twitter, Instagram, Pinterest, YouTube, LinkedIn, SnapChat, and any other smaller social channel. Make sure you tag us in your posts so we can like and possibly share your efforts! Also be sure to use #MLKDay for this campaign!
Facebook: https://www.facebook.com/SoldiersAngelsOfficial – @SoldiersAngelsOfficial
Instagram: https://www.instagram.com/soldiersangelsofficial/ – @SoldiersAngelsOfficial
Twitter: https://twitter.com/soldiersangels – @SoldiersAngels
LinkedIn: https://www.linkedin.com/company/soldiersangels/ – @SoldiersAngels
Pinterest: https://pinterest.com/SoldiersAngels – @SoldiersAngels
YouTube: https://www.youtube.com/@SoldiersAngels – @SoldiersAngels