10 Times a Service Member Went Above and Beyond for Their Angels
December 16, 2021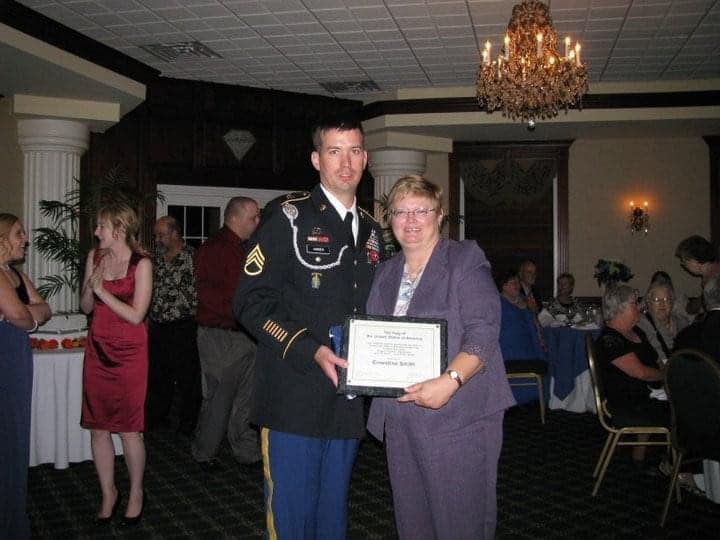 There's no question that our Angels go above and beyond to show their support for service members. Whether it's carefully crafted blankets, elaborate cookie decorations, or insanely creative care packages, they put their heart and soul into supporting service members through our many virtual support teams. While it's not meant to work this way, sometimes that support is so well received and appreciated that the service member goes above and beyond to show their appreciation. Here are a few of those heartwarming stories.
Angel "Bakineer" Christina
Angel Christina has been a member of our Angel Baker Team for three years now and is a prolific baker. This year, she celebrated baking her 20,000th cookie for deployed service members! She blogs about her recipes and baking adventures on Facebook and Instagram as "The Bakineer," a moniker that combines her engineering day job and baking hobby. Over the years, Christina has heard back from dozens of thankful service members. There are a few, however, who have really gone above and beyond.
One sent her a t-shirt and custom name badge with "Bakineer" embroidered on it for her blog. A unit she supported once sent her a shirt, flag (signed by their team), and certificate of appreciation.
"I received a request to send baked goods to a teammate who had a gluten allergy and she sent me a personalized notebook with my name on it. Also, the team, having had my baked goods before, were more than willing to share in eating her gluten-free items."
Another unit sent a card signed by 17 people, a flag that was flown in her honor, and coin 272 because the first box she sent the service member was her 272nd box.
Angel Ernestine
Angel Ernestine is on the Deployed Adoptions Team and has formed some very special bonds over the years supporting her adopted service members.
"One of them invited me to his wedding, seated and treated me like family, and surprised me during the wedding reception by announcing to the crowd how much my support had meant and presented me with a flag and plaque," says Ernestine.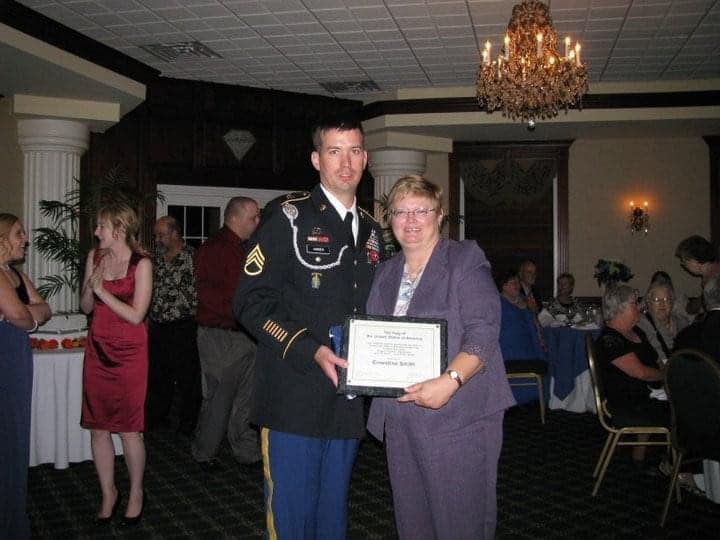 "Another one started working for a company that offered her and a guest a free trip to Rome. She called my husband for permission to take me and then surprised me with the news and off to Rome we went."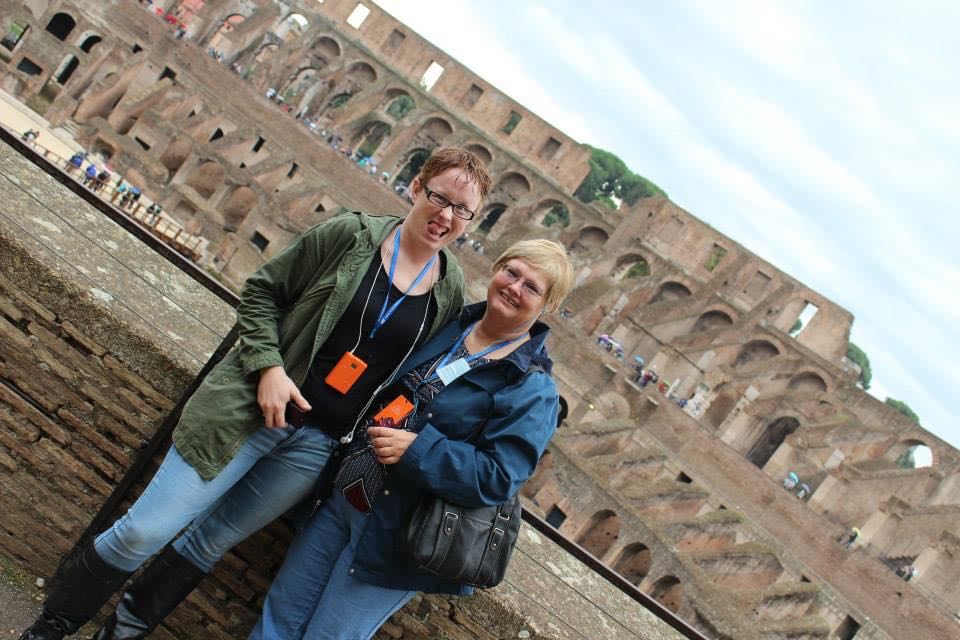 "Last but not least, two of my soldiers traveled many hours to attend my husband's funeral even though they had to turn around and travel many hours home the same day."
Angel Sue
Sue is a team leader of our Deployed Adoptions Team and has been an angel for 14 years! Over the years she has heard back from lots of service members grateful for her support. Here are two heartwarming stories that stick out to her who have gone above and beyond.
"This was from an Army medic, Chrissy, who I not only supported her but her small team of 14. They were a great bunch. A little hard to tell but the entire team signed the banner. I got this on Christmas Eve and opened the next morning. As you can see, I am in my PJ's," says Sue.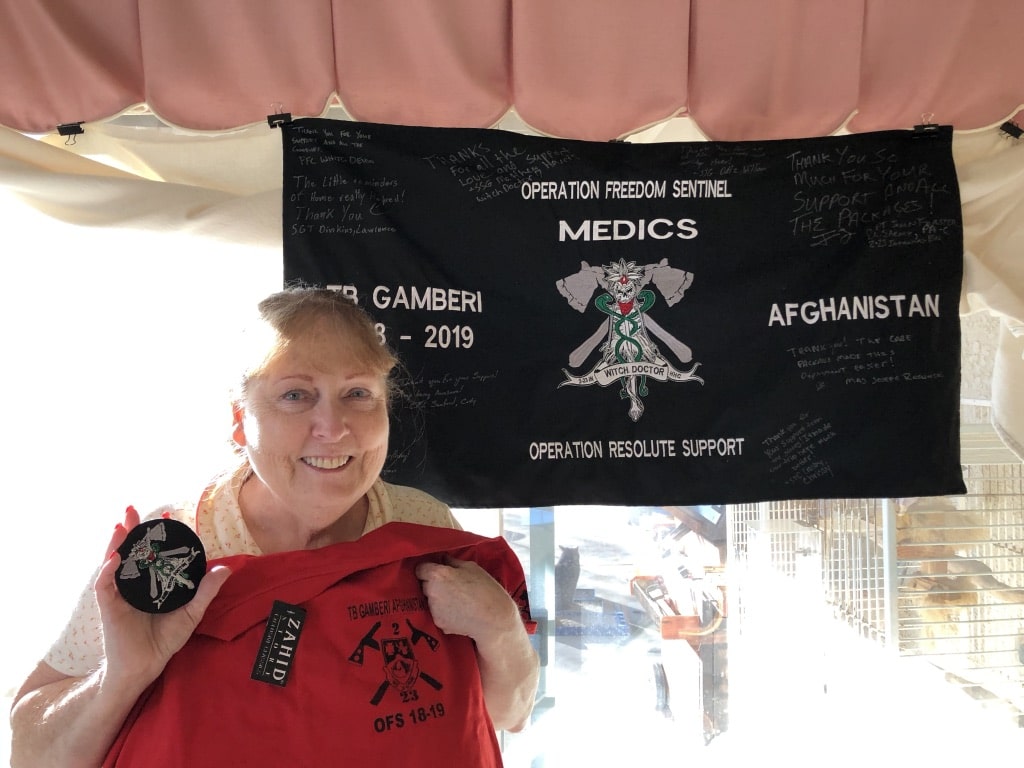 "Army Sgt. Jessy, also in Afghanistan, sought permission to fly a flag in my honor. She deployed with three women under her. I supported all three through their deployment. Jessy is now a Drill Sergeant."
Angel Jody
Angel Jody has been supporting PFC Houston since the start of his deployment back in April. Through letters, cards, care packages, and even phone calls, the two have developed a very special friendship. The two have become so close, they even work on other ways of staying connected virtually, Facetime with each other often. PFC Houston has been so moved by Jody's support, he reached out to us to tell us about. The first time they met face to face, was actually a surprise arranged for him through Soldiers' Angels. She joined us on Zoom for an interview and was surprised to meet him and hear just how much she means to him. Read about it and watch the video on our blog here.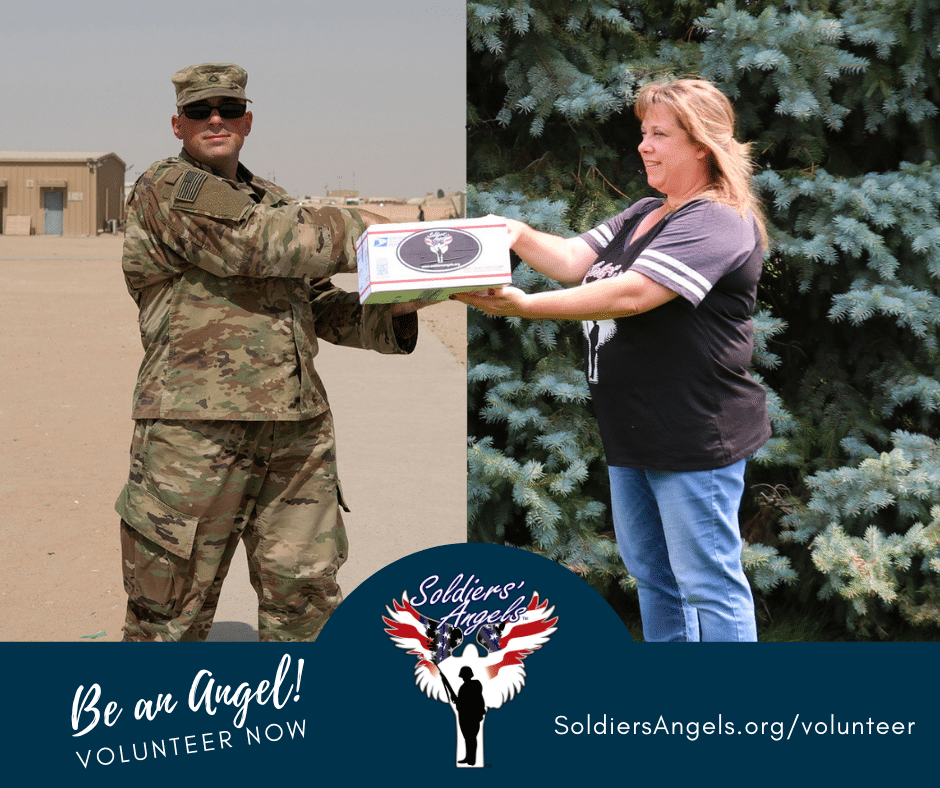 These service members have gone above and beyond to let their angels know just how special their support is to them. This is not something we encourage, as their job is to focus on their mission, however these heartwarming stories are something we felt needed to be celebrated. If you're interested in supporting deployed service members through letters, care packages, or baked goods, consider joining one of our virtual teams. While you can't expect to hear back, you CAN expect that your thoughtfulness will go a long way. You can also expect to join a community of angels who share in their endeavors and lift each other up. Learn more about our Virtual Volunteer Opportunities here.
---