Adopting a Service Member Through Soldiers' Angels: How it Works
April 15, 2021
Looking to support deployed service members overseas and thinking of joining Soldiers' Angels? We get a lot of questions surrounding the details of our virtual programs and thought we'd share step-by-step what the experience is like. First off, there are several ways you can support service members through Soldiers' Angels. You can join one of our virtual teams and pledge to support service members on a monthly basis. Or, you can support a one-time campaign that runs seasonally. In the case of our Deployed Support, participating requires that you "join" one of our angel teams.
How Deployed Support Teams work
We require anyone who is sending service members items from their home as a member of one of our Deployed Support teams to register as a Team Angel and become "verified." Verification is easy, it's a simple form that requires the set-up of a monthly donation of a minimum of $1/per month. Why the donation? It's a simple way for our organization to verify that you are not signing up under an alias. This keeps our database up-to-date and helps us keep track of who has access. We share sensitive information like service member names, deployed location addresses, and other details. Ensuring that everyone is not using aliases protects our service members and allows us to remove volunteers from the database if they are acting inappropriately.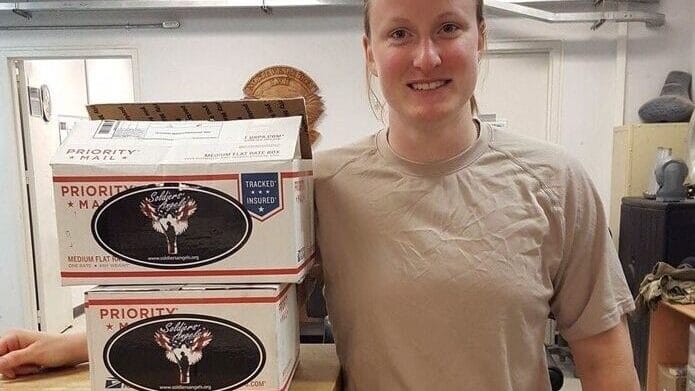 Filling out the form is easy, and during the process, you will be asked to create a username and password for our Angel Database. This is where you will log in to regularly check and sign-up for opportunities and programs. Once you register through our website, you will be sent a welcome email from our Team Support Volunteer Manager, Susie Turner with more information. Please add [email protected] to your contacts. If you don't see it, be sure to check your spam folder.
You can log into your Angel account through the Soldiers' Angels website: www.soldiersangels.org, there is a link in the top right corner labeled Angel login.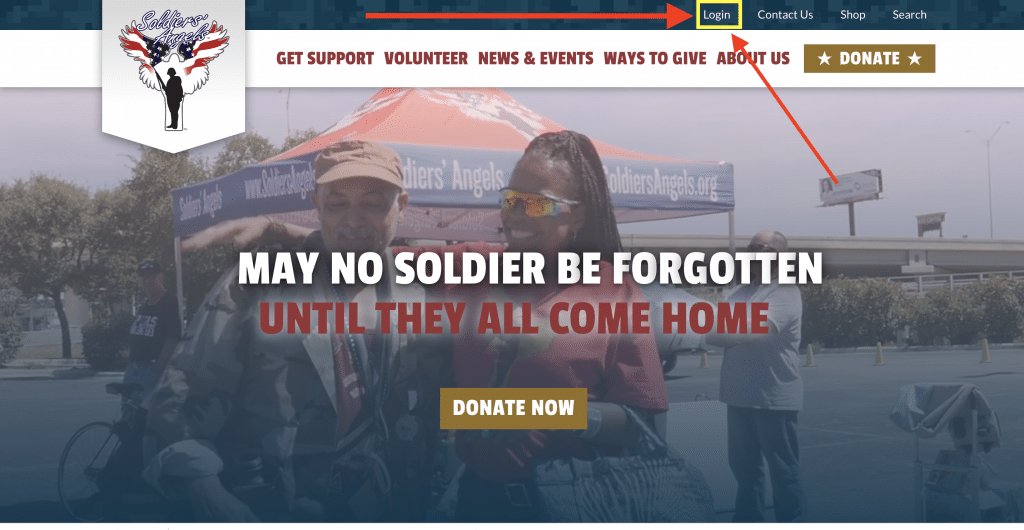 Once you are logged in, look around to learn more about our Angel teams and sign-up for any you're interested in supporting. Once you join a team, you will get an email from a team leader, who is there to help guide you through the process and help you stay connected. There is monthly reporting for each of our teams and it is very important that you maintain your reporting. Your team leader will provide you with information for the specific team that you are working on.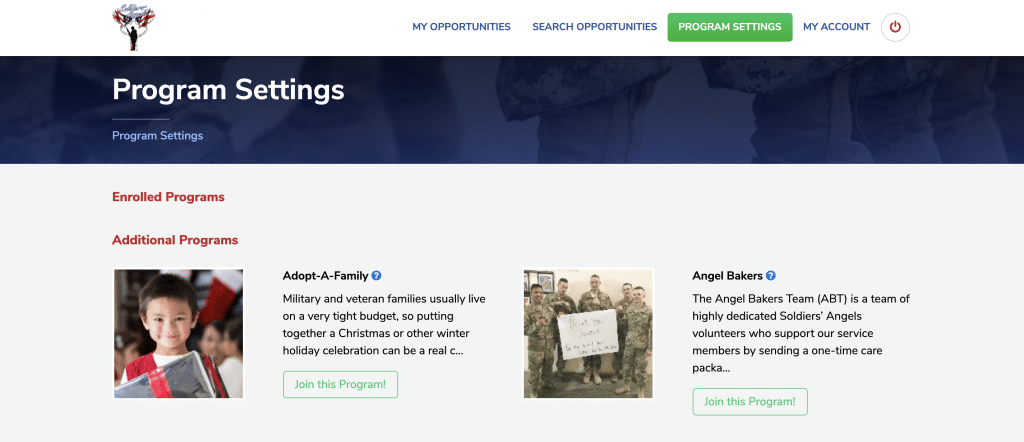 There are six Deployed Support Teams: Deployed Adoptions, Letter Writing, Angel Bakers, Chaplain Support, Ladies of Liberty, and *Special Operations Forces. Once you choose a team, you can start enrolling in "opportunities." If you do not see this option please be patient the system is catching up.
*Must be on another team for six months and be vetted by the Team Leader in order to join Special Operations Forces.
Deployed Adoptions (aka "adopting a service member")
The Deployed Adoptions Team (DAT) is composed of thousands of dedicated Angels who invest their own time and funds to support thousands of our valued service members annually. Angels on this team adopt service members who they will support on a monthly basis throughout their entire deployment. You can choose to adopt up to three service members at a time, but adopting one is the minimum requirement. The DAT Angel will then send their service member at least two letters per month and one care package per month until the service member returns home.
In order to officially "adopt" a service member, you will need to log into the Angel Database, go to "Search Opportunities," and select a service member from the list. Once you've selected a service member see the service member address under the "My Opportunities" tab for where to send care packages and letters.
Not sure what to send or what to say? We've got you covered!
Joining our Community
Becoming a "Team Angel Volunteer" isn't a lonely endeavor. It grants you access to an entire community of angels who support service members, military families, and veterans. You will receive regular email communications from Tracy Curran, our Deployed Support Teams Program Manager (please add her email address to your email contacts, [email protected]) full of updates and news about the organization. You'll also receive regular communication from the Team Leader who has been assigned to you (we have multiple team leaders on each Angel team).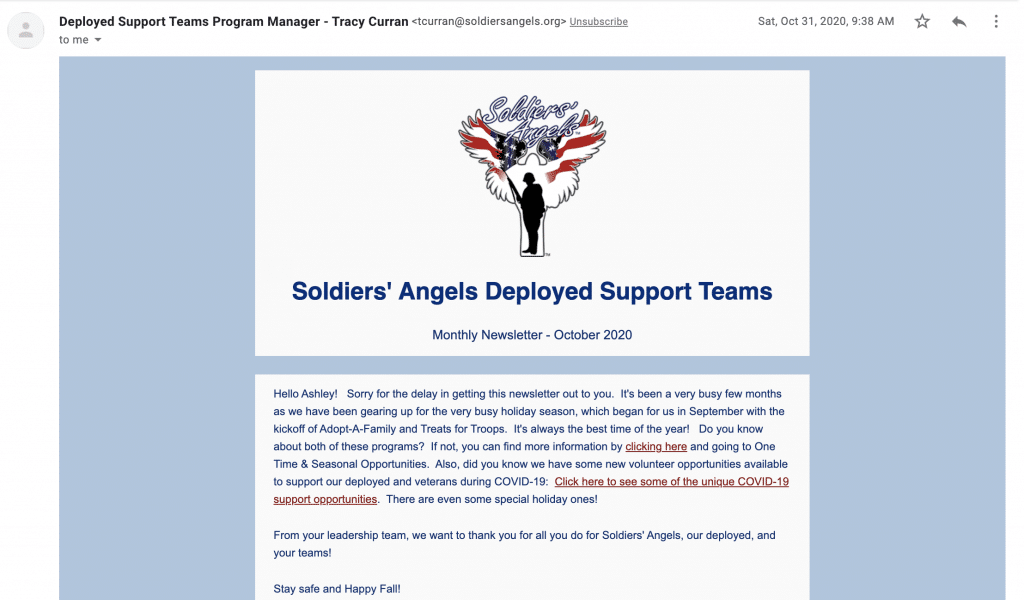 In addition, you are also able to join our private Facebook Groups:
The Angel Forum is for ALL Angel Volunteers
The Deployed Adoptions Team group is for angels on the DAT
Our Facebook groups are where you can share photos of your care packages, thank you notes from your service members, and ask questions you may have regarding Deployed Support. Our angels are incredibly supportive, passionate, and kind and many of them have become friends over the years.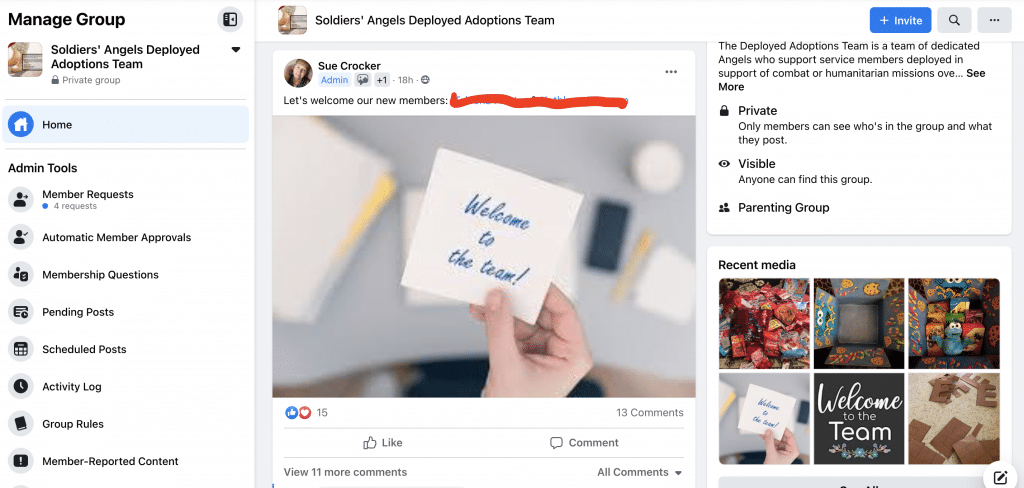 Supporting your service member
Adopting a service member does not necessarily mean you will hear back from them. Many of our team angels do receive communication back and really get to know the service members they are supporting (their likes, dislikes, etc.). Many of them develop friendships that carry on after deployment. But sometimes our angels don't hear from their service members and send packages throughout the deployment with no word back. We call these service members "Silent Servicemembers."
This happens for many reasons. The most common reason is because the service member is busy with their mission and may not have time to write. Remember, their main priority is the mission, not to respond to letters. Connectivity is often an issue as well. Sometimes, they just don't know what to say or how to respond. It's also very common for a service member who has been silent to reach out at the end or after their deployment to say thank you – you know, when they have time to reflect and write back. Whether they correspond with you or not, they are ALWAYS grateful. We get so many thank you notes back from service members who have come home and are finally getting the chance to thank their angels.
So, now that you know ALL there is to know about our Deployed Adoptions Team, are you ready to start adopting your first service member?
---