Why Don't They Write Back?
Silent Service Members may be silent, but they are always grateful.
March 28, 2019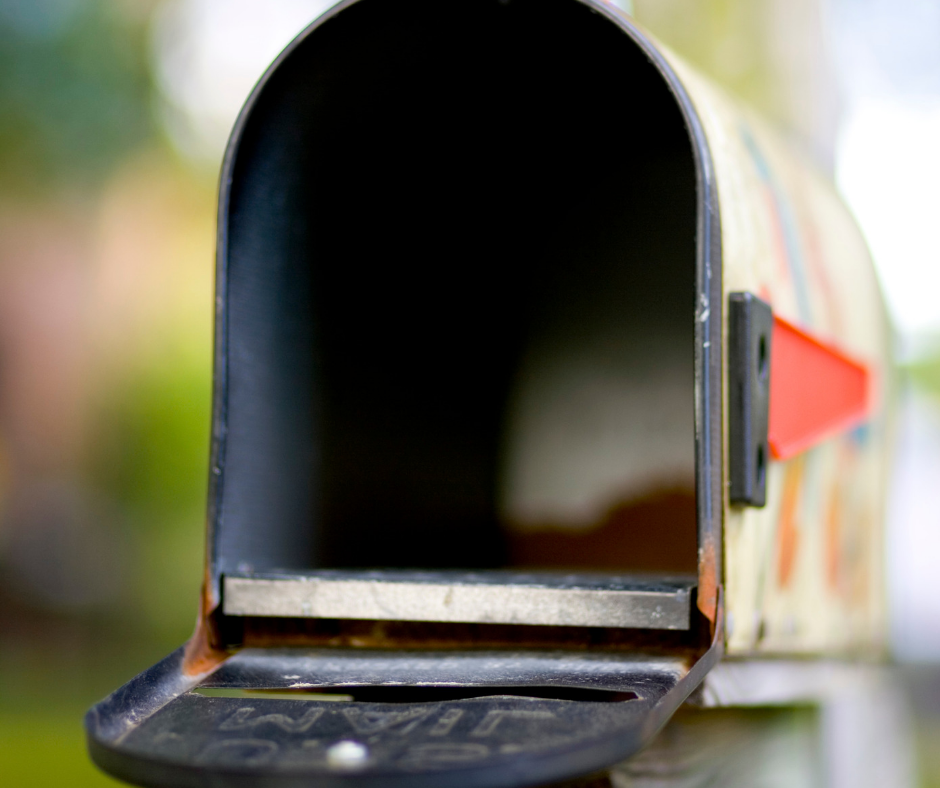 Silent but Grateful
One of our oldest, biggest, most popular teams is our Letter Writing Team. Each year our Letter Writing angels send hundreds of thousands of letters overseas to show support and brighten the day of a service member. You would think a letter from a stranger wouldn't mean that much but it really does. Just to have your name called during mail call is a big deal! And sadly, some service members never get any mail.
Many of our angels who write receive letters back from service members and some of them end up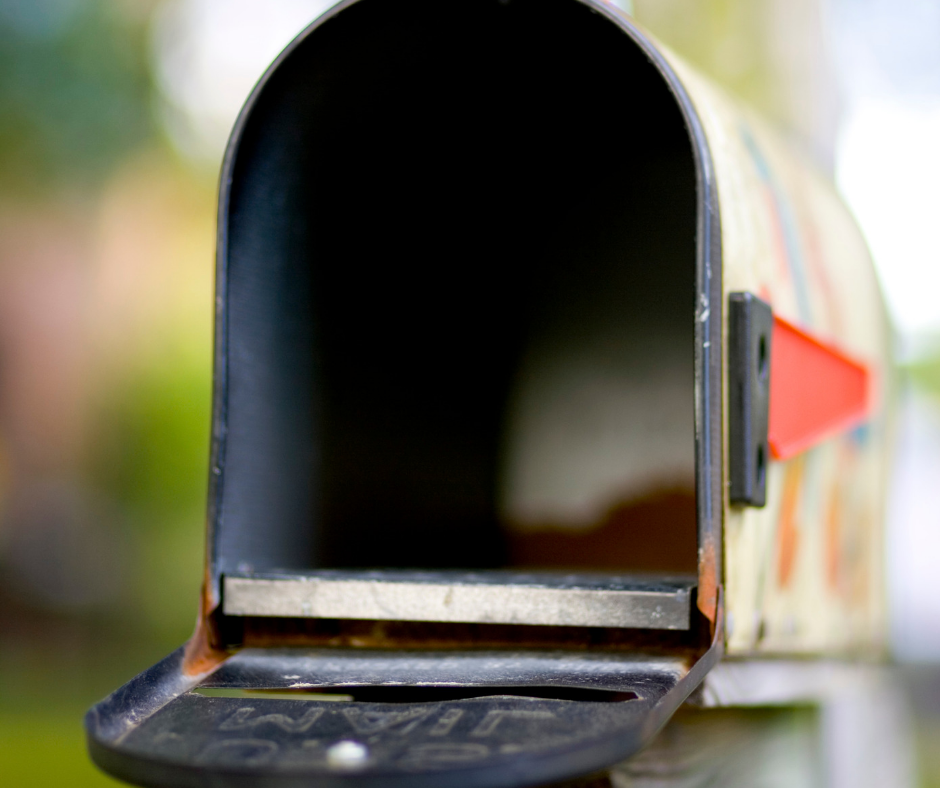 developing friendships that go beyond deployment. But sometimes our letter writers never hear back from their service members. We call these "Silent Service Members". For some angels, it can be disheartening to not hear back. But the reasons are not because they don't care, or don't appreciate the gesture.
Reasons a service member might not write back
The most common reason to have a silent service member is because the service member is busy with their mission. Remember, their main priority is the mission, not to respond to letters. Connectivity is often an issue as well. It's very common for a service member who has been silent to reach out at the end or after their deployment to say thank you.
"The most common thing I tell Angels who are frustrated is to remember their service member is deployed and has a mission that is most likely preventing them from responding," says Tracy Curran, our Deployed Support Teams Program Manager
Vanessa Vinton, our Deployed Adoptions and Ladies of Liberty Team Leader says, "As a team leader, I tell them that I understand how it can be frustrating but to not only remember the mission that they have while deployed but also that some resources may not be readily available to communicate with them. We don't always know what their jobs they are doing and they may have minimal time to write a letter or send an email because of their jobs."
They may be silent, but they are always grateful
While they may not be able to write back, we can assure each and every angel that they are grateful for the support. We get so many thank you notes back from service members who have come home and are finally getting the chance to thank their angels.
Here are some thank you messages our angels have received over the years from silent service members after they returned home.
From Angel Andrea:
"Encouragement for Angels with silent soldiers! Moral of the story. The silent ones are grateful too… My very first adoptee has been mostly silent. (I received one thank you letter from her since June but no other communication or direction about care packages). Today I received a package from her. It contained a letter telling me she's gone home and expressed her gratitude for my support. It also contained this flag and certificate (hard to read), which states the flag was flown on Christmas Day over the Camp in Guantanamo Bay, where terrorists apprehended on the battlefield are held. It also says the flag was flown in honor of all those that lost their lives on 9/11 and those that continue to fight the war on terror. Such a beautiful gift that I will always cherish. Don't ever doubt that what we're doing matters, even when we don't hear it direct from the SM's [service members]!"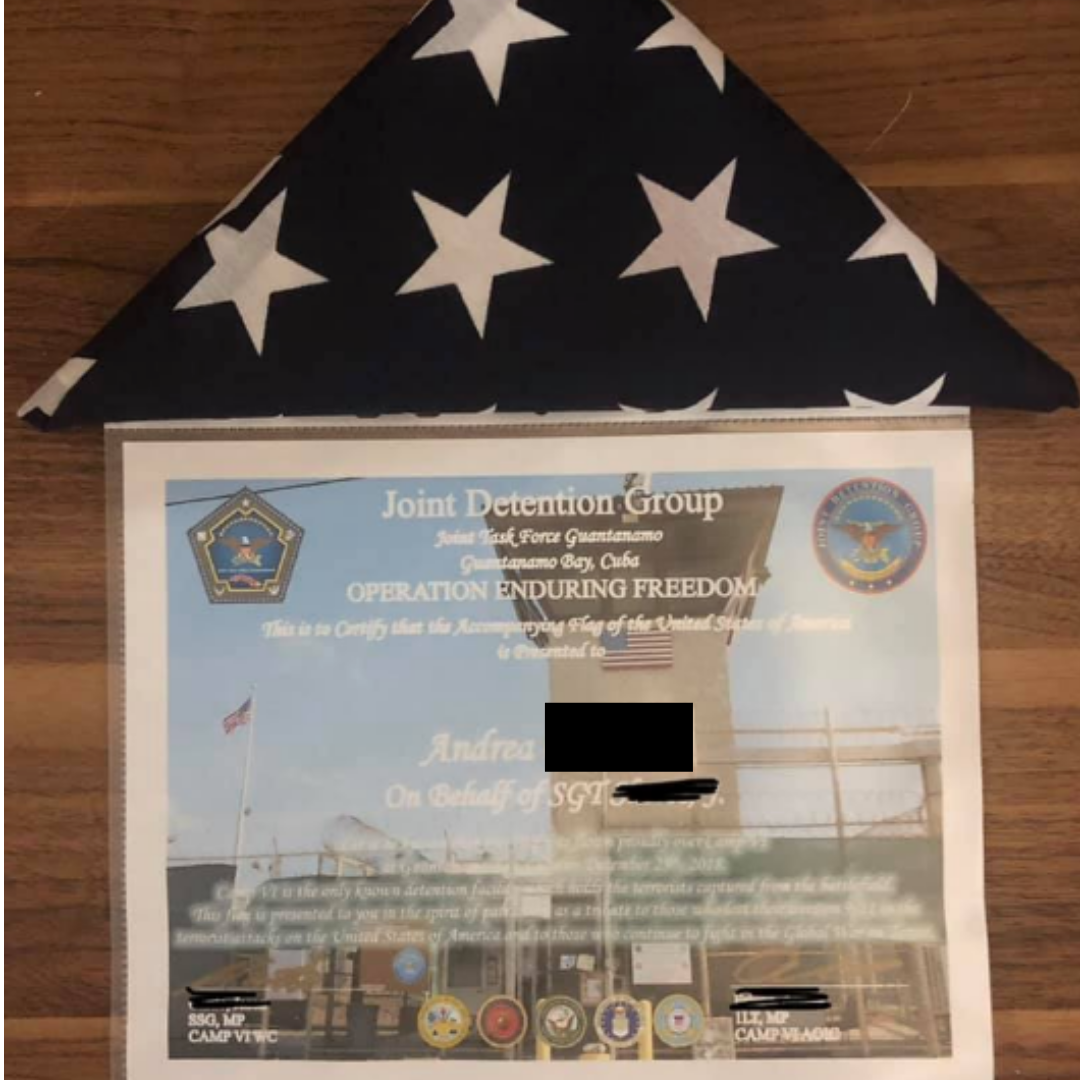 From Angel Michelle:
"I'm so excited – my official has been silent for quite a while. I just received this from him and can't stop crying: Your emails, letters, cards, and packages have been so awesome. Every package you have sent seemed tailored to everything I love. The magazines, even though appear random, are everything that piqued my interest. I also have had probably too much fun with the water balloons. I may have made a couple of enemies with them but nothing too severe. I also love the beef jerky. The perfect snack to reach for when the slop they give us gets boring. They give us bottles of water every chance they get so the Mio you sent has been a godsend. I especially love the Mio energy. They are delicious and have picked me up on many occasions now. I am out already. I read the bottle and it says that you can get 18 servings each and I swear I went by in only 5 or so. I think maybe my coworkers were sneaking some when I wasn't looking, and I can't blame them. I also was super excited when I opened up one care package and it had a Frisbie right on top. I love Frisbies. I have bugged the guys non-stop since I got the Frisbie to go out and throw it around. It helps out with some of the downtime. A couple of "ultimate Frisbie" games have started as a result of having it around. I cherish it and I will be taking it home with me so that when my son is old enough, we will play with it. I know it's just a Frisbie, but it's how and why I have it that means so much to me and I want to spread that message to my son. So, in short, I just wanted to let you know that all or your packages and letters and cards have found me well and have made my deployment so much better."
From Angel Diane:
"I supported a silent soldier for 7 months. Last week I got the "mission accomplished" email and figured it was time for me to take a break from adopting. Today I got a card from him, apologizing for not being in touch and imploring me to be sure to adopt another. 'Soldiers' Angels is a great program and provides a much-needed morale boost throughout these times.' Who can argue with a hero? Off to adopt another."
It's hard to be away from your family, in a foreign country, and under strict orders. It's draining and tiresome. But as you can see, your letters really brighten their days. It's important to be reminded that there are people who are grateful for their service – especially when it's a complete stranger.
"The biggest thing I like to remind the Angels is that when they have a silent service member, it does not mean that service member doesn't care or appreciate their support. They are most likely just busy protecting our freedoms." – Tracy Curran
"I remind them that no news is good news. To keep in mind that by sending those letters and care packages that it could be the only support they receive that month, and could very well be the only reason they smiled that day." – Vanessa Vinton
Want to write to a Service Member?
Want to join our Letter Writing Team and write to a deployed service member? As a member of our team, Angels write a one-time letter to a service member who is waiting for adoption through the Deployed Adoptions Team and to those who might need additional support. Angels on this team are required to write as few as one letter a month but some write as many as 14 letters per week! Click here for details.
Not sure what to write? Here's a guide to writing your first letter.
---