Volunteer Support On the Ground And Overseas
August 24, 2023
There are lots of ways to get involved at Soldiers' Angels and volunteer to support Deployed Service Members, Veterans, and Military families. Some volunteers play an active role supporting Veteran communities through our Veteran Support programs across the country. Other volunteers support Service Members, Military families, and Caregivers from home virtually. We are so lucky to have an army of volunteers who help make these efforts possible.
We want to introduce a woman who does both: Faye Georgeo. Faye has been with Soldiers' Angels since 2008. She serves as the Deputy VA Representative in Atlanta, supporting our Military & Veteran Food Distribution (MVFD), Quarterly Baby Showers, and a host of other boots-on-the-ground events. She's also actively involved in our virtual volunteer efforts.
An interview with Angel Volunteer, Fay Georgeo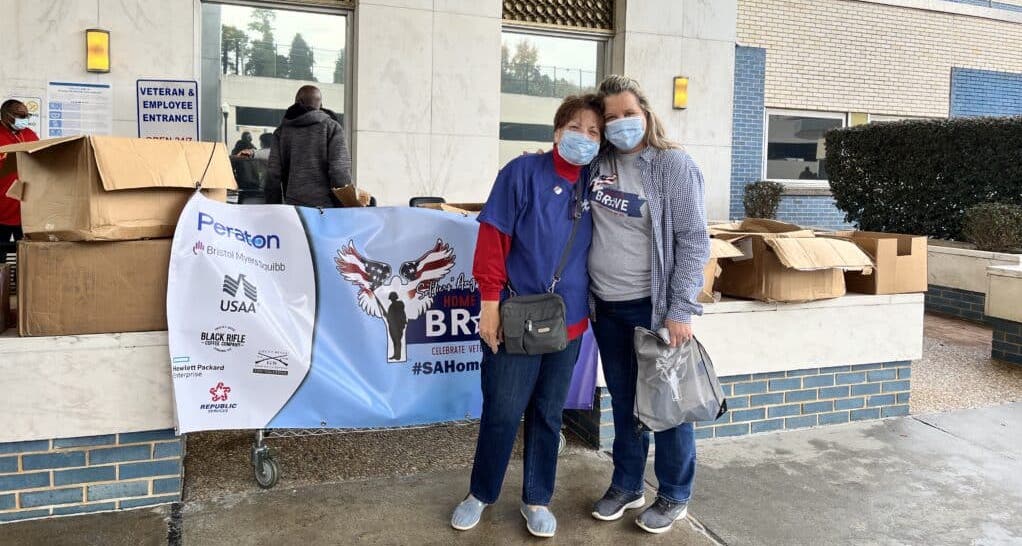 What are some of the areas you have been involved in at Soldiers' Angels?
"In the beginning, Atlanta did not have the infrastructure that it has now, plus they were over on the west side of Atlanta. For a few years, I took part in their large stocking stuffing endeavor, where volunteers would meet at a big warehouse, and we would stuff stockings and pack them up for shipping. So, I did a lot of things on my own.
At the height of the war, I adopted Service Members in the warzone, sending care packages and praying for them. I was very fortunate, my Service Members all came home safe, and I was lucky enough to hear that they did. We were told not to expect any correspondence back, which is scary. I even heard from one of the Service Member's mothers, who was so glad someone else was praying for her son.
I adopted families at Christmas from the website and got friends involved as well. We shipped the gifts and food cards to the families well before Christmas. I've made baby blankets and shipped them off for the Baby Brigade team. And for the past few years, I've volunteered at the Military & Veteran Food Distribution and distributed items at the hospital as part of different campaigns."
You are obviously committed to the mission, but can you tell me what you find most fulfilling about volunteering with Soldiers' Angels?
"My father flew a bomber in the South Pacific in WWII. I grew up with the heroic and heartbreaking stories he would tell, and even now, they stir my heart with gratitude and wonder at what these men and women sacrificed. My brother-in-law served two tours in Viet Nam as a pilot and I have heard his harrowing stories. In honor of my family and thousands of others who sacrificed everything, I want to thank our Servicemen and women as much as possible. Plus, I find it exceedingly rewarding to work on a project with other volunteers. We are all like-minded, we want to do something for our Vets and Active Duty, and the camaraderie during these service events is priceless. Lastly, Viet Nam Veterans hold a special place in my heart, and I love the opportunity to THANK them when I see a VN Vet hat!"
Lastly, what would you say to one of our Deployed men or women right now if you could speak to them?
"You have not chosen an easy road, but I encourage you to make the most of it. And know, that there are people in this country, who are praying for you, who support you, and who APPRECIATE your service!!!! You are the backbone of this country, and we are here for you!"
We are so grateful for Faye's nearly 15 years of service as a volunteer with Soldiers' Angels. Her service and commitment are both respected and invaluable. If you're looking to get involved and support Veterans and Service Members, we need you! If you live in one of our service areas, we are recruiting for several volunteer positions – specifically in Detroit and San Antonio. You can also peruse our Events Calendar for opportunities in your area here. Finally, you can support Deployed Service Members and Veterans from anywhere virtually! Learn more about our Virtual Volunteer opportunities here.
---