Supporting Veterans Across The Country
November 10, 2022
Our mission at Soldiers' Angels is to ensure no service member goes unloved – and that includes after they come home and settle into civilian life as veterans. We feel passionate about supporting veterans and work with VA Hospitals across the country to do so in multiple ways: food distributions, patient visits, fun events, cantine vouchers, box lunches, and handing out supplies. These are just some of the ways we show support. But we couldn't do it without the help of our Veteran Support Team!
Many of our service locations has a VA Hospital Representative who coordinates patient visits, holiday distributions, and events. In honor of Veterans Day, we thought we'd highlight a few of these dedicated individuals and share some of their stories supporting veterans in the VA.
Cathy Miller: San Antonio, Texas
Cathy has been with Soldiers' Angels since 2014, first as a volunteer, then as an Americorps Vista volunteer, then as a full-time employee as Gifts In-kind Coordinator. She has moved on to other opportunities in her career, however, now serves as a volunteer once again in the role of San Antonio VA Representative, supporting veterans at the Audie Murphy VA.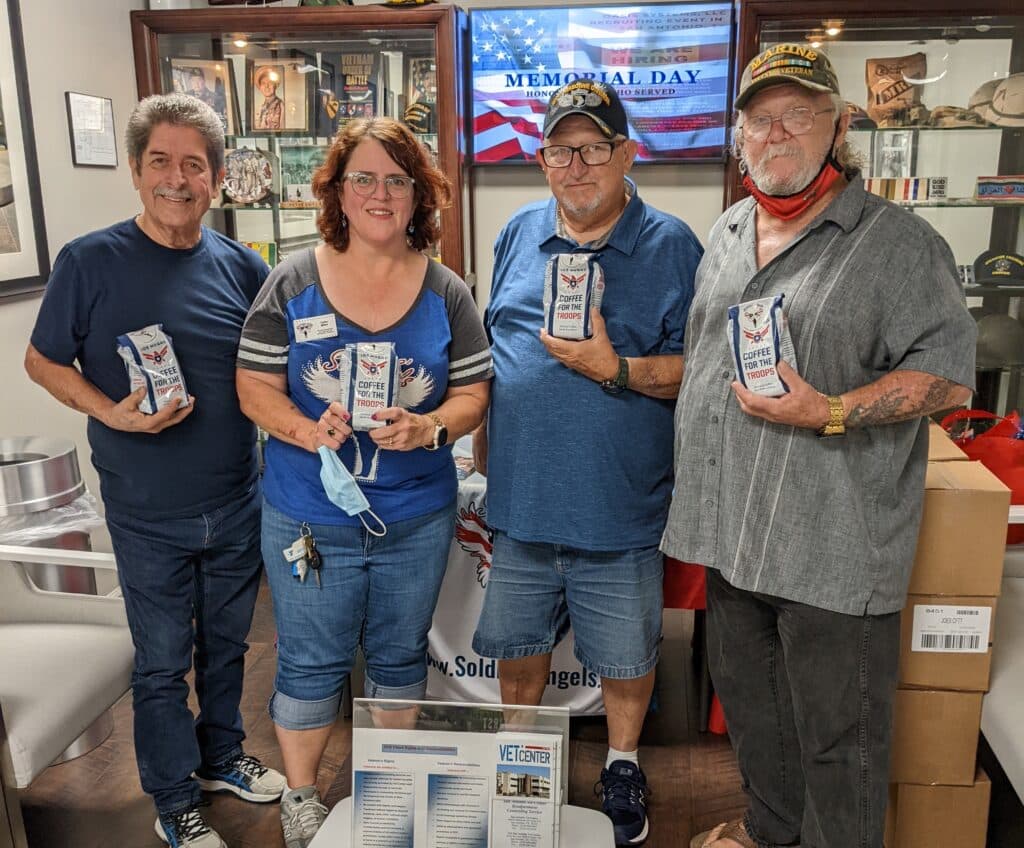 "I love being the San Antonio VA Rep because I've been able to meet and support veterans from all walks of life and hear their stories. I have a soft spot for World War II veterans. They are the Greatest Generation, and their stories need to be told. All veterans' stories need to be told."
A memory from her work as a volunteer
"I was passing out bags of coffee to the veterans, and one veteran came up to me and thanked Soldiers' Angels for the care packages and letters he received while being stationed in Iraq. It was awesome to think that this young service member might have received a care package I had packed for him! A similar thing happened when I was wearing my Soldiers' Angels shirt at the local grocery store. A gentleman asked me about my shirt, and when I told him what I did, he thanked me and said that he had been hurt in Afghanistan and received a blanket and other items from Soldiers' Angels while he was in Landstuhl Regional Medical Center in Germany. Really made my day!"
Mike Geier: Charleston, South Carolina
Mike has been with Soldiers' Angels for about a year and serves as the Deputy VA Representative for Charleston. He supports the Ralph H. Johnson VA Hospital, which includes outpatient clinics in North Charleston, Myrtle Beach, Beaufort, and Savannah, Georgia.
"What I like most about my work with Soldiers' Angels is that we have a direct immediate impact on the lives of veterans. It is not impersonal like just making a monetary donation, but you get to see and hear from the people you are helping. Serving over 200 veterans every month at the Veteran Food Distribution and assisting at the VA hospital really lets me feel like I am giving back to people who have done so much for this country. I have two children currently serving in the military and I think it is extremely important that we take care of all those who have served us and continue to serve us. The sacrifices that these men and women have and continue to make for all of us cannot be ignored."
A couple of memories from his work as a volunteer
"This year we started supporting the VA with their drive-thru baby showers for expectant and new mothers. Being able to help out and supply baby items, including beautiful hand-made items from the Sewing and Crafting team was really special. The expectant parents were so grateful to receive the items supplied by Soldiers' Angels and other veteran support groups. They really loved the 'Future Angel' onesies we supplied along with hand-made blankets, hats, sleepers, etc. That feeling of really making a difference even in a small way is worth all the time and the effort."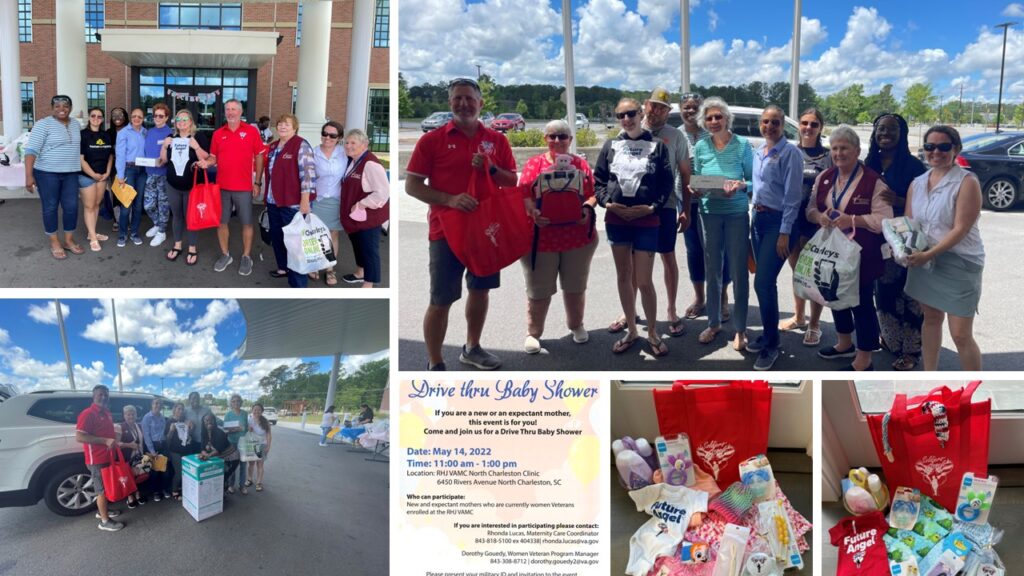 "We just were able to restart the coffee cart at the Charleston VA after 2 years of being disallowed because of Covid. My wife Christine and I worked with volunteer services to get everything restarted and buy supplies and snacks. We held the first coffee and donut cart in over 2 years in August. Both the staff and the patients were very happy to have us back and very grateful for the support. We served over 100 veteran patients and their family members. Being able to provide something as simple as a cup of coffee and a snack for veterans and their loved ones waiting for surgeries, outpatient procedures, or even going through chemotherapy was very heart-warming. We had a number of patients and staff tell us that it was wonderful to have the coffee cart back after so long. Everybody seemed to miss it and it amazed me how something so simple could mean so much."
Faye Georgeo: Atlanta, Georgia
Faye joined Soldiers' Angels in 2008 as a virtual volunteer supporting deployed service members and recently became one of our Deputy VA Representatives in Atlanta. She's served on the Deployed Adoptions Team, made blankets, adopted families for the holidays, and stuffed stockings for Holiday Stockings for Heroes.
"During the worst of the war, I adopted three deployed service members, sending them care packages. With one service member, I actually corresponded with his mother here in the states as well. Thank God they all came home alive! Also during the war, I got my church involved and we made beautiful patchwork blankets and sent them to the main hospital. We sewed in a tag with our name and address and were blessed to hear from some service members who received them when they had been wounded and were given a blanket. After a while, I got involved with the Veteran Food Distribution as well as some other programs giving out things to the veterans coming to the big hospital on Clairmont Road in Atlanta.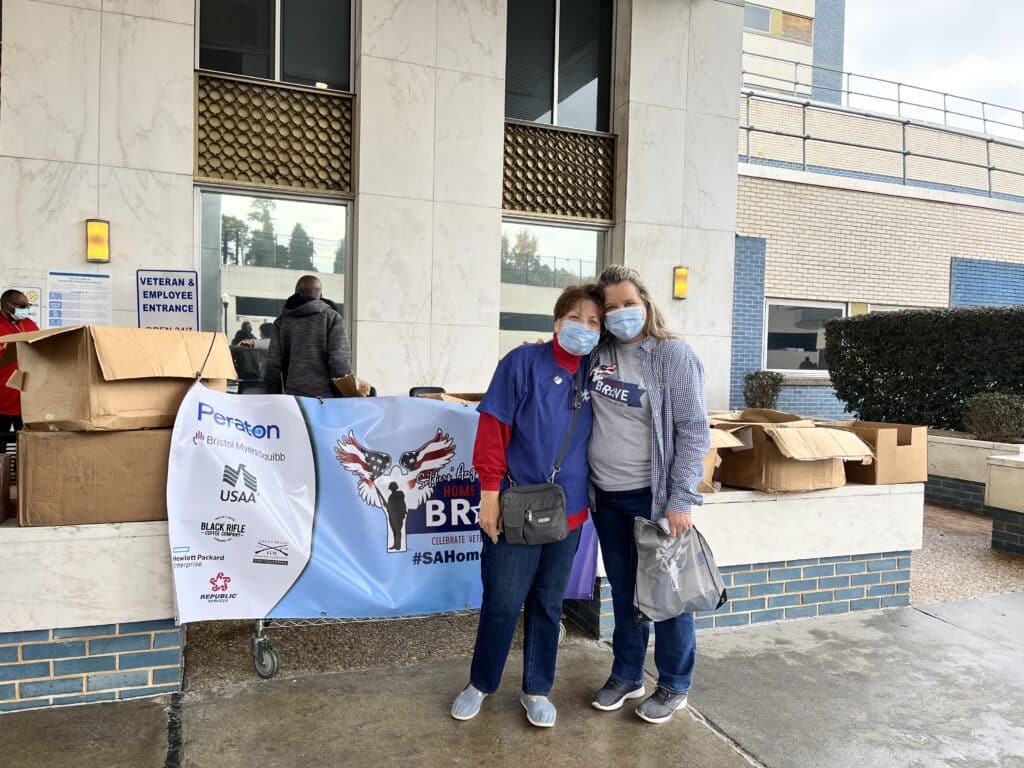 My father was a bomber pilot in the South Pacific and I grew up hearing his war stories. My brother-in-law served two tours in Viet Nam. So I feel it is my duty to honor them and try to help veterans wherever I can. I like knowing I can make a difference, no matter how small. I don't have any one experience as I haven't been able to have close contact, but I can tell you the joy and relief of knowing my service member came home from the war intact and alive was priceless!"
---