Soldiers' Angels Veteran Support Programs
February 16, 2023
Did you know that Soldiers' Angels has multiple ways to support the needs of our Nation's growing Veteran population? Our Veteran Support Programs fill gaps for Veteran patients within the VA Hospital, as well as Veterans in the areas we serve who are low income, homeless, or at risk of homelessness. Here's a look at the various programs we offer.
Patient Visits
One of our longest running Veteran Support programs is our patient visits at VA Hospitals in over 40 locations across the country. We are one of the few nonprofits with approval to work within the VA Hospital System, and our volunteers do a variety of activities within the hospitals we serve. Soldiers' Angels staff and volunteers often visit patients to offer a friendly smile, hand out blankets, box lunches, hygiene kits, magazines, and other seasonal items we've collected through our many collection drives.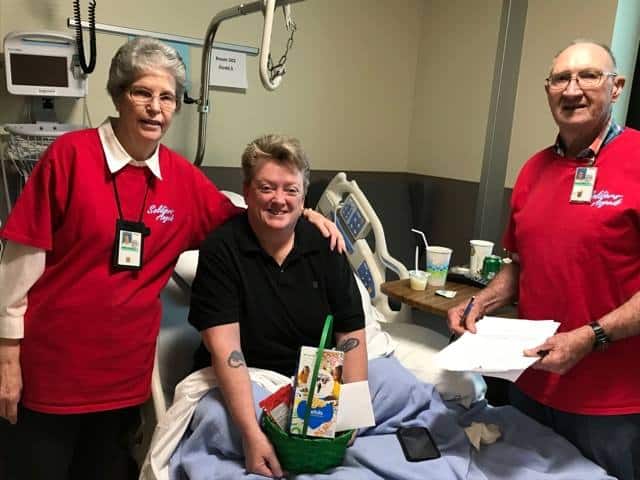 VA Hopsital Events
Soldiers' Angels VA Hospital Representatives also host events within the VA to bring Veterans together and offer an opportunity for camaraderie. Many of our volunteers plan bi-weekly or monthly luncheons and/or dinners to offer a hot meal and friendly interaction. Our volunteers also host coffee carts at the VA, set-up stands to hand out collection items like Valentine's Day cards, Holiday stockings, blankets, etc.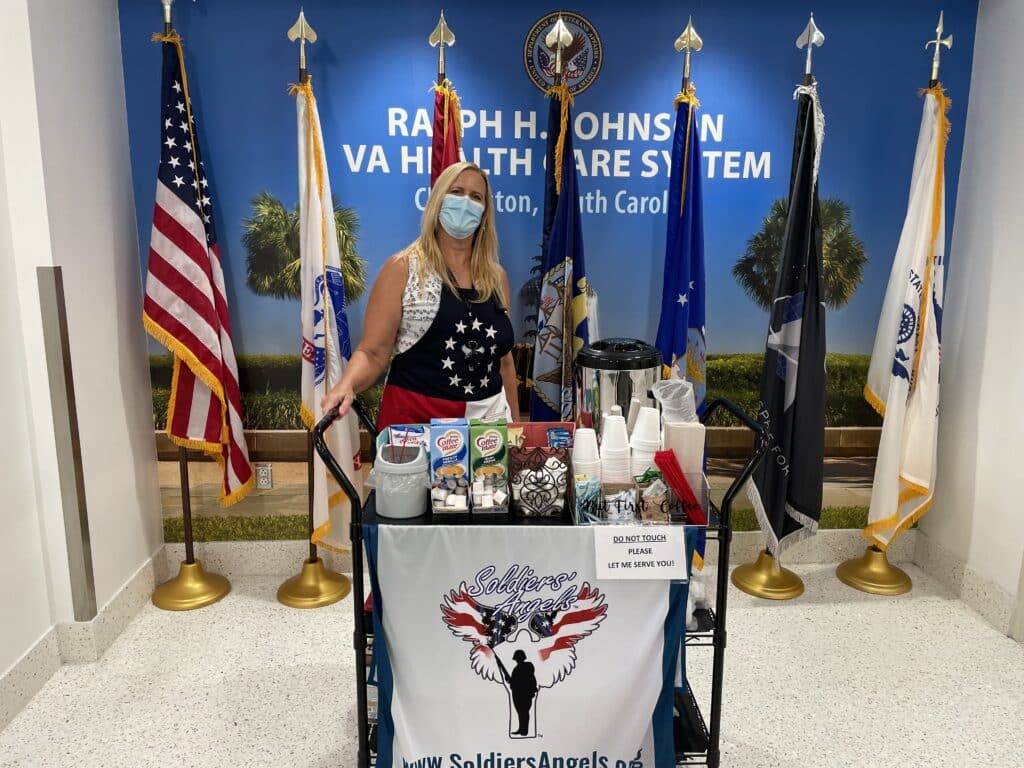 Homeless Veteran Housing Packs
We work with the Veterans Affairs Supportive Housing program (HUD-VASH) to offer previously unhoused Veterans with all of the basic needs for their new home. Going from unhoused to housed is exciting, but it takes a lot to fill that new home with basic household items. That's where we step in. Our Homeless Veteran Housing Packs provide essentials like pots, pans, dishes, sheets, blankets, pillows, bathroom supplies, and more.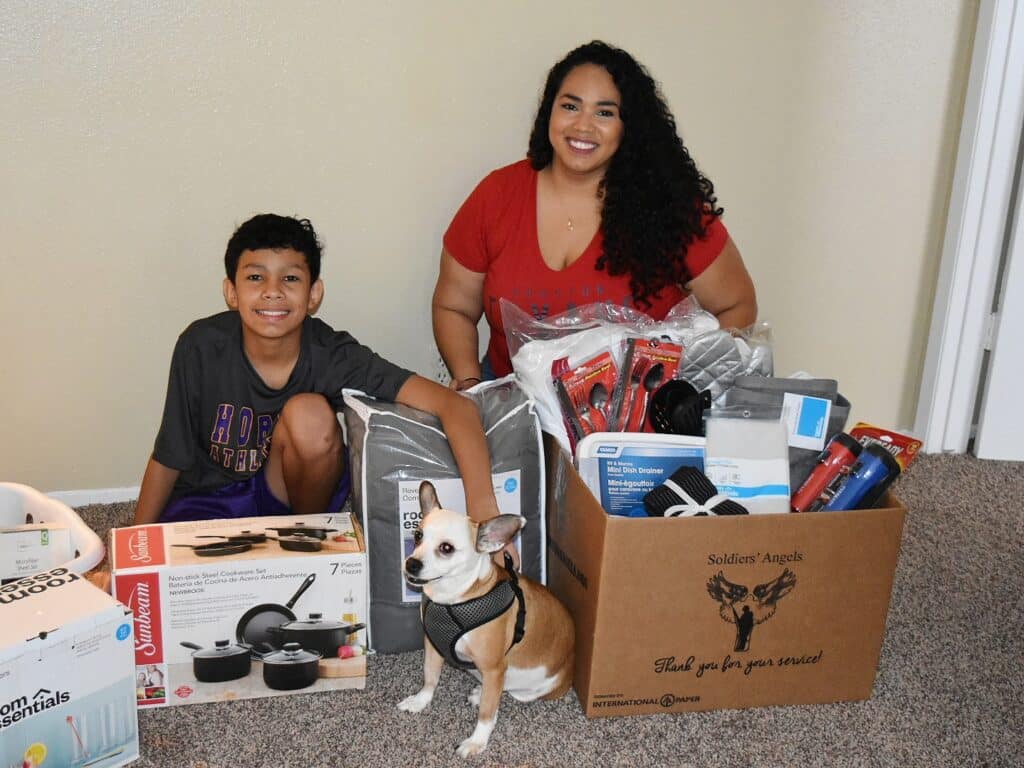 Transportation Services
Relying on friends and family to get to appointments at the VA can be taxing, and using public transportation, ride share apps, or taxis can get expensive. Being without transportation is rough, which is why Soldiers' Angels works to offer bus passes, tokens, or tickets to Veterans in need to ensure they don't miss critical VA Hospital appointments. We also partner with Recycled Rides to nominate Veterans for the program. Recycled Rides partners with collision industry colleagues to refurbish and donate vehicles to individuals and service organizations in need. Here's a recent story from the program.
Box Lunches
There are a lot of food insecure Veterans who come in and out of the VA Hospital. Soldiers' Angels works with volunteers and donors to prepare Box Lunches that we give to case workers who can distribute them appropriately to Veterans in need of a meal. These non-perishable lunches include nutritious items like ready-to-eat tuna or chicken salad kits, bottled water, granola/cereal bowl, fruit cups, trail mix, and other items. Learn more about our Box Lunch program here.
Canteen gift cards
It's not uncommon for Veterans to schedule all of their appointments on one day to save on transportation costs and time getting to and from the hospital. While there, they may have to skip a meal because they can't afford to eat at the Canteen (the VA cafeteria). Another way we support Veterans is by providing gift cards to the Canteen for Veterans who cannot afford to eat there and will be at the VA for at least 6 consecutive hours.
Food Distributions
Finally, our most well known Veteran Support Program: our monthly Veteran Food Distributions. We offer fresh produce and other grocery items to low income Veterans in six locations across the country on a monthly basis. Our Food Distributions serve around 200 Veterans in each location per month, offering, on average, 75 lbs of groceries to Veterans who face food insecurity. These events are also opportunities to spread cheer during special holidays, where we hand out items like Valentine's Day cards in February, turkeys in November, and holiday stockings in December.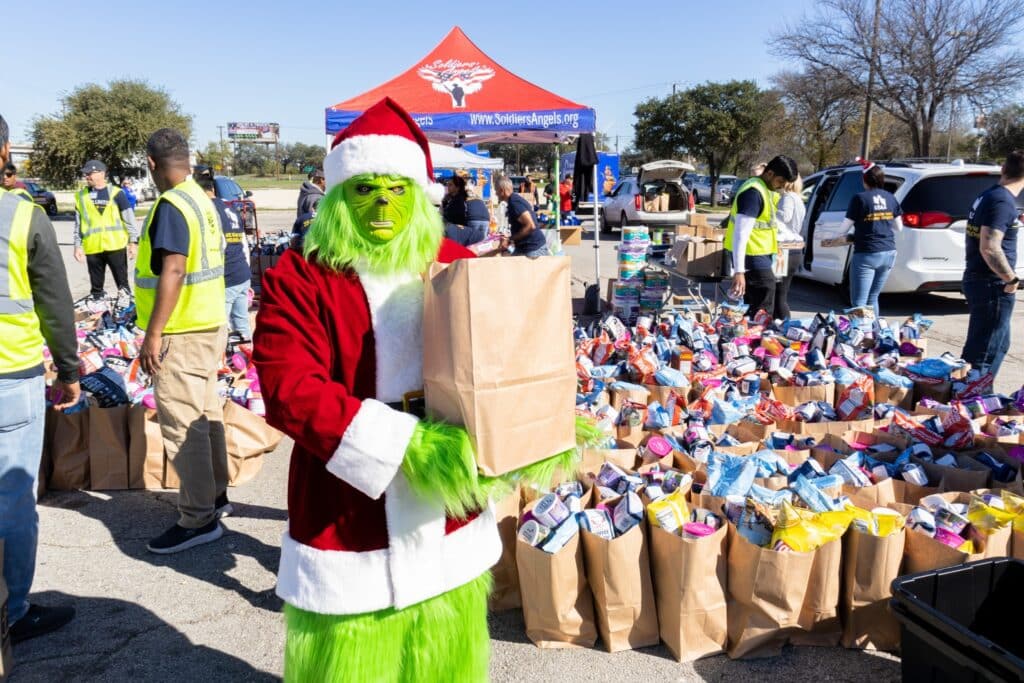 As you can see, we love supporting veterans with critical items like food and transportation but also in more personal ways like patient visits and fun events. Want to get involved? Learn more about volunteering for our Veteran Support Programs here.
---