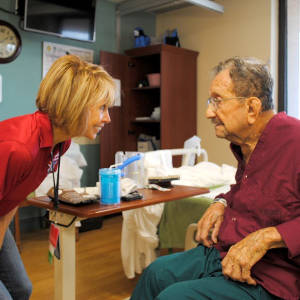 Who We Are and What We Do
Soldiers' Angels is one of the few nonprofit agencies with a voting seat on the VA National Advisory Council and approval to work within VA Hospitals. As deployments continue to draw down, our team is shifting many of our resources to support a growing veteran population. While many organizations are only focusing on Iraq and Afghanistan veterans, Soldiers' Angels supports veterans of all generations.
Soldiers' Angels staff and volunteers are able to coordinate events and activities, organize corporate partner participation, visit patients and approve volunteers to join the Veteran Support Program.
PATIENT SERVICES INCLUDE:
Patient visits: Veteran Support Volunteers visit patients at the VA Hospital. During their visits, the volunteers talk with the patients and have the opportunity to distribute comfort items to them to help make their hospital stay more pleasant. Some of these items include:
Blankets
Hygiene Kits
Box Lunches
Magazines
Recreational Items
Bi-weekly or monthly luncheons or dinners are organized to bring the veteran patients together and offer them a taste of home with a warm meal and friendly volunteer interaction. These may include movie night, themed meals, holiday meal events, Thanksgiving dinner, and summer outdoor BBQ's
Valor IT: Provides technology products to support service members recovering from hand wounds and other severe injuries. Learn more about the Soldiers' Angels Valor IT program here.
How You Can Help
You can become an Angel and volunteer with Soldiers' Angels at a facility near you! Please use the contact form on this page for more information on getting involved in this unique opportunity. Volunteers will be required to complete a formal application and complete a background check. A screening process is in place for your safety and the safety of our veterans.
If you aren't close to a facility and still want to help, consider a cash contribution or inkind donations of items such as blankets, snacks, hygiene items, socks, t-shirts and sweat pants. To ship items to support our veterans, please contact us so we may direct your contribution to the best possible site.
If you need more information, please use the contact form on this page.
Contact Soldiers' Angels VA Hospital Support