What it Takes to Supply a Box Lunch to a Veteran
July 18, 2018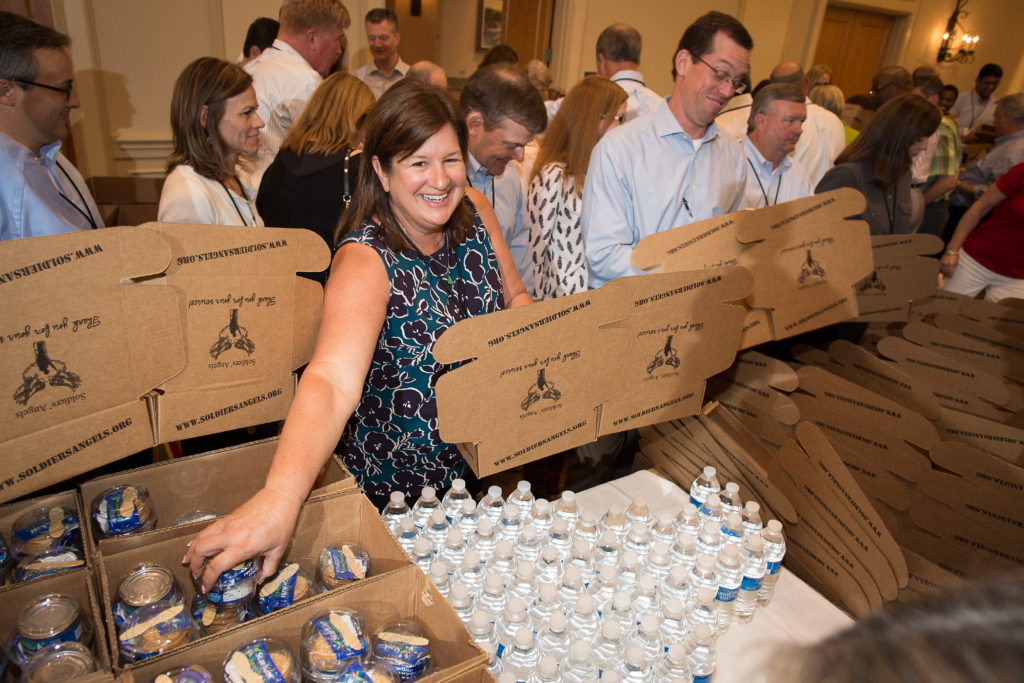 Soldiers' Angels provides support in many ways to our deployed heroes and veterans. Most people know about our care packages— which is what inspired this organization 15 years ago— but there are many other ways we support our nation's heroes.
It is no secret that veteran homelessness is an issue in our country. Although it's impossible to have an exact number of homeless veterans, the U.S. Department of Housing and Urban Development estimates that there are more than 40,000 homeless veterans across the country on any given night. In addition to that, approximately 1.4 million other veterans are considered "At Risk" of homelessness.
Although the numbers are intimidating, there are many organizations out there that are each playing a small part in assisting these veterans and their families. Soldiers' Angels is one of those organizations. Most likely, you have heard about the Soldiers' Angels Veteran Mobile Food Distribution program. Through this program, Soldiers' Angels provides monthly food assistance to over 200 veterans every month. At the time this article was written, the event was offered in 6 major cities across the country, but more will be opening in the near future: Atlanta, Georgia; Charleston, South Carolina; Denver, Colorado; Detroit, Michigan; Orlando, Florida; and San Antonio, Texas.
But did you know that Soldiers' Angels also offers food assistance in the form of Box Lunches? These small but much-needed boxes have two important functions: they are distributed directly to homeless veterans who attend Stand Down events that Soldiers' Angels supports and they are also provide to caseworkers at the many VA Hospitals served by Soldiers' Angels. Caseworkers have daily interactions with veterans who are visiting the VA for any number of reasons and many of those veterans do not know where their next meal is coming from. Caseworkers will provide these veterans with a box lunch to ensure they have a nutritious meal.
One lunch may seem like such a small gesture, but it is truly appreciated.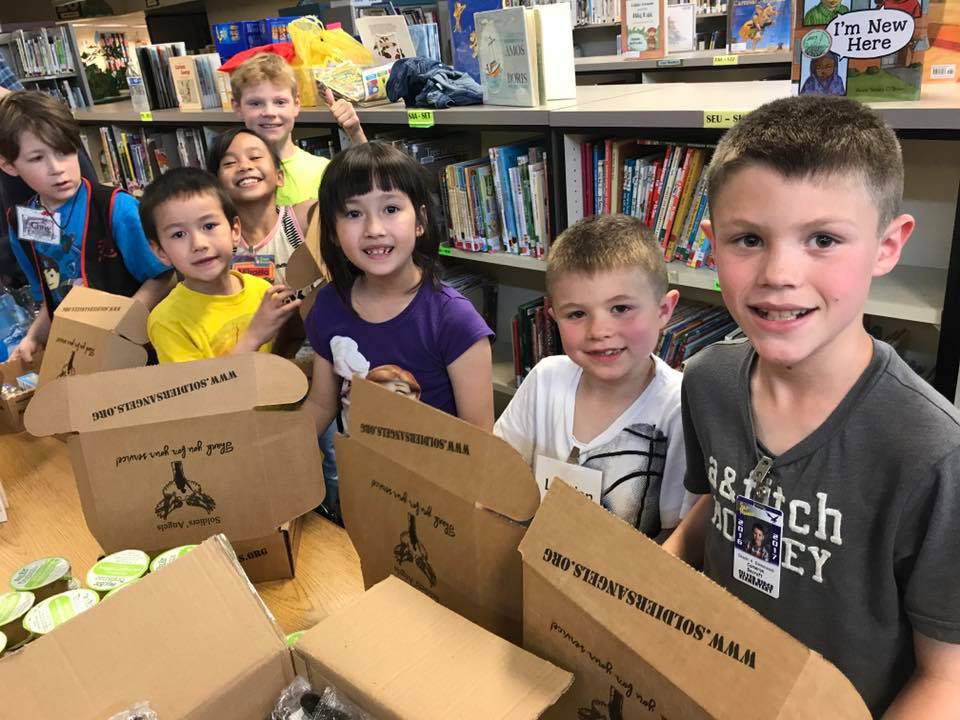 Did you know?
Soldiers' Angels is one of the few nonprofit agencies with a voting seat on the VA National Advisory Council and approval to work within VA Hospitals. As deployments continue to draw down, our focus has been shifted to support a growing veteran population. We support veterans of all generations in a variety of ways. From box lunches to hospital visits and special events, we make sure veterans know how much we appreciate their service and sacrifices.
Planning & Coordination
Box lunches are requested throughout the year from the many VA Hospitals we support and are also utilized nearly every month by our staff and volunteers attending Stand Downs. Each year, Soldiers' Angels coordinates the packing and distribution of thousands of box lunches.
Thankfully, we often have the help of some amazing partners that will cover the cost of the supplies needed and host a packing event to get all of the items packed and ready to distribute to veterans. Many times, these partners are businesses hosting a team building or philanthropic event for their employees. Often these larger events will produce hundreds if not thousands of non-perishable box lunches in just a couple of hours!
Collecting Supplies
Our box lunches are filled with non-perishable but nutritious items so that they can be easily distributed and shipped if needed. Each box lunch contains the following:
Bottled water
Single-serve powdered drink mix
Ready-to-eat tuna or chicken salad kit
Granola or cereal bar
Fruit cup or squeeze fruit
Crackers
Trail mix
Raisins
Fruit snacks
Beef jerky
Utensil kit
Anti-bacterial wipe
These items are either collected through a collection drive or purchased after raising enough funds. Or, if a partner is sponsoring the event, we will coordinate with the partner for them to purchase or cover the cost of the items. The total cost of one box lunch is $15.
Assembly
Once all of the supplies are collected, it's time to assemble. We have had groups and businesses of all sizes and ages that have assembled box lunches for Soldiers' Angels— from grade school class projects that packed a couple dozen box lunches to huge business team building events that packed a couple thousand!
Assembly includes putting the box together, packing all of the items into each box, and then packing 25 box lunches into 1 big master box for transport or shipping.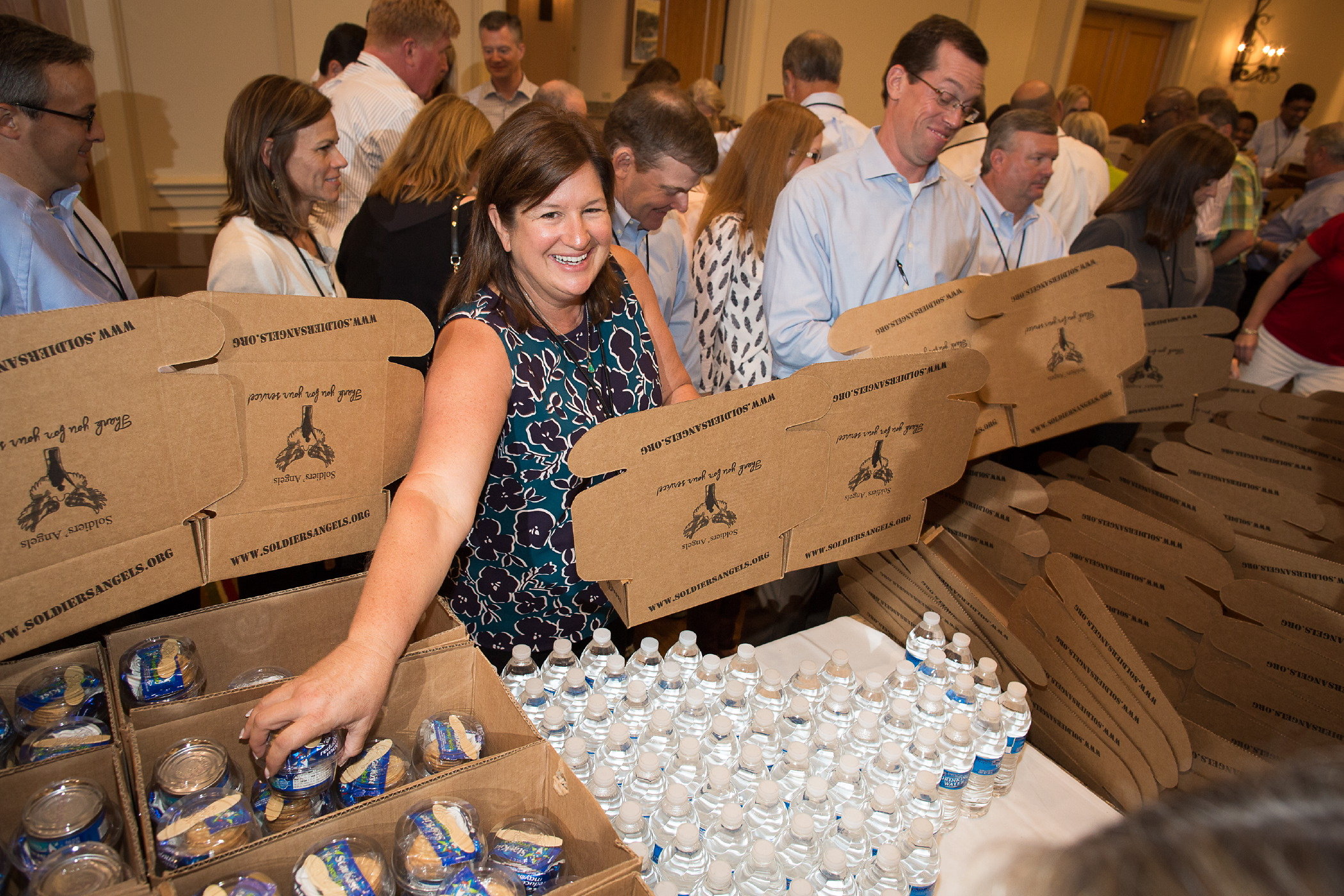 Distribution
Once the boxes are packed up and ready to go, they are shipped to VA Representatives across the country. The VA Representatives will distribute the box lunches to caseworkers who will handout lunches to veteran patients who may otherwise go hungry, or the lunches will be distributed to homeless veterans at a Stand Down.
Stand Downs are events organized by the VA Health Care Systems to bring VA services to homeless veterans in the community. These large, one to three day events provide needed items and services like food, shelter, clothing, health screenings, VA & Social Security benefits counseling, and referrals to a variety of necessary services to homeless or at risk veterans.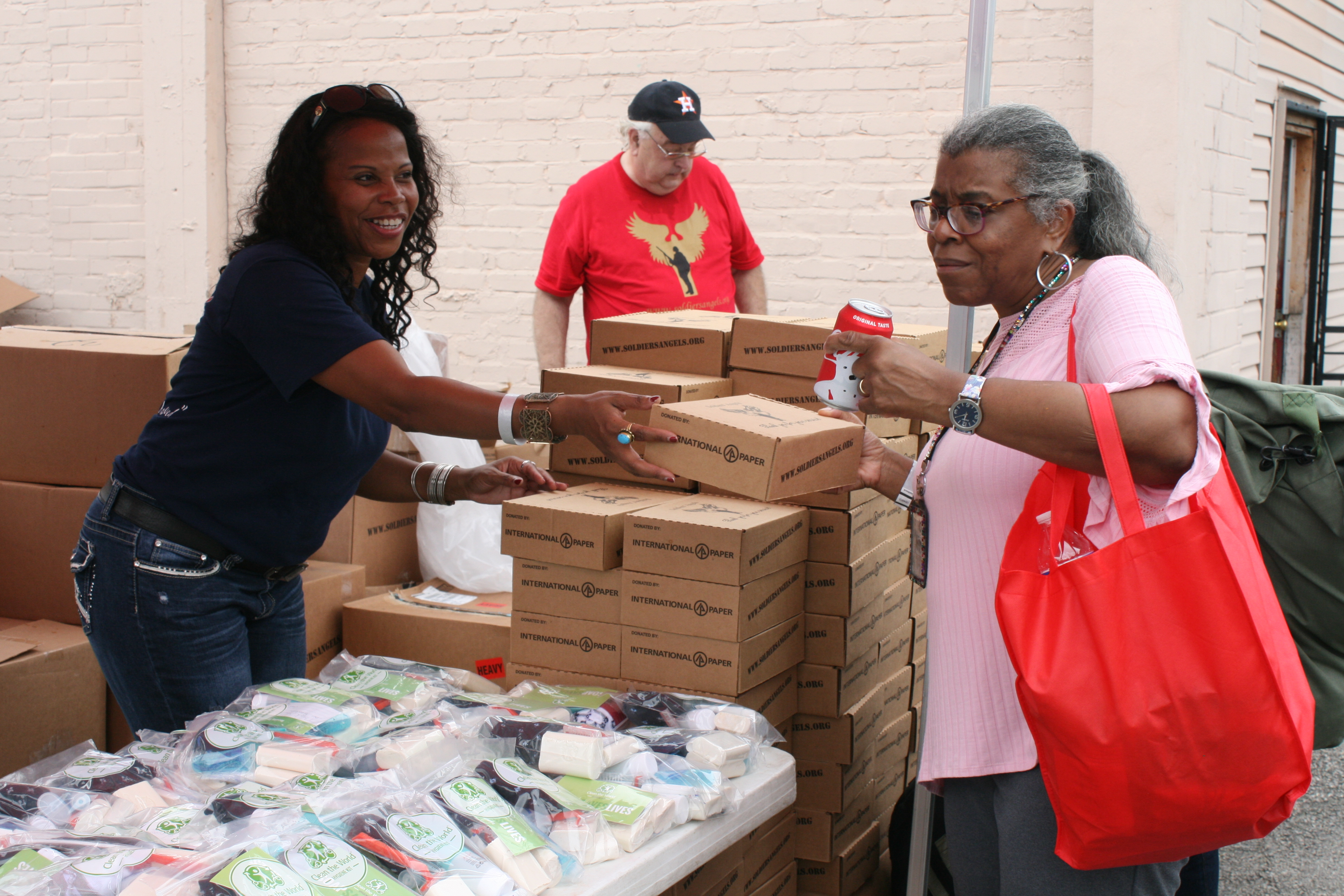 As you can see, a box lunch seems so simple but it really does go a long way in helping our veterans.
---