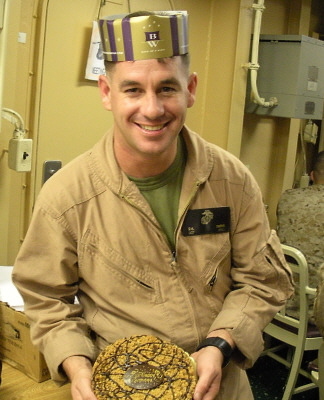 Send a Birthday Cake to a Hero through Soldiers' Angels and Bake Me A Wish!
Thanks to a cooperative project between Soldiers' Angels and Bake me a Wish, deployed service members can receive birthday cakes from patriotic Americans. For every Freedom Cake purchased on Bake Me a Wish, a birthday cake will be sent to a service member in the customer's name. Bake Me a Wish will generously donate their delicious birthday cakes, and Soldiers' Angels will send each one on its way.
"We are very excited to partner with Bake Me A Wish and have the opportunity to send a cake to a soldier or hero for every Freedom Cake purchased on BakeMeAWish.com," says Patti Patton Bader, founder of Soldiers' Angels. "These men and women are risking their lives, and have served our country while being away from their families for extended periods of time; a special cake from home can brighten their day and let them know they are thought of."
Military families interested in sending a birthday cake to their soldier can contact Soldier's Angels. Tax deductible contributions to the program through Soldiers' Angels can be made by sending checks to:
AFF/Bake Me A Wish
ATTN: Operation Birthday Cake
211 East 43rd Street, Suite 305
New York, New York 10017
Individuals and corporations can purchase gourmet cakes for domestic delivery online at BakeMeAWish.com, or click here to get one especially for a deployed service member. Starting at $54.99, each gourmet cake ordered through the Bake Me A Wish site results in 5% of the sale contributed to Operation Birthday Cake. Domestic deliveries are guaranteed overnight delivery if ordered by 3pm ET. Birthday cakes to APO/FPO addresses are shipped as soon as possible through the postal service and take between 7 and 14 days to arrive, depending on final destination.
Supporters can also donate to help cover the costs of shipping. Please help us help a hero have a great birthday, even when he or she is far from home.
Impact
We absolutely LOVE to get them and they are soooooo tasty too! Nothing like having an Afghannyland B-day party! Thanks to those that have donated...you have made my Soldiers very happy! - Rachel
I would like to thank you from the bottom of my heart for getting a Birthday Cake to my son half way around the globe. Our family has had a tough go of things for the last three years, and I wasn't able to send my son much more than my love and support for his Birthday. I was thrilled that he was able to get a surprise treat, reminding him that we were thinking of him on his special day. My promise to you, is that when our family gets back on track, we will send a donation...so that other troops can also receive a Birthday Cake...even in the middle of a desert!
AMAZING. I do not know HOW you did this BUT my son got a cake on his birthday!!! ...We did talk through Instant Messenger and he told me HE GOT A CAKE...Thank you so much for making his 22nd birthday a special one. Plus, he said the cake was really good!!! Regards, Rene (SPC Jonathan's Mom)
I was very surprised when I got the package in the mail. Unfortunately I did not get any pictures to send you because I made the mistake of opening the gifts in front of a room full of hungry Airman. Needless to say for a brief time I was very popular. And for that time we all were in heaven eating the great cake you sent me. But the most important thing is that we all felt that people remember us and care about what we are trying to do here...People like you back home are making a huge difference for us by doing what you do. I can not thank you and everyone involved enough. You definitely made my Birthday one to remember over here. Thank you. - Edward
want to thank you for your service to me and all the Soldiers I serve and serve with. I have been a Soldier for more than 23 years and I am on my second tour to Iraq. I am on a Transition Team that Advises the Iraqi National Police. [My wife] and I have been married for more than 19 years. This cake was one of the most thoughtful things she has ever done for me; she went out of her way to make my day a little better, it was a lot better. I know it seems like a little thing, but it was really a big thing to me. We don't live on a FOB (Forward Operating Base); we live on a small camp with 400 Iraqis in the Southwest sector of Baghdad called Douraor East Rasheed. The cake was delicious. I shared with my team, my interpreter and my counterpart, Colonel Assim of the Iraqi National Police. Again, thank you for what you do for me and all the Service members. Respectfully, Major S.