Pairs of Socks Collected
towards our 75,000 pair goal!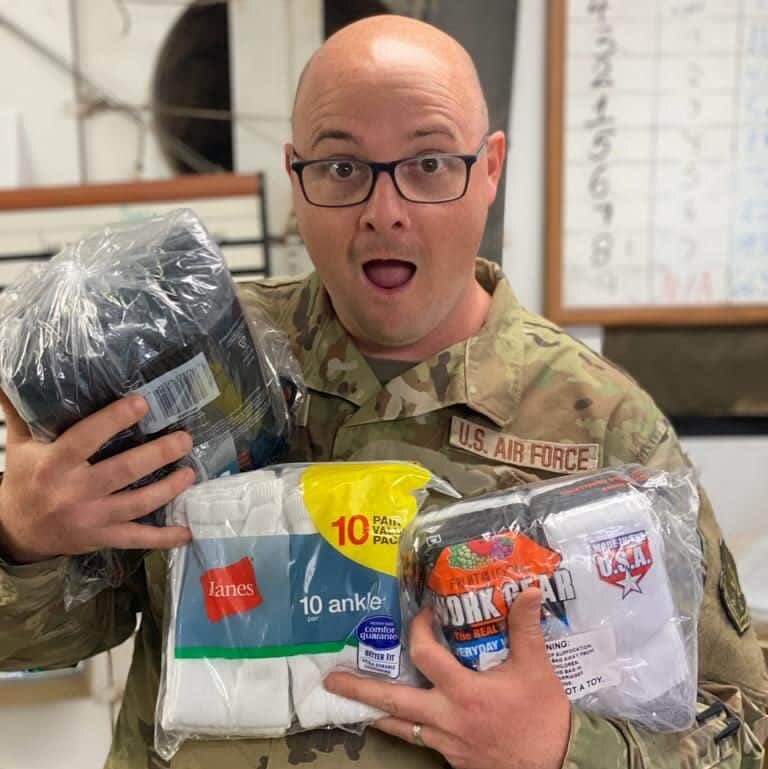 Provide comfort for brave soles.
Believe it or not, one of the items that is most requested from Service Members and Veterans is socks!
Just think how nice a brand new pair of socks feel when you slip your feet in…
Soldiers' Angels wants to help keep our Troops and Veterans toes feeling toasty, and you can help! Start a sock collection drive & send us new socks in all colors and sizes in their original packaging. We will distribute the socks to Veterans in VA Hospitals and include in care packages to deployed Service Members.
Don't worry, we know there are regulations for the type of socks our troops wear when in uniform, but they request socks to wear when out of uniform– so really, any kind of sock will do!
How to Participate
Anyone can participate in the sock drive! It's an easy, fun, and rewarding way to give back to the military and veteran communities!
Here's how you can help:
Purchase socks from our Amazon Gift Registry
Purchase socks from a local store and ship them to our office (address below)
Host a sock collection drive at your company, school, or organization
Ship your socks to us between February 1st – March 31st and they will count towards our Warm Feet for Warriors goal for this year!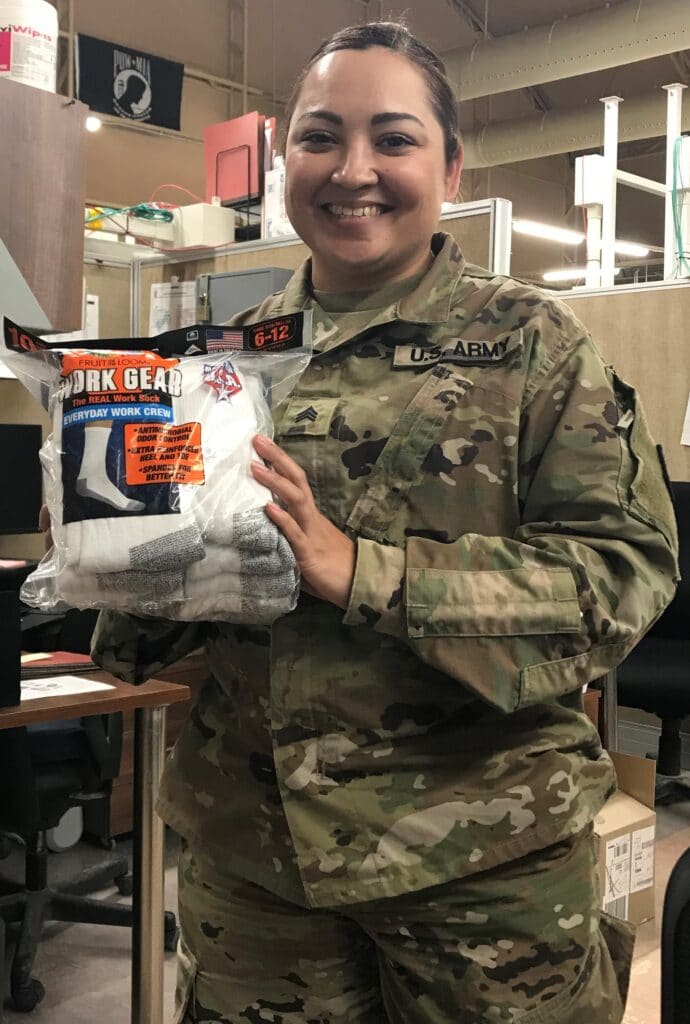 Collection Dates
Soldiers' Angels accepts socks at any time in the year, but in order to count towards our Warm Feet for Warriors goal, we must receive socks between these dates:
February 1 – March 31
(Don't worry if your socks arrive a little before the 1st or a little after the 31st– we anticipate that most people will end their collections on the 31st and the socks will arrive in the 2-3 weeks following.)
Goal
Socks are always needed at Soldiers' Angels! This collection helps us fill sock needs across the country and around the world. Will you help us reach or exceed this year's collection goal of:
75,000 Pairs of Socks
Thanks to all of you, we blew our 2022 goal out of the water collecting 88,785 pairs with a 50,000 goal! Can you help us collect 75,000 pairs of socks in 2023?
Where to Buy Socks
Need some help deciding which socks to buy? We've created an Amazon Gift Registry for Warm Feet for Warriors!
You can use this list as a reference for which type of socks to purchase locally or you can order directly from Amazon and have the socks shipped to our headquarters office in San Antonio, Texas.
Not an Amazon user? No worries, you can find socks just about anywhere in stores or online. Just find the socks you want to send, pack them up, and ship them to Soldiers' Angels!
Sock Collection Drive
Interested in starting a sock collection drive at your business, school, church, group, etc.? That's great! Scroll down to the Marketing Materials section and find graphics you can use to promote your campaign.
To start a collection drive, simply use a cardboard box or bin for collection and tape the flyer to your collection box! Please be sure to check with your office, school, church, or group regarding any regulations they may have on hosting a collection drive.
Once your collection is over, ship your collected socks to Soldiers' Angels.
Shipping Address
Please Note: You are responsible for the cost of shipping the socks to us. In order for your socks to count toward the Warm Feet for Warriors goal, your package must be postmarked no later than March 31.
Ship your socks to:
Soldiers' Angels Warm Feet for Warriors • 2895 NE Loop 410, Suite 107 • San Antonio, Texas 78218
Marketing Materials
Feel free to use any of these prepared materials to promote your sock event or collection!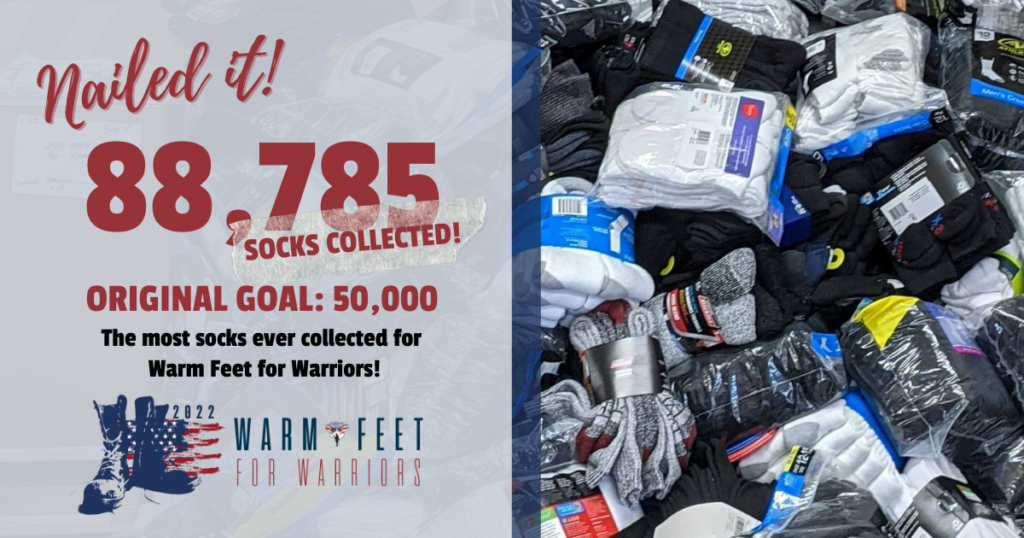 Soliciting Donations
Soldiers' Angels has created collection campaigns throughout the year as an opportunity for individuals, businesses, and organizations to come together and give back to our Service Members and Veterans. These collection campaigns are meant to be held in a way that general members of the public (ie, your friends, family, classmates, co-workers, etc.) can donate to the campaign. If you are hosting a collection, please do not solicit cash or in-kind donations from retailers, manufacturers, large corporations, or any other business entity. Due to the nature of those requests and the paperwork involved, solicitation of donations must come directly from Soldiers' Angels. In most cases, we already have a relationship established with many of the major businesses. If you happen to have a connection at a retailer, manufacturer, large corporation, or other business entity that you think would be willing to donate cash or in-kind items to Soldiers' Angels, please reach out to us and we would be happy to contact them. Email: [email protected]
---
Soldiers' Angels Warm Feet for Warriors FAQ:
Still have questions? We've got answers! Explore our FAQ section to learn more about Warm Feet for Warriors. If we didn't answer your question, feel free to reach out via phone or email and we'll get back to you as soon as we can! Email: [email protected] Phone: 210.629.0020
Please click on each question to reveal the answer.