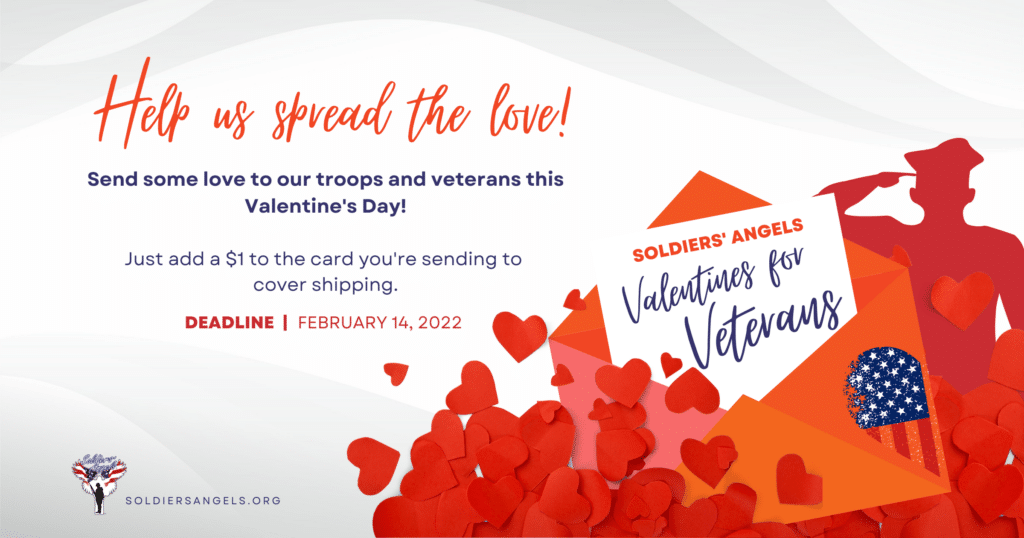 Every year we receive thousands of Valentine's Day cards addressed to service members and veterans. Sadly, since the cost to distribute these cards is so high, we are not able to provide enough funding to get these cards to our military and veteran heroes so they can feel the love.
But now you can help us spread the love!
All you need to do is include $1 per Valentine you send! This will help us cover the cost of packing & mailing boxes of Valentine's Day cards to deployed troops overseas and VA Hospitals!
Mail your cards and $1 per card to:
Soldiers' Angels Valentines for Veterans
2895 NE Loop 410, Suite 107
San Antonio, Texas 78218
Need some inspiration to help you get started on your Valentines? Check out our Valentines for Veterans blogs for tips, inspiration, and photos of previous cards we received!
Quick Tips Before Sending Your Valentines for Veterans
The deadline is February 14
Cards can be store-bought or handmade
Individually wrapped candy can be included if it is attached to the card
Include $1 per card, cash or check
You can include an envelope if you want, but not necessary.
If you include an envelope, do not seal
At your discretion, you are welcome to include your return address in the event the recipient may write back to you. However, it is also okay if you do not include any personal information.
More questions about Soldiers' Angels Valentines for Veterans campaign? Scroll down to see our FAQ section below or email us here.
Marketing Materials
Help us spread the word! Share the below posts and marketing materials on your social channels and encourage your friends and family to share the love with our troops and veterans this Valentine's Day!
Hosting a collection drive? We've got some quick materials ready for your use to promote your collection!
Coloring Contest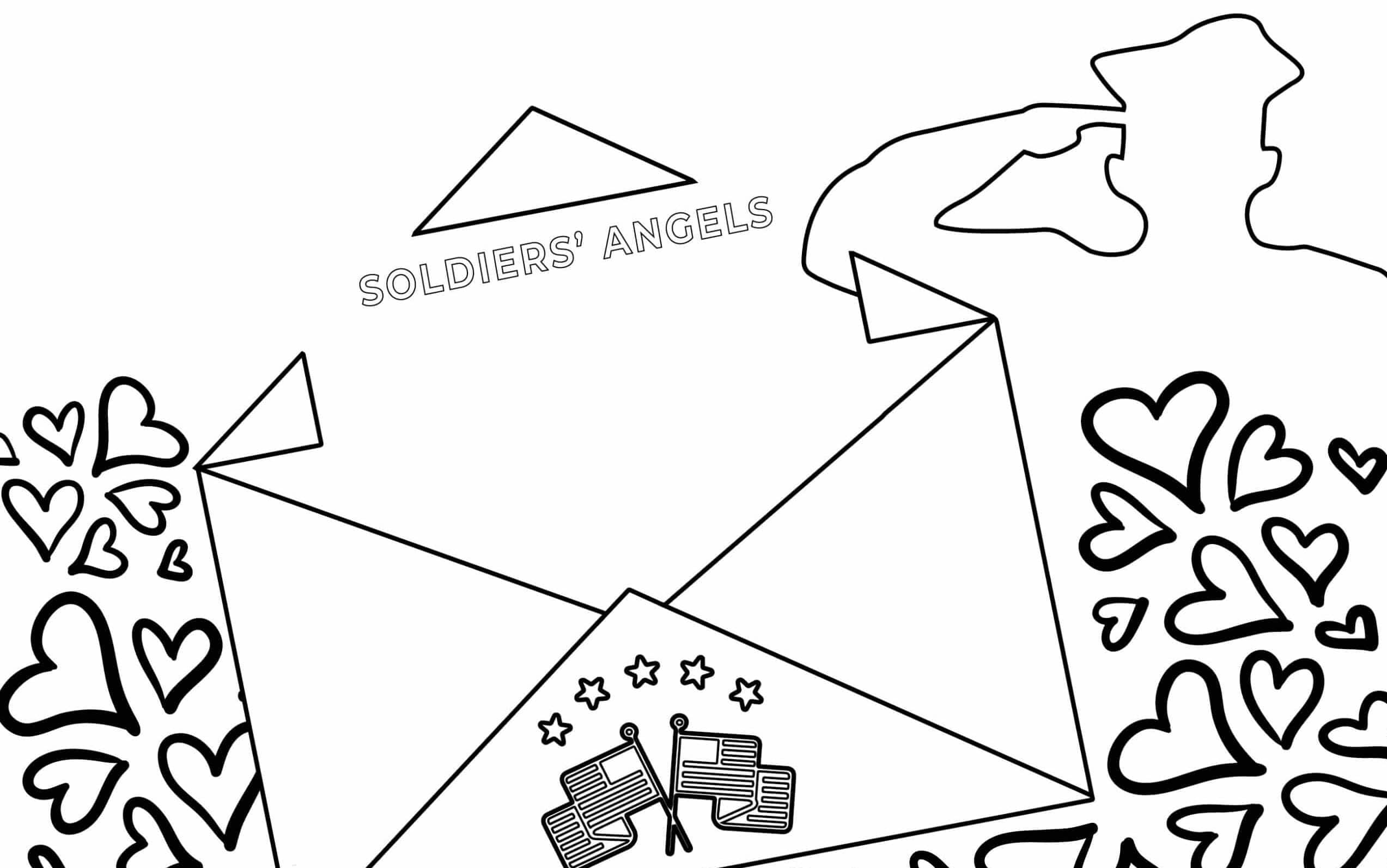 This year, we are excited to add a fun coloring contest to the Valentines for Veterans campaign! We've created a coloring sheet that you can download, print, and color. Once you've finished your masterpiece, submit a photo of your card to our Media Portal to be included in the coloring contest! Submissions will be posted around Valentine's Day and the coloring with the most reactions (likes, love, wow, etc.) will win a fun prize pack!
2022 Coloring Contest Dates and Links
Coloring Contest open now through February 9th, 2022
Submit a photo of your coloring using the Coloring Sheet by February 9th, 2022
Artwork posted to the Soldiers' Angels Facebook page for judging February 10th-14th, 2022
Winner announced on February 15th
This contest is open to any person of any age! You do not need to be an Angel or Team Angel in order to participate.
Coloring Contest Rules
Entries in the coloring contest must be received via the Soldiers' Angels Media Portal no later than 11:59 pm CT on Wednesday, February 9th, 2022. Entries received via other methods of communication besides the Media Portal may not be eligible for the contest. Entries that contain graphic, lewd, or otherwise inappropriate content will not be considered for inclusion. If you enter the contest, you must provide an email address in order to be notified if you win. Inclusion in the contest is free and does not guarantee that you will win. Winners will be chosen solely based on popular vote using Facebook during the dates mentioned above. Winners will be notified by email after the announcement and have 1 week to reply with a shipping address for their prize pack. If they do not respond in 1 week, the prize will be forfeited to the next most popular piece of art. In the event of a two-way tie or more, there may be a runoff to decide the winner as determined by Soldiers' Angels.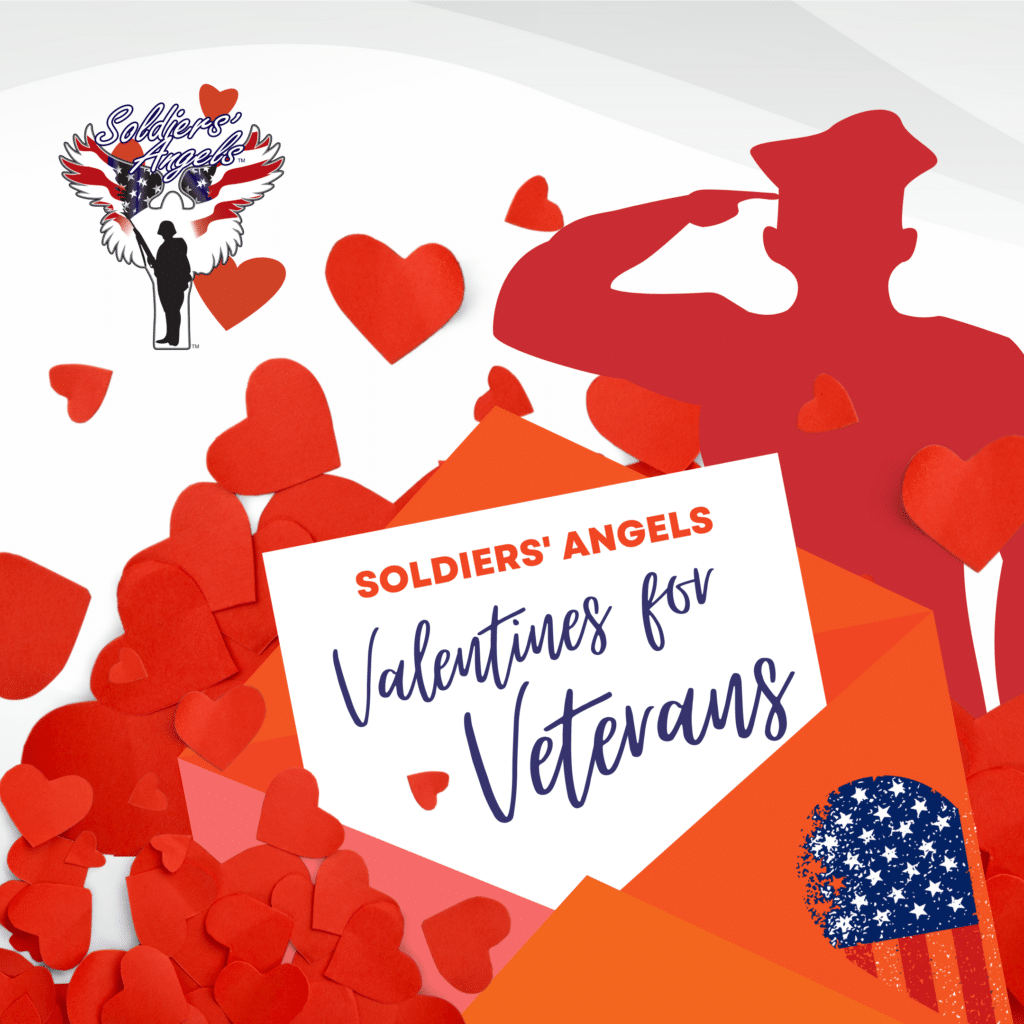 Soliciting Donations
Soldiers' Angels has created collection campaigns throughout the year as an opportunity for individuals, businesses, and organizations to come together and give back to our troops and veterans. These collection campaigns are meant to be held in a way that general members of the public (ie, your friends, family, classmates, co-workers, etc.) can donate to the campaign. If you are hosting a collection, please do not solicit cash or in-kind donations from retailers, manufacturers, large corporations, or any other business entity. Due to the nature of those requests and the paperwork involved, solicitation of donations must come directly from Soldiers' Angels. In most cases, we already have a relationship established with many of the major businesses. If you happen to have a connection at a retailer, manufacturer, large corporation, or other business entity that you think would be willing to donate cash or in-kind items to Soldiers' Angels, please reach out to us and we would be happy to contact them. Email: [email protected]
Soldiers' Angels Valentines for Veterans FAQ: