Virtual Corporate Events That Support The MIlitary
June 18, 2021
The pandemic made way for lots of new "virtual" events and experiences in 2020 as we tried to shelter in place while also staying connected. Here at Soldiers' Angels, we found that our corporate partners needed a way to keep up employee engagement through charitable efforts. As you may know, we offer corporate engagement event opportunities that range from No-Sew Blanket making to Hygiene Kit assembly and more. Obviously, these in-person events posed a challenge during the pandemic, however, we found some creative and safe ways to offer the same group activities virtually. Here's a look at a few fun virtual corporate events we held over the past year and a half.
Paracord bracelet making
Paracord bracelet making is one of many activities we offer to corporate partners. These bracelets are loved by service members and veterans as they are a very utilitarian tool they can always carry with them. The activity is fun, engaging, and teaches a new skill. During quarantine we realized this activity didn't have to be in person, we actually offered it as a "quarantine craft" for anyone looking to give back while sheltering in place! After getting a great response from our supporters, we decided why not make this a virtual corporate event option as well?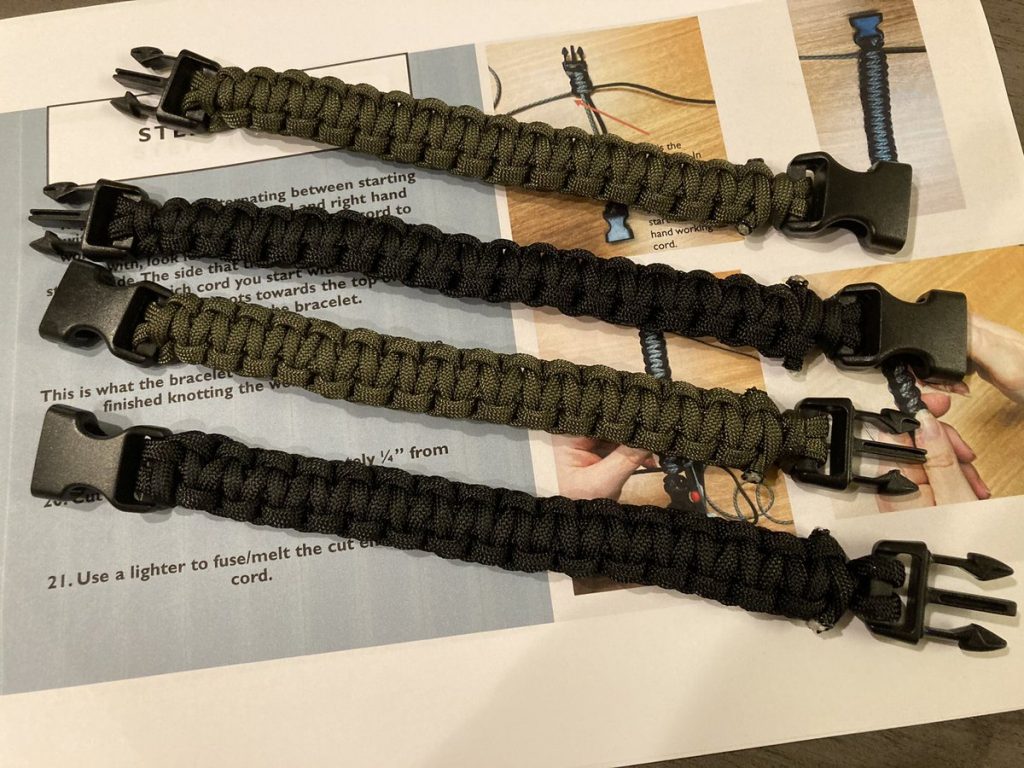 Our virtual paracord bracelet sessions were led by Sewing and Crafting Team Leader, Nancy Marshall, who offered ste-by-step instruction and guidance through Zoom.
"I've done several of the paracord bracelet events and they have been awesome. It is a fun experience and very enriching to see so many people stepping up to volunteer their time and talents to support our military and veterans. The events were always exciting and energizing, and always went very well. I did learn to craft the bracelets "in reverse", so when I am showing how to tie the knots, the participants see the bracelet from their perspective, I am making them by standing behind the bracelet, so to speak. It's a valuable talent for sure!"

– Nancy Marshall, Team Leader, Sewing/Crafting and Baby Brigade
Zoom Bake-Along
Another fun virtual event we've been doing with corporate partners is what we've been calling a "Zoom Bake-along." And it's exactly like it sounds. We have so many talented bakers on our Angel Baking Team who love to share in the joys of baking. Team leader Shelley Kalfas has been leading these events. She provides an easy recipe (like brownies) and everyone bakes together following her instruction. She also teaches you how to package them up to prepare for shipment overseas.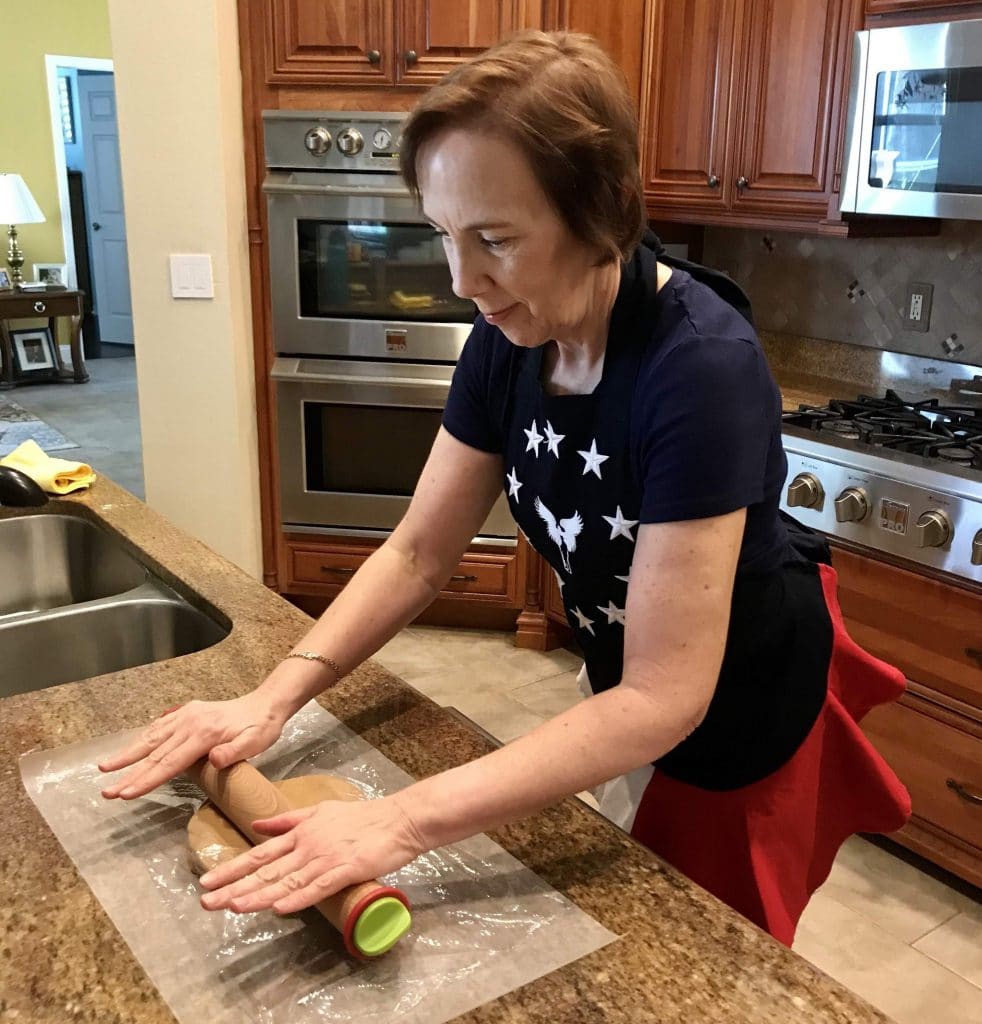 "I did a Zoom bake-along with a team from Lockheed Martin based in the Denver area. They wanted to bring people together virtually, and so I led them through baking a pan of stuffed brownies and then instructions on how to package it for a care package. I try to use recipes that even non-bakers can make. Some people also had their children and teenagers participate, and they were a lot of fun!"

– Shelley Kalfas
Creating cards of support
Another easy and fun virtual event we've been doing is leading teams through card writing sessions. Participating employees are provided with blank cards and we simply lead them through the process of writing notes of support and thanks to service members and veterans. These cards are then sent to Soldiers' Angels headquarters for distribution in care packages and at VA Hospitals.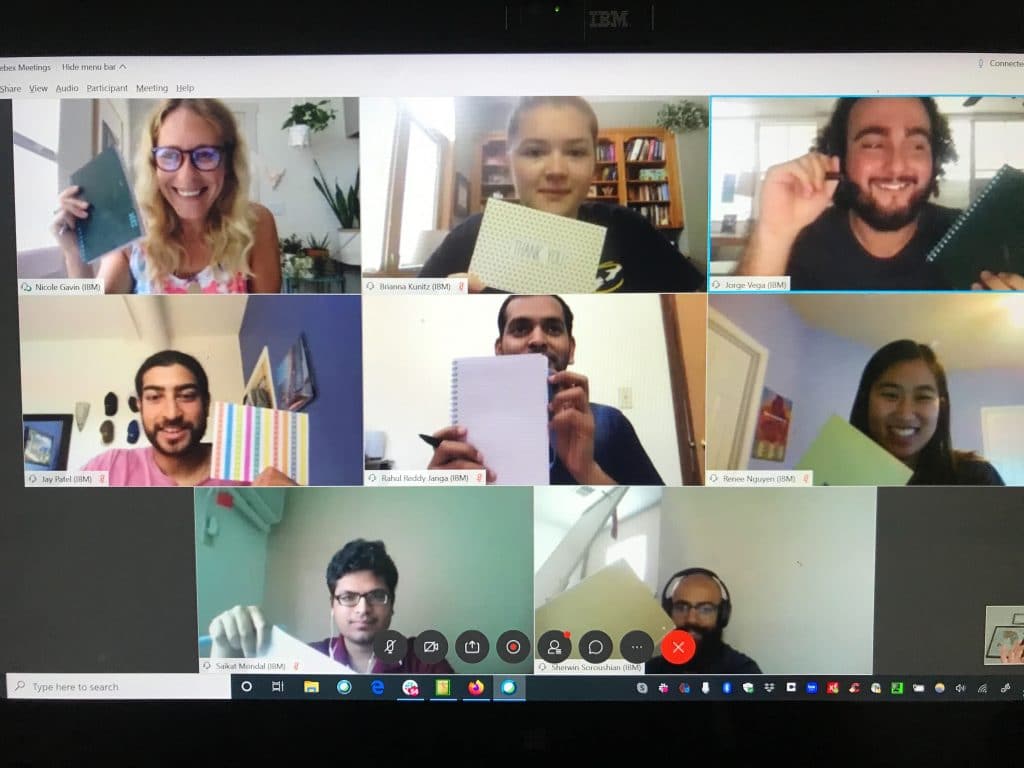 Doing a fun activity is always better than sitting through a presentation or panel over video. While those things do have their place, if you're looking for a new way to engage employees with fun activities that have a charitable component, we can help! Anyone interested in doing a virtual corporate event can contact us using the form on this page. Costs vary per activity and are based on the number of participants, needed supplies, and the amount of time allotted for the event.
---