The [Angel] Cookie Bandits of Fort Worth, Texas
December 10, 2020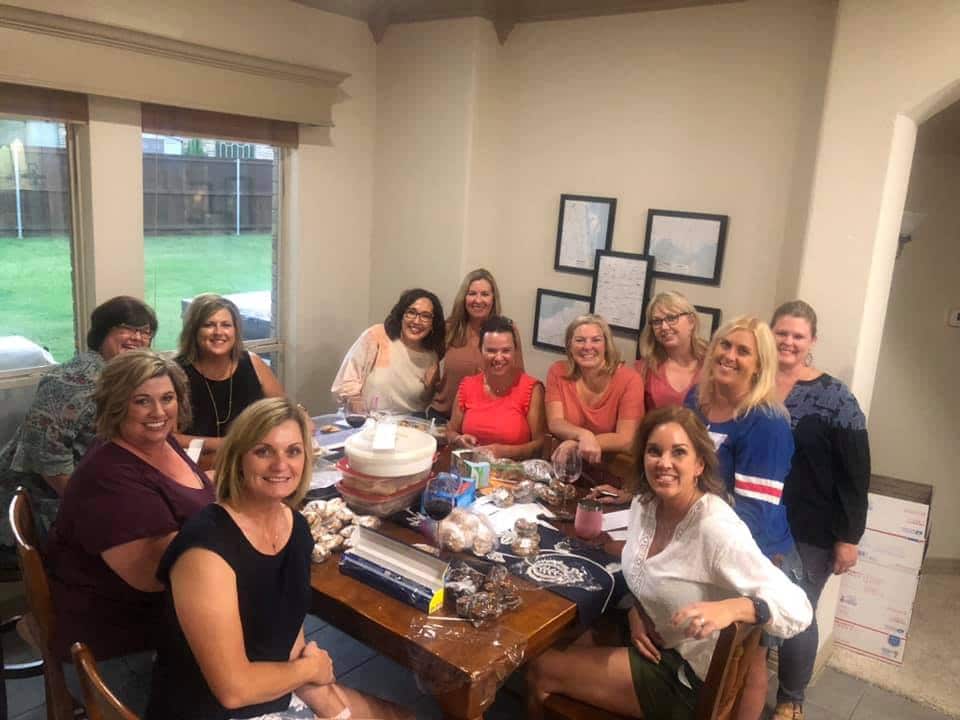 Have you ever been to a cookie exchange party? If so you know the drill: everyone bakes a dozen cookies to share and brings them to the party to exchange. You only have to bake one kind of cookie, but you come home with dozens of different homemade cookies! Nicole Hill had been to a ton of them over the years. This retired Air Force Veteran loves to bake and was looking for a way to give back by baking for the troops.
"My Mom was an avid baker and I love baking for my family and friends. I found the Soldiers' Angels Baking Team and though wow, this is a great fit for my baking habits and to give back to deployed military members."
After signing up, she and her 16 year old son baked about 4 dozen cookies and sent out two boxes to go to deployed members. Nicole posted about it on social media and immediately got the attention of her friends who wanted to help.
"They wanted to give back but they didn't know how. I had been to many Christmas cookie exchange events with my friends and thought, I wonder if I could just have a couple of friends bake cookies, bring them over to my house with a bottle of wine, and we'll package cookies for the troops."
And so last summer, she gathered her friends together to drink wine, have snacks, and give back to the troops through baking. She calls this group her "Cookie Bandits." The party, which Nicole says gets "chaotic and loud" lasts about an hour.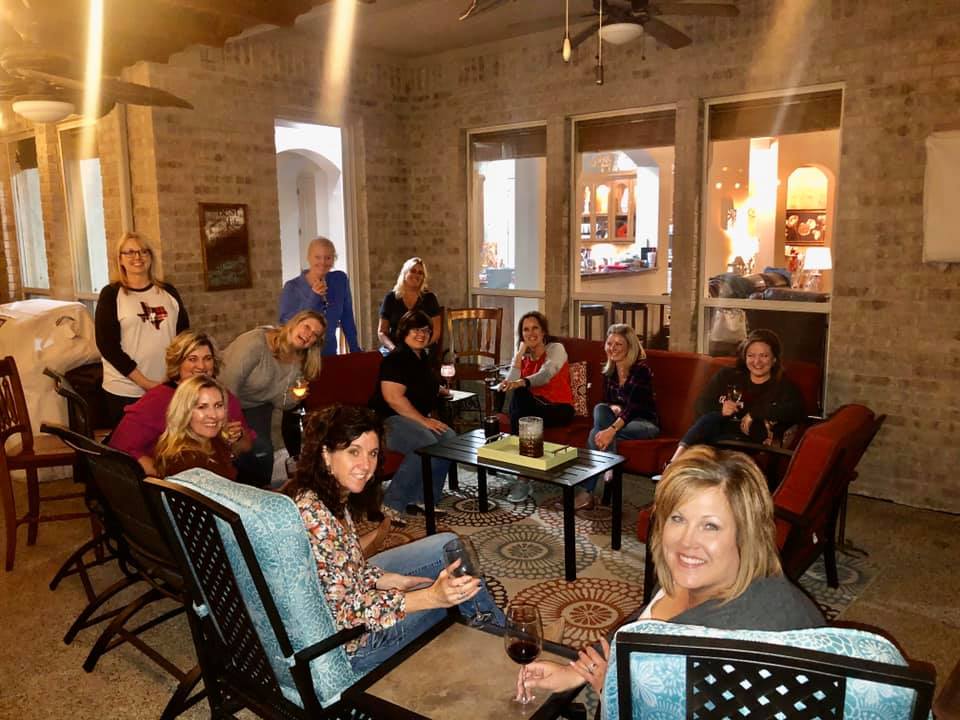 "We have so much fun! They enjoy getting together so it's more like a sisterhood/motherhood, ask questions, laugh, cry… just sit around the table and engage and at the same time do something good for our military."
Nicole hosts these parties once a month since, as an Angel Baker she is committed to sending at least one package a month. Her friends (about 15-16 ladies) bring over goodies and they get to packing and having fun.
"If people don't want to bake or don't have the time, I just ask them to bring something to contribute to the boxes. Candy, a deck of cards, sauce packets, beef jerky… whatever we can stuff in there so the cookies don't get crushed or move around too much. Some people give cash donations to help offset the mailing costs."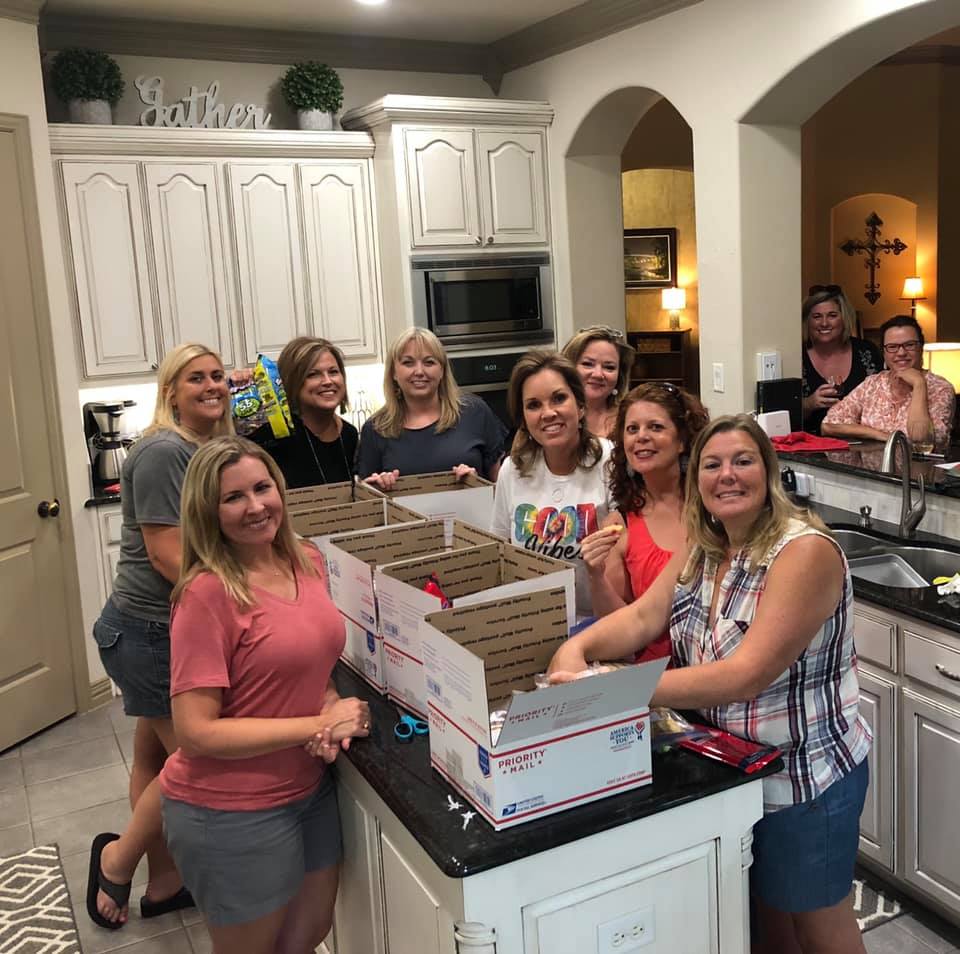 They also have fun decorating the boxes for different holidays. Four leaf clovers for St. Patrick's Day, plastic roaches for Halloween to help pack the boxes, etc. For the Holidays, instead of baking cookies for the troops, they participate in our Holiday Stockings for Heroes program.
"For the holidays, I give my Cookie Bandits a break. We stuff stockings for the troops. Last year we did 30. This year we're doing 50. Everyone brings an item and we stuff stockings together. I still send out a couple of boxes of baked goods."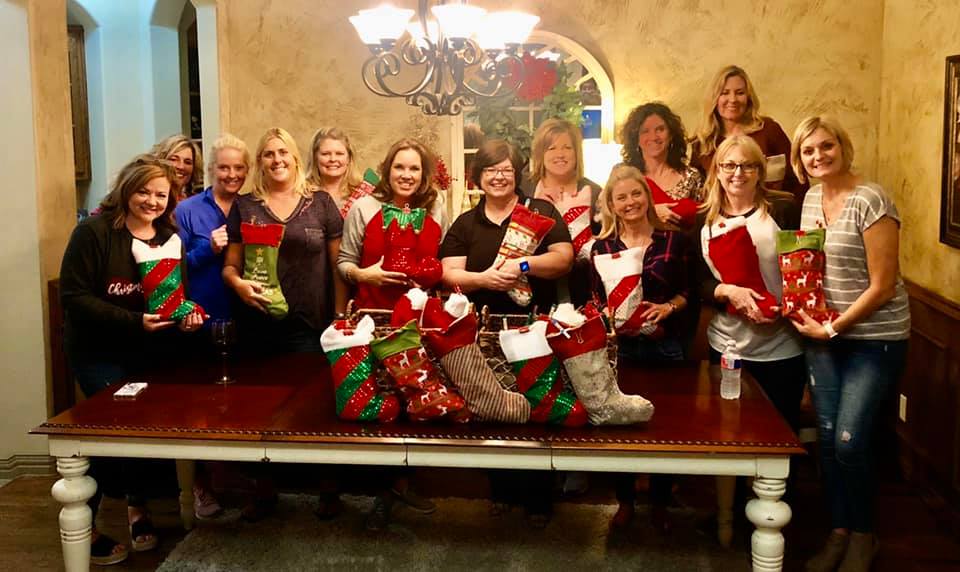 This year has been tough for the Cookie Bandits due to COVID.
"We didn't meet from March through July. We started to meet back up in August but in smaller numbers. Ladies who feel uncomfortable coming over or who may have been exposed will be dropping stuff off at my house."
Nicole lives in the Fort Worth area of Texas and we have always enjoyed seeing her cookie party photos in our Angel Baker Facebook group.
"I love doing it and my friends love to partake."
For those interested in becoming an Angel Baker, learn more here. We also share baking tips from our Angel Bakers on the Soldiers' Angels Facebook page too. These incredible home bakers have discovered lots of helpful tips for packing/shipping baked goods to ensure they will last the long journey to the Middle East, or wherever their final destination may be!
---