Meet A Real Life Hero Who Needs Your Support
Meet Nilami: a service member we have supported over the years.
April 10, 2020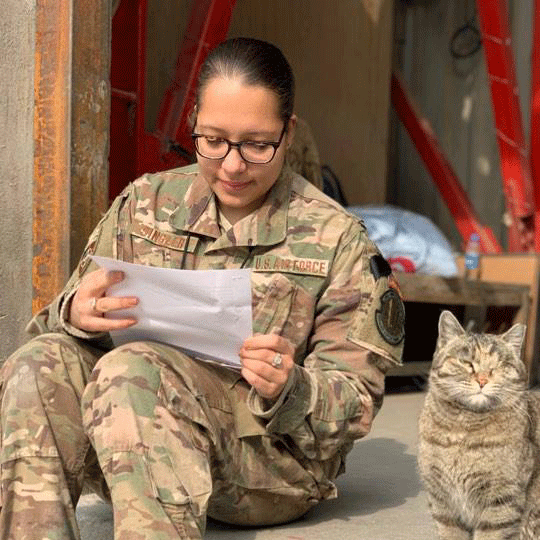 If you've ever perused our website, you've likely seen this photo (it's on our Letter Writing Team page). We admit, some of the photos we use on our website come from stock photography because there are a ton of approvals to go through in order to use photos of service members in uniform. But this photo— this is not a stock image! The woman reading the letter is an actual deployed service member who has received support from us during past deployments and is now receiving support from us during her current deployment.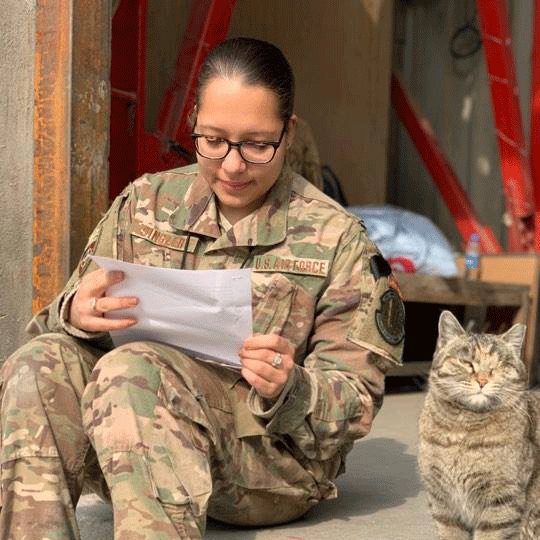 Her name is Nilami. We've been supporting her since 2018 and recently received this email from her.
"Hi! I am the girl in the Letter Writing Team photo on the main website! I appreciated Soldiers' Angels on my last deployment and I am again reaching out for support. I am single with two cats left back home. I am a huge animal lover, book reader, and creative person. The location where I am at has left my skin super dry so I am grateful for any lotions, lip balms, face products, etc. I'm not very picky! My favorite candy bar is Heath but it probably won't last in the mail here after March. I have two other females on my team – we are the only all female team here, whoo! I also love Harry Potter and good smelling things, ha. Thank you in advance for anything you send. I send cards back to each one I receive and it really makes me smile. 🙂 I appreciate whoever takes the time to read this; us deployment members are so thankful for you. Thank you."
We reached back out to Nilami to let her know she will be back on our support list and to learn more about her. We love sharing stories from service members overseas. Here's a little more about her and how we have supported her over the years.
Tell us a little about yourself.
"My name is Nilani, and outside of the military I am a book lover, Harry Potter enthusiast, a baker, and a lover of nature and animals! In my spare time I do a lot of volunteering with local animal shelters as well as with wildlife rehabilitation centers. I also have gotten back into figure skating and am working towards competing as an adult in the near future. Finally, I was born and raised in Bronx, NY, but currently live in the Midwest."
How long have you been in the military?
"I have been in the military for a little under 5 years. I commissioned as an officer in the military in 2015 after graduating from the Air Force ROTC program from Syracuse University. I am now a Captain and serving on my second deployment to the Middle East."
How long have we been supporting you?
"Soldiers' Angels supported me on my last deployment and are now supporting me on my current deployment again. Ms. Deanna has picked me up this time around and has been wonderful. She has truly taken my team under her wing and has made us smile with the thoughtful things she has sent over. I am so appreciative of her and everything she has done for us. I previously sent care packages overseas myself, before my last deployment because I know that being on the receiving end of things is truly amazing!
While I can't tell people to use Soldiers' Angels on behalf of the military, I do offer my personal endorsement because of the joy and support I feel when I receive a package in a deployed environment. The connection to someone who cares enough to think of me and send me a care page when I'm away from family is amazing."
What's one thing you've received from a care package that you will never forget?
"I don't think that I could single out one thing that I have gotten in a care package, rather it's the boxes as a whole that I will never forget. In my most recent box that I received, my angel incorporated all of the things that I had mentioned I liked such as Harry Potter, cats, my favorite candy bar, etc. It was the perfect morale booster I needed! Probably the funniest thing I have received is super soft toilet paper! You get tired of the 1-ply stuff, and a roll of something a little fancier can't be underestimated."
Tell us about the cat in the photo.
"The cat in the photo goes by many names from One-eye Wilma, Nicola furry (where are my marvel people at?), and just simply one-eye. She loved to hang out around my office when I was overseas in the Middle East and would come by every day. At the location that I was at, we did have a TNR (Trap, Neuter, Release) program on base which allowed the cats to stay on base and keep the mice/snake population down. One-eye loves long naps in the sun, treats, and the occasional stroll across camp. If you are interested in more information on the program that we have in Afghanistan, please look up "Feline Force Protection Program" on Facebook! There are cats on the page that are available for adoption."
This just goes to show how much care packages and letters mean to the deployed. Right now, our service members need the support more than ever as they are on the frontlines battling this war against the Coronavirus while worrying about the safety of their own families back home. Our Deployed Adoptions Team is always looking for new angels. You can also support service members through our Go Camo Campaign or our Cards of Support Campaign.

---