Music Makes a Difference: Coming Full Circle With Our Chaplain Support Team
Did you know our military Chaplain travel to different war zones to support service members
August 1, 2019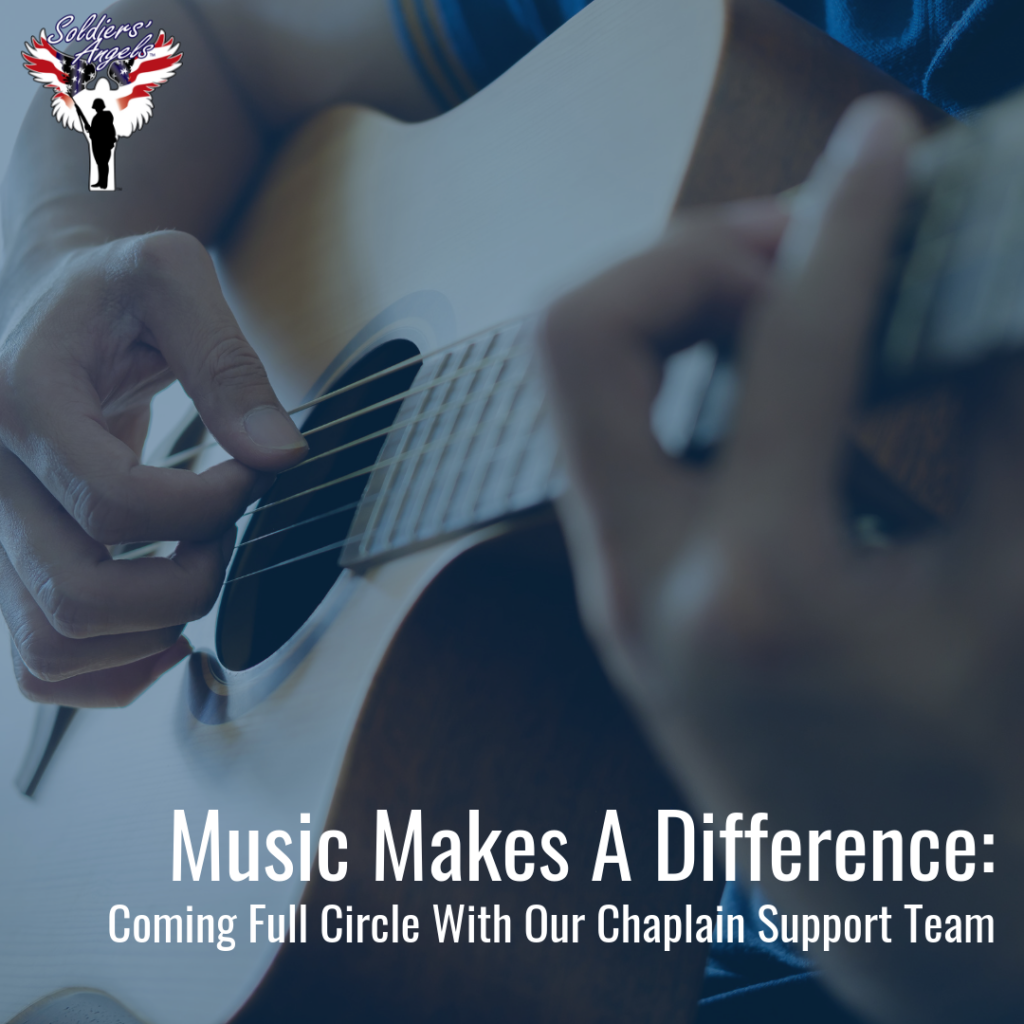 Did you know that one of the ways we support deployed service members is through military Chaplains? Our Chaplain Support Team provides direct support to military Chaplains as they bring comfort and assistance to service members throughout their deployment. Over the years, we've found that Chaplains can go far beyond our reach and can deliver support to service members in remote areas.
Chaplains travel throughout the war zone to provide support services on a number of levels. They perform most of their duties in a non-denominational capacity, and it is these non-denominational activities that our Chaplain Team supports. Chaplains who are registered through Soldiers' Angels can request items related to their mission. Items like letters, gifts, recreational activities, baked goods, and supplies go a long way towards boosting morale for service members who need extra support in war zone areas.
Many times, Chaplains ask for supplies to throw special events for units who could use a lift in spirits. But there's one item in particular that launched the entire Chaplain Support program. Years ago, our founder, Patti Patton-Bader, was asked for instruments from a Chaplain who had heard about Soldiers' Angels. The Chaplain had been traveling from camp to camp giving services. He told Patti that the music really raised spirits. Patti's husband was able to acquire some instruments that they sent to the Chaplain. The request made Patti realize that Chaplains were a great way to send additional support to service members not signed up through Soldiers' Angels. And so the Chaplain Support Team was born!
"We sent many care packages to the chaplains deployed so they could give them to soldiers not receiving mail." – Patti Patton-Bader
We were reminded of the Chaplain Support origin story when another request for instruments came through to our Chaplain Support Team Leader, Kaleena Gharky.
Here's where we come full circle. Last year, one of the chaplains requested some musical instruments for himself and his team. Kaleena sent out a request to all of the Angels, which Angel Dorothy Hubbard answered. Dorothy was on the hunt for one of the instruments and happened to find it on eBay. She let the seller know what she needed it for, and he came back with a shocking reply. The instrument was his son's, who had served (Special Ops) and was killed in action. He was so honored that the instrument was going back to his fellow Military brothers and sisters.
According to Kaleena, "The Chaplain was in awe of the story and the instrument. This story is a great example of why we call our volunteers Angels."
It just goes to show the power of music, and the incredible work that our angels – and Chaplains do for our service members.
---