Supporting Military Caregivers Through Women of Valor
April 29, 2021
Supporting the military community means supporting military families as well. Especially family members who care for those who serve our country. At Soldiers' Angels, we have an entire team dedicated to supporting military caregivers called Women of Valor. Our team of female angel volunteers supports female military caregivers in multiple ways. This team of Angels focuses on giving support, encouragement, and "Angel Love" to the caregivers in our Women of Valor program. With the challenges these women face on a daily basis, the love and encouragement offered by their Team Angels provide them with that extra little bit of strength and inspiration.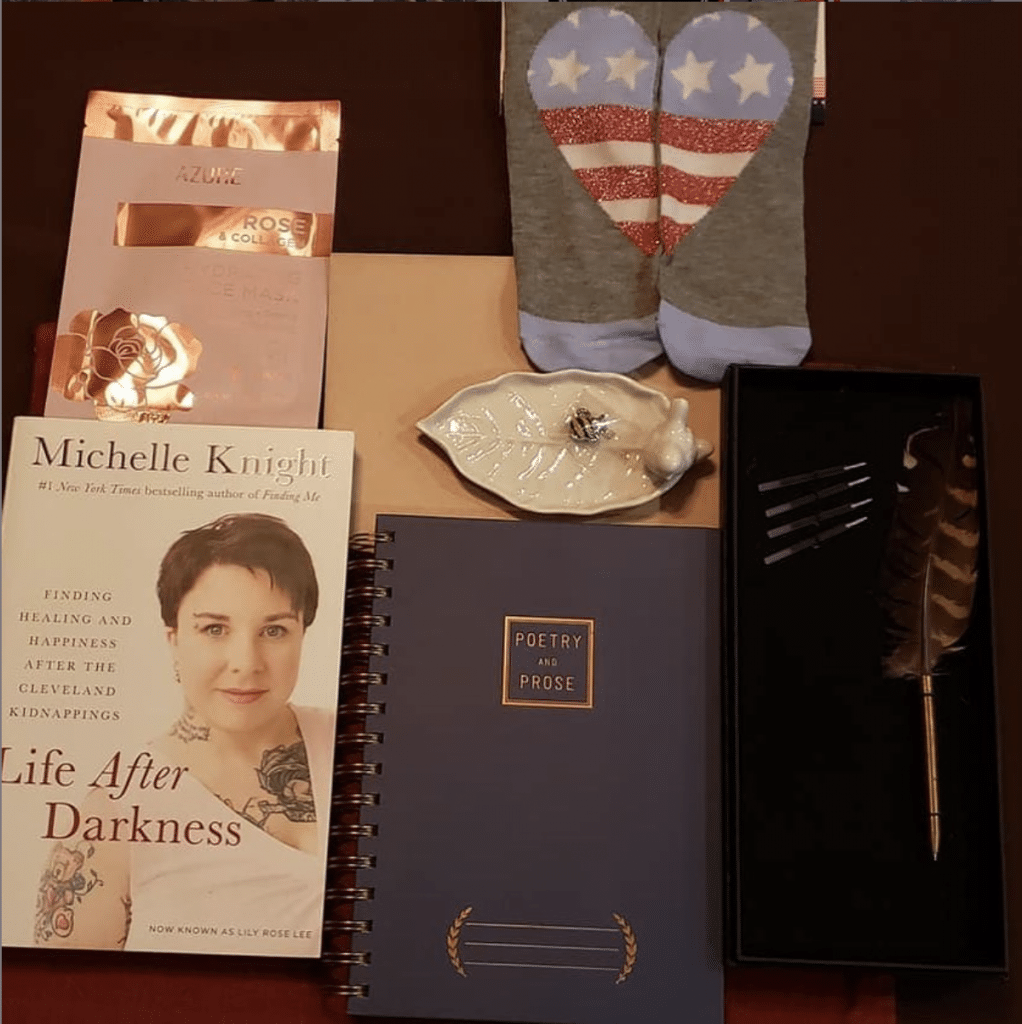 The support comes in many forms. It can be a small something to show they care, a full care package of self-care items (called a "Blessing Box"), letters and cards of encouragement… anything to help brighten the day and show support for the caregiver.
Sometimes, Angels connect so well with the women they support that they go the extra mile. Like Angel Angela, who sent her caregiver a keyboard after learning that music was something she once loved but was now missing.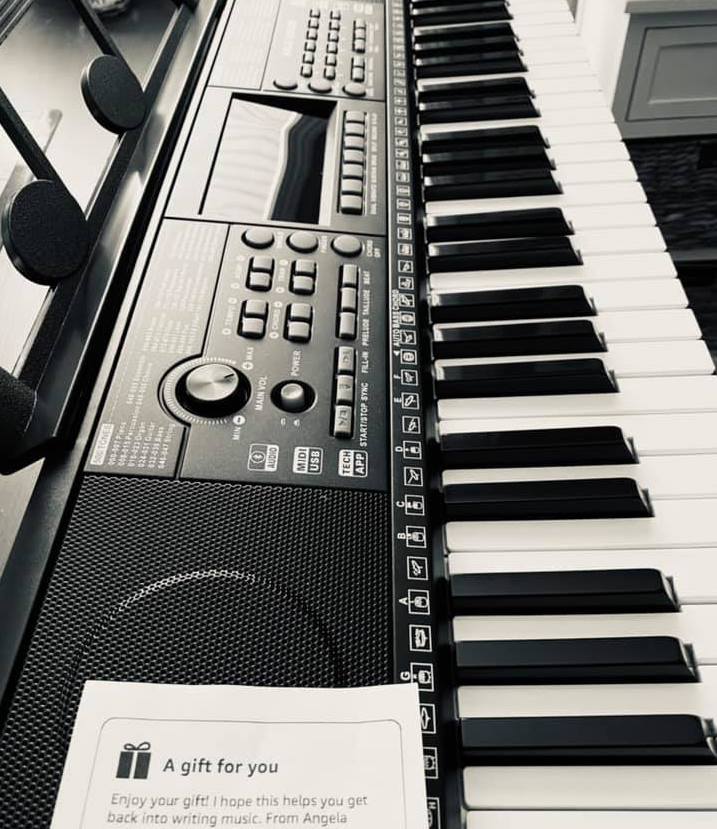 "I don't know where to even begin. First, thank you Angela with the power of the sun. To my caregiver friends and Soldiers' Angels, I used to write music at a semi-professional level. I quit writing music, performing, and worship ministry altogether when I started my journey as a full-time stay-at-home caregiver to my wounded veteran. Angela, tears…. serious tears for the blessing you have given me. When I went to pick up my mail today I had no idea of what I could have ordered that came in a huge box. Wow!!!! I haven't played keys in 7 years. I guess this means I need to write a song just for you and the other amazing Soldiers' Angels."

– Justina
We are always looking for ways to further support military caregivers who give so much of themselves in order to take care of their families. That's why, in addition to the kind gestures from our team Angels, we launched a new telehealth service for women on our Women of Valor Team in collaboration with MDLive. Through MDLive, caregivers can set up online appointments for basic medical or behavioral health. MDLIVE's behavioral health services offer licensed therapists that are able to help with anxiety, depression, PTSD, bipolar, stress management, relationship issues, and more. Medical appointments will include visits with a doctor relating to non-emergency conditions like the common cold, allergies, headache, sore throat, fever, flu, etc. The program is funded by our organization and offered at no cost to caregivers registered for our Women of Valor Team.
We are excited to share that this program has been a huge success in offering caregivers a hassle free, easy way to take care of themselves. Which is really the point of the Women of Valor Team – to encourage caregivers to make time for self-care. Here are some happy caregivers who have tried and loved the new service!
While I know most people like to get cards, trinkets, and gifts in the mail, I want to take a moment to thank Soldiers' Angels for something so much more significant (in my opinion). For the last week or so I have been battling massive headaches. Yesterday and today, I noticed that my right ear was throbbing, my nasal cavities were tender and my throat was sore. All things leading to a sinus infection. A simple thing, right?! Wrong…like many of my caregiver friends, we tend to put our own health on the back burner. Hell, at this point, I don't even have a doctor. Too much hassle to go through Tricare and find someone and all that so I just don't bother. I tend to just tough it out until it passes. But the headaches have gotten so much worse and I need to work.

Then, I got an email asking for a review of the MDLive that Soldiers' Angels has so graciously provided for us. Tonight, I tried it out. Went on the website, asked for an appointment, filled out a small questionnaire and within 5 minutes I was talking with a really awesome doctor and explaining everything to her. Fifteen minutes after that, she has sent over a script to my pharmacy for antibiotics. Y'all, you have no idea the weight that was lifted just by knowing that I can finally get medical help too. No more being too busy. No more excuses. And it was free for me to do this. Zero, nada, zilch! Because this group worked their butts off to provide us with this service.

It went so well, I called my husband and told him all about it. He was happy that I was finally taking care of my needs that he suggested I finally talk to someone about my insomnia. So, I have an appointment scheduled with a psychiatrist tomorrow. And they also have counselors we can talk to. As a caregiver, it is sometimes so hard to get the time to take care of ourselves. What Soldiers' Angels has done for us is give us the opportunity to self-care from the comfort of our own homes (or for me today, the car in the parking lot of my job). If you have signed up for this, I highly recommend you take a look. This is truly an incredible thing.

Thank you so much, Laura and Soldiers' Angels for seeing exactly what was needed to give love and help to us caregivers!

– Marci
I wanted to say thank you to Soldiers' Angels for setting me up with MD Live. I used them for the first time last week (twice). Back story: I have allergies, sinus problems, and my ears will get plugged from time to time. My ears normally clear up on their own. I called MD Live on Monday because my ears were plugged longer than usual. The doctor I spoke with was very thorough and said she didn't think I had an ear infection, but the only way to know for sure was to have my ears checked. I told her I would hold off and if I felt worse I would go in.

Y'all know how difficult it can be to get to the doctor. I didn't want to go to urgent care either. I decided to buy an otoscope online with a camera so I can check my own ears. I would rather spend the money on that than spend the money on going to my doctor or urgent care to only be told my ears are fine. It came in on Thursday. The timing was perfect because that day my ears were starting to hurt. I looked at the images and already knew both ears were infected. I uploaded the pictures to MD Live and requested that a doctor call me. It took less than ten minutes to receive the call. He confirmed that I do have a double ear infection. He sent a prescription to my pharmacy that night and it was ready the next morning.

I am so thankful to have this available to me. It saved me money and having to wait a long time at my doctor's office or an urgent care clinic. I'm so glad I didn't have to leave the house because this double ear infection is kicking my butt. I have to take antibiotics for ten days.

– Patty
I use it for counseling, psychiatry, medical. Getting meds and even talking to someone has made a significant impact.

– Jennifer
I used MDLive for the first time about 2 or so weeks ago. The provider took at full 10-15 minutes talking to me and really making sure she understood all of my concerns. I felt listened to and did not feel rushed at all. I felt 100% like the provider was focused on me during my appointment. Afterward, she made sure I knew and understood what she was suggesting for treatment. In less than 45 minutes after getting off the video appointment, I had already received notification from my pharmacy that my medications (3 total prescriptions) were already ready for me to pick up. So from the time I requested my appointment to the time I had my medications in hand was less than 90 minutes. I cannot say enough great things about this service. I will be using it for my mental health as well. I think it will be 100% life-saving for myself and so many other caregivers.

– Brandi
If you are not taking advantage of this amazing opportunity coordinated by Laura and Soldiers' Angels, you are truly doing yourself a disservice. I have been working with a psychiatrist now for around 6 months. Once I realized that was an option through MDLive, I talked to my husband about it, just to get his input, and decided to go for it. Since I have always been the caregiver, it was time to give care to myself. The doctor I found and connected with has been such a phenomenal help. I told her how weary I am in regards to my own mental health and that I wanted to tread lightly. That is exactly what we have done. […] My life has always been hard. But not taking care of my own mental health all the while advocating for others, has only made it harder. I know the majority of us in this group have hard lives. So I encourage all to reach out for assistance to see what can be done to make it 'not so hard'. And before you ask, it doesn't have to be medicine-based. Some get amazing help just through 'talk therapy' or 'buddy chats'. And if you get a doctor you are not enthused with, you can find a new one until you get that connection. Thank you Laura for this and everything else you all do for us! I know I don't say it enough but I am incredibly grateful for it all.

– Marci, Military Caregiver
Are you looking for an opportunity to support a caregiver and make a friend in the process? Consider joining our Women of Valor Team and help us support women who desperately need it.
---