Lifting Women Up Through Women of Valor
July 8, 2021
What do you do when your spouse comes home from deployment severely injured and in need of constant care? You do what any woman or spouse would – you dig deep, put aside yourself, and become a full-time caregiver to the person you love. Military caregivers give so much of themselves to support their spouse and keep the family going. Between kids, doctor appointments, household demands, and caring for an injured veteran, they often find no room in the schedule for themselves. Hobbies, careers, and friendships often get lost in the daily struggle to care for everyone else. That's why our Women of Valor Team exists. To be a friend, listening ear, and source of self-care for our Nation's female caregivers.
Angels on our Women of Valor Team are women who are ready to support these brave female caregivers as a shoulder to lean on, a beacon of hope, and a friend. While the support and friendship they offer are virtual, the difference it makes is huge. Many times, Angels and caregivers develop strong bonds that last a lifetime. We love to see women lifting each other up, and wanted to share two stories that show just how much of an impact these friendships have.
Marlene and Anessa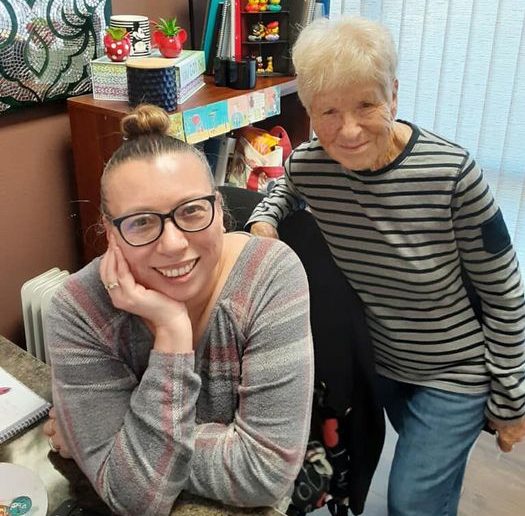 Marlene is a Team Angel on our Women Of Valor Team who recently discovered that she was only 45 minutes away from the female caregiver she supports. She decided to make the 45-minute drive to hand-deliver a special gift for Mother's Day.
"I thought since it is Mother's Day the least I could do was get her a gift so I decided to drive out to meet her and give the gift in person. I am so glad I got to meet her and we will continue to meet each month. I knit and crochet and she would like to learn how to make hats using the Loom knitting technique. I think if more Soldiers' Angel that live close to their clients the more we can spread the word and no soldier will ever be left behind," says Marlene.
Caregiver Anessa says, "I was so excited that Marlene wanted to come down to my city which is about a 45-minute drive for her. She arrived at my office and being that I wasn't busy with clients at the time, she was able to stay and chat for a little bit. Seeing her was such a blessing! She brought me a Mother's Day gift: a book, candle, and amazing smelling bar of soap! Marlene is truly an angel. I am so happy to have her in my life thanks to the Soldiers' Angels organization!"
Such a touching story that just goes to show the special bonds created by women supporting women. We hope these two remain friends forever!
Justina and Angela
Angels on our Women of Valor Team are committed to sending their female caregiver one "Hug" (cards/letters sent for major holidays and can include small gifts, such as gift cards and gift certificates) or one "Blessings Box" (care packages stuffed with pampering items, encouraging gifts, items tailored to the caregiver's specific likes/needs) per month. As our team Angels get to know their caregiver, the gifts become more personalized, sometimes going above and beyond for the caregiver to ensure she feels supported. Here's one example of a gift that was exactly what this caregiver needed: a keyboard to remind her of a talent that brought joy to her.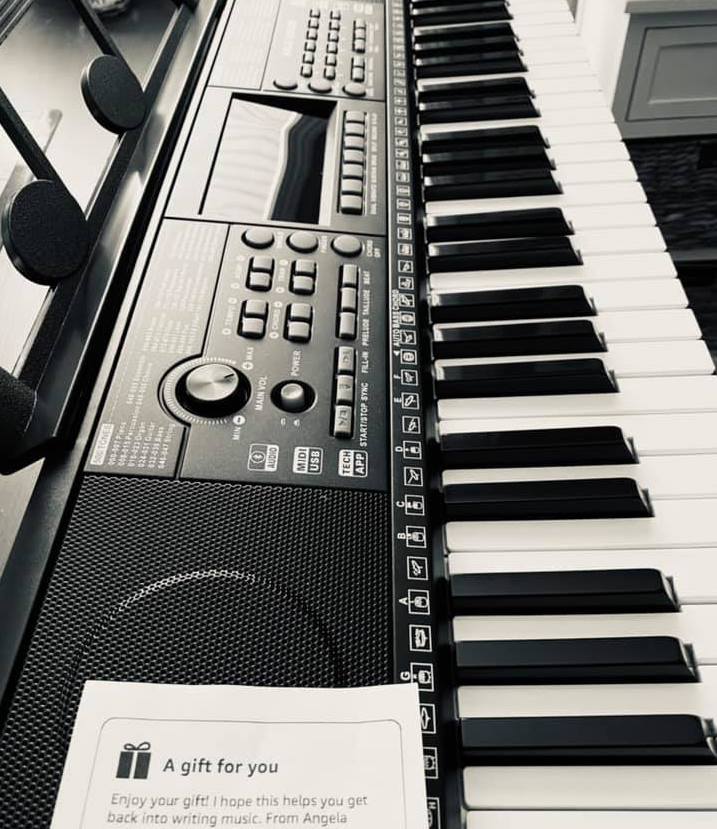 "I don't know where to even begin. First, thank you Angela with the power of the sun. To my caregiver friends and Soldiers' Angels, I used to write music at a semi-professional level. I quit writing music, performing, and worship ministry altogether when I started my journey as a full-time stay-at-home caregiver to my wounded veteran. Angela, tears…. serious tears for the blessing you have given me. When I went to pick up my mail today I had no idea of what I could have ordered that came in a huge box. Wow!!!! I haven't played keys in 7 years. I guess this means I need to write a song just for you and the other amazing Soldiers' Angels." – Justina
This is what our Women of Valor of Team is all about. Supporting and encouraging military female caregivers – who have given so much of themselves – through acts of kindness that remind them to take care of themselves. To engage in activities that bring THEM joy. While this keyboard is an extremely generous gift, it's a great example of the power of kindness.
These stories just scratch the surface of all the good and kindness shared on our Women of Valor Team in support of female caregivers. When women support each other, it's truly powerful. If you're a woman interested in being a friend to a female caregiver, we'd love to have you on our Women of Valor Team! Learn more here.
---