Helping Veterans Through our Veteran Support Team
November 9, 2017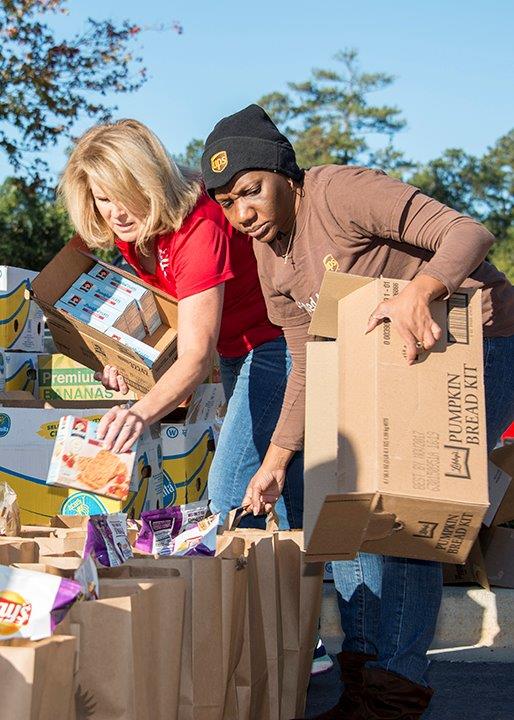 Our Veterans should never be forgotten and always honored. Unfortunately, many spend time healing in VA Hospitals alone, suffer from PTSD, or find themselves in low-income or at-risk situations. As we approach Veterans Day, we thought we would highlight an area of Soldiers' Angels we are very proud of: the Soldiers' Angels Veteran Support Team.
This team is here to provide our growing Veteran population with much-needed support. Soldiers' Angels is one of the few nonprofit agencies with a voting seat on the VA National Advisory Council and approval to work within VA Hospitals. Our VA Support Team visits with patients regularly, hands out blankets and other items made by our Sewing and Crafting Team, organize luncheons and dinners, bring coffee, and hand out goodie bags during special holidays.
For Veterans who are severely injured or wounded, our Valor IT program provides adaptive laptops.
For homeless or at risk Veterans, Soldiers' Angels is there at many VA Stand Downs to hand out hygiene kits or box lunches with needed items. We also host monthly food distributions through our food bank partners in select cities across the country.
Finally, for corporations looking to give back, we provide opportunities to do so that meet the needs of our veteran population. Many of our corporate partners have made No Sew Blankets, collected items for Hygiene Kits, hosted luncheons, or participated in activities such as wheelchair builds.
Meet Vicki
Vicki is the Senior Director of Field Operations and oversees all of the Veteran Support operations for Soldiers' Angels. She is also the national Representative for Soldiers' Angels on the VA National Advisory Council where we have a seat on the Executive Committee.
How long have you been with Soldiers' Angels?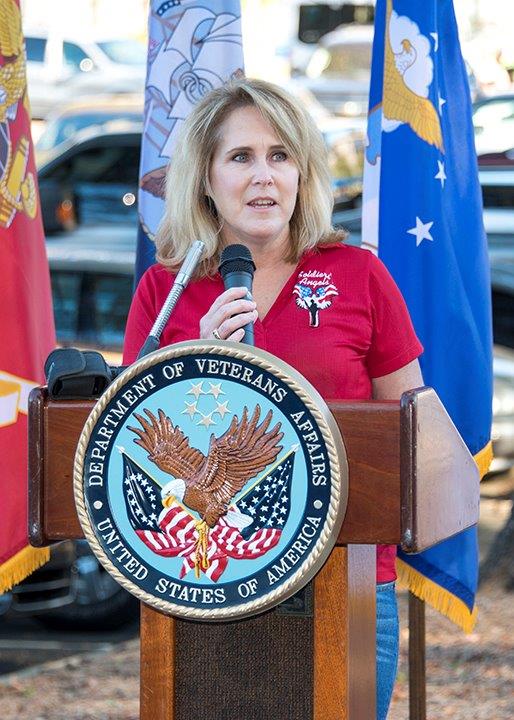 I have been with Soldiers' Angels since October of 2014 when I began volunteering.
What are some things people may not know or realize about veterans?
Wow, where to begin. First, I have to say that I believe veterans are some of the most committed people I know. I am always excited to have a veteran sign up to volunteer because not only do they relate to the veterans we serve but they are wonderful at following through with any task or project they are assigned. Veterans of today volunteered to serve. Many continue to serve once they are discharged or retire from the military. Also, many older veterans didn't have the homecomings that we see today. They did not receive a thank you for their service or have anyone show their appreciation. When we visit some of these older veterans, we see the excitement in their faces and have heard on so many occasions "no one ever thanked me before". They are very touched.
What's your favorite veteran support program and why?
That is a hard one. We have so many volunteers serving our veterans in many of the programs. I do have to say it would be a tie between our patient visits and the Mobile Food Distributions. The patient visits because it warms my heart to see the expression on the veterans face when you stop by to visit with them and give them a blanket, or other gift to thank them for their service. The smile that would melt your heart or the words of thanks and many times a tear of appreciation for us just saying thank you. The Mobile Food Distribution because many veterans have told us that without the food we give them at these great events, they may not have made it through the end of the month with enough food to feed their families. Something many of us take for granted every day.
Why do you love being a part of Soldiers' Angels?
I can't name just one reason. I have never been a part of such an amazing organization. From the feeling of serving a veteran, the volunteers that make me smile every day with their support and dedication to serve, to the mentorship and compassion of our President and CEO and Board of Directors. I have never seen a more compassionate group that know it isn't about us. It is about the veterans we serve.
What is one of the most memorable experiences you've had at Soldiers' Angels?
That is an easy one. It was the second day I volunteered with Soldiers' Angels. I was taken to the Audie Murphy VA Hospital to do patient visits. The patient in the second room I went into was a Vietnam Veteran. I introduced myself as a volunteer with Soldiers' Angels. I gave him a blanket hand made by one of our wonderful Sewing and Crafting Team Angel volunteers and thanked him for his service. He was very quiet. I thanked him again and turned to walk out of the room. As I was closing his door I felt a tug on the handle and he was opening it back up behind me. He had had tears in his eyes and thanked me. He said he had never had anyone thank him for his service, let alone give him a gift. Of course I teared up as well.
You know the saying if you love what you do in your job, you never work a day? That is how I feel about Soldiers' Angels. I travel a lot and have many weeks where one week runs into another and days that I am putting in 12 hours. Most of that is visiting or serving veterans in other ways or working with the wonderful volunteers. It is worth every hour, every minute, every second I spend doing what I do for our veterans.
---