New Perks for Deployed Service Members Thanks to Tiff's Treats
September 17, 2020
We are excited to announce that for the first time in Soldiers' Angels history, we have a special perk for Service Members that allows THEM to send support to loved ones at home. Thanks to a partnership with Tiff's Treats, Service Members who are registered through Soldiers' Angels can send warm cookies, along with a special video message to family members who live stateside.
This is especially exciting now, as Service Members are away from their families during a worldwide pandemic. Military families are undergoing lots of added stress trying to quarantine while also managing the stress of sending children back to school either virtually or in person.
"We created CookieVision™ for moments just like this, where the joy of receiving warm cookies is multiplied when a recipient sees the face and hears the voice of a loved one. We can't think of a better group to offer this connection to than our Military, and we're excited about all the smiles these deliveries will bring." – Tiffany Chen, co-founder of Tiff's Treats
How it Works
Service Members must first be registered for Soldiers' Angels support (which they can do here). Once registered (or if already registered), here are the steps to sending delicious cookies.
Head to this link on the Tiff's Treats website, enter your information, and consent to Tiff's Treats' waiver to receive an e-gift card via email good for one dozen cookies. Please note, your email must match Soldiers' Angels' registry to qualify so be sure to use the same email you used to register for support through Soldiers' Angels.
Once you receive your gift card via email, you can go back to the Tiff's Treats website, enter the address of the person you want to send, and select the cookies you would like to order. Please note, the gift card is good for one (1) dozen cookies.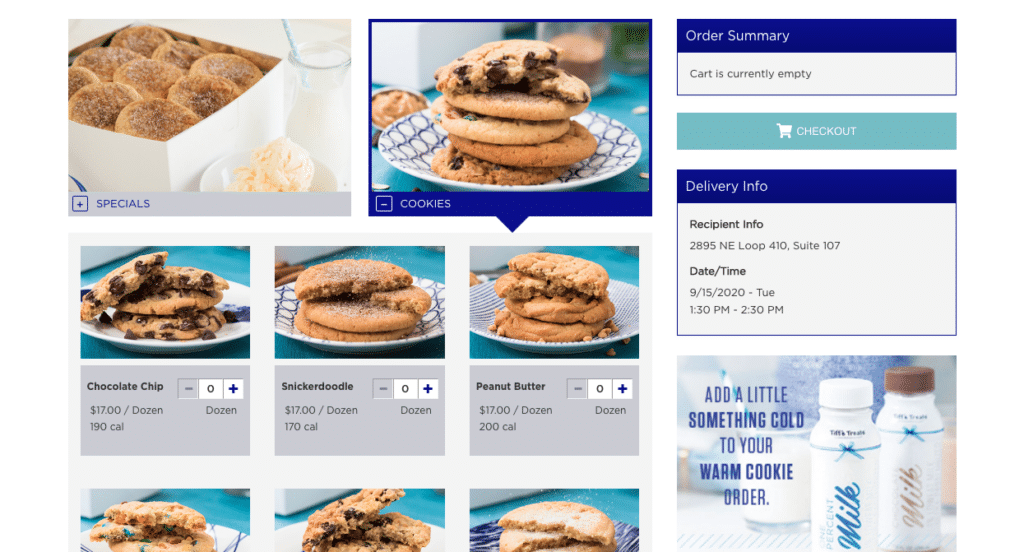 3. Once you select the cookies, move forward with the checkout process. During checkout, you will be prompted to fill out profile information and then recipient information. Then, a gift message option will appear. You can choose to write a note or leave the note space blank.
4. The next step in the process is "CookieVision" where you'll be able to create a special video message. This message can be played by your recipient once they download the Tiff's Treats app.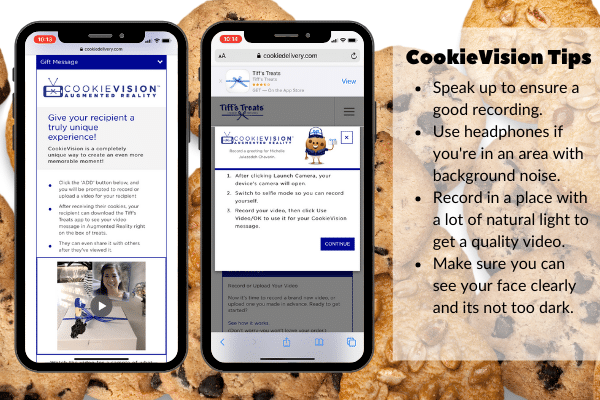 5. Once your video message is recorded, continue following the prompts to check-out. Be sure to enter the gift card code that was sent to you via email so that your purchase is free.
Tiff's Treats Delivery Areas
Tiff's Treats can only deliver mouthwatering made-to-order cookies to people who live in one of their delivery areas. Those areas include:
Atlanta, Georgia
Charlotte, North Carolina
Nashville, Tennessee
Dallas/Fort Worth, Texas
Houston, Texas
Austin, Texas
San Antonio, Texas
Lubbock, Texas
Waco, Texas
College Station, Texas
San Marcos, Texas
About Tiff's Treats
In 1999, Tiffany Taylor accidentally stood up Leon Chen for a date. As an apology, she baked and delivered a batch of warm cookies, and the concept of warm cookie delivery was born. The two are now married and their cookie company runs off of the same core mission: to create memorable moments through classic, baked-to-order cookies and specialty desserts from high-quality ingredients, and delivering them straight from the oven to the home or office, warm, in about an hour. Customers can order online, with the Tiff's Treats app or by phone, all supported by industry-leading technology and top-notch customer service. The charitably-minded company continually gives back. On top of hundreds of thousands of cookies per year donated to nonprofit organizations, each new store's grand opening benefits a local charity.
As the pandemic is causing many families to feel the 'quarantine blues,' we know that our deployed will love this opportunity to easily send support back home to their loved ones.
Read the official Press Release here
---