Mission Accomplished: Corporate Engagement
December 29, 2022
We love partnering with large organizations on their corporate engagement events. No matter what size the effort, we can find great ways to help engage employees in meaningful and fun giveback initiatives. This year, we were honored to be a part of a number of big initiatives. Here are just a few.
USAA packs a punch
USAA held their Leadership Development event in San Antonio and built a volunteer component into the day, packeding 700 Box Lunches and 700 Hygiene Kits! They also wrote Thank You cards to go with each item. USAA has been a great partner over the years. Last year, when they couldn't volunteer, they made a large financial donation to cover stocking supplies and shipping for 7,000 Holiday Stockings! Read more about it here.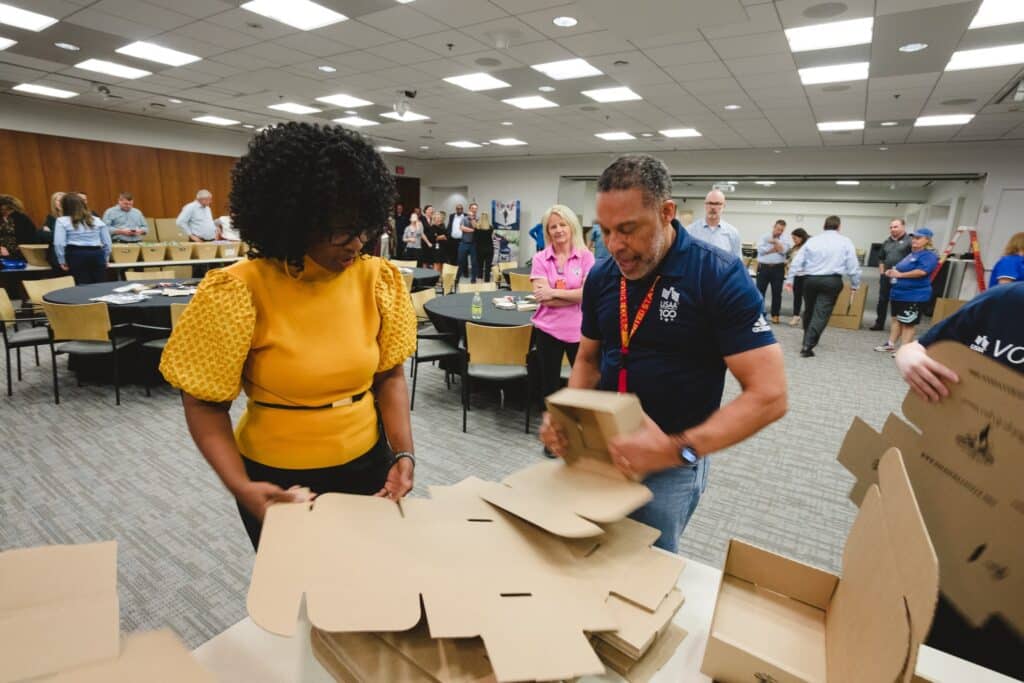 Operation: Baby Shower
Another USAA initiative but with a new partner: The Lady Texans! Operation: Baby Shower was held at NRG Stadium in Houston, honoring 20 military moms. Together with Texans Cheerleaders, Lady Texans, and TORO (The Texans mascot), these moms were showered with gifts, brunch, and games. Read more on the blog.
Recycled Rides for Veterans
The National Auto Body Council has an amazing program called Recycled Rides. Together with collision industry colleagues, they refurbish and donate vehicles to individuals and service organizations in need. This December, they donated 15 "recycled" automobiles to deserving veterans. It was an honor to see so many Soldiers' Angels clients selected for such a wonderful and life-changing gift!!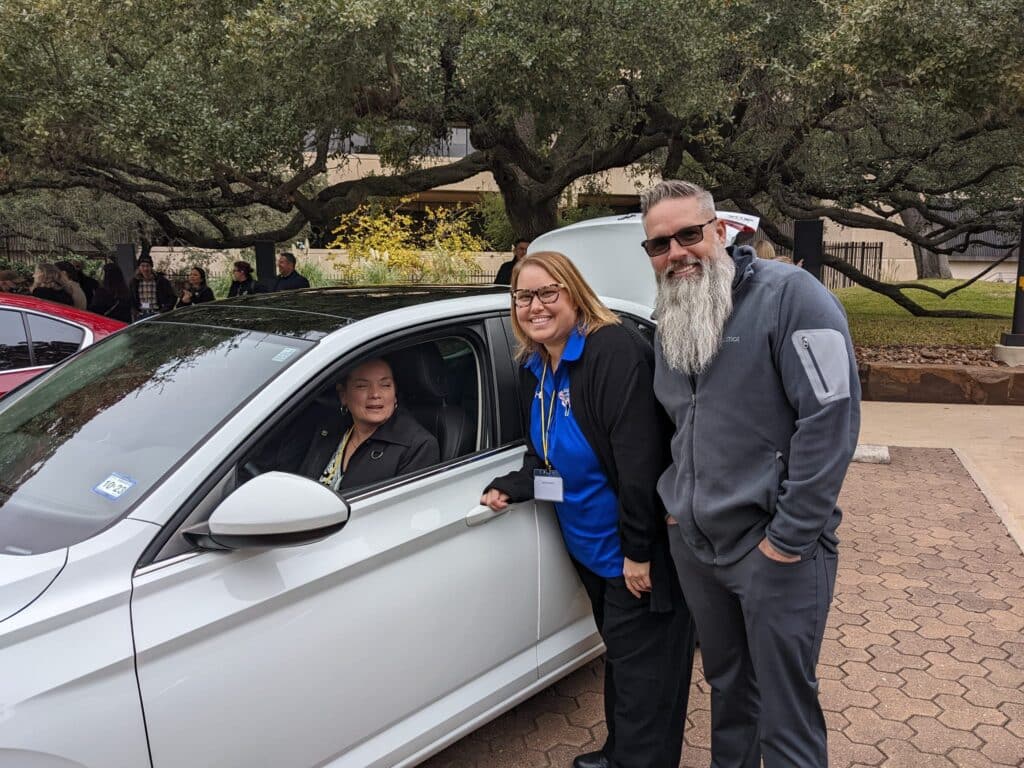 A Show of Force
In early November, over 700 Navy Federal employees from coast to coast came together to make a big impact for service members and veterans. During their corporate engagement event, the group produced over 500 blankets, 1,300 paracord bracelets, and 100 hand-made holiday ornaments! We're so grateful for their incredible support and the heart that they had while volunteering.
A Nationwide Effort
What started as a small, regional effort at United Rentals has grown into a National campaign to support Veterans this holiday season. The company's Mid-Atlantic Region had been participating in the holiday stocking drive for the past three years and they wanted to take the program company-wide to include all U.S. regions. The first year they sent 300 stockings. The next year, they doubled that, sending 600 stockings, and last year, they sent over 1,000. This year, they took it company wide and sent over 6,000 stockings! We've loved working with them over the past 4 years and are so excited about the expansion of support! Read more on the blog.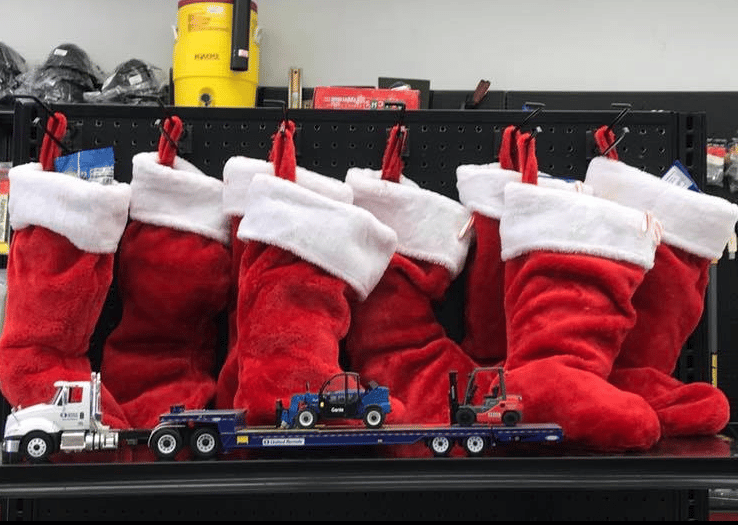 Home of the Brave
Soldiers' Angels Home of the Brave Campaign is the largest corporate engagement initiative of the year. It includes sponsors Peraton, Bristol Myers Squibb, Xerox, Republic Services, Hewlett Packard Enterprise, and their employees – nationwide! Home of the Brave is in its 10th year of taking corporate engagement to the next level by organizing special Veterans Day events in VA Hospitals across the country. Thanks to our corporate sponsors, this year we were able to support veterans in 131 VA Hospitals across 46 states, plus Washington D.C.! From Hawaii to Alaska to Florida and the states in between, we are so proud of the Veterans Day support. Read this year's recap here.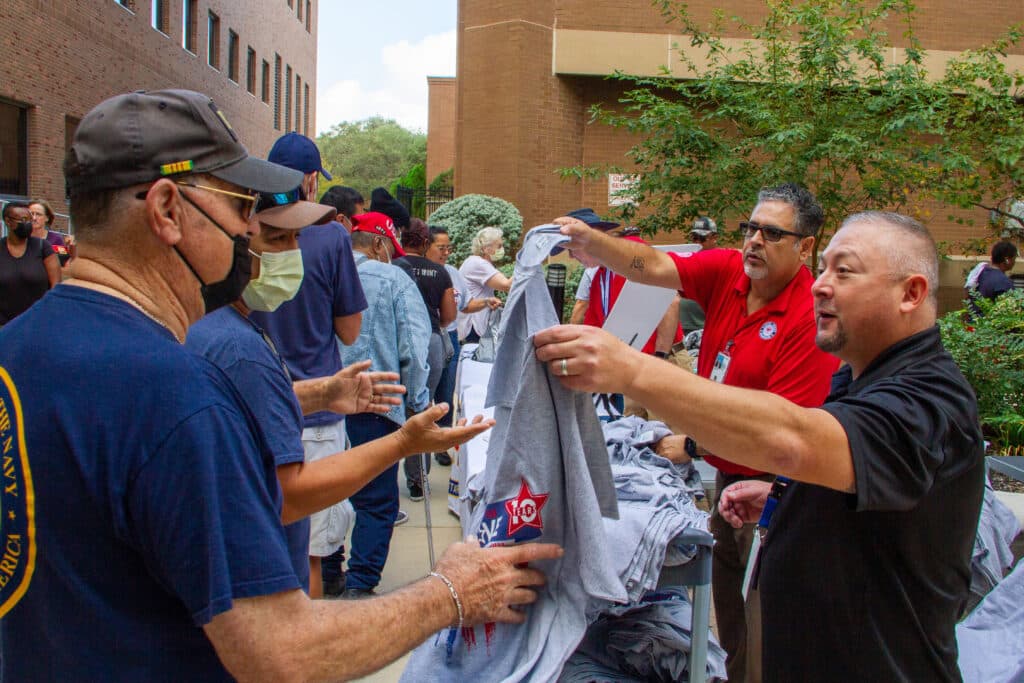 Magic Blankets
You know those No Sew Blankets we're always telling people to make? They're actually super easy to do and a GREAT team-building activity. Don't believe us? Just ask the Orlando Magic team. On November 1st, Magic employees, along with retired players Bo Outlaw and Nick Anderson, made 20 No Sew blankets to hand out to veteran patients at the Lake Nona VA. In addition, we had service members from an Orlando Reserve Unit that came to help make the blankets!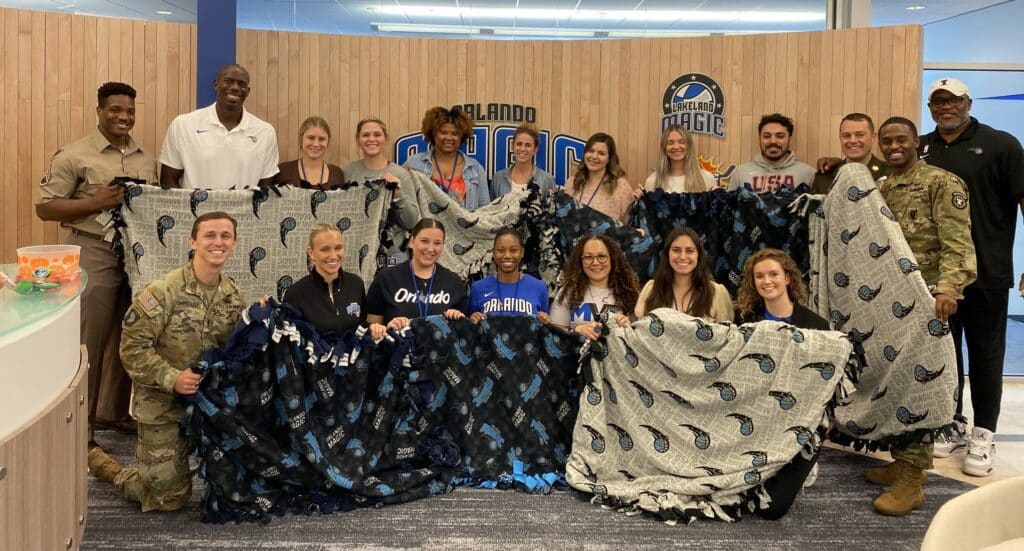 Homebrewer Give Back
Not so much corporate engagement, but a great example of corporate giving. We love that the American Homebrewer's Association incorporated a giveback component to their yearly membership drive! Anyone who renewed or joined between November 8 and December 15 could choose between three organizations (one being us) for $5 of their fee to be donated.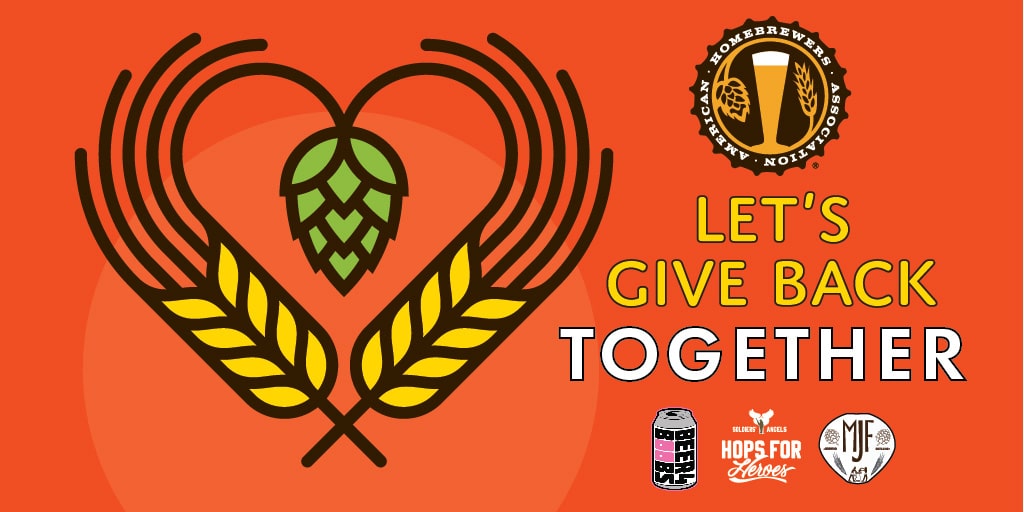 Thinking about your corporate engagement strategy for 2023? We have all kinds of opportunities – no matter how big or small. Learn more here.
---