USAA Provides Holiday Support In A Big Way
January 14, 2021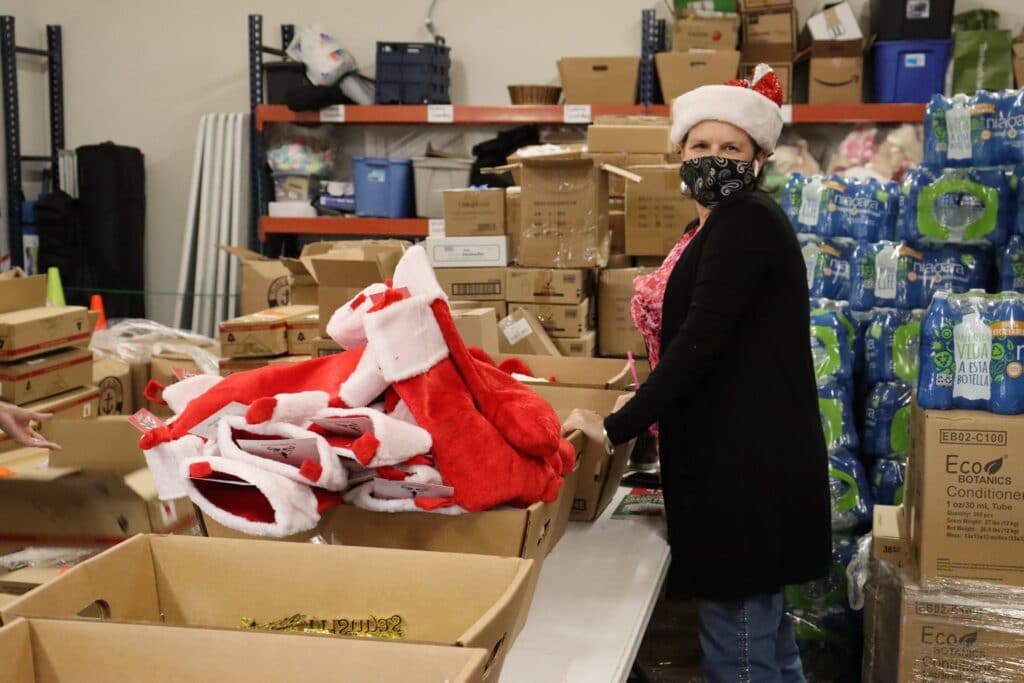 USAA has always been a wonderful corporate engagement partner for Soldiers' Angels. This year, their generosity has shown that they truly know what it means to serve. The pandemic proved to be challenging for organizations in terms of employee giveback programs. That didn't stop USAA from providing holiday support, however. Since they are working remotely and cannot volunteer in person, their support was in the form of a large financial donation ($165,000) to help us continue bringing joy across the globe to our brave men and women in uniform and their families on the homefront.
The funding they provided was enough to cover the following Holiday items.
7,000 Stockings
The funding was able to support enough supplies to stuff 7,000 stockings! Puzzles books, candy, warm socks and hats, snacks, small Christmas themed items and more were placed in the stockings. All through December, Soldiers' Angels volunteers worked to stuff the stockings and get them shipped.
In addition to the funding, USAA employees were also welcomed to write a Thank You to service members that we included with the stockings. Over 115 USAA employees provided more than 800 personalized thank you notes. In addition to the employee notes, USAA provided a special thank you card for deployed service members.
Shipping
As you know, shipping overseas is a major expense, one that we often have to raise money for. In addition to the stocking supplies, the donation funded the shipping of those stockings, which went to deployed service members.
Adopting 120 Families for the Holidays
The funding also covered the adoption of 120 families through our Adopt-A-Family program! Families were chosen in cities where USAA has a strong employee presence (San Antonio, Colorado Springs, Phoenix, Tampa, Chesapeake, and Dallas). Each family received gifts for their children, as well as a grocery gift card for their holiday meal.
Here's a thank you note from one of the families supported thanks to USAA's donation.
"To USAA Sponsors and Soldiers' Angels,

I would like to say "Thank You" for assisting my family and I during Christmas time this year. The last five months have been very hard on my family. We were unfortunately forced to move out of our home of the last 8 years in July as the owners decided to sell their home. On August 24th, my spouse had vascular bypass brain surgery to restore blood flow to the right side of her brain to minimize chances of having strokes later in life. Prior to surgery, she had no deficits and could walk, talk and was independent. Within hours after her lengthy surgery, she suffered a major stroke on the right side of her brain and other complications causing a temporary breathing tube to be placed. While in ICU, she has had further setbacks and complications which have impacted her ability to speak, use of her arms and legs. She is currently totally disabled and is being fed through a tube. This has been very heartbreaking for myself and kids to see their mother in this condition. She is projected to recover some use of her arms, legs and ability to speak and eat again but will take years of therapy and rehab. To receive some assistance during Christmas was a blessing to us and we could not have imagined how hard this whole ordeal was going to be. While my spouse was in hospital for 70 days, the kids and I were being housed in a hotel temporarily. We finally secured a home and this Christmas we were all able to be together again. The gifts the kids received are very appreciated. My kids were not expecting anything this year and to see the excitement in their eyes that they had a gift was very heartwarming and allowed us to escape the current situation my spouse is in and gave us time to appreciate each other during the holidays.

Thank you very much from my family and I. We are truly grateful and will pay forward when we are back on our feet again." – Patrick
Our thanks to USAA for their generosity and support during this challenging year. We are honored to partner with them.
---