Best Moments of 2022
January 13, 2023
2022 was a poignant year for Soldiers' Angels as we were able to be more in-person since the pandemic, reach more Service Members and Veterans, and gain more visibility for the work we do. As we start the clock on a new year, here are some of our best moments from 2022.
Live with Kelly and Ryan
Soldiers' Angels President and CEO, Amy Palmer, was interviewed on Live with Kelly and Ryan and discussed the services provided by Soldiers' Angels, including our holiday programs. Being on Kelly and Ryan was a huge opportunity to share about the work we do and how others can help with folks tuning in from across the globe. We are so honored to share our work on the show! Watch the interview here.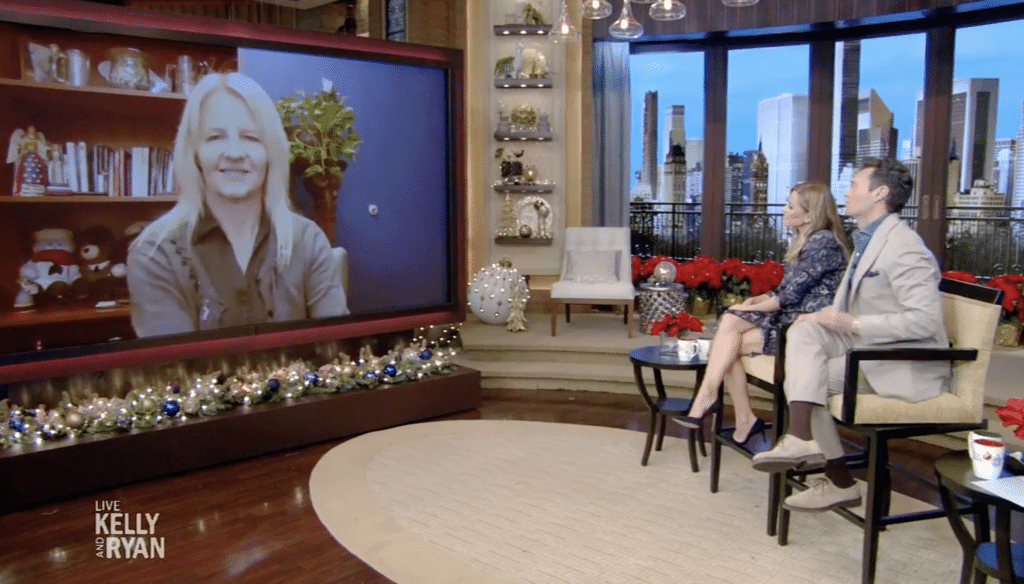 Time Square feature
This year, Soldiers' Angels was selected as one of the nonprofits featured on the NASDAQ billboard for National Nonprofit Day! Our 15-second spot showed up throughout the day in the middle of the busiest city street in the country.
"It was so exciting to be able to see our messaging and our logo on the side of that huge building in Times Square for a full DAY! It might seem like a silly thing to be so excited about— but for all of us here at Soldiers' Angels that put our time, effort, and heart into spreading the message of the organization and encouraging others to join and support Service Members and Veterans— it felt like an exciting leap forward to be visible in the one of the most iconic locations on the globe!" – Michelle Julazadeh Chavarin, Vice President of Marketing and Communications
Cookie craze
Every year we get large amounts of Girl Scout Cookies donated by Girl Scout Troops from across the country to send to deployed Service Members and hand out to Veterans at VA Hospitals. This year in particular we got some of the BEST photos back of Service Members enjoying their treats. Here are some of our favorites.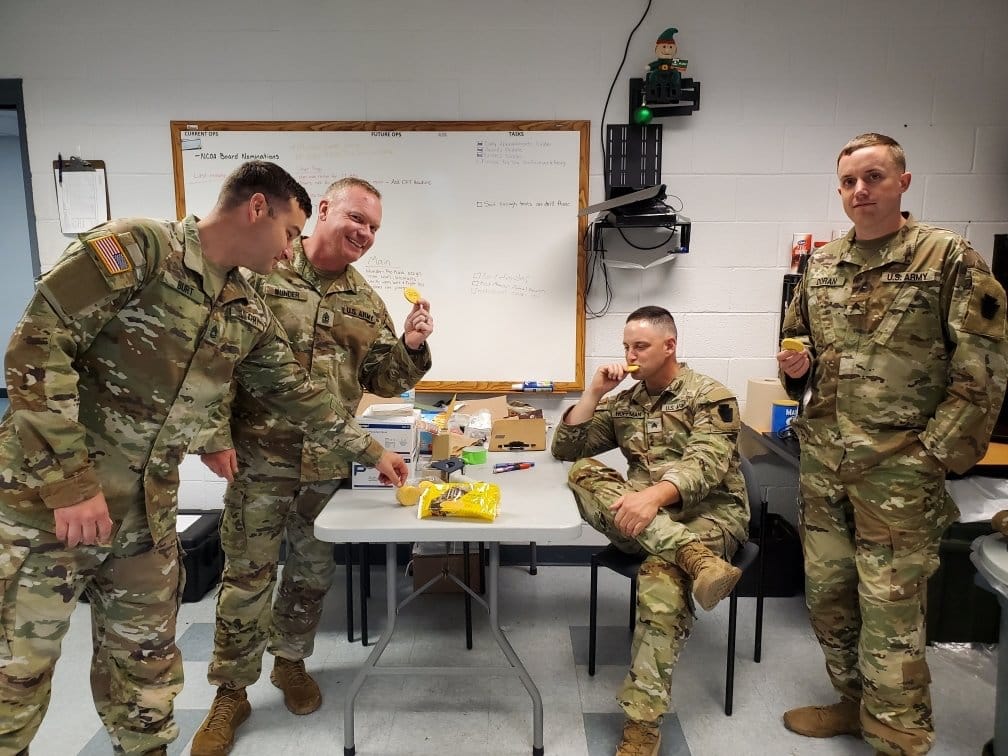 Supported four-legged Service Members
We launched a new campaign this year to honor Military Working Dogs for their important role in the military. With a variety of roles ranging from explosive detection, tracking, search and rescue, and more, these dogs work hard every day for the Military.
"We started the Military Working Dog campaign in 2022 to honor the service of our four-legged Service Members during National Pet Week, which happens to fall during Military Appreciation Month. We have found that our Angels love to support the working dogs of our deployed Service Members and what better time to focus on their support than during this National Pet Week? During this campaign, our Angels have the opportunity to honor their service to our great country by sending grooming, feeding, and activity items to their deployed handlers." – Tracy Curran, Program Director, Soldiers' Angels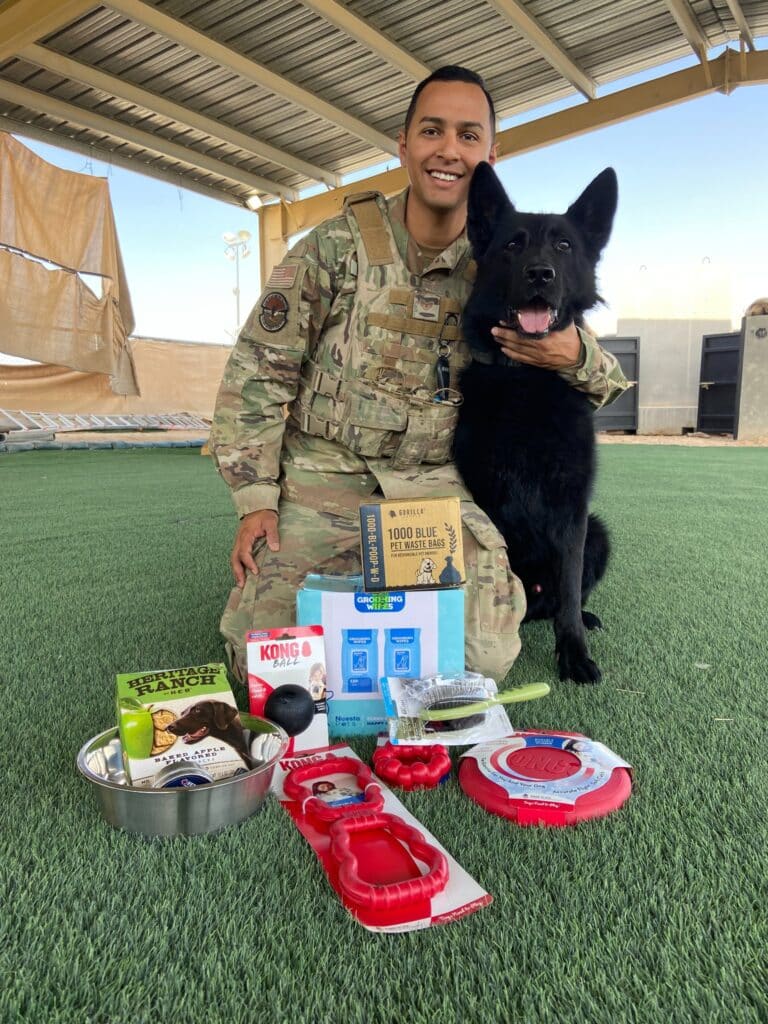 A big year for Hops for Heroes
This year has been a banner year for the Hops for Heroes program coming off of a break due to the pandemic. With 16 breweries, it was the largest year in our 10-year history, with approximately 145 barrels of Homefront IPA brewed (and consumed) across 12 states – three of which had multiple breweries involved (Texas, Florida, and Virginia). That translates to roughly $100,000 raised to benefit our programs! We were also invited to participate in the Great American Beer Festival (GABF) to promote the program. We had so much fun meeting and greeting brewery owners, brewers, and beer lovers.
Home of the Brave celebrates 10 years
This year we celebrated 10 years of the Home of the Brave campaign! Thanks to our corporate sponsors, we were able to support Veterans in 131 VA Hospitals across 46 states, plus Washington D.C.! From Hawaii to Alaska to Florida and the states in between, we are so proud of the Veterans Day support. Read our recap.
Record breaking Veteran Food Distribution
In December, Boeing awarded Soldiers' Angels a $50,000 grant, which allowed us to distribute food to a record breaking number of Veterans in San Antonio: 500! Read the story on Kens5 and hear from a veteran recipient.
"Soldiers' Angels served 487 Veterans and Service Members during the December Veteran Food Distribution, which included Turkeys, stockings, holiday boxes, stockings and more! We even had Santa and the Grinch show up. Holiday drinks and pastries were served to volunteers and Veterans/Service Members as they were lined up to receive food. We also had a DJ which had volunteers dancing. It was a great day for all!" – Vicki Sarracino, Sr. Director of Field Operations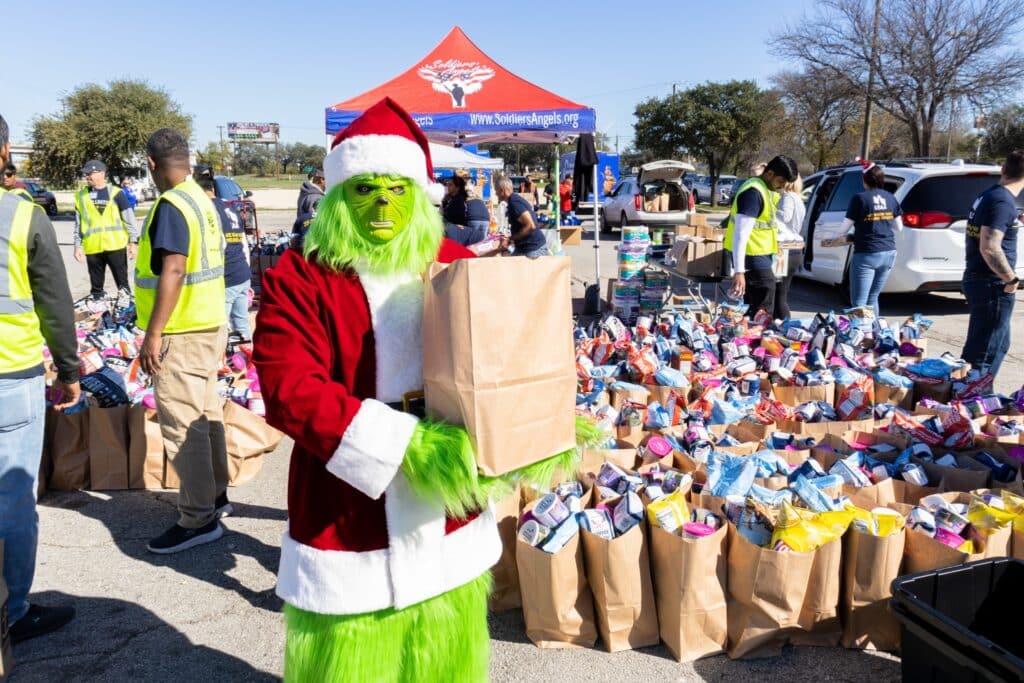 Ugly sweater contest
This year's holiday support got a little ugly… in a fun way! We had a deployed Chaplain reach out for assistance with an Ugly Sweater party for his unit and our Angels delivered. The real treat? The photos we got back! They were so good, we hosted a Stateside vs. Deployed contest on our Facebook page. Read the full story here.
"Working with Chaplain Albert on this Ugly Sweater Contest has been so much FUN! From the moment he first asked if it would be possible to get him some Ugly Sweaters for group morale over the holidays I knew we would do everything possible to get him some. Tracy and I brainstormed and came up with the idea of including all the Angels. What a success! Many Angels jumped to help and we sent many sweaters. I believe we may have had more joy in our hearts seeing the pictures the Chaplain sent than the troops had taking them!" – Carol Allen, Chaplain Support Team Leader
100th Homeless Housing Pack
We started our Homeless Housing Pack Program in 2020, and are proud to share that just before 2022, we delivered the 100th pack! This year we were happy to support even more veterans in need of housewares.
"After arriving at the Veteran's home, she became emotional when we began offloading the boxes of household items being provided to help her get back on her feet. Surrounded by her children, she expressed her gratitude for the care and support being given to her and her kids. The housing pack was the hand-up she needed to begin her journey forward in providing for her family." – Manny Gonzalez, Orlando Area Manager
Here's another great story of support, this one out of Detroit, Michigan!
2022 was a great year but we are ready and excited for more support in 2023! Mark your calendars for this year's Special Campaigns and let's continue to ensure that No Service Member (or Veteran, or Military Family) goes unloved.
---