Meet Sewing & Crafting Team Leader Nancy Marshall
Meet our newest Sewing and Crafting Team leader!
September 5, 2019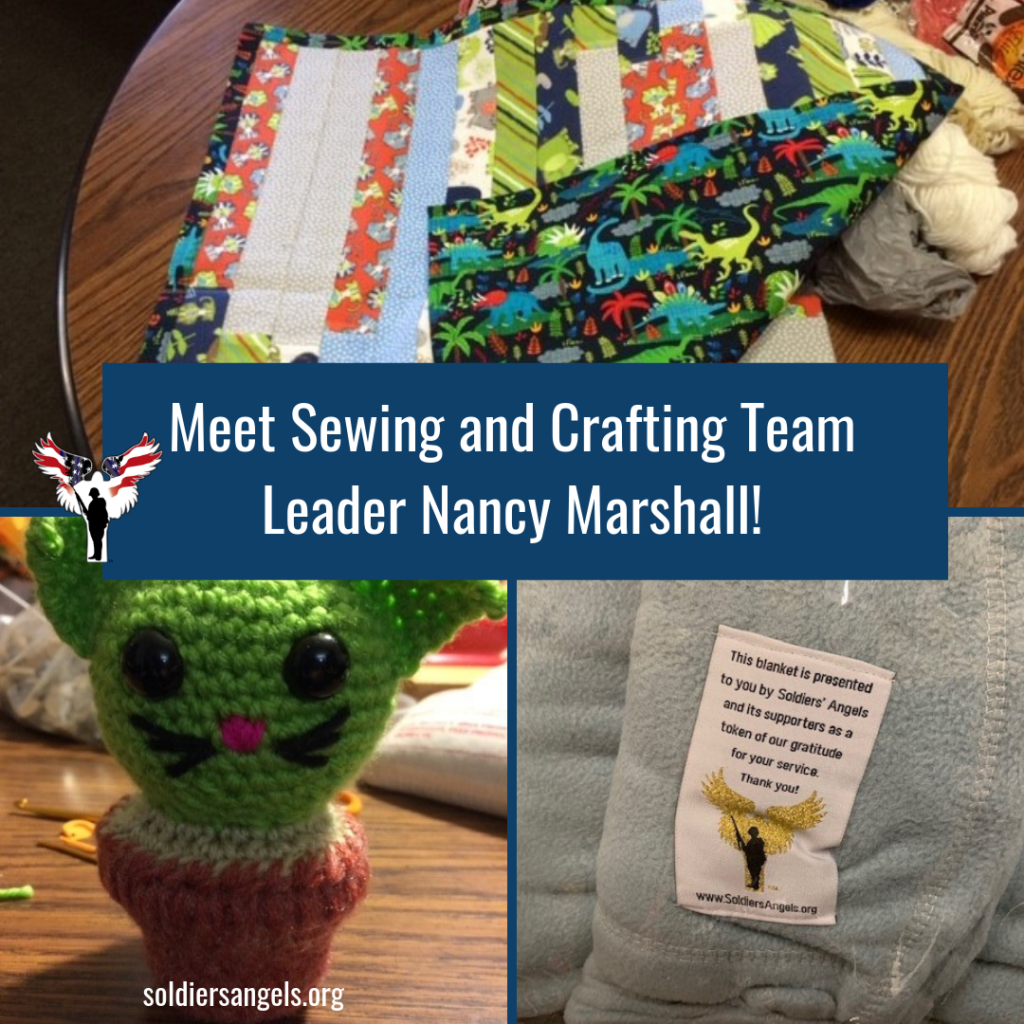 Not everyone is lucky enough to go home at the end of the day and cuddle up underneath their own blankets. Hospitals can be uninviting, cold, and overwhelming for veterans and the conditions overseas are anything but enjoyable for deployed service members. Cozy, hand-crafted pieces can make deployments and hospital stays so much more pleasant. This is exactly what our Sewing and Crafting Team is for! Since September is National Sewing Month, and we just appointed a new Sewing and Crafting Team leader, this is the perfect time to introduce her!
What Is the Sewing and Crafting Team?
The Angels on the Sewing and Crafting team provide handmade creations to service members, veterans, and military families. For veterans, our angels create blankets, hats, chemo caps, lap blankets, and other items to make their hospital stay a little cozier. For deployed service members, blankets and hats are often sent and for military families, baby blankets and other handmade items are sent to expecting mothers.
Whether you're an expert seamstress or a casual hobbyist, the Sewing and Crafting team is a great way to share your talents to help support our troops and veterans.
Meet Nancy
Nancy is a "transplanted Texan" who moved here in August 1979. She was born in California at Edwards Air Force Base and is the proud daughter of an Air Force veteran (48 years of service). She is also happily married to an Air Force veteran.
"I am very honored and excited to be a part of Soldiers' Angels and look forward to a long and positive journey with the team. I have a myriad of work experience, from hardware/lumber sales, road construction, and HoA management. I am also a group leader of several teams within my church. My passion is volunteer/charity work, having over 20 years working with several charity organizations, including a charity group that I founded in December of 2002. I enjoy the crafting arts and using those skills to enrich and benefit the lives of others. I am here to encourage and support you, my new talented team of crafters."
Tell us a little about your background
"I come from an administrative/managerial background and have worked in the fields of lumber/hardware retail sales, road construction, lumber/hardware bulk/container sales, and homeowner association management. I have an MBA from the University of Texas at San Antonio in International Management with a minor in Business Law. I am the daughter of an Air Force veteran of 48 years, and my husband is also an Air Force veteran of 12 years."
How did you get involved with Soldiers' Angels?
"I was looking for a new job and was trying to find something that better fit the direction I wanted to move in. I wanted something different that allowed me to not only grow within myself but to better focus on doing more to help meet the needs of others. When I saw the advertisement for employment with Soldiers' Angels I knew that I had found the place where I needed to be."
How long have you been on the Sewing & Crafting team?
"I joined Soldiers' Angels and the Sewing and Crafting Team on June 24, 2019."
What do you love about the team?
"Everyone is so kind and positive to each other and to the organization itself. The people that make up the Soldiers' Angels team are doing something that is bigger than themselves and are selflessly working to benefit a group of people who are fast becoming forgotten in public opinion."
Tell me a little bit about your experience as a crafter (i.e. do you sew, knit, crochet)?
"I have done a little bit of everything: drawing, macramé, scrapbooking, flower arrangements, knitting, crocheting, sewing, embroidery, latch hook, and tatting. One summer I made all of the bridal bouquets and wedding decorations for my childhood best friend, and I made all of the bouquets and decorations for my own wedding in 2015. My favorite crafting techniques are knitting and crocheting, and my husband likes to joke that our house looks like a mini JoAnn Craft Store."
What do you like making?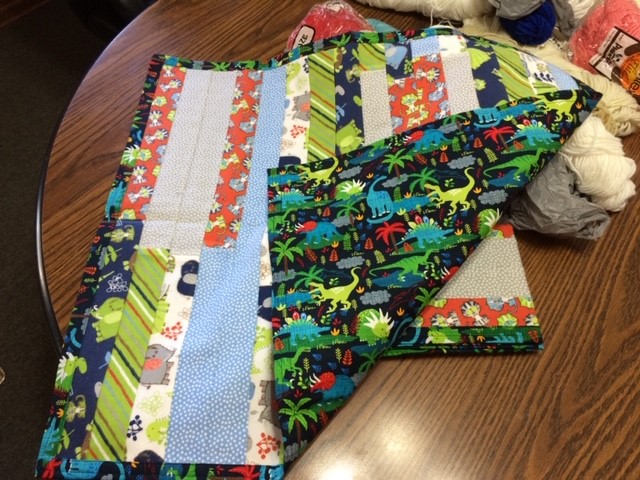 "I love making everything and anything I can put a hook or needle to. I recently started making and designing amigurumi characters, making a "cat-tus" (a cat cactus) for a friend of mine.
I am the current President of the San Antonio chapter of the Crochet Guild of America and we make items for the San Antonio Battered Women's Shelter, Catholic Charities, the Beverly Andaloro Asthma Foundation and the Ronald McDonald House. I am also the President and Founder of Kaps 4 Karing and we make items for the patients at the Cancer Therapy and Research Center and the San Antonio Battered Women's Shelter. I am also making chemo hats and lap blankets for Soldiers' Angels. My husband and I love to watch movies and retro TV shows, so while I watch TV at night, I am always crocheting or knitting something."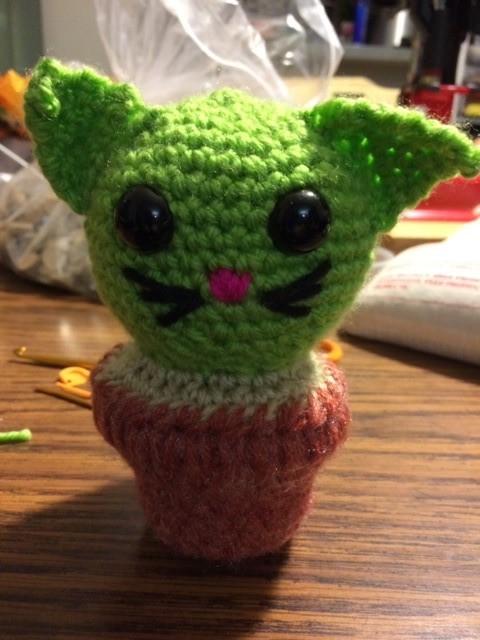 How long have you been sewing?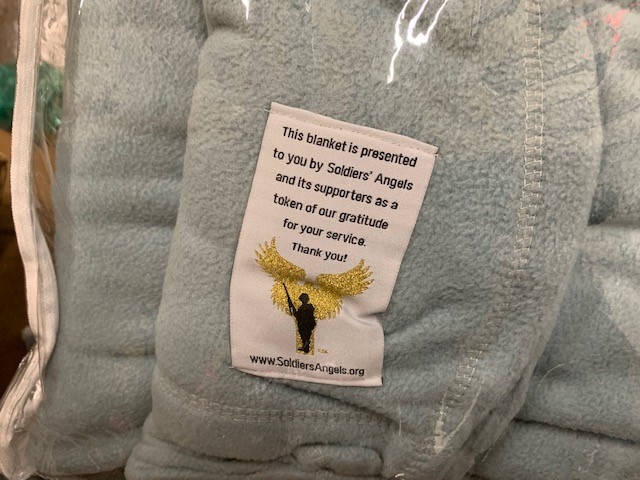 "I've been crocheting since I was 12, and I started knitting about 20 years ago. My mother and I took several continuing education classes that taught us how to knit. I've been sewing for probably the past 10 years or so, my favorite sewing projects are the strip quilt and the self-binding receiving blankets."
Tell us about some of the items you've created for service members and veterans?
"I have made knit chemo caps for the patients at the VA and a crocheted walker tote."
Can you share one story from your time on the Sewing & Crafting Team that really stuck with you? "I haven't been with the Team very long, so as it turns out, I don't have a lot of interaction with the people that we help. But I do know that the items that are donated are gratefully welcomed and accepted and go a long way to showing love and support to the deployed soldiers and the veterans here at home. As with my personal charity groups, I have banned the word 'only' from our Team vocabulary, as in – I only made this one blanket. Even one item will make a difference."
Do you have a love of sewing, crocheting, knitting, tatting … creating? Join us!
---