Honoring Old Glory On Flag Day
June 15, 2023
Every year on June 14th, Americans celebrate Flag Day, a special occasion that commemorates the adoption of the United States flag. While we proudly display the flag during celebrations and events, it's equally important to understand the proper protocols for doing so.
Soldiers' Angels staff recently learned how to retire a flag from Soldiers' Angels Outreach Coordinator Pat Jopling. Pat is an Airforce Veteran who works tirelessly to support veterans in San Antonio. She has been instrumental in the support of Aghan refugees, and does a lot of work within the VA Hospital System. She is also a member of the Patriot Gaurd Riders, a group that attends U.S. military and first responder funerals at the invitation of a decedent's family. The organization was originally founded to shield families of fallen heroes from those that would disrupt the services of their loved ones. It has since grown and expanded on its mission, one that Pat believes strongly in.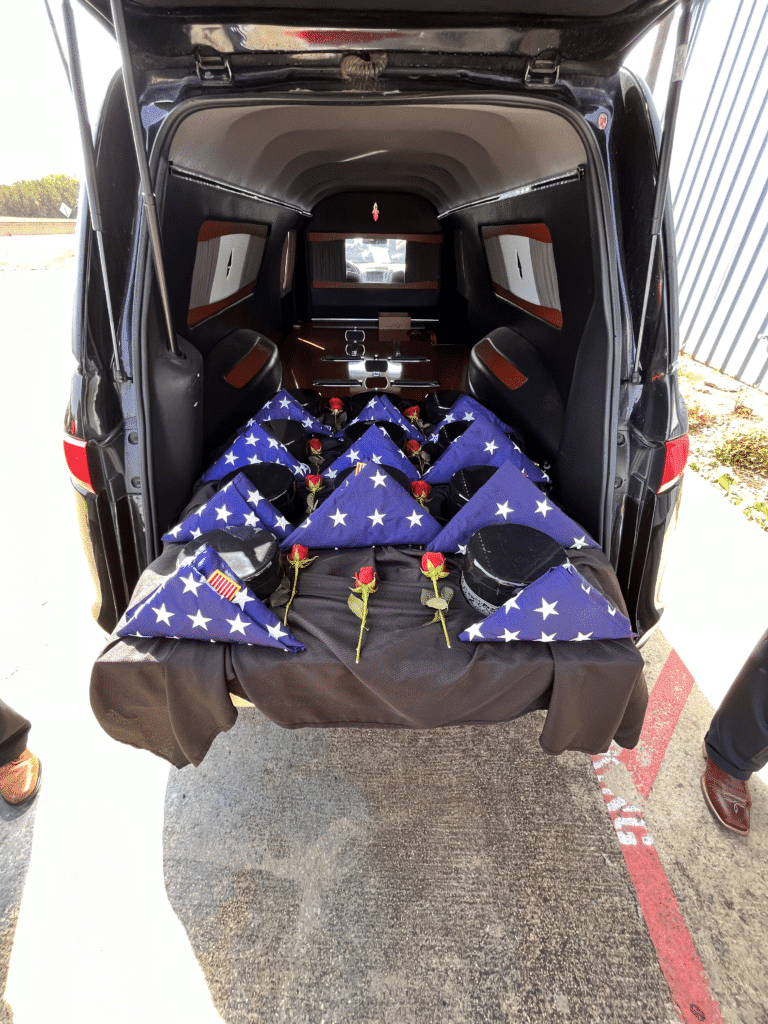 Pat joined the Patriot Guard Riders when the traveling Vietnam Wall (a scaled-down version of the real one) came to San Antonio in 2019. This traveling replica allows people to visit "The Wall" where they otherwise wouldn't be able to travel to Washington, DC. Since then, she has become an integral part of the San Antonio Patriot Guard Riders as one of their "flag captains."
The US flag is very important to Pat, who takes pride in her work and patriotism. Here are some of the things she taught us that every American should know about "Old Glory."
Flag Retirement Protocol
Did you know that you are not supposed to fly a flag that's torn, faded, or frayed? The flag is a cherished symbol that should be cared for and looking its best at all times – after all, it's a symbol of our country. There is very specific protocol for retiring it. The United States Flag Code provides the following guidance on properly disposing of a flag no longer suitable for display. Here's a step-by-step process:
Examine the Flag: Regularly inspect it for signs of wear and tear, such as fraying, discoloration, or significant fading. If the flag is in poor condition and can no longer be repaired, it's time to retire it respectfully.
Choose a Retirement Ceremony: There are several dignified ways to retire an American flag, including burning, burying, or recycling. The most common method is burning, but it's essential to do so in a solemn and respectful manner.
Prepare for the Ceremony: Find a suitable location for the retirement ceremony, preferably outdoors. Ensure you have a fireproof container or a designated flag retirement pit. Have a supply of dry and combustible materials, such as kindling and fuel, to facilitate the burning.
Conduct the Retirement Ceremony: Begin by reciting the Pledge of Allegiance or singing the National Anthem to honor the flag's significance. Place the flag in the fireproof container or retirement pit. As the flag burns, maintain a respectful silence and observe the ceremony with dignity.
Disposing of the Ashes: Once it is entirely consumed by fire, collect the ashes and bury them in a respectful manner. This can be done in a dedicated flag retirement grave, a place of historical significance, or by consulting with a local veterans' organization for appropriate options.
Etiquette
Additionally, caring for, flying, and displaying your flag comes with its own set of guidelines. Here are some things to remember.
Displaying: When displaying the flag, it should always be flown in a position of prominence and should never be displayed tattered, torn, or faded. It should be hoisted briskly and lowered ceremoniously.
Folding: When folding, follow the prescribed 13-fold method. Each fold carries symbolic meaning, and the finished fold should resemble a triangular-shaped "cocked hat" with only the blue field and stars visible.
Half-Staff Display: Lowering the flag to half-staff signifies mourning or respect. It should be raised to the peak first and then lowered to halfway between the top and bottom of the staff. On Memorial Day, it is raised to the peak and then lowered to half-staff until noon, after which it is raised to full staff.
Care: Keep it clean and in good condition. If it gets dirty, handwash it using a mild detergent and cold water. Avoid displaying the flag during inclement weather unless it's specifically designed for outdoor use.
Flag Day serves as a reminder to honor and respect those who have fought for our country's independence. Adhering to protocols is a sign of respect to those who have served.
Pat celebrated the holiday (and her 6-year Anniversary with Soldiers' Angels) by heading out to Ft. Sam to place flags at gravesites – including the one of WWII Veteran Alfred Guerra, who recently passed.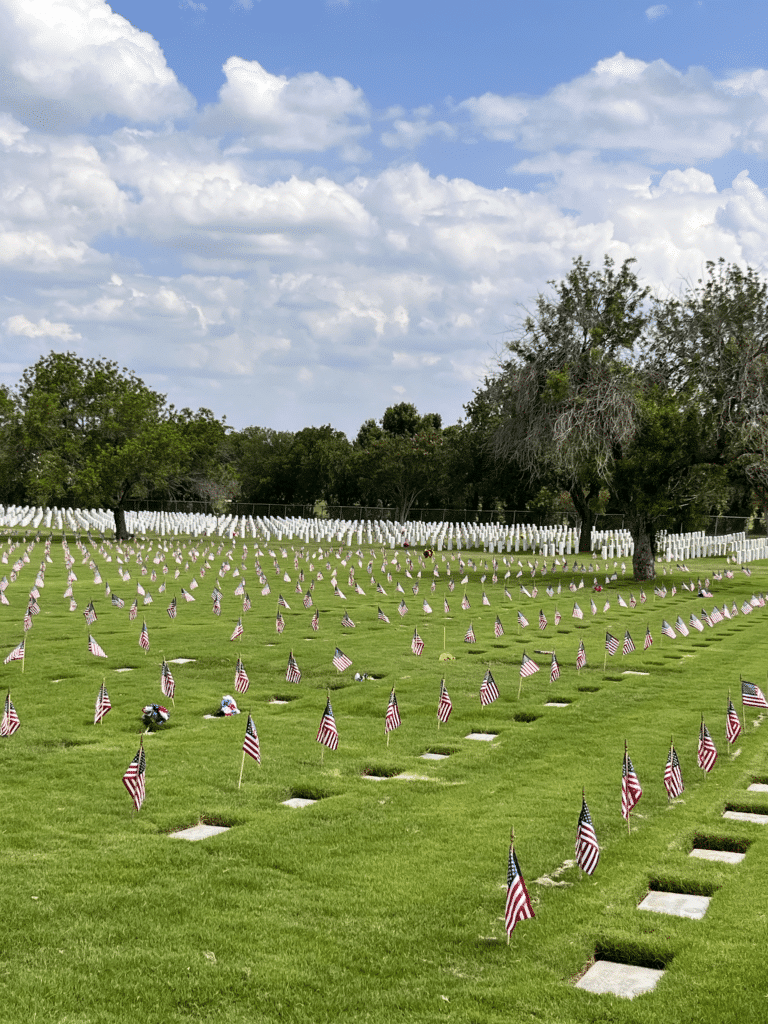 "One thing I take great pride in – in addition to taking care of our veterans still with us, is continuing to honor and respect our veterans who have 'Fallen.' I pick a holiday every single month to check 24 locations at Ft. Sam Cemetery (families and friends) to ensure that they have a flag standing beside them."
---