Honoring Native American Military Heroes
November 4, 2022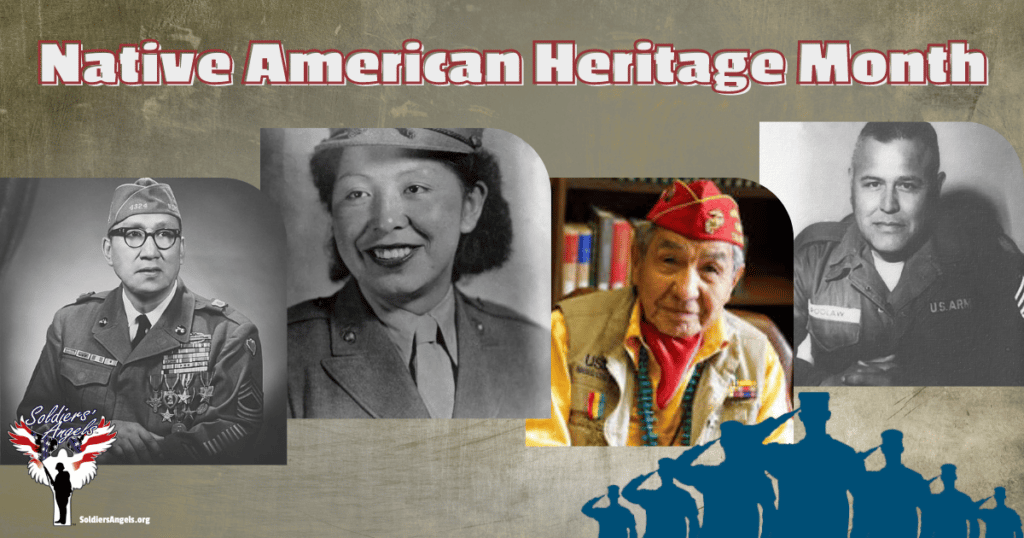 November is Native American Heritage Month! Native Americans serve in the United States military at five times the national average. This month, we're honoring Native American heroes who have served in the U.S. military. Here are just a few of these brave military heroes.
Minnie Spotted Wolf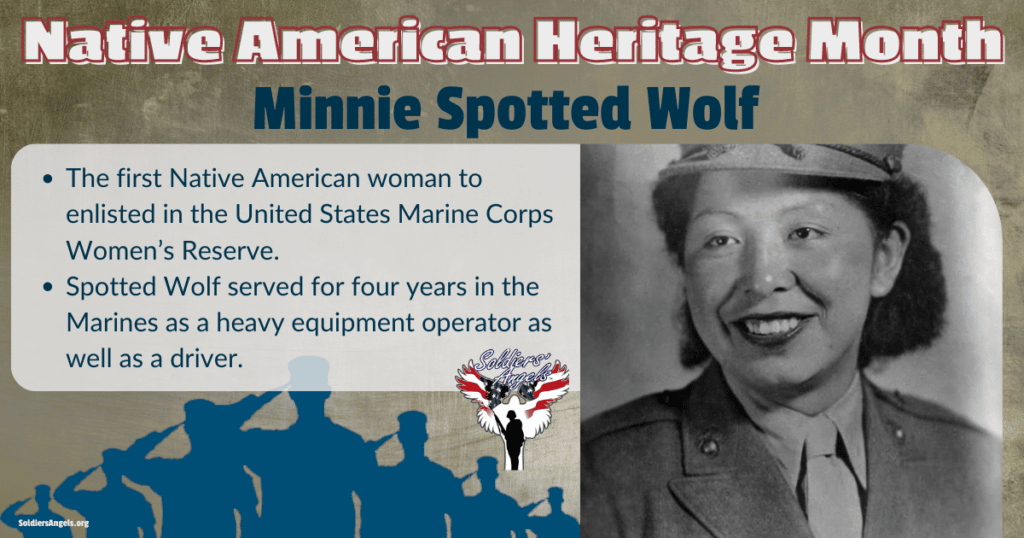 Minnie Spotted Wolf was born in 1923 and raised in Montana on her family's ranch. One of her many chores was operating the family's heavy equipment – a skill that would later help her in her military career.
She was the first Native American woman to enlist in the United States Marine Corps Women's Reserve. She served in California and Hawaii where she was charged with driving trucks and operating heavy machinery, work that was often done exclusively by men. She was also a driver for generals and other high-ranking, visiting officers.
Peter MacDonald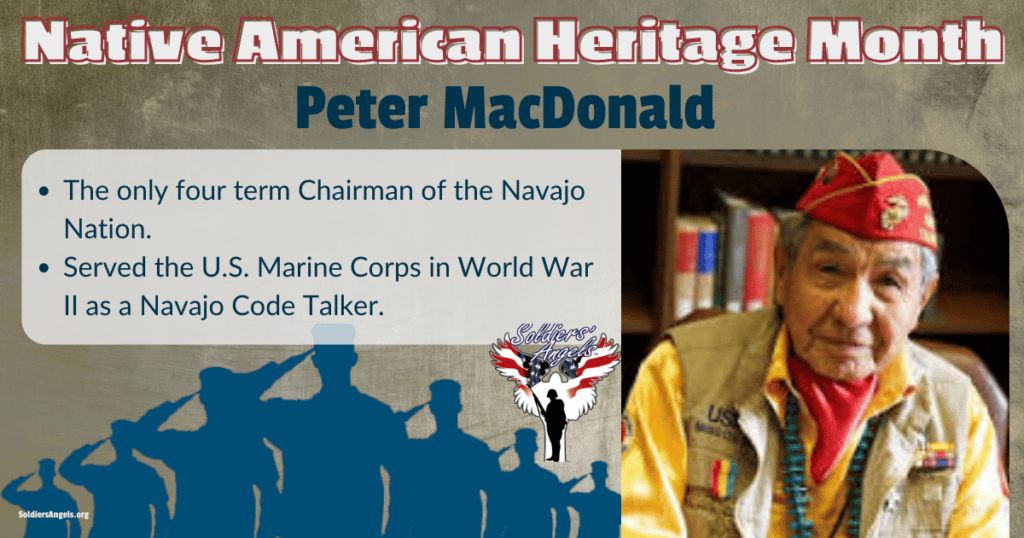 Peter MacDonald is a Native American politician and the only four-term Chairman of the Navajo Nation. He served in the U.S. Marine Corps during World War II as a Navajo Code Talker. The Navajo Code Talkers created a code based on the complex, unwritten Navajo language. The code primarily used word association by assigning a Navajo word to key phrases and military tactics. The system they developed enabled the Code Talkers to translate three lines of English in 20 seconds, much faster than any existing code-breaking machines. Their code was critical to the victory at Iwo Jima.
After the war, MacDonald earned an electrical engineering degree at the University of Oklahoma. Upon graduation, his acumen secured a job at the Hughes Aircraft Company, working on the Polaris nuclear missile project. He worked to extend tribal control over education and mineral leases and co-founded the Council of Energy Resource Tribes (CERT) in 1975. He was elected Navajo Tribal Chairman in 1970.
Woodrow Wilson Keeble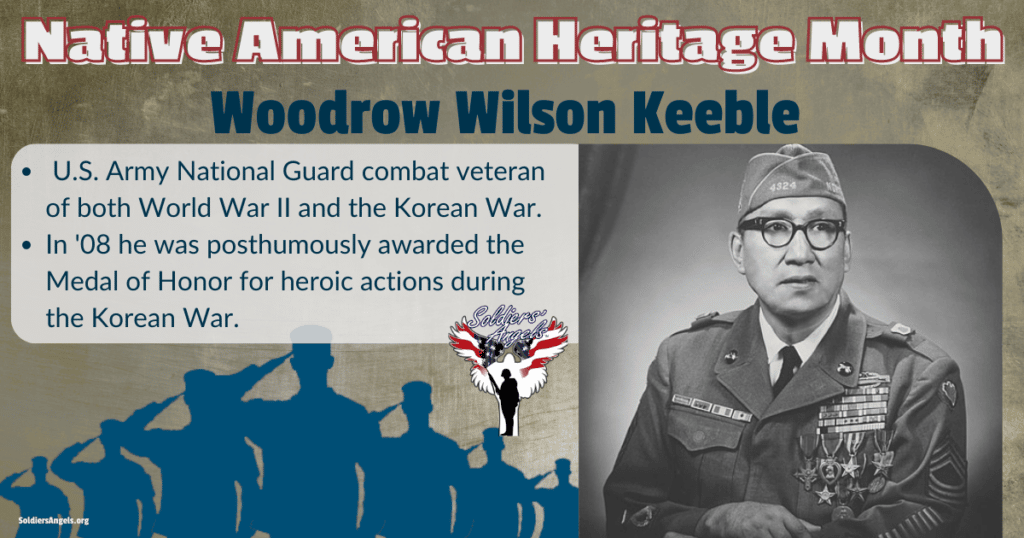 Born in 1917, Master Sergeant Woodrow "Woody" Wilson Keeble, a member of the Sioux tribe, is one of the most highly decorated Soldiers in North Dakota history and an impressive Native American military hero. He joined the North Dakota National Guard in 1942, and was a member of Company I, 3rd Battalion, 164th Infantry Regiment (Rifle). His unit became the first U.S. Army unit to engage in offensive operations in WWII when they reinforced the 1st Marine Division at Guadalcanal. It was during this mission that he received his first Bronze Star Medal, his first of four Purple Hearts, and the Combat Infantryman Badge.
He re-enlisted in 1951, serving in the 164th Infantry Regiment at the beginning of the Korean War. On October 20, 1951, when all of the officers of his company were killed or wounded, Keeble took charge of the support platoon attempting to complete the company's mission of taking control of a steep, rocky, and heavily fortified hill. Despite needing treatment for over 80 shrapnel wounds, he returned to duty the next day. His heroic actions that day saved the lives of his fellow soldiers, earning him the Medal of Honor.
For actions in combat, Master Sergeant Keeble received the Distinguished Service Cross, the Silver Star, the Bronze Star, the Medal of Honor, four Purple Hearts and the Combat Infantryman Badge.
"There were terrible moments that encompassed a lifetime, an endlessness when terror was so strong in me that I could feel idiocy replace reason. Yet I have never left my position, nor have I shirked hazardous duty. Fear did not make a coward out of me." – Master Sergeant Woodrow "Woody" Wilson Keeble
Pascal Poolaw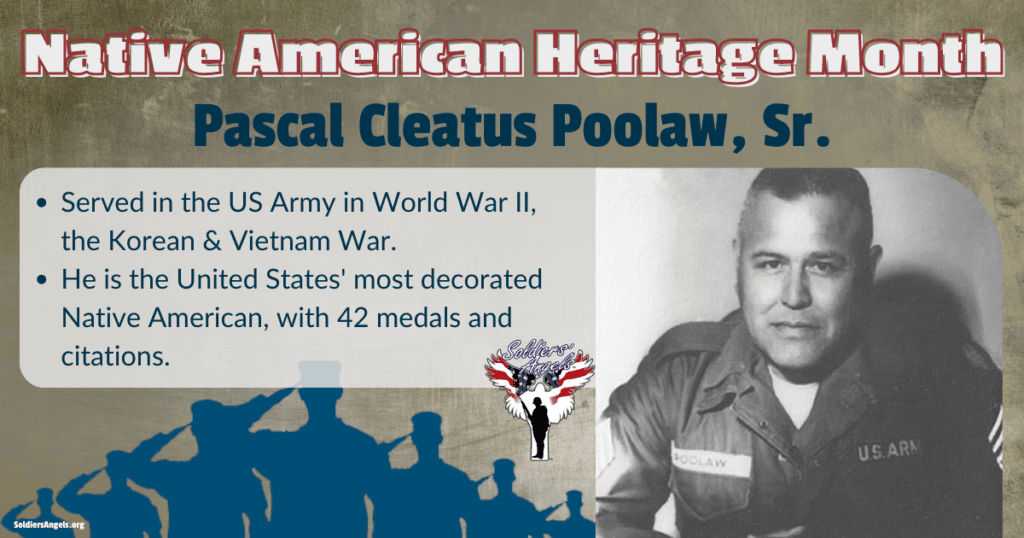 Pascal Poolaw, Sr. was born into the warrior tradition of The People of the Kiowa Nation in Anadarko, Oklahoma. Poolaw joined the Army in 1942 and served in WWII, Korea, and Vietnam.
Despite officially retiring after serving in Korea, Poolaw re-enlisted to keep his son, who was already enlisted, from serving in the war. Military regulations at the time prohibited two members of the same family from serving in combat simultaneously. Unfortunately, his efforts were unsuccessful.
When his unit came under attack by Viet Cong force, Poolaw raced to the lead squad, exposing himself to the line of fire, and deploying the squad there to lay down fire. This action saved countless lives. Poolaw continued moving among the troops, making sure they were positioned properly and pulling casualties back to the lines despite being wounded himself. He was mortally wounded, saving the lives of fellow service members. He died in the line of fire after being struck by a rocket propelled grenade while pulling his fellow brothers to safety. His actions saved many lives of fellow service members.
Pascal Cleatus Poolaw, Sr. holds 42 medals and citations from serving in three wars. He remains the most decorated Native American military hero in history.
"He has followed the trail of the great chiefs. His people hold him in honor and highest esteem. He has given his life for the people and the country he loved so much." – Irene Poolaw, Pascal's wife
These Native American military heroes should be forever remembered and honored for their bravery and sacrifice.
---