Health Is Wealth at Soldiers' Angels
October 6, 2023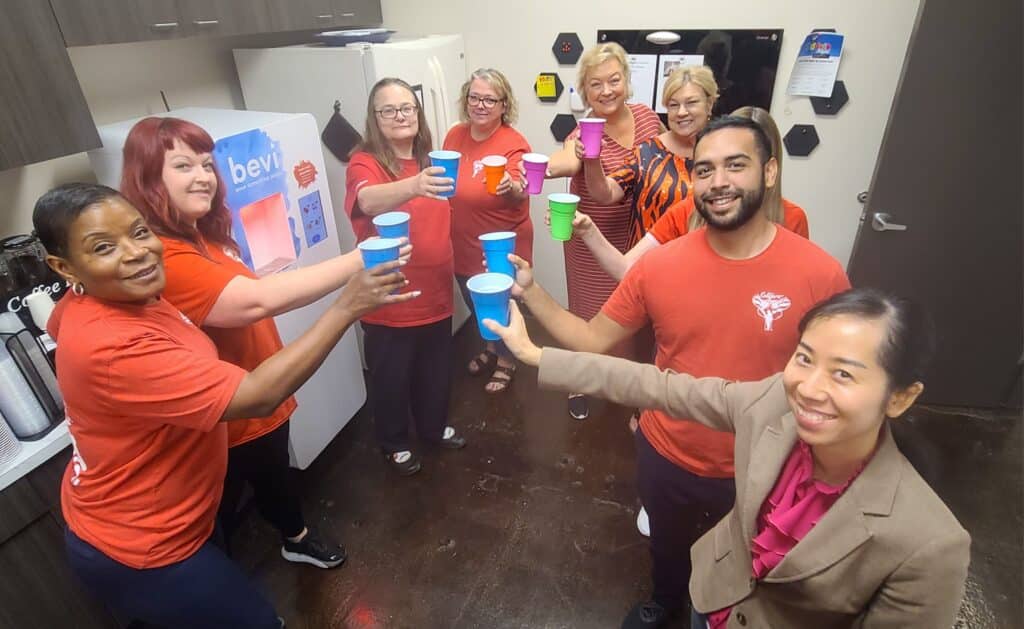 The Soldiers' Angels team has been pretty focused on health and wellness over the past few years. We've challenged each other to many a step challenge, we took on water drinking challenges, we've worked out together, and some of us are running the Marine Corps Marathon together… all with the goal of just being healthier as a team.
Recently, we all decided to drink less soda! As you probably know, sugary drinks like soda have been linked to high blood pressure, high cholesterol, and heart disease. Well, our office just got a nice little incentive to drink something other than soda: we got a Bevi Machine! This amazing machine dispenses carbonated water and gives you the option to choose from a variety of flavors and enhancements (like 0 sugar or adding electrolytes). Not only does it give us a healthy alternative to plain water, but it also reduces the number of plastic bottles and aluminum cans we use.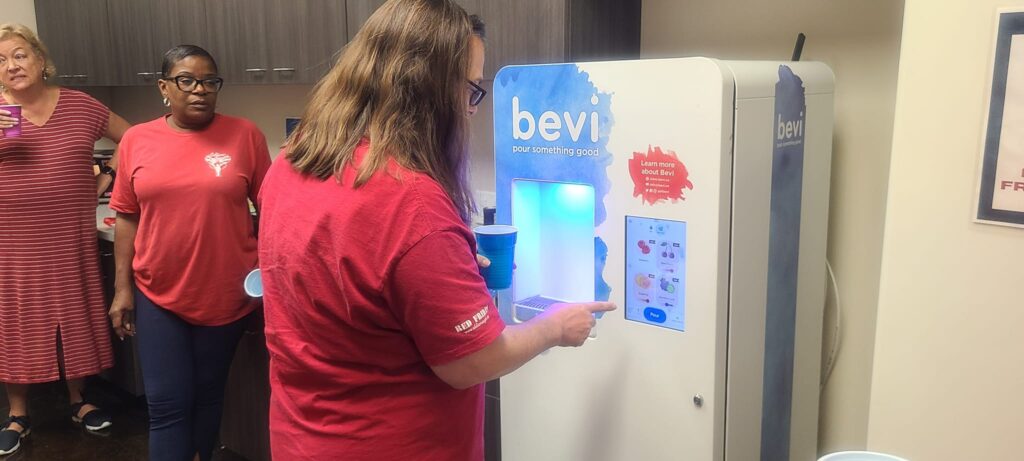 We were so excited about it, we had a special ribbon cutting to celebrate!
But it's not just physical health we're encouraging—we're creating space in our schedules for mental health and wellness too. Here at Soldiers' Angels, the last four months of the year are our busiest time! From collecting and shipping thousands of pounds of Halloween candy and stuffed holiday stockings to ensuring all Military and Veteran families in our Adopt-A-Family program are adopted, the last few months are a sprint to the finish line at the end of the year. That added stress and additional work hours take a toll on all of us!
This year, to be proactive, we've turned one office into a Brain Break Room and created a challenge that encourages all of our staff and interns to spend at least 10-15 minutes 3 times per week engaging in one of the activities in the room. From a puzzle to activity books, a coloring poster to stretching/breathing exercises, and even a velcro dart board—the activities give people a chance to step away from their computer or the boxes they are packing and spend some time clearing their minds.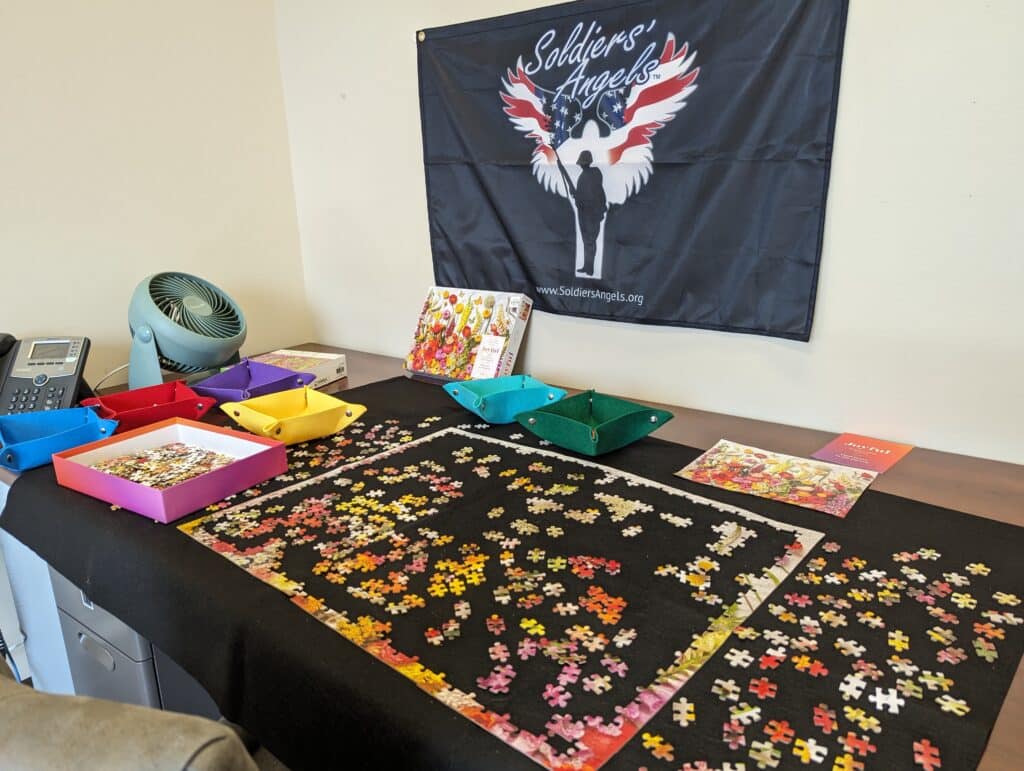 Implementing wellness initiatives over the years has been great for team building and has definitely improved the overall health of the team. Staying active and being mindful of what you do helps you feel better about yourself, gives you more energy throughout the day, and helps you stay focused. These initiatives are not merely a perk; they are an investment in our team's well-being. Focusing on wellness within your organization has lots of benefits. Here are just a few:
Enhanced Productivity: Healthier employees tend to be more focused and energized, leading to increased productivity. Reduced absenteeism due to illness ensures consistent workflow, allowing us to meet our goals and serve more Veterans, Service Members, and their families.
Lower Healthcare Costs: By promoting a culture of wellness, we can reduce healthcare expenses associated with chronic diseases and preventable illnesses.
Improved Employee Morale: Wellness initiatives demonstrate that we care about our employees' health and happiness. This fosters a sense of loyalty and commitment, boosting overall morale.
Employee Attraction and Retention: A robust (and in our case, fun) wellness program can be a competitive advantage. It also encourages employee retention as individuals are likelier to stay with an organization that values their well-being.
Enhanced Creativity and Innovation: Healthy employees are more likely to think creatively and problem-solve effectively.
Increased Employee Engagement: Engaged employees are more committed to their work and our mission.
Now that we're not drinking soda and we're spending some time giving our brains a break, what will our next challenge be? Stay tuned!
---