Meet The Soldiers' Angels Race Team
June 1, 2023
May No Soldier Run Alone: Part 2
As you may know, Soldiers' Angels was selected as an official charity for the Marine Corps Marathon happening this October. Well… we've been assembling quite the team of runners, all who have been rallying around one of our own, Tania Galardy. In case you missed it, hop over to the first blog to read all about Tania's story and why we are running with her in the Marine Corps Marathon race series.
As we get closer to October, our team of misfit runners has been growing, throwing zany fundraisers, and adding extra layers of competition to the journey. Here's a look at the 2023 Soldiers' Angels race team.
The Soldiers' Angels race team: Staff edition
Elise Larkin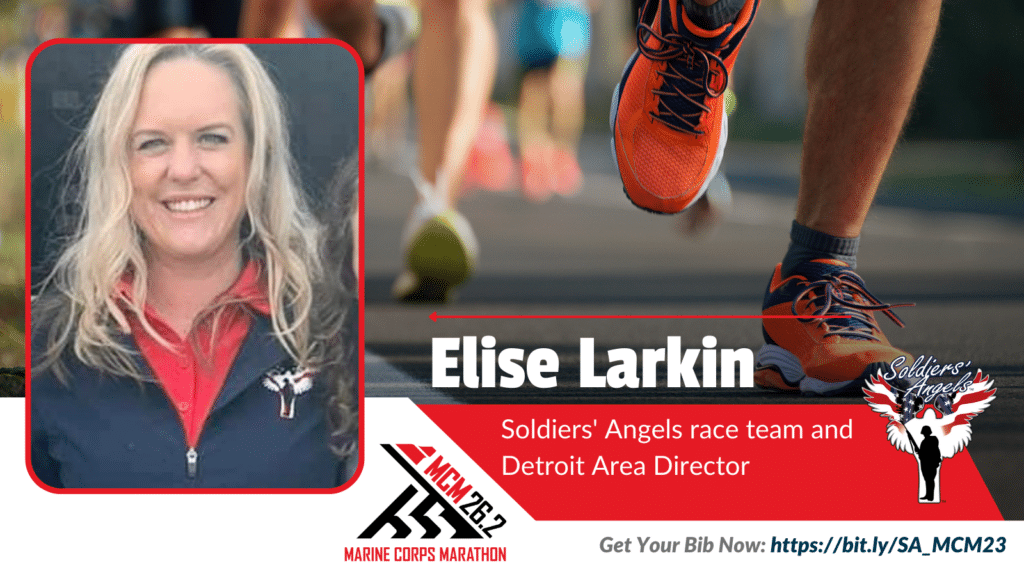 Elise Larkin is the Soldiers' Angels Detroit Area Director. She's taking on the challenge as an opportunity to get involved in something meaningful with the Soldiers' Angels team. She's also already surpassed the $500 fundraising goal!
"I work remotely and don't get a lot of in-person team building, and this is a great way of doing so! I am looking forward to being with my Soldiers' Angels family. I am also really excited to see the determination and success of everyone who is participating."
Elise is very active but new to running and this will be her first 10K! She's looking forward to her post-race ice cream trip with Vicki Sarracino once she crosses that finish line.
Brent Cooper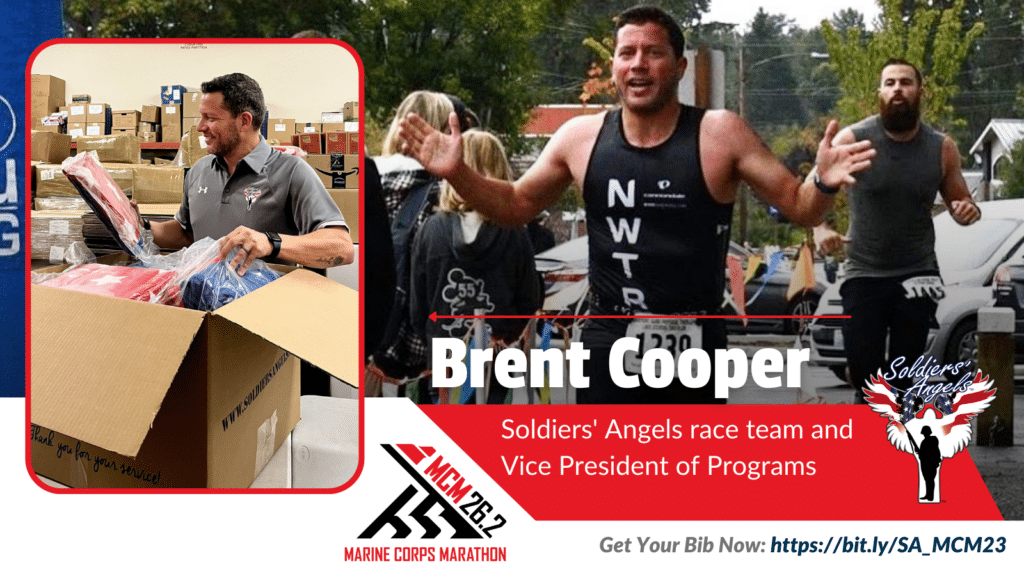 Brent Cooper is a new addition to the Soldiers' Angels team and the Vice President of Programs. As a newbie, it was not hard to twist his arm – I mean convince him – to join the Soldiers' Angels race team. As a first time marathoner, he's looking forward to crushing a big slice of pizza after he crosses the finish line – that is if he can "still stand." Good news for Brent, you don't have to stand to eat pizza!
"After running a half marathon a few years ago, I swore I never wanted to run any further. But I'm always up for a good challenge and running for a good cause! I'm sure this will be very physically and mentally challenging, and I'm glad that we are doing this as a team and able to support each other along our training journeys. I love the anticipation right before a big race, hyping up all my teammates, and visualizing how good it will feel to finish the race."
Alan Sale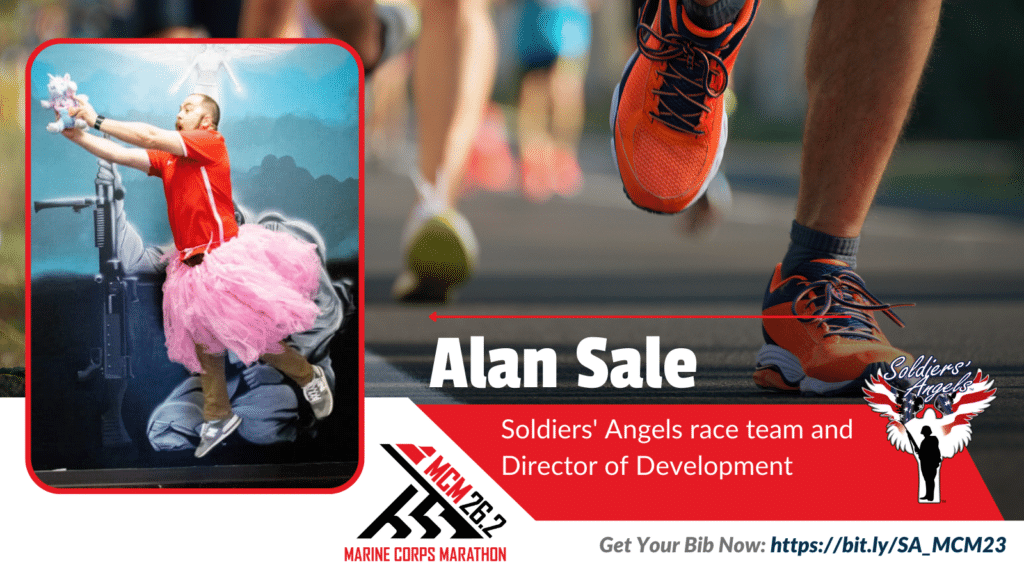 Alan Sale is our Director of Development and is in the lead for most donors right now (must be all of that Development experience)! Alan has been having fun challenging Amy to feats of strength leading up to the race and doing other silly challenges to boost his fundraising. He even ran around his entire neighborhood in a pink tutu once he hit one of his first fundraising milestones! Alan is currently in the lead for most donors and most dollars raised on the Soldiers' Angels race team. Here's a video of him challenging Amy to an ice skating competition – in costume!
"I am THRILLED to be doing the 2023 Marine Corps Marathon! My history with the military has been life long and I am so very fortunate in a wide variety of ways due to the U.S. Armed Forces. I was born in a Naval Hospital in San Diego, was fortunate to live all over the world during my father's Naval career, and finally married an Air Force veteran. To be honest, unlike many people, a marathon was never on my radar as a life goal. I dislike running and would rather swim or cycle. I was never a good runner, probably due to body size but in 2022 I took a major step and made the decision to turn things around."
Rich Scott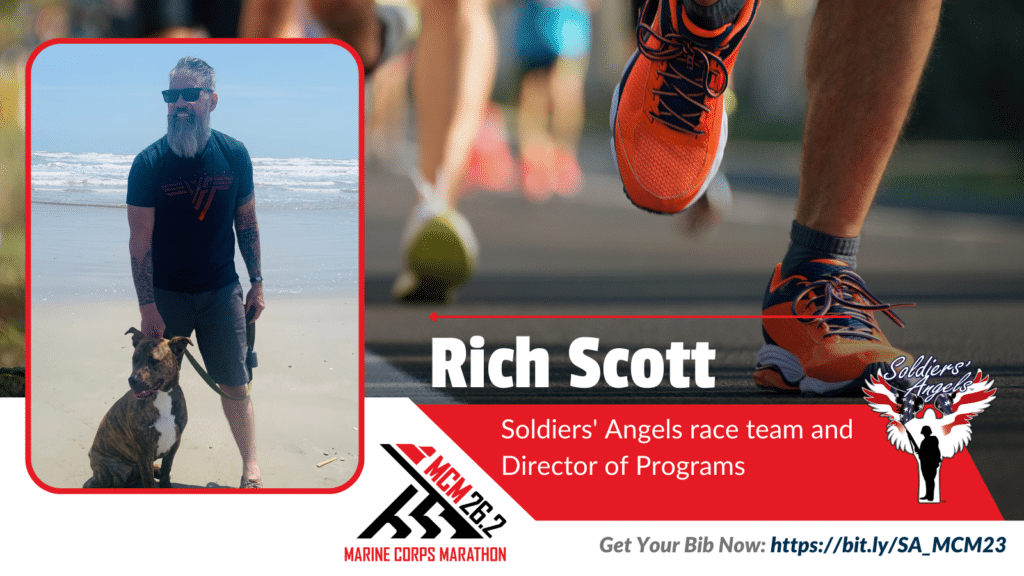 Rich Scott is our Director of Programs and has raised over his $500 goal already.
"I'm running to support a friend who is in recovery, and it was one of her goals. Soldiers' Angels is running as a team to support her and to raise awareness about our organization."
This is not his first marathon, but it has been 10 years since he ran. Part of his training has included long runs and what we're calling "Puppy Sprints" in the office.
"Race day is the culmination of countless hours spent training, nursing injuries and sore spots, pushing through pain, dehydration, figuring out nutrition, dealing with inclement weather or the hot south Texas sun, and so many more challenges. Race day is the day we all say we're ready. And on race day, we'll all achieve our goal with thousands of others who similarly sacrificed."
Vicki Sarracino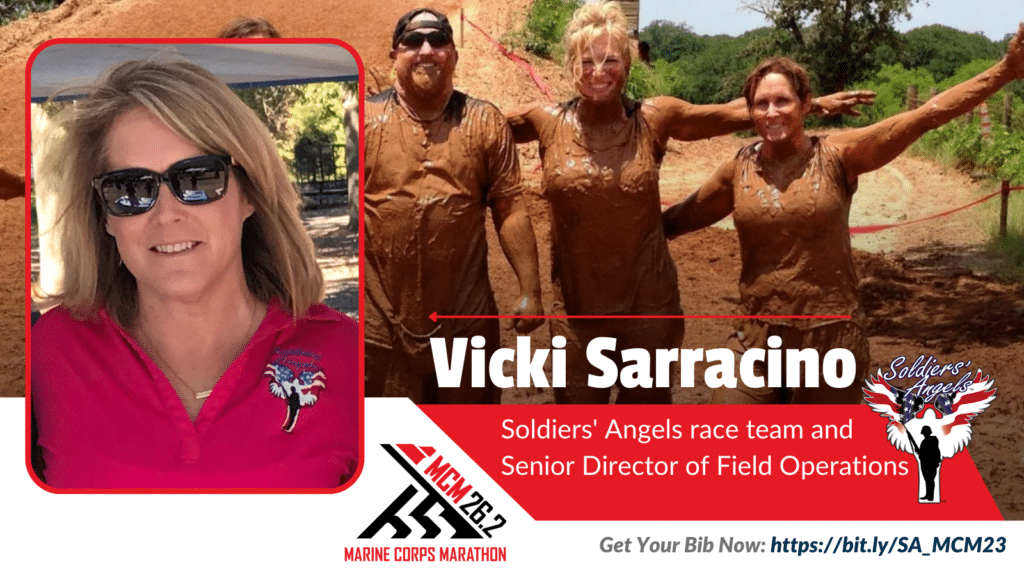 Vicki Sarracino is our Senior Director of Field Operations and is running the 10K. She's psyched to be on the Soldiers' Angels race team and vows to take fellow staff member, Elise Larkin, out for ice cream after the race.
"Typically, I am not a runner. I walk, do weight training, as well as other types of cardio. I decided to participate in the Marine Corps Marathon 10K because I am sure that the many men and women in the military are outside of their comfort zone. I am sure many times they stress their bodies. It is because of that, I decided to run in the 10K. It is also a great way to bring awareness to Soldiers' Angels to raise money. I am close to my goal and hope that I am able to surpass it."
Amy Palmer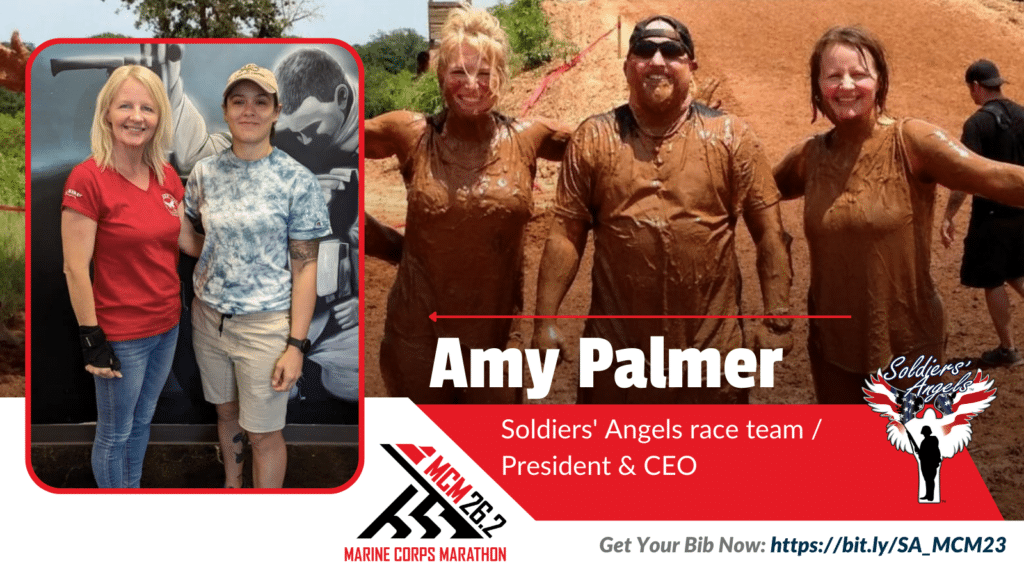 Amy Palmer is our President and CEO and is NO stranger to a challenge. She's jumped off of things, taken a pie or two in the face, and has been running through the mud. Amy is running to support a former Veteran Intern, Tania, who has been struggling with addiction. Tania was not able to run the Houston Marathon last year due to a relapse, so Amy suggested running the Marine Corps Marathon and committed to doing it as well. Read her story here.
"Through this experience, we have learned a lot about fellow co-workers and their own addiction stories, the stories of family members who are in sobriety, and stories of others who have sadly lost their lives to this disease. I think we are closer as a team and a work family. While I don't wish this disease on anyone, I am grateful we had the opportunity to be on this journey of recovery with Tania. I'm honored to be running this race, and asking you for money to support my journey!" says Amy.
Nora Encalada
Nora is our Women of Valor Program Manager and snagged the last 10K bib. She's a naturally competitive person and is excited to do this with colleagues and friends.
"I love to run but had to take a break due to some health issues. This seemed like the perfect way to get back into running and really challenge myself. I'm excited to see how I do."
We're so excited to be running the Marine Corps Marathon this year as a team and be able to offer charity bibs to others interested in taking on the challenge of fundraising and running! Check out our team page to support a member of our team!
---