Giving a Little Bit Extra
December 7, 2016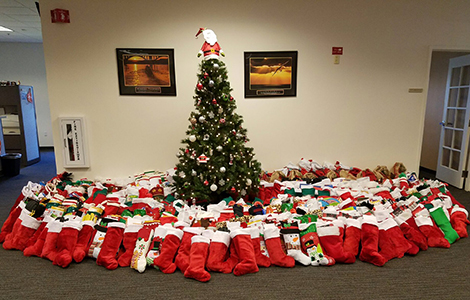 The Home Depot's New England Regional office joined the Soldiers' Angels Holiday Community Partner Program with the goal of doing something to give back. The small office in Canton, Massachusetts only has 10 employees, so they signed up to donate 50 stuffed stockings.
But, then they decided to do what they could to give a little bit extra.
"After thinking about it, I decided to forward what we were doing on to my regional and district managers," said Kristine Martin, who headed up the collection. "The district teams usually have projects picked well in advance, so I wasn't sure what kind of participation we'd get from them, but any 'little bit of extra' would be good."
And they definitely received that "little bit of extra"! Over the course of two weeks, stockings were left under the tree from store managers, regional managers with their teams, and of course, the original 10 from the admin staff. By the end of that period, they had collected 427 stockings!! 377 more than what they signed up to contribute!!
They weren't done there… after they packed everything up, one of the managers brought in an additional 15 stockings that were sent separately!
Thank you to this amazing group who proved that giving back is contagious!!
"I work for an amazing company that fosters values that this team more than exemplifies," said Martin. "I am so proud and appreciative of everyone's efforts!!!"
We are too Kristin! And so are our service members and veterans who will benefit from your generosity.
---