Soldiers' Angels staff is working tirelessly amid the COVID-19 pandemic to provide aid and comfort to deployed service members, their families, and veterans in need through COVID Response Programs. We strongly believe that it is our responsibility to ensure that No Soldier Goes Unloved, No Soldier Walks Alone, No Soldier is Forgotten, Until They All Come Home. Here's our impact so far:
SNACK & HYGIENE
items shipped to units supporting COVID relief efforts around the U.S.
FACE

masks
provided to active duty service members, veterans, and VA Staff.
Bottles of
Hand Sanitizer
provided to combat deployed, active duty, VA staff, & volunteers at food distributions.
Food Assistance
provided to veteran families in need through increased support at all 6 food distribution sites.
HOT MEALS
delivered to VA Hospital Staff across the country who are working the frontlines of the pandemic.
VETERANS
provided transportation to/from medical or emergency room visits, or to COVID quarantine housing.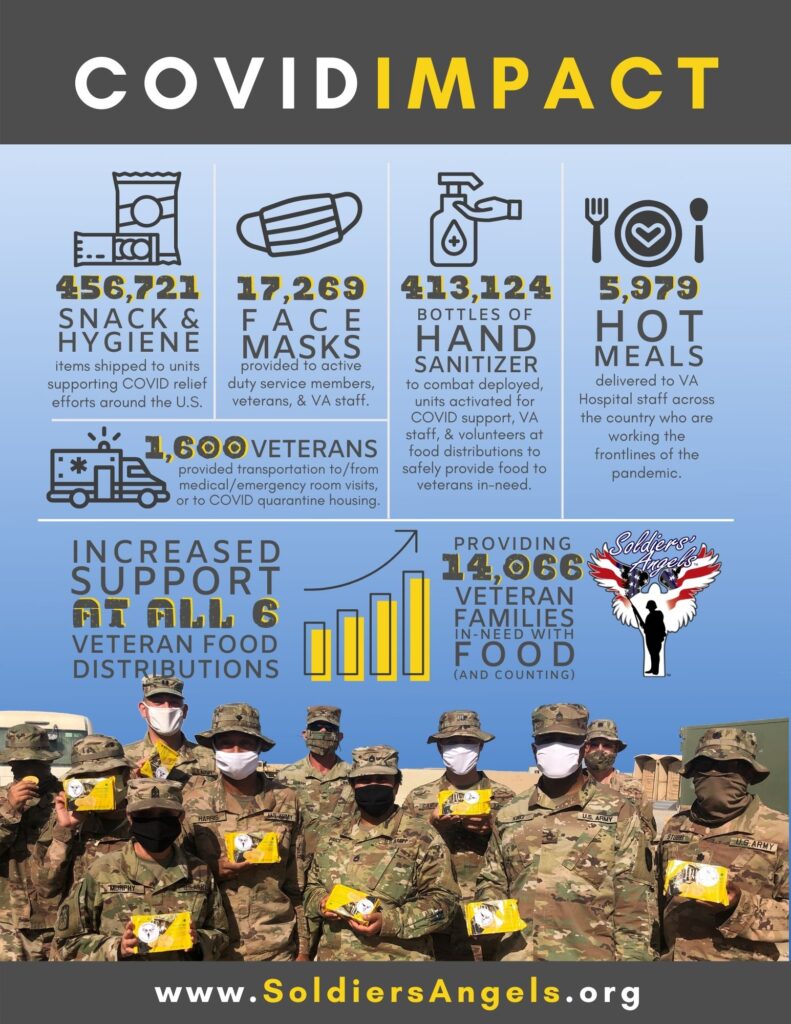 Ready to get involved with Soldiers' Angels COVID Response Programs? We would welcome your help.
Click here to view or download a printable COVID flyer with the many ways you can support the Soldiers' Angels COVID Response programs. Or click a button below to get involved now.
Below are some of the ways that we are assisting our brave men and women in uniform and those who have fought so gallantly for our freedom in the past. Many of these services are geographic-specific depending on the needs of the VA Hospitals and communities that we support.
Providing Tablets and devices for veteran patients at VA's to video chat with family and/or virtually visit with Soldiers' Angels staff and volunteers.
Providing medical transport for homeless COVID positive veterans to get to a designated quarantine housing facilities.
Providing non-perishable box lunches: for low-income veterans who cannot get out to the grocery store due to quarantine measures; for homeless veterans.
Making and providing handmade masks to VA Hospital personnel as well as active duty and deployed service members and their families.
Providing hygiene kits to VA staff to hand out to veteran patients at the VA on lockdown whose families cannot come in and bring them these items from home.
Providing hot meals to VA Hospital Medical Staff on the front-lines of health care.
Supporting deploying and deployed units who were activated for COVID relief with care packages, meals, hygiene and snack items, and other immediate needs.
Supporting the caregivers of wounded, ill, or injured service members in our Women of Valor program with supplemental food to help them feed their families.
Hosting Mobile Food Distributions in six locations throughout the United States (San Antonio, TX; Detroit, MI; Atlanta, GA; Orlando, FL; Charleston, SC; Denver, CO) by providing groceries to over 200 low-income veterans and their families. We will continue this service within the guidelines of the federal, state, and local governments.
Sending care packages to deployed service members in areas where supplies are limited.
Delivering meals to veterans who are elderly or have health conditions that limit their ability to leave their homes for food due to COVID exposure risk.
Purchasing large quantities of hand sanitizer from distilleries or working with donated hand sanitizer from distilleries and transferring to smaller bottles to be included in care packages for deployed service members as well as for use by our volunteers at Mobile Food Distributions.
As additional needs arise, we will be ready to serve based on our resources.
Thank you to these incredible organizations for stepping up to support our troops and veterans during this crisis by supporting Soldiers' Angels COVID Response Programs.
Alamo Chapter – AFCEA
Atlanta Community Foundation – Arthur M. Blank Family Foundation
Bank of America
Citi
CMI Orchards
FCA Foundation
Fifth Generation, Inc. – Tito's Handmade Vodka
Flagstar Foundation
Food Lion – Charleston, South Carolina
Food Lion – Atlanta, Georgia
H-E-B
Lockheed Martin
National Disability Institute
Nike, Inc.
San Antonio Area Foundation
Sunstate Foundation
Target
United Way of Greater Atlanta and Community Foundation for Greater Atlanta
Wells Fargo Foundation – San Antonio