Become a Soldiers' Angels VA Hospital Volunteer
July 1, 2021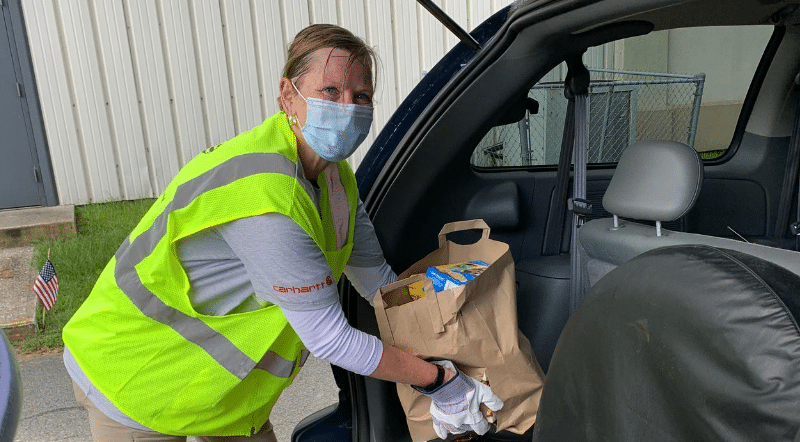 Looking for volunteer opportunities to serve veterans in your area? Soldiers' Angels is one of the few non-profits with the clearance to work directly in the VA Hospital system. We offer lots of great volunteer opportunities within the VA Hospital serving veteran patients and at-risk veterans in multiple ways.
Volunteer activities include:
Visiting patients
Handing out coffee and donuts
Distributing donated items to veteran patients
Supporting the Mobile Food Distribution
Running the Soldiers' Angels table during VA Hospital Stand Downs
Serving veterans during luncheons and dinners
Reaching out to other volunteers, sponsors, and donors
Coordinating Soldiers' Angels events and programs

How to become a volunteer
Ready to get started as a Veteran Support Volunteer? First, you'll need to make sure we operate out of your local VA Hospital or one near you. You can check the list of VA Hospitals we serve here. Next, you'll need to fill out our Volunteer Registration form. During the online application process, you'll need to select "Angel" and then later on down in the form you'll select "Veteran Support" and indicate your state and the VA Hospital where you would like to volunteer.
* If you are not near a VA Hospital and are interested in becoming a VA Hospital Representative, we would love to chat! Here's some information on how to start a Soldiers' Angels VA Representative site in your city.
Once you've filled out your application, a notification will be sent to our volunteer coordinator, who will contact you about volunteer opportunities where you live. Please be patient as our coordinators are usually juggling multiple tasks! During your chat, you will be sent a consent for background check and an agreement to sign that corresponds to your position. You will also need to sign and return the signature page of the volunteer handbook.
Volunteer Positions
There are many volunteer positions available, it all depends on your interest and time. Here's a quick rundown of our various positions.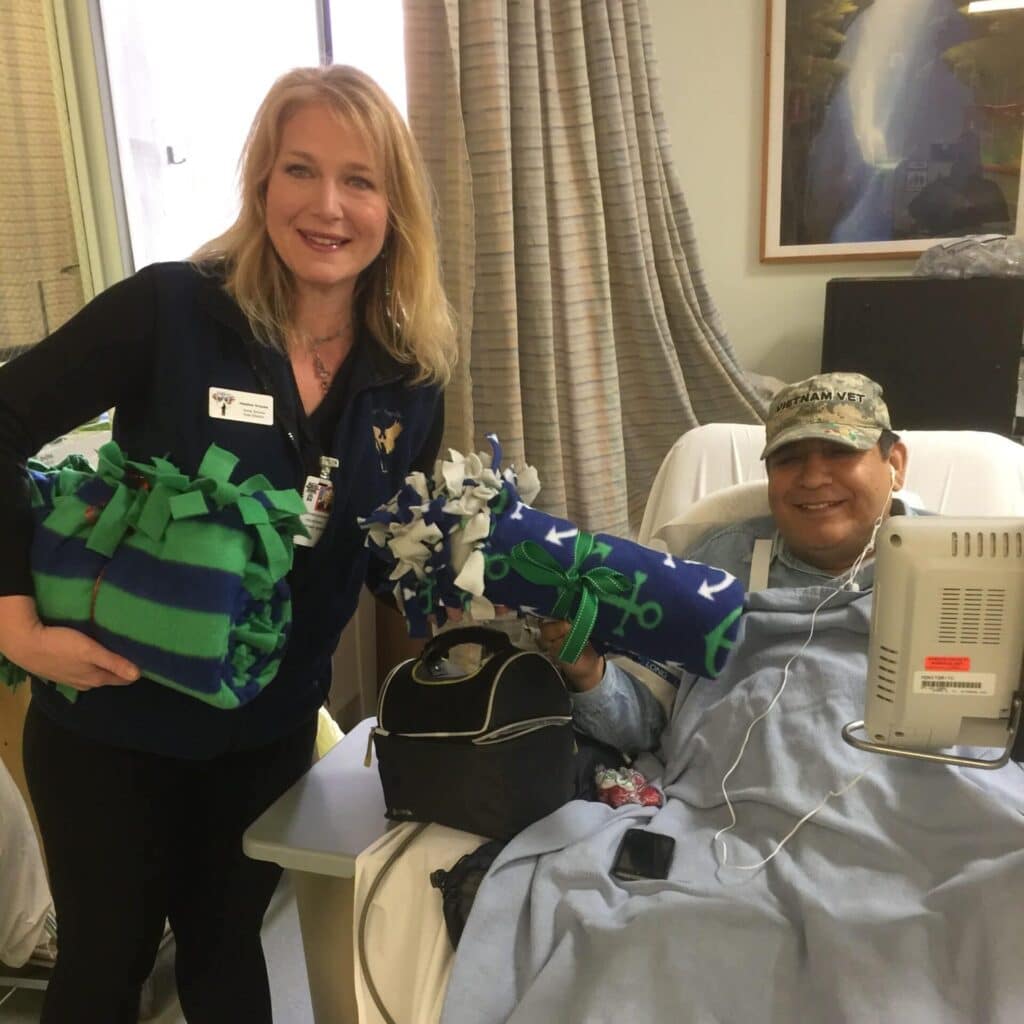 VA Representative – VA Reps coordinate all efforts surrounding their specific VA Hospital. That means recruiting and training volunteers, planning and coordinating events, communications with donors, and reporting requirements.
VA Deputy Representative – Assists the VA Representative with all tasks related to the position
Coordinators – We have several "Coordinator" positions within the VA Hospital. Their job is to coordinate specific aspects of their position. Coordinator positions include:
Volunteer Coordinator – Responsible for the recruitment of volunteers
Outreach Coordinator – Develops relationships and partnerships with other organizations and businesses and coordinates volunteers for outreach events
Luncheon Coordinator – Responsible for organizing luncheons and dinners to support veterans at the assigned VA Medical Center, domiciliaries, outpatient clinics and vet centers.
Coffee/Donuts Coordinator – Responsible for the overall coordination of the Donut and Coffee program at the assigned VA Medical Center.
Event Coordinator – Responsible for organizing events
Patient Visitor – Conducts patient visits at the VA Medical Center delivering care and comfort items to veterans. A Patient Visit Volunteer may also help veterans with tasks such as reading
their mail or writing a letter for them. The volunteer may also have the opportunity to sit with patients, to keep them company or listen to a story.
Event Volunteer – An occasional volunteer who is willing to assist with special events organized by Soldiers' Angels. These may include luncheons, pizza parties, BINGO events, movie nights, or other events that have been organized to boost the morale of patients at the VA hospitals.
Veteran Support Angel – Someone who wants to volunteer in their local VA facility in an administrative or support role such as golf cart driver, Red Coat Ambassador, Compassionate Contact Corps or other VA assignment as designated by the needs of the VA.
Virtual Administrative Assistant – Responsible for working with the Veteran Support Volunteer
Manager to coordinate the efforts of Soldiers' Angels in volunteer recruitment, onboarding and training for the Veteran Support Program.
Mobile Food Distributions (MFDs)
Soldiers' Angels hosts monthly Veteran Food Distributions for low-income, at-risk, and homeless veterans in six cities across the country. The events provide much-needed food assistance to thousands of veterans and their families. For volunteers who live near one of those locations, there are additional opportunities available.
MFD Coordinator – Responsible for organizing and overseeing all operations for the monthly mobile food distribution at the designated site
MFD Team Leads – Responsible for organizing and overseeing their assigned section during the local Mobile Food Distribution to include briefing all section volunteers, helping with offloading the food truck, overseeing the packing of the food items and clean up as well as helping with traffic flow, veteran and volunteer registration areas.
Regular MFD Volunteer – Volunteers at the Mobile Food Distribution handing out food, packing bags, assisting with the event.
Our Mobile Food Distribution locations are
Atlanta, Georgia
Charleston, South Carolina
Denver, Colorado
Detroit, Michigan
Orlando, Florida
San Antonio, Texas
What if I don't live near a VA Hospital?
For those who live near a VA Hospital that is not on the list of locations Soldiers' Angels serves, we are happy to discuss opening a VA Representative Site in your area (as mentioned earlier). Starting a site requires an interview process to ensure it is the right fit for both of us. The interview process has two steps. First, you will have an initial interview with the local Regional Director to ensure you have the right qualifications and understand the criteria for this role. The second interview is with our VP of Programs. Anyone interested can contact [email protected] and let us know you are a volunteer looking to get started as a VA Hospital Representative. Read more about the process here.
For those that may not live near a VA Hospital, we also have several virtual volunteer opportunities to support service members, veterans, and/or military families remotely. It all depends on your time and interest. Learn more about our virtual volunteer opportunities here.
Ready to get started serving veterans in your community?
---