Your Donations on Giving Tuesday Will be Matched!
November 20, 2017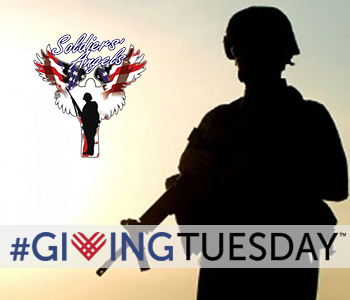 Make your donation go even further with a Matching Gift opportunity on Giving Tuesday!
Facebook and the Bill and Melinda Gates Foundation are partnering to create even more incentive to give: a $2 Million match! All donations made through Facebook's charitable giving tools on #GivingTuesday will be matched up to $50,000 per nonprofit or $1,000 per fundraiser or donate button, until the $2 million in matching funds runs out. The match will begin at 8AM EST (5AM PST) on Tuesday, November 28, 2017.
How to Help: Get Social!
In addition to donating your own time or money to Soldiers' Angels, you can also create your own fundraisers during #GivingTuesday that will also be matched by the Bill and Melinda Gates Foundation!
Using your personal Facebook page, you can choose from three different options to rally together your friends and family members to encourage them to give to Soldiers' Angels. Here's how: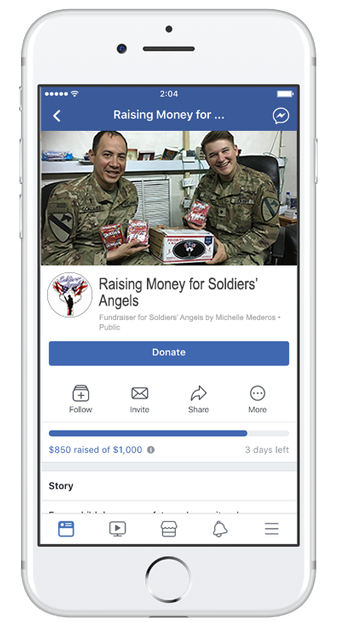 Create a Facebook Fundraiser
Visit: Facebook.com/fundraisers, click "Raise Money," and search for Soldiers' Angels. You can also find fundraisers your friends or family created.

Add a Donate Button to a Facebook Post
Write a post: Tag Soldiers' Angels Official (@SoldiersAngelsOfficial) or add "#donate" to your post. You'll see a prompt to add a donate button after you post.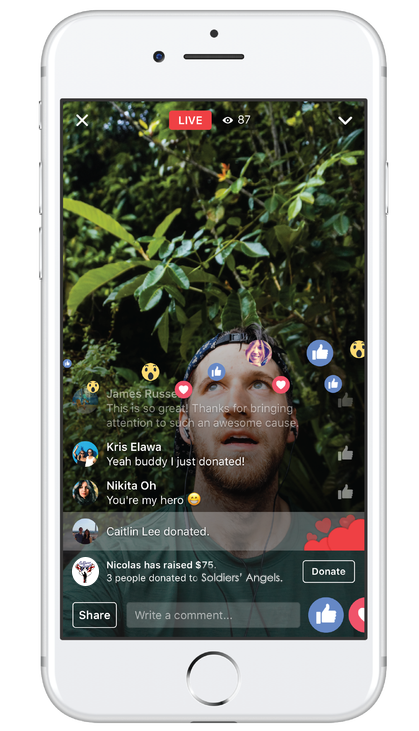 Add a Donate Button to a Facebook Live Video
Go Live: Tap "Live" at the top of your News Feed, and click "Add Donate Button" from the menu.
Not Tech Savvy?
We totally understand! If you don't want to create your own fundraiser, just be sure to watch the Soldiers' Angels Facebook Page throughout the day on Tuesday, November 28th. We will be posting our own Donate buttons and even sharing Live Videos from our Headquarters in San Antonio!
And for those even less tech-savvy, as always, you can visit our website to donate or call our office to donate Monday through Friday 9am – 5pm CST.
But don't forget, in order for us to qualify for the match from The Bill and Melinda Gates Foundation, your donation must be made through Facebook!
More About #GivingTuesday
#GivingTuesday is a global giving movement that has been built by individuals, families, organizations, businesses and communities in all 50 states and in countries around the world. Millions of people have come together to support and champion the causes they believe in and the communities in which they live.
Every act of generosity counts, and each means even more when we give together. #GivingTuesday includes people of all ethnicities, religions and backgrounds. Together, millions of people demonstrate our common capacity to give.
---