Women of Valor Contestants: Final Round
October 13, 2021
UPDATE: Melanie was the winner of the two plane tickets with Jet Blue! But wait… there's more… Thanks to a generous donation by SRE, Inc. after they read the below stories, all three caregivers will be provided 2 roundtrip plane tickets!
Recently, Soldiers' Angels received a very generous donation of two roundtrip Jet Blue tickets to anywhere Jet Blue flies. Once we received the tickets, we immediately thought of our caregivers supported by the Women of Valor Team. These incredible women endure so many challenges on a daily basis. In addition to caring for their wounded hero, many of them also fill the roles of head of household, primary caregiver to one or more kids, and still often hold employment inside or outside of the home.
It's not surprising that caregivers often suffer from isolation and rarely get a chance to care for themselves as they spend all of their time caring for others. Which is why we knew these plane tickets would make a huge impact for one lucky caregiver.
To narrow down the hundreds of caregivers we support, we asked them to submit their story along with what they would do with the airline tickets should we win. With the help of our Angel volunteers, we were able to narrow down the selection to just three…
But… we need your help. The stories below are all heart-wrenching and deserving… we cannot decide which caregiver to chose as the winner. Will you help us by reading their stories and casting your vote now?
Voting will be open now through Friday, October 15th at 12 pm CST. The winner will be announced shortly after voting closes on Friday.
Melanie
A fathers love is forever. My husband is a wounded warrior has a brain injury among other things. We adopted a little boy of another veteran who is our world. Baby bean has cancer and is going through so much, my husband was holding him in this picture right before we had to let him get ready for surgery. Our hearts are full of love and hope. My husband calls bean his mini me. Bean is loving and caring and special.
God gave him to us. Cancer is horrible but you can never stop
praying and trying.
We would use the tickets to take our baby to see his grandparents he's never met, in between or after treatments. It would help give our family a gift of love and family time. It would be amazing to see our family, so I'd have support in a way, in person touch so when I breakdown and cry it's not in the shower or closet so no one can hear. It would be someone I trust with my child so I could get a hour or two reprieve. It would be a blessing and gift I can only imagine or pray for.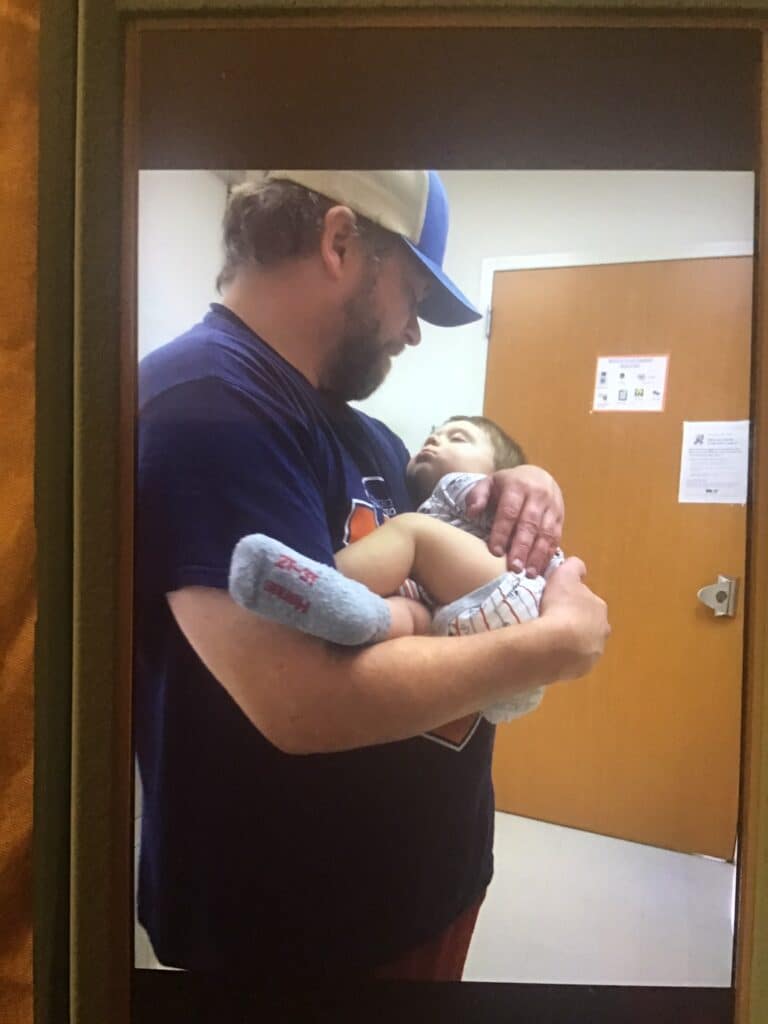 ---
Nelida
I want to first THANK YOU for all who donated to make this happen to a lucky caregiver. I am the caregiver and wife to my spouse Anthony. He has struggled with coordination of care here locally, and with the pandemic, we found it even harder to get him care. The first image is of me at the hospital during the middle of the pandemic. Anthony had seizures and found out he has a tumor. Due to service connected heart failure, it was difficult to coordinate his care with the many different specialists.

I consider myself very resilient, caregivers in general are resilient. I found out about a few programs around the country that specialized in trauma. Anthony was accepted to a medical facility, and although I could have gone and stayed with him, I was working. We prepared for all the scenarios in case HE needed anything, but we didn't prepare for me to lose my job, and now we are 2000 miles away. I am very proud of Anthony for accepting this treatment and being able to try to care for himself best he can, with accommodations. Atlanta is one of the cities, JET BLUE services. I would like to be considered for the flights to use them in the next couple of weeks to go see him and through the holidays. October 4 was our 19 year wedding anniversary and we were 1500 miles apart.
The second picture is 4 years ago during better and happier times. I would love see his beautiful smile.

Although part of the treatment is help him find out the areas he can be independent, I would like to visit him for the holidays. Nobody should be alone for the holidays. Thank you again Soldiers' Angels, JET BLUE an all that donated to make this happen.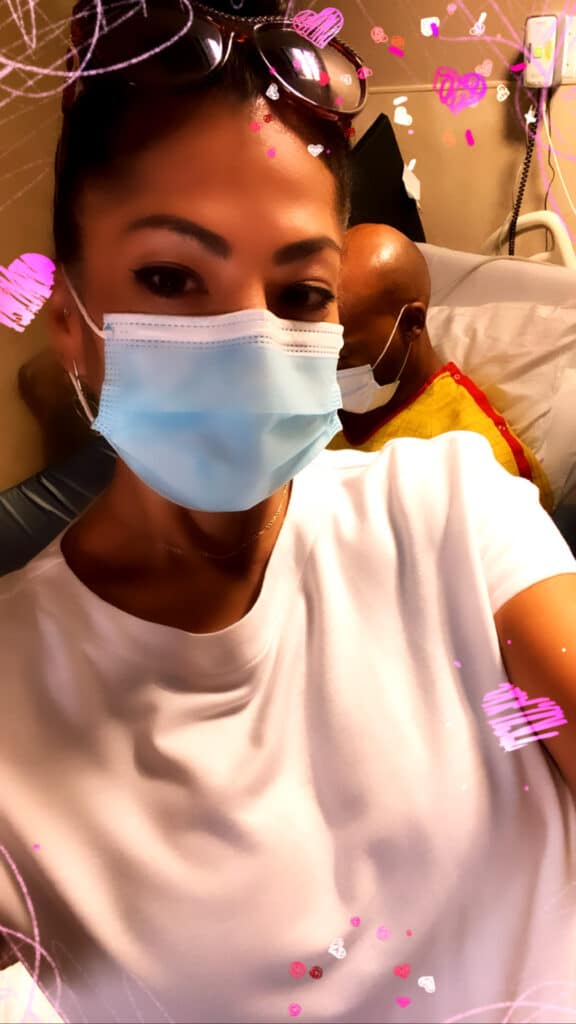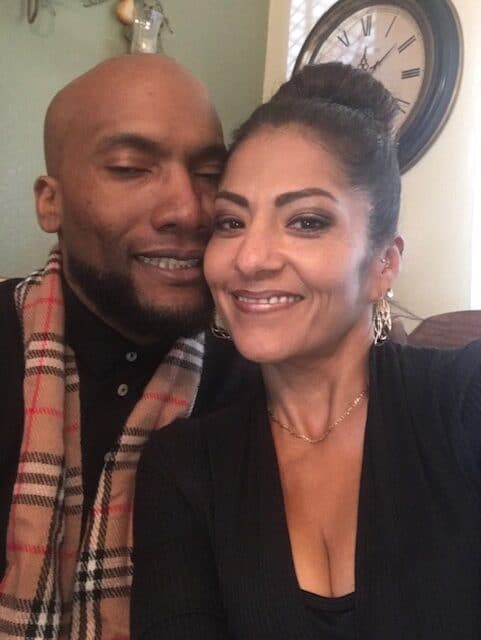 ---
Rebecca
My husband and I were married in Jan of 2005 and military life and duty he was deployed 11 months into our first year of marriage after finding out we were going to parents. But while he was deployed, our lives would be forever changed. I had miscarried twins just three months into his deployment, and then he came home wounded. Since he's been home, we've underwent over 12 back surgeries. My husband suffered a heart attack leading to a triple bypass, and a flurry of various other surgeries on his hands, feet, and shoulders. All in hopes of bringing back some sense of normalcy to our lives.
But worst fear of all, my husband never wanted to be wheelchair bound. In all of his recovery, he was strong, determined, but most of all focused on getting better. Finances became an issue for our family. The caregiver program here in Texas told us that simply because his primary issue wasn't 100% PSTD related, we didn't qualify. We lost our car in 2017, and almost our home a year later.

The most heartbreaking to this came in Oct 2020 when my husband was hospitalized. Due to a MRSA infection that saturated into the deepest part of his bone, had destroyed his leg. He had to have his right leg amputated up to his mid thigh, and his left leg lost just over half of his foot.

Shortly after his coming home he had also lost his oldest 16yr old dog pass away in my arms from slipping on our kitchen floor after coming inside with wet paws and the pup hit his head putting him into a seizure.

We had found out just after Christmas 2020 that his mother had also passed away sometime over the Christmas Eve or Christmas Day in her home alone.
2021 has been nothing but struggles. I'm still without work. Due to the constant needs of my husband, working a real time job outside of the house is just impossible. I took to twitch streaming the various games we used to play. (it's also my release and ways I cope with stress and depression).
Getting tickets, I would surprise him with a trip home to see his brother and his friends in Phoenix, AZ. He hasn't been able to go there in over ten years. It would also give him a chance for closure over his Mother's passing. He has worked so hard to get up and walk as shown in this video and I would love to share this with his family.
If you're interested in being a friend to a caregiver just like Melanie, Nelida, or Rebecca, consider joining our Women of Valor Team of volunteers and help us provide support to these deserving women. Learn more here.
---