Warm Feet for Warriors Sock Drive
February 23, 2017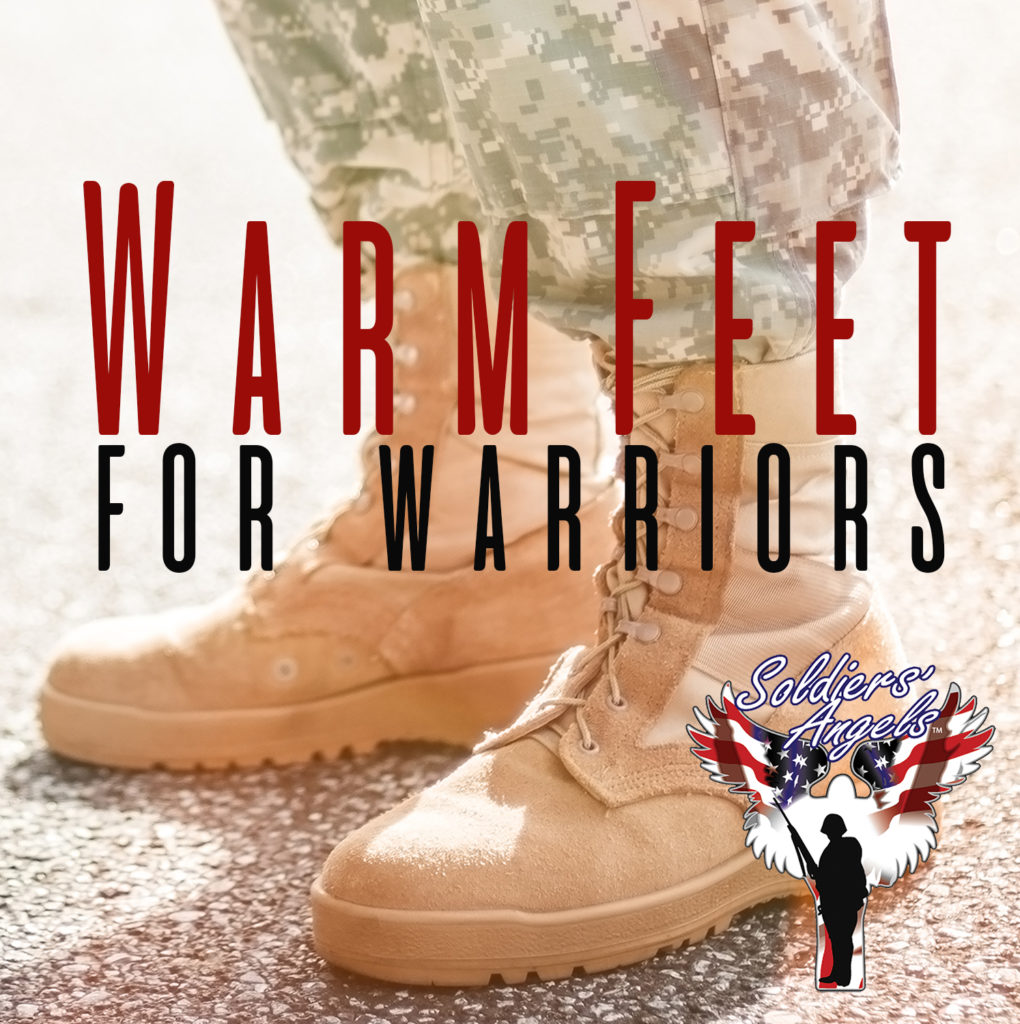 Did you know that one of the most requested items from service members and veterans is socks? Yep, it's true! We ask deployed troops and veterans all the time what they want us to provide them with and socks are WAY up there on the list! Just think about how a nice new pair of socks feels when you slip them on your feet and you'll understand why they request socks so often.
We love making sure our troops and veterans have everything they need so we put together a sock drive to help keep our troops and veterans toes feeling toasty. Want to help? Here's some info on our Warm Feet for Warriors program.
How you can help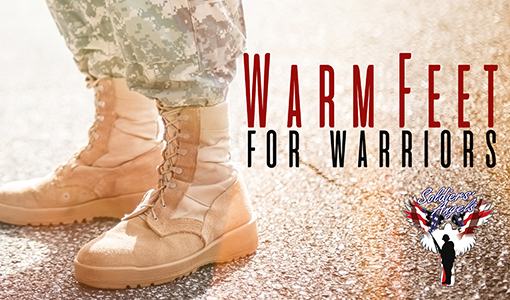 You can help by simply collecting and sending us new socks. Start a sock collection drive at your office, church or through your civic group and send us new socks in all colors and sizes in their original packaging. We will distribute the socks to veterans in VA Hospitals and include in our care packages to the deployed.
What kind of socks?
We are collecting for deployed troops and veterans in VA Hospitals so ALL kinds of socks are accepted. All you need to do is collect the new socks and ship them—then we will sort them and distribute appropriately.
Aren't there uniform regulations?
Yes, there are regulations regarding the color and type of socks for the deployed when they are in uniform. But, our troops also request socks for when they are out of uniform – any kind. Chaplains have even requested ankle socks for the deployed when they are out playing sports. Remember, the socks being collected are also for veterans who don't have to worry about the color or type of their socks anymore.
Since we're talking about socks…
Just for fun, here's some info on the different types of socks required by uniform. It varies by the branch of service. Again, don't worry about the color socks you buy, we'll do the work of sorting the socks.
Army – Black crew socks

Army PT – White ankle or sports socks

Navy – Black, khaki or white

Navy PT – White socks

Marine Corps – Coyote brown, black or green

Air Force – White or black

Coast Guard – Black or white depending on the uniform
Where to send the socks
Once you've collected your socks, please mail them to the address below by April 30, 2017.
Soldiers' Angels
2700 NE Loop 410
Suite 310
San Antonio, TX 78217
You can also purchase socks directly from our Amazon Wish List. If you're an Amazon Prime Member shipping is free. If you're using Amazon, don't forget to use Amazon Smile and we will get a portion of the proceeds from the purchase of the socks!
Goal Update:
As of 4/12/2017 we have reached our 2,500 goal with 2,611 pairs and more arriving everyday!! If you are hosting a collection, please continue through April 30.
We would love to blow our goal out of the water this year!!
---