Supporting Veteran Patients — No Matter What
February 20, 2021
When Amy Palmer took over as President and CEO of Soldiers' Angels, deployments were drawing down and the veteran population was growing. It immediately became clear to her that Soldiers' Angels was in a unique position to shift resources to support veteran patients by working with the VA Hospital system to support veteran patients.
"We had a lot of donors who were sending care package items like snacks and hygiene items. We were trying to find ways to take those items and use them for a different population because we couldn't send them all overseas anymore. So we shifted and took those hygiene items that we were getting for care packages and started using them to make hygiene kits to support veteran patients because they don't get the hygiene items you would get at a civilian hospital. We also started using the non-perishable snack items to make box lunches for homeless and low income veterans that were coming in for services and couldn't afford to eat," explains Amy Palmer.
This shift was what started an entire program designed to support veterans – the Veteran Support Program -which now includes way more than hygiene kits and box lunches! Today, Soldiers' Angels works within 33 VA Hospitals across the country to support veterans in a variety of ways. In fact, we are one of the few nonprofit agencies with a voting seat on the VA National Advisory Council and approval to work within VA Hospitals.
Here's a look at how we support Veteran Patients within the VA Hospital.
Patient Visits
Patient visits are a core service we provide through the VA Support program. Each VA hospital we work with has a designated Soldiers' Angels VA Representative who coordinates other volunteers to do regular patient visits and hand out items like blankets, Hygiene Kits, Box Lunches, magazines, and recreational Items. During these visits, volunteers talk with patients and distribute comfort items to make their stay more pleasant.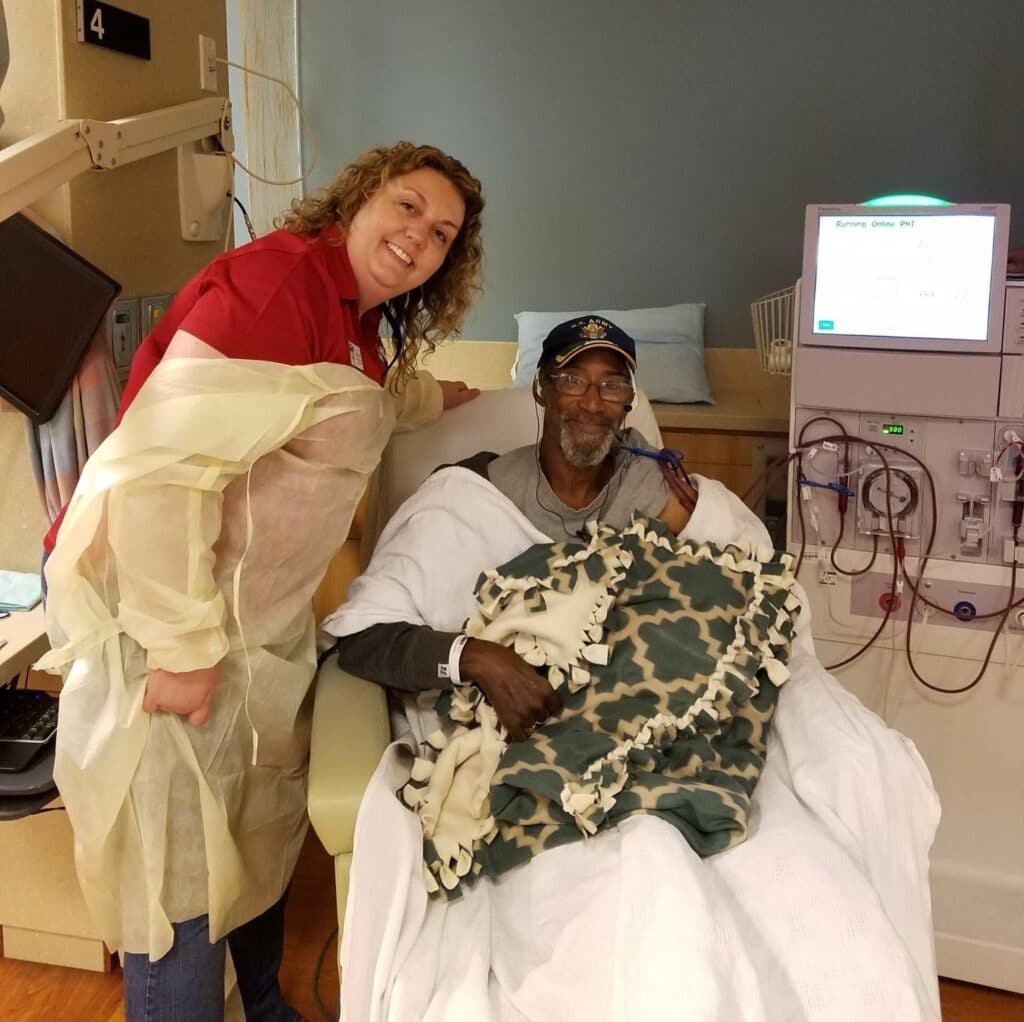 COVID has presented a huge challenge for patient visits as we have had to stop them all together due to safety concerns. Despite not being able to be there in person, we have been able to continue the distribution of items by dropping them off to VA staff.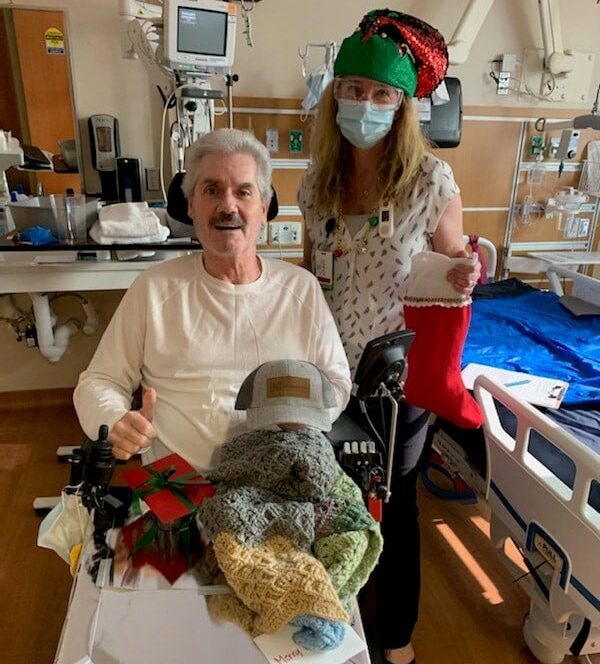 Meals for Veterans
Soldiers' Angels VA Representatives are also responsible for coordinating luncheons and dinners for patients within the VA. These bi-weekly or monthly events are designed to bring the veteran patients together and offer them a taste of home with a warm meal and friendly volunteer interaction. Our VA Representatives always do a wonderful job planning movie nights, themed meals, holiday meal events, Thanksgiving dinners, and summer outdoor BBQ's for the veterans they serve.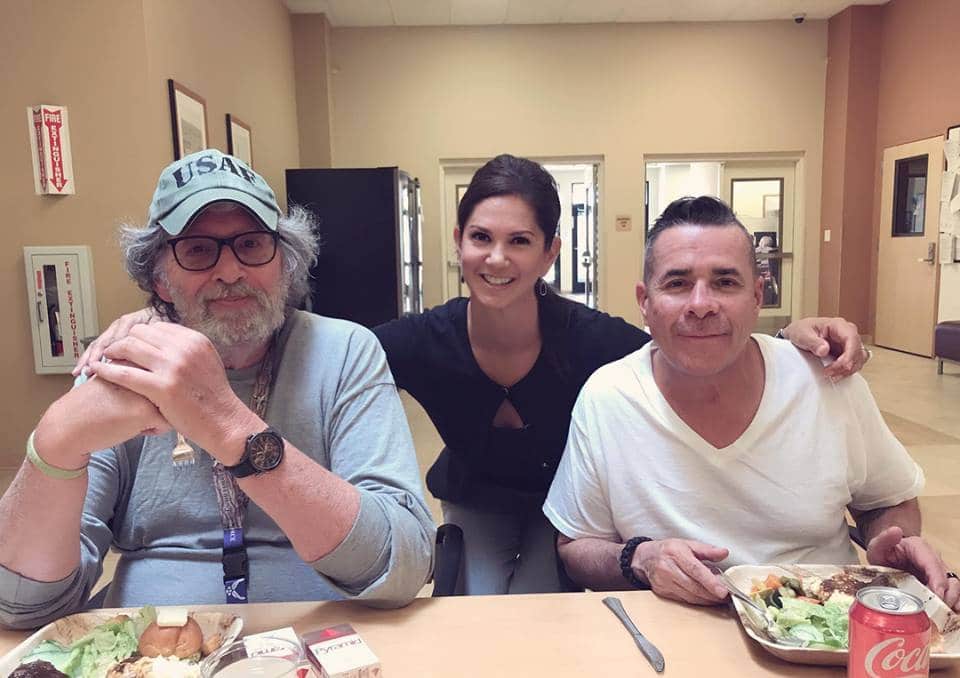 This is another service we had to suspend because of the pandemic. Instead, we shifted that support to dropping off meals for frontline workers and veterans, when available. As you know, COVID has placed a lot of demands on the medical community. The VA staff we have been able to support are so grateful.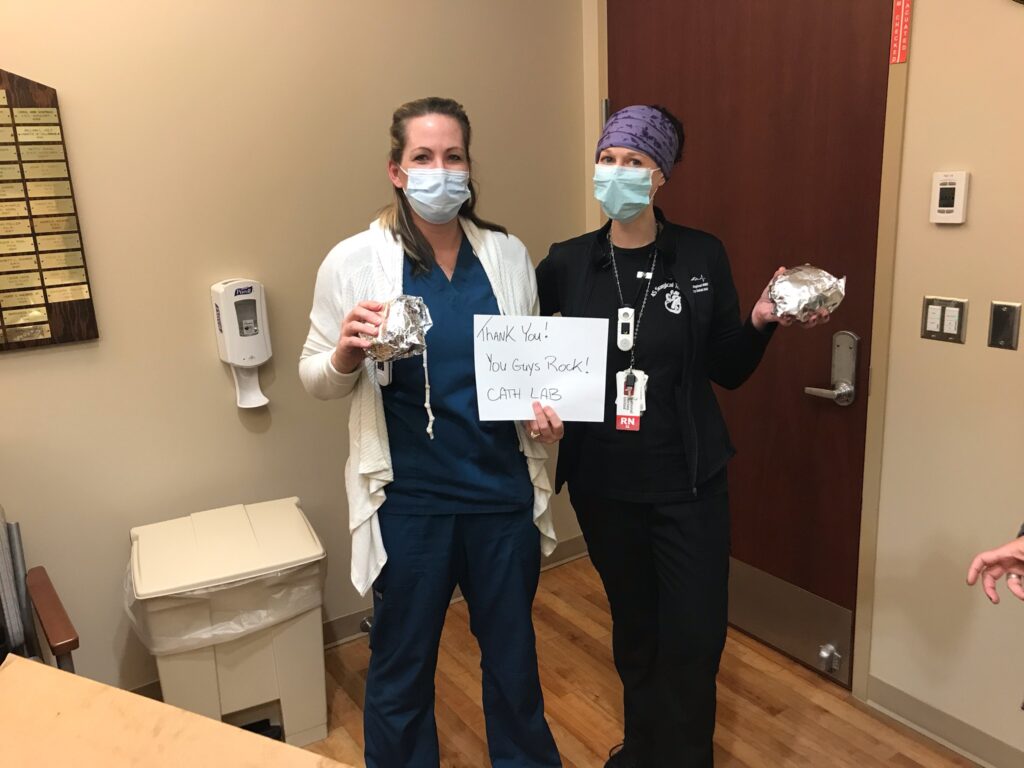 COVID Vaccinations
As COVID vaccines are becoming more available, we are proud to say that our volunteers have stepped in to assist in getting veteran patients the vaccinations they need.
"For years, our Veteran Support Angel Volunteers have been visiting VA patients during which they may simply sit and talk with them. They've also been distributing comfort items to help make their hospital stay more pleasant like blankets, hygiene kits, box lunches, magazines and recreational items. And now, we're extremely happy to engage once again to help facilitate the rollout of such an important program, " said Amy Palmer in our official press announcement.
We are also assisting with "canteen" operations and looking for snack donations for distribution during the vaccination process. We seeking the following items:
Protein Bars
Jerky or Meat Sticks
Sunflower Seeds
Freeze-Dried Fruit (Single Serve)
Single-Serve Peanut Butter or Nutella
Pop-Tarts
Nuts/Trail Mix (Single Serve Preferred)
Tuna Salad Kit with Crackers
Chicken Salad Kit with Crackers
Powdered Drink Mixes like Crystal Light or Sports Drinks (Single Serve)
Snacks can be sent to:
Soldiers' Angels – Vaccine Support
2895 NE Loop 410, Suite 107
San Antonio, Texas 78218
Snacks may also be purchased online through our Amazon Wish List, which will then be shipped directly to Soldiers' Angels. Visit the Wish List here and, if our address does not populate when you are on the shipping page, please ship to the address listed above: https://a.co/bA3A5JS.
Veteran patients aren't the only veterans we serve through our Veteran Support programs. Learn more about our Veteran Support programs here. You can also read about our COVID specific support here.
---