Support at Walter Reed thanks to Joe Bodin
August 25, 2014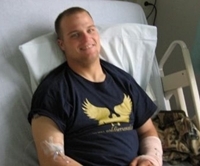 Joe Bodin's first good deed at Walter Reed National Military Medical Center in Bethesda Maryland was in 2006. Joe started visiting a friend who was injured by an IED and sent to Walter Reed for medical care. Sometimes Joe's visits were to pick him up and take him to a movie, and eventually his trips off base included more of the Walter Reed patients who wanted to get off base for a while. He enjoyed taking the officers off premises for a break and decided he wanted to do more. That's when he was introduced to Soldiers' Angels.
Back then Walter Reed was the Walter Reed Army Medical Center. Joe volunteered in different capacities to support the soldiers who were there. He would visit with patients as inpatients and as outpatients off base.
In 2011 there was a merger between Walter Reed and the National Naval Medical Center and it became the Walter Reed National Military Medical Center. This came along with an amazing expansion to serve military families, active duty service men and women, returning war heroes, and veterans.
Thanks to Joe, Soldiers' Angels provides support to many of the wards within Walter Reed. Joe now provides support to family members, wounded or injured military – deployed in combat or elsewhere, the oncology ward, the traumatic brain injury ward, the PTSD ward, pediatrics and maternity.
Patients who come to Walter Reed are sometimes tied to Walter Reed for a while as they go from inpatient to outpatient. Joe is there to be their constant. He visits lots of patients who need support, many of whom don't have family to visit them. His visits include long conversations, short pop-ins or sometimes he just sits with patients who don't want to talk but want someone there. Joe also takes small groups off base to dinner or to lunch to give them a break from being a patient. He also brings in lunch for patients who can't leave.
Recently, Joe helped organize a pizza party for traumatic brain and PTSD ward for patients and their family, nurses, techs and doctors in collaboration with Rolling Thunder, another organization who provides support at Walter Reed.
He loves Soldiers' Angels because he says as a volunteer, he can "fill in the gaps where other organizations don't." He forms mini friendships with the people he supports and always extends an invitation for them to reach out to him when they need something. Joe says he gets text messages from past patients after they leave and many of them continue to ask how he's doing.
"We support everybody. All through the years," Joe says.
He also sees Soldiers' Angels as a conduit to letting people know about other organizations. He tells his patients about organizations that may be able to help them with a specific need like a car or financial help.
"We've always done it from the heart."
He says there are guys at Walter Reed who have Soldiers' Angels tattoos, and many of the nurses wear Soldiers' Angels pins to work. "They know who know really has it in their heart," he says.
One of the newest Soldiers' Angels programs that Joe helps with is our Valor IT program. This program helps provide voice-controlled/adaptive laptop computers and other necessary technology to support service members recovering from hand wounds and other severe injuries.
We appreciate all of the work Joe does – single handedly – at Walter Reed and we know that the soldiers and families of soldiers he supports do as well.
"Supporting them and being true to them is an honor and a privilege." – Joe Bodin
---