Overseas Cookie Packaging Tips
December 3, 2015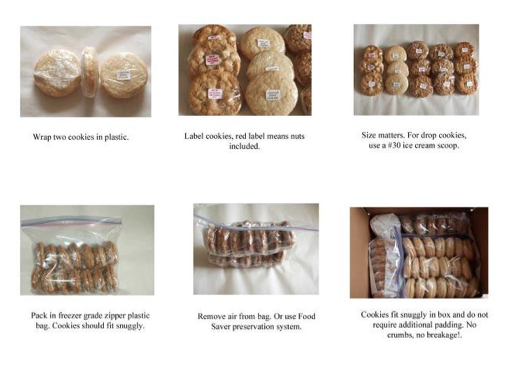 Are you a team member on our Deployed Adoptions or Angel Bakers team?
Do you have a loved one serving overseas?
Our deployed military love getting treats from home no matter who it comes from! Homemade cookies add a special touch that provides a break in the pre-packaged meals they've been eating and also reminds our military of home. We've been sending cookies overseas for years and can tell you – while there's an art to baking, there's also an art to packing and sending!
'Tis the season to send love so we thought we'd share some tried and true tips to ensure your military hero gets his or her cookies unbroken and crumble free. Here are some tips from our Angel Bakers team.
Once you've baked to your hearts content, here's the best way to wrap and package cookies for shipment.
Step One: Wrap two cookies in plastic
Step Two: Label your cookies and be sure to indicate cookies that contain nuts
Step Three: Gather your pairs of wrapped cookies and package them in freezer grade zipper plastic bags. The cookies should fit snuggly
Step Four: Remove air from bag or use Food Saver preservation system.
Step Five: Pack your box. Your cookies will now fit snuggly and do not require additional padding. No crumbs! No breakage!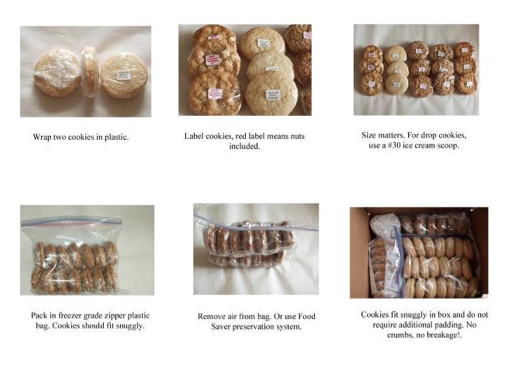 Other tips:
Size matters. For drop cookies, use a #30 ice cream scoop.
Flat Rate shipping boxes are free from the post office and no matter the weight are the same cost.
Sturdy cookies like chocolate chip, oatmeal or even Rice Krispie treats hold up the best
Looking for some great recipes? Here's a roundup of some recipes from our Angel Baker Team: It's Cookie Season!
Interested in joining our Angel Baker Team? Find out more about them here: Angel Bakers Team.
---