Love Received: A Special Valentines For Veterans Response
April 6, 2023
Each year, starting January 1st, we ask supporters to send us Valentines to distribute to veterans in VA Hospitals and service members overseas. We get THOUSANDS of homemade and store-bought valentines, some come with candy, and some have special letters inside. Spreading love through our Valentines for Veterans campaign each year is a great way to start the year, and the Valentines received always warm our hearts. But this year, in particular, we received a letter we just had to share and respond to.
We read each and every card and letter sent to us before re-distributing to service members and veterans to ensure there is nothing inappropriate or harmful sent to them. This heartwarming letter with $5 enclosed is from 7-year-old Chloe.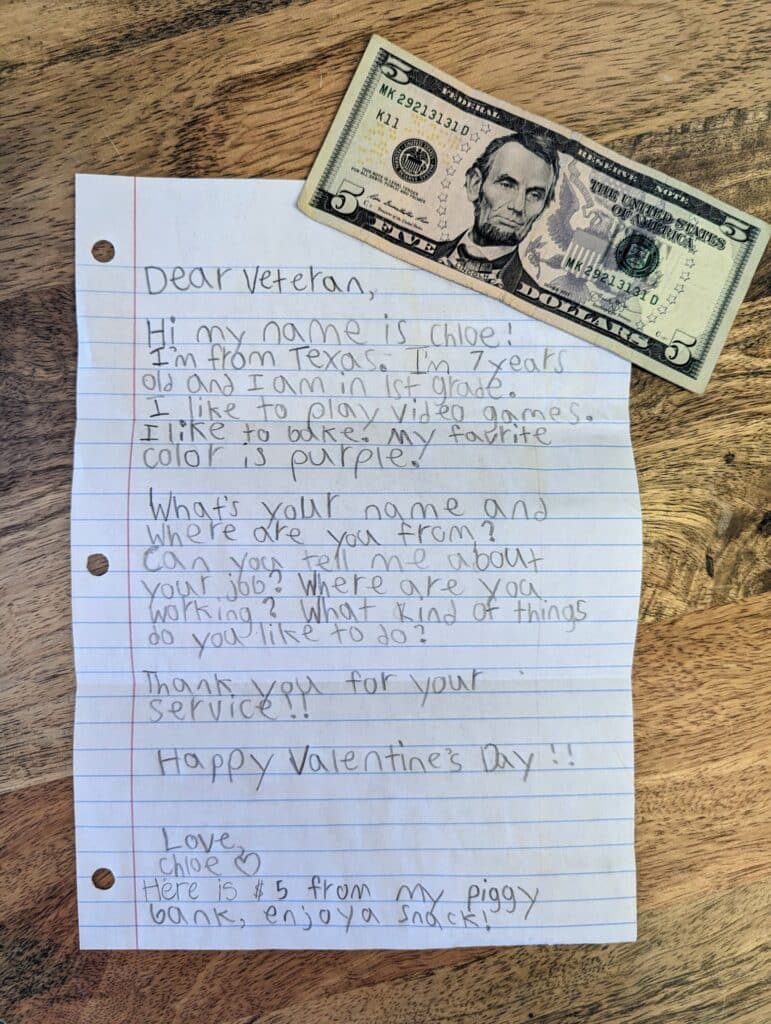 "Dear Veteran,
Hi, my name is Chloe! I'm from Texas. I'm 7 years old and I am in 1st grade. I like to play video games. I like to bake. My favorite color is purple.
What's your name and where are you from? Can you tell me about your job? Where are you working? What kind of things do you like to do?
Thank you for your service!!
Happy Valentine's Day!!
Love, Chloe
Here is $5 from my piggy bank, enjoy a snack!"
We gave the letter to our Director of Field Operations, Rich Scott so that he could respond. Rich is an Army Veteran, and he also happens to have a daughter named Chloe. Here's his response to her letter.
We were all ready to send Rich's letter back to Chloe, but we ran into a problem … The envelope with her address was misplaced! So we have no way of getting the letter to her! We're hoping by sharing this blog, we can find her, get her address, and mail her the letter Rich penned. Can you help?
---